As a U.S. Navy Corpsman and combat medic for the Navy, Mike Diaz assisted Marines on the frontlines in Afghanistan during one long deployment sometime in the last 12 years. [A combat medic specialized in field medicine: when a marine is injured on the battlefield, it's the combat medic's job to stitch them up and send them back to the frontline. Mike was unable to give further details about his deployments.] Mike is currently still an active-duty Navy Corpsman, currently stationed in California. Mike Diaz lost his leg in a motorcycle accident in September 2019. This is his story.
One week prior to my second scheduled deployment, my girlfriend Sid and I were riding our motorcycles home from a date night near downtown San Diego, California. We were taking every opportunity to enjoy our time together before being shipped off to aid my brother Marines on the frontlines.
Riding behind Sid as normal, being sure she rides safely, I am in the right lane of a 4-lane highway. As I look to my left, I notice the driver in the vehicle beside me texting while driving. I frustratingly look forward to focusing on my ride, hoping the driver doesn't cause an accident.
Traffic ahead is rapidly coming to a stop, but the driver to my left is not. Paying minimal attention to his surroundings, the driver looks up and immediately reacts to the stopped traffic ahead. He jolts his car to the right and suddenly collides with me. Trapped under my Harley's highway bars, I am dragged nearly 30 feet on the asphalt. As my motorcycle slows, I narrowly escape from the entrapment and tumble down the highway another 10 feet. My military training possesses me as I consciously analyze the situation around me. I immediately think to myself, "Get off the Highway."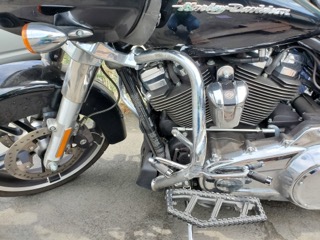 As I begin crawling toward the side of the roadway, I hear a car screeching towards me – I look back to see the original vehicle bolting uncontrollably towards me. Trying to stop, the vehicle runs over my leg, coming to a sudden halt resulting in a 5-car vehicle pile-up around me. "Analyze my surroundings. What happened? I was just in an accident. What works? My arms and hands do. Everything seems to be in working shape besides my leg. Don't look at it."
Looking at your own injury such as a broken leg, arm, etc. can put an injured person into shock, ultimately causing increased heart rhythm and increased bleeding, fainting, unnecessary mental stress, and more.
"Control your breathing. Stay Calm." Much easier said than done. Sid sprints towards me in a panic. Screaming as if she's just witnessed a murder through her rear-view mirror, Sid cries, "Baby, baby are you." okay? Please be okay. I'm so sorry." She tries to take off my helmet, but I stop her. "Call 911," I breathlessly yell, "Please call 911." No one else is checking on me; I am trying my best to remain calm while my internal monologue was screaming in agony from the intense pain of my crushed limb. The next 15 minutes lasted like what felt like an eternity as Sid was trying her best to comfort me – the task was nearly impossible; there was nothing she could do besides stay with me, and that's what she did.
The paramedics arrive at my accident scene to find a fully conscious motorcyclist briefing them of his injuries in detail. "It was a good thing you didn't look down at your leg," said the paramedic, "your fibula is sticking out!"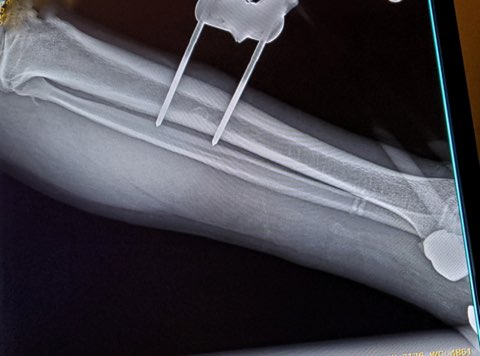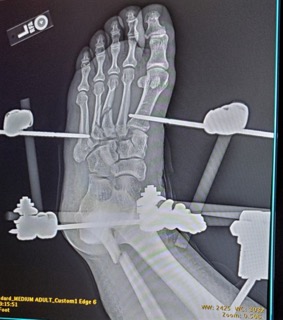 I arrive at the emergency room and the paramedics rush me back for triage. At this point I am just ready to be admitted – I knew it was coming. A doctor finally arrives, assesses my leg, and performs a thorough examination prior to removing my helmet. I am immediately sent to have an x-ray, injecting me with what felt like liquid lava. I still have not experienced any pain relief up to this point; The fire rushing through my veins just adds to my intense pain. I grow more anxious by the second for the silence and security of my own hospital room. Over the next few hours, I learn about my resiliency to many opioids, until I am introduced to Ketamine. The room goes black.
I wake up to gunshots in the distance, hearing people calling my name in agony for help on the battlefield. My PTSD overwhelms my senses bringing me back to the deserts of Afghanistan. Everything goes black.
When I awake, my nurse notifies me of my recent trip to the wonderful land of PTSD. While asleep, she flushed my system of ketamine and gave me a nerve-blocker. "Any time you feel pain press this button and the machine will block those pain receptors." "Finally," I think, "some relief."
As a CrossFit instructor and Olympic lifter, I very slowly adjusted to a new lifestyle of muscle atrophy and chronic pain. Visitors included family, my Marine brothers, and other friends; the daily visits from my girlfriend, now fiancé, Sid, and her daughter kept me sane during those 3 months in the hospital.
The doctors tried multiple methods to save my leg, each leaving my body in a horrible state: from non-healing wounds to skin grafts, to a 4-day 103-degree fever, from the rejection of hardware and a mild stroke, one thing was constant: my desire to escape the hospital and return to my motorcycle and active lifestyle.
I had a heart-to-heart with my surgeon who offered me -yet another- potential solution, with an estimated recovery time of 2 years. After consulting with an amputation specialist, he gave me a 6-month recovery to return to two wheels. That was it: My lifelong dream of becoming a peg-legged pirate was finally coming true.
Little did Mike know, this was just the beginning of a brilliant life: one with a higher purpose, compassion, and even more resiliency than before. Mike's amputation and passion for motorcycles multiplied and opened doors unimaginable to this humble Navy Corpsman.
His story continues in the next article, explaining the post-amputation recovery process and the dramatic impact Mike has made in the motorcycling community.
Written by: Britt Braap
"If you have been involved in a motorcycle accident, don't let it steal your freedom! Call 1-800-4-BIKERS to learn how an experienced motorcycle accident lawyer can get your bike fixed, money for your medical bills, and compensation for your pain and suffering."