Tucked into the hills of Monterey, California is the world-famous Weathertech Raceway at Laguna Seca. These hills are also home to the coastal fog that creates a sense of stillness all around. But on this damp February morning, out of this fog comes the haunting echo of a roaring motorcycle. Like a ghost from the past, the rumbling is finally accompanied by a procession of motorcycles, ridden at high speed. A line of Moto Guzzis, Triumphs, Vincents, and a few 1980's Japanese bikes climb the hill towards turn 8, the famous Corkscrew, a left-right hairpin that drops three stories while riders try and cling to the saddle.
The American Historic Racing Motorcycle Association (AHRMA) has been in the business of vintage motorcycle racing for decades, but this is the first time they have held an event at Laguna Seca. If the entry list is any indication, this won't be the last time either. Nearly 250 riders were signed up to race a track called "a paved motocross track" by modern racers, due to its undulating nature.
It's a rare sight to see a hand-shift Indian wearing number plates while a modern Ducati sits in the background, wearing turn signals.
For AHRMA the track is perfect. Machines range from pre-war, hand-shift Harleys and Indians to modern-day "oddballs" like Buell's, air-cooled Ducati's, and BMW's. In between is the bulk of entries, 1960's British Twins, small-displacement Japanese bikes from the '70s, and quite a few tiny 2-strokes. Probably the biggest oddity was seeing not one but two Honda CBX's, a massive 6-cylinder bike that is more likely to be found in a museum than a racetrack.
As a spectator event, the bikes made up the entire show. Since this is the inaugural event, AHRMA placed its priorities on making sure racers had access to paddock space, garages, and that the event was operated in a safe manner, both on and off the track. This meant that aside from the track's own café and gift shop, there wasn't much in the way of vendors, exhibits, or off-track entertainment.
With this being the first year for the event, it was lightly attended. But with over 250 riders signed up the signs are good for this event growing in the future.
That's likely to change now that AHRMA has the first year under their belt, but time will tell. But for reference, AHRMA runs an event at Barber Motorsports Park (in Georgia) that brings up to 50,000 spectators through the gate. Those numbers rival even the MotoGP race in Texas, which features the best racers in the world. It remains to be seen if AHRMA can grow their new baby into something that big, but there are a few things going for it.
First off is the timing. Fans of asphalt racing are in the doldrums of the off-season during February. And although it can be a bit cold this time of year, it's still the California coast and doesn't take much more than a thick coat and a beanie to combat that type of cold. Combine the timing with the location and you've got the makings of a great event: just add vintage race bikes.
Of course, it will take some off-track activities as well if this event is to grow. Building up a vendor area, Concours bike show, and perhaps a swap meet where people could find the perfect part for their winter project things could really take off. Having live entertainment at night would also be a huge bonus for both spectators and racers since many people choose to camp instead of paying for an overpriced hotel.
Ah yes, the camping. Laguna Seca Raceway also happens to be Laguna Seca Recreation Area, a park with campsites, RV hookups, and even a rifle and pistol range. Camping on Fox Hill with a fire blazing, waking up to the sound of race bikes and the smell of burning fuel mixed with the aroma of coffee… this is the stuff of gearhead dreams.
Despite some February cold at night and early Saturday fog causing morning practice to be abandoned, racing had no interruptions from weather.
All the pieces are there if the organizers can iron out the details, and I'm already looking forward to next year despite there being a full season of racing ahead of us. Speaking of that, AHRMA will be heading to Southern California for back-to-back weekends at Willow Springs Raceway this April. Take a look at their full national schedule at this link.  If you'd like detailed information about the results from Laguna Seca, check AHRMA's results page here.
The Willow Springs event has been happening for many years now and has an excellent bike show, parade laps, and swap meet already, though it will be AHRMA's first time at the smaller, Streets of Willow course. The track is easy to spectate since it's so small, and, since this is their first time on the course, you can say you were watching vintage bike at Streets of Willow "before it was cool, man…"
The open nature of this event was in contrast to the tightly controlled access of other Laguna Seca race weekends, letting fans and racers co-mingle with track officials, team owners, and notable names from many eras of motorsport.
Racing is as much about sharing good times with friends as it is about motorcycles or competition. Vintage racers seem to understand this more than the average, making the paddock a great place to hang out. Although competition is fierce out on the course, there is a special camaraderie that comes when your competitors are also choosing to run and maintain a motorcycle that was built when Kennedy (or even Roosevelt) was president. For spectators, it's a chance to see and hear vintage motorcycles being ridden at the ragged edge, calling back to an era when privateers could give the factory riders a serious challenge, and when just managing to finish a race could be seen as an achievement.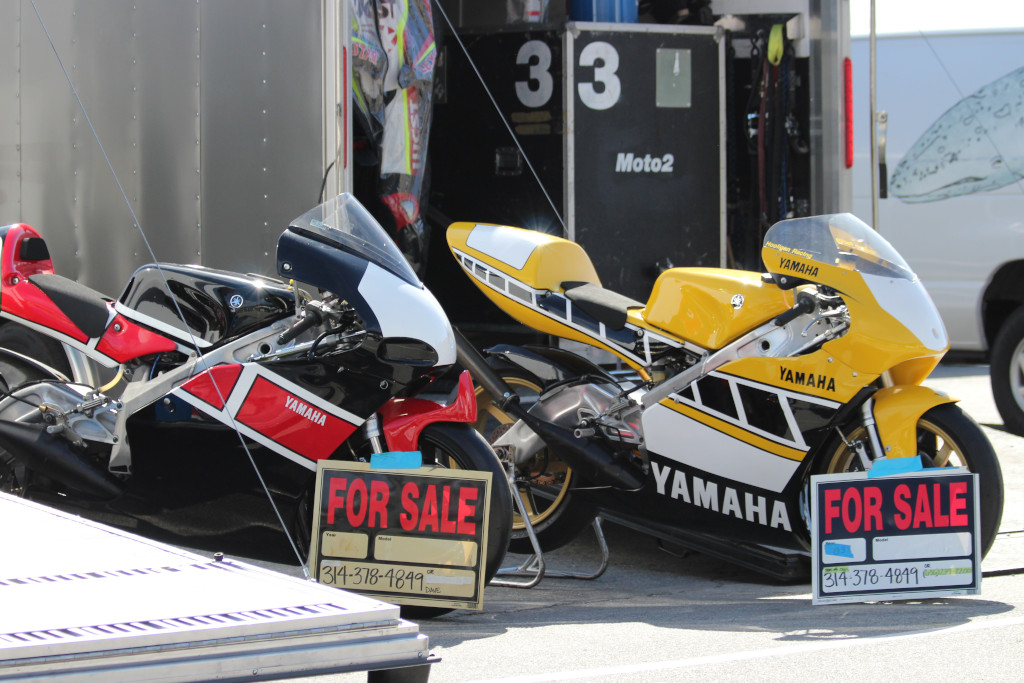 "If you have been involved in a motorcycle accident, don't let it steal your freedom! Call 1-800-4-BIKERS to learn how an experienced motorcycle accident lawyer can get your bike fixed, money for your medical bills, and compensation for your pain and suffering."