Article by Becky Goebel @actuallyitsaxel
Nate Biccum Portrait
Known for his art displays at motorcycle shows, Nate Biccum in a staple in the motorcycle culture. He's a good-guy vibe expert who I was introduced to through this blog post assignment. The crew at Russ Brown Motorcycle Attorneys® had seen his art display at Born Free last year where Nate had a deck of cards at his booth. Each card had an art piece on it that showed a different personality from the motorcycle industry: Painters, Builders, Racers, Announcers etc. When Nate first sent me photos of the deck, I loved it. I recognized a couple of the personalities he had drawn. With tons of friends in common, I was surprised I hadn't met Nate before.
The Deck.
After a couple days of back and fourth, I really got the idea that Nate was a kind of guy that doesn't judge others for their bike choice, their taste in music, or what they look like. He really is a vibes guy, someone who clicks with people and can read people based on more than just their exterior, and Nates boogie van goes right along with that attitude.
Nate's Van
Growing up in the 80s in Orange, Nate was a part of the skateboard scene. He compared the motorcycle community to his past in the skateboard world and said something that really stuck with me: "You had the punk rock skaters, the hip-hop style skaters, the trendy guy skaters etc. and just a bunch of different cliques of skateboarders. They aren't the same, but they all skateboard. We all got along – we were just into different things. There's a ton of cross over and although we are associated as "the same" to the public world, we aren't. There is so much cross-over and that's like how the motorcycle culture is these days."
I really resonate with this outlook because at an event like Born Free, from the outsiders eye, everyone there "looks the same" or "is the same" because we're all into bikes. But we aren't, everyone has their own style, their own taste and their own personality – and that's what Nate, and this article is all about: capturing those differences and highlighting them as an art piece that you can see and touch.
"The whole community isn't just about motorcycles – it's about the people"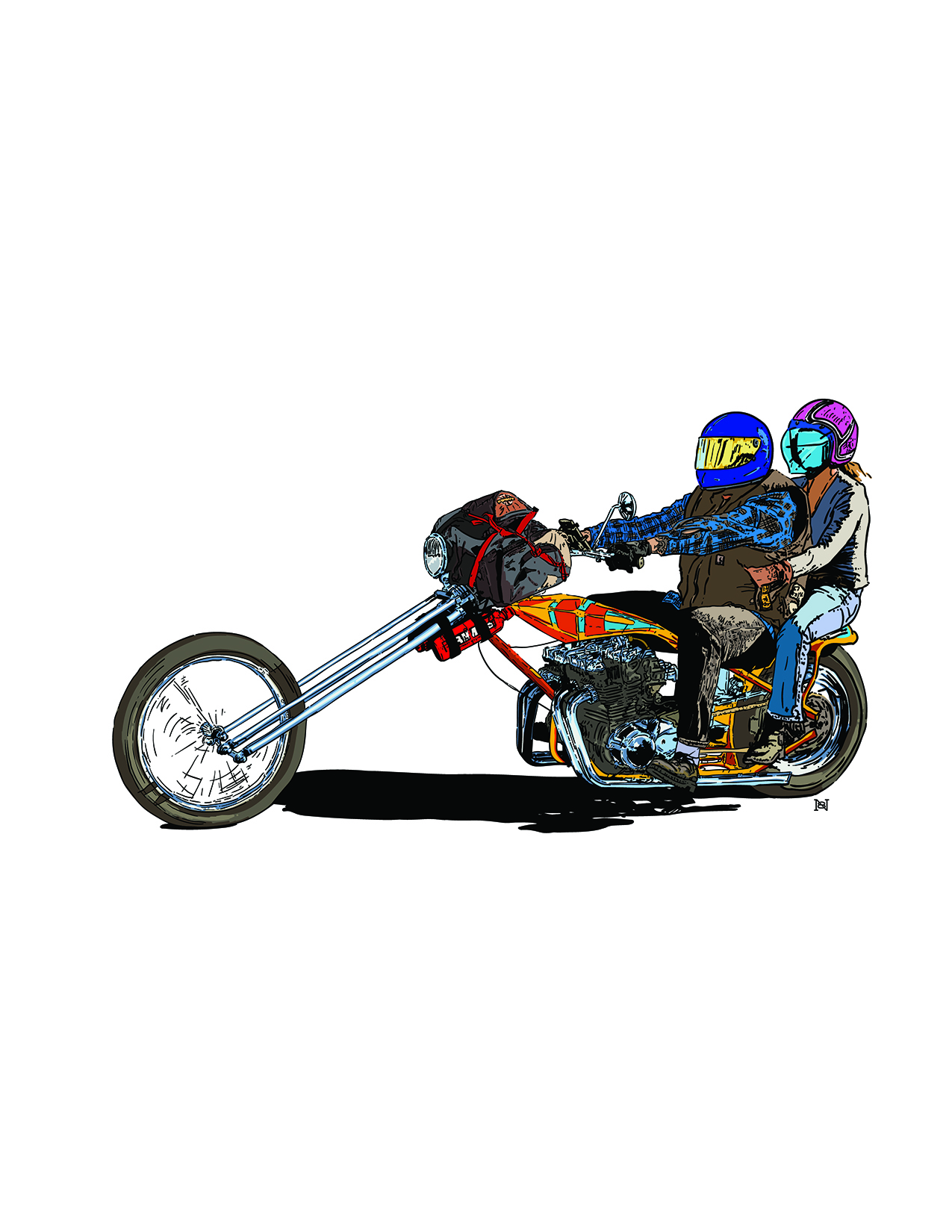 Personalities on paper.
I decided to ask Russ Browns favorite personality, and one of the faces on Nate cards, Dump Truck, what he thought of Nate Biccum, and this is what he said: "He's a fun-loving, kind-hearted artist. He wanted to make me a part of his deck of cards and I told him I was happy to be apart of it and I would promote him any way I could. We've just enjoyed each other hanging out ever since. The first time I met him was at a party, then after that it was just like a mutual 'you're cool man, I wanna help you, you're tight, I wanna do stuff'. That's the kind of person I like."
It's cool to do these stories on people who you didn't know before. I now have a new buddy and also learnt about a new artist who is extremely talented. Nate is a full-time graphic designer who does outsourced freelance work as well. He has done work with lots of companies in the motorcycle industry and likes the idea of the culture being intertwined: The Show Bikes having multiple skills from multiple people come together to bring the bike alive, events having riders team up to host a party, artists who do the art for the events etc. This article has turned out like that as well, a couple riders coming together to create some stuff for you readers to learn and read about. With that thought, here's some more about Nate in his own words!
Where are you from?
Orange County born and raised, but I also grew up in Maui for a few years. I am currently living and loving life in Dana Point with my girlfriend Emma and our little buddy Zia (Sphynx cat).
Current occupation?
I am a full-time Graphic Designer
Suicide Machine Graphic Design Job
Sign Painting
Babes Ride Out Graphic
What shows/events has your art been a part of?
I have shown at Bornfree, IV League Flat Track, Race on The Rez, Art Ride CA at Legacy Brewing Co. to name a few.
Nate's display at Born Free
Why do you love art?
It's such a powerful way to release expression, creativity and problem solving no matter what the medium is. My favorite part of the process is sharing it with others and hopefully they will enjoy it as well.
Bike art by Nate
Influences/inspiration?
Music is a huge part of my life and I cannot imagine doing art without it. Things like DIY/Punk Culture, Skateboarding, Hot Rod/Motorcycle Culture… so many friends and other artists that are out there doing their own thing. Major early influences include Dali, Picasso and Basquiat. I can name many other current artists, but I believe these are the classic ones that influenced me early on. The list can go on and on!
What inspired the playing card deck?
I started doing these Moto inspired illustrations based off of photos of my friends and people I dig what they are doing in the Moto community. After a while (about a year or so) I had accumulated a lot of these illustrations and felt like doing something with them… a deck of playing cards just seemed to make sense. It's been fun to see the progression of it, as well as the finished product. I have 3 uncut "proof" sheets of the entire deck and will get them framed soon. Kinda neat-o.
A card from Nates deck
One of the people on the cards is Dump Truck. Every time you hangout with him, it's awesome. I try and personalize every card. Dump Trucks is pretty straight forward – He's on his old Sportster, with a dumbstruck beside him. As soon as you start talking to him, it makes you in the best mood. You get a positive vibe and start laughing. I'm always talking about funny shit when I'm with these guys. They're hilarious. They love bikes and camping, racing and really make up the whole culture – and really that's what it's about. We all love bikes, and all types of bikes. I don't care what kind of bike it is – its about the people.
DumpTruck Art by Nate Biccum
Some are friends of mine and some aren't. Some of them are painters and fabricators I haven't met but what they do blows me away. Its a years worth of illustrations and at the end of the year – I decided to make a deck of cards. I actually made the deck so you could buy them. They sold out so fast. They'll be back up for sale soon!
Are you doing another set of cards?
I am in the process of setting up my second deck of playing cards. This will include illustrations of friends and things I have done since my first deck was made.
What is your background with motorcycles?
I am into all kinds of bikes and have been riding for about 15 years or so. I have a 2006 Harley Street Bob. My first bike was a 1981 Honda CB 650 that I cut up.
Nate's bike
What's the correlation between motorcycles and your art?
I feel like motorcycles are an art-form… mechanical art. The paintwork and fabrication, the aesthetic. It's amazing to see what these guys are building and the art/design that goes into it all.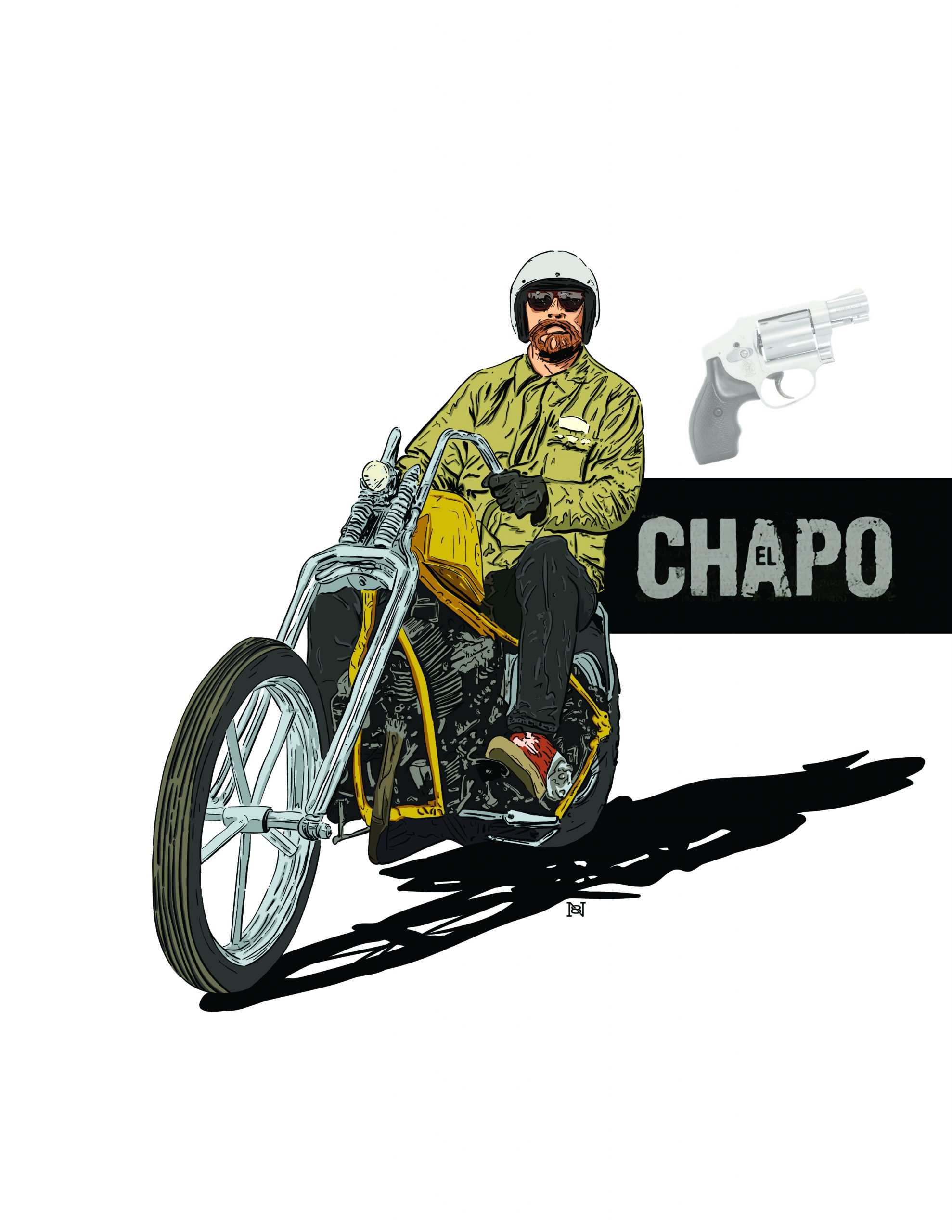 What have you been up to recently? Art wise, life wise.
I am currently focusing on offering products (posters, enamel pins, stickers, t-shirts, etc.) on my Big Cartel Site. I am going to add more pop culture type stuff as well. I recently did a ZZ Top design for a shirt and an Easy Rider t-shirt that has Dennis Hopper as Billy with a quote from the movie. I recently just finished up my first enamel pin which has an illustration that was originally painted on the back of my friend Constancio's Pinto wagon. It is an illustration of Falcor from the movie Neverending Story, but it says "Neverending Party" instead. When I first saw it I was blown away and I asked my friend if I could make some enamel pins out of it. They turned out sweet and I sent him a few.
Dennis Hopper Design
Never Ending Party
I will probably do one of our 1970 Ford Econoline E100 van next. We had our friend Jen paint "Speed Kills" on the back of it so the pin will probably have that on it.
I really like to make things and hopefully those things can go out in the world and make people laugh and be enjoyed. I think the Nacho Libre illustration I did recently brings the biggest laugh so far. It is Nacho riding in his cart from the movie… I gotta give Emma props for making sure I drew his pinky out on his throttle hand. Nachooooooo
Is Graphic Design your main job?
I have been doing Graphic Design for over 15 years in different industries. So doing this Moto illustration work has been really freeing and keeps it fun. I would love to work for myself and keep doing things like what I have been doing and keeping it fun.
Nates business cards
What are your goals with your artwork?
I am just trying to come up with things that I dig and have fun with it all. Hopefully people dig it too.
Where can people see your work in real-life? Up coming displays, work out on the streets/by companies, etc.
They can see my art on Instagram at @n8biccum or my hashtag #n8illustrate / my Big Cartel Site (which I am currently adding products to) at n8illustrates.bigcartel.com
Thanks for your time Nate! Can't wait to meet you in person soon!
All photos are provided and owned by Nat Biccum
"If you have been involved in a motorcycle accident, don't let it steal your freedom! Call 1-800-4-BIKERS to learn how an experienced motorcycle accident lawyer can get your bike fixed, money for your medical bills, and compensation for your pain and suffering."