By Anya Violet
I started riding motorcycles as a kid. After high school, when it was time to go to college and become an adult, it was not so easy to have such an expensive hobby. Once I settled more into my career in my mid 20's the idea of getting back on 2 wheels started stirring in my mind. It wasn't until I found a community, that the idea really became a reality. The BA Moto crew in Long Beach California was a huge part of that community and played a big role in inspiring me to get my first street bike.
BA Moto is an independent Motorcycle Shop in Long Beach that specializes in service work on modern and vintage British bikes. They also happen to throw awesome parties, rides, bike nights, and minibike races in addition to being regulars on the local vintage race circuit. They are a community.
Nate Hudson is one of the founders and owners of BA Moto. He started riding when he was 10 years old on a Honda Trail 90 with his Dad and his friends. It wasn't long before he was getting lost out in the hills on his own and pushing that bike to its limits.
His love for British bikes started when he was in middle school. He would sit on his friend's dad's original 1962 Triumph Bonneville and imagine how cool it would be to actually ride it. One of his favorite bands at the time, Starflyer 59 endorsed Triumphs on their CD's jacket covers. At the time, Triumph had kind of been a forgotten bike in the States but in Nates' mind, it was the epitome of cool and would later fill his garage set the foundation for his business.
BA Moto, as it exists today, started as a hobby in 2006. The lack of garage space to work on their own bikes forced them to rent small warehouse space in Garden Grove where they could wrench to their heart's desire. The BA Moto crew had been working together at a Triumph Dealership for 9 years when they started seeing more and more of their friends and people their age getting Triumphs. They started hosting bike nights and going on long road trips with their riding buddies. Instead of going to the dealerships, people started asking if they could do the service work on their bikes. Nate and Jamie (head mechanic at BA Moto) quit their jobs at the dealership in 2010 and went full force into BA and they have been running strong for 10 years now.
"A lot of mom-and-pop style shops are closing up these days, so we are becoming more of a go-to shop in British bikes. So, we do anything from tire changes to major services on moderns, motor rebuilds on the old unit and pre unit motors, along to preparing bikes for racing for a coming weekend. When people come into our shop, we like to give them that old bike shop feeling that you get from back in the days. That old oil and gas smell." Nate Hudson- Owner and Founder BA Moto
I really got to know Nate and the crew at the campouts and racetracks in Southern California. These dudes will throw a 50-year-old dirt bike around a motocross track like you would not believe. I asked Nate more about how they got into racing.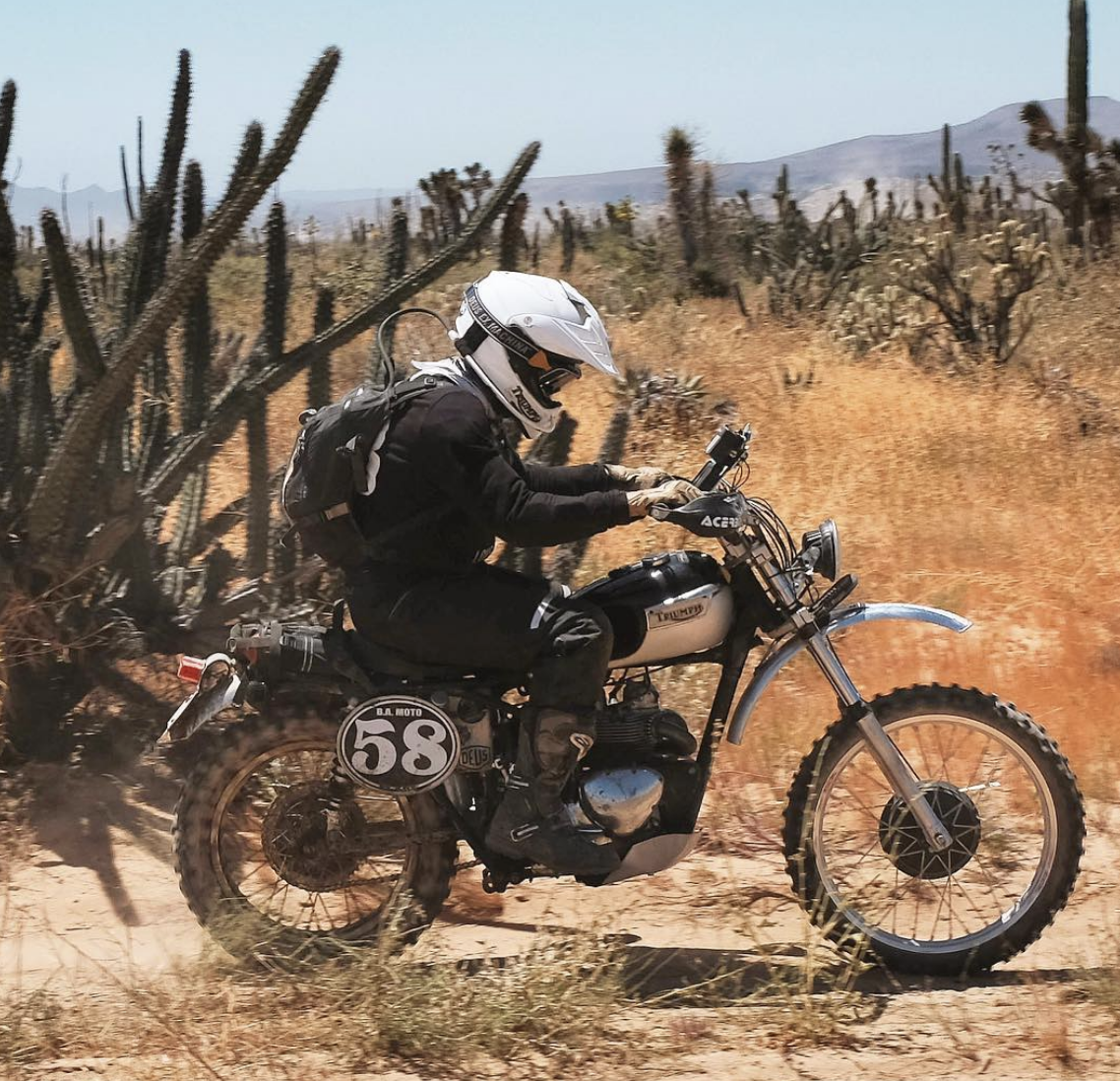 "BA Moto Racing is our passion. We love taking these bikes and pushing them to their limits. It started back in about 2011-2012 when we raced AHRMA Thruxton Cup series. It was a lot of fun, expensive, and only one of us was doing it. Yes, it was a team effort, but I felt more of us wanted to race as well. We started to dabble in the Hell On Wheels races which were more of a "Run what ya Brung" kind of vibe. We were pulling whatever we could find out of the shed to throw it on the track. Well, that has changed a lot since then. We shipped our bikes out to Tokyo with a bunch of friends in 2014 to race the Japanese, did a few NORRA Mexican 1000's on 69 Triumph 500's, and numerous VMX racing with Yamaha's, CZ's, Maico's, and Triumph's. Our team has grown a lot since it all started, and that makes it the best is going out there to race your buddies. It's like the end of On Any Sunday: Ya got Steve McQueen, Mert Lawwill, and Malcolm Smith just messing around on a beach, all with smiles ear to ear. That is what it's all about. (just missing Miller Lites)"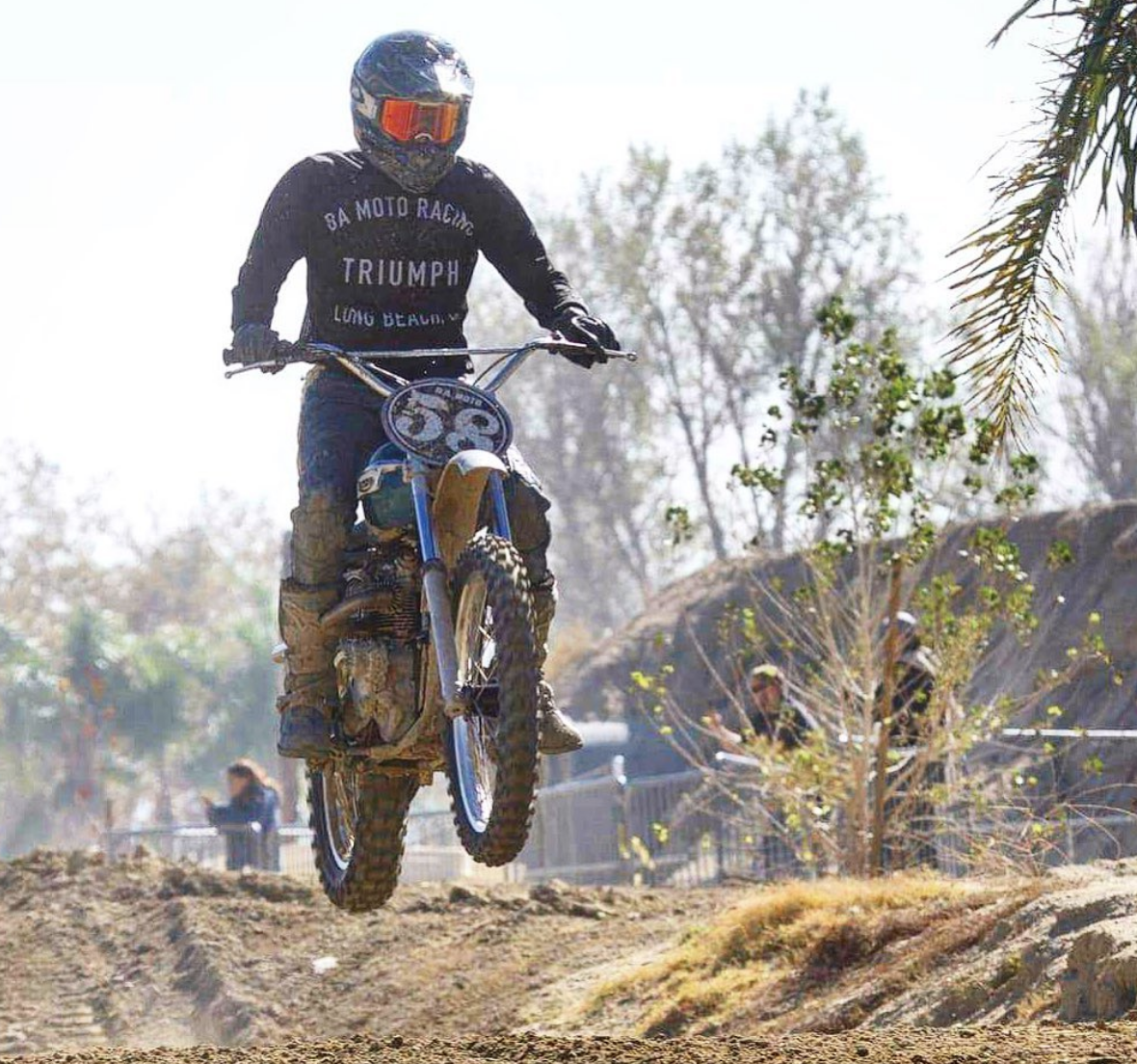 I think what I like so much about the BA Moto crew is that they remind me of the old-timers that were always around when I was a kid and learning to ride. My mom and I would go to some of the local campouts and race circuits on the Central Coast where I grew up. There was always bunch of warm, welcoming, and kind Dad-type dudes that would bust your chops a bit in the pits but would be front and center lining the track and hooting and hollering during your race. The support and encouragement go a long way and so do the jokes and shenanigans. For a lot of us, finding a community is all the invite you need to get into motorcycles. For me, BA Moto helped inspire me to get back on two-wheels after almost a decade.
Photos By: BA Moto
https://britishamericanmotorcycles.com
Follow them on Instagram! @ba_moto
"If you have been involved in a motorcycle accident, don't let it steal your freedom! Call 1-800-4-BIKERS to learn how an experienced motorcycle accident lawyer can get your bike fixed, money for your medical bills, and compensation for your pain and suffering."