There are plenty of people in the scene who are standouts for their level of passion, but I've never encountered anyone more deeply immersed in motorcycles than Allan Lane. Here is a man who bounces between the world of racing, street riding, and stunting, who started his own online magazine (Sportbikes Inc.), has created events and industry parties from the street level to the MotoGP paddock, and still finds time to create his own brand of gourmet coffee; all while still finding time for doing track days and street rides.
In fact, to tell Allan's story, we had to break this piece into two installments. Allan got into the motorcycle industry doing sales for the famed Fast by Feracci brand back in the early-2000's when the company was racing Ducati's and building hot rod parts for the primarily air-cooled street bikes made by the Italian brand. Combined with a background in the Philly street scene, Allan lived in both worlds, moving comfortably between the street scene and the glitzy scene in professional racing.
Despite such a unique story, Allan's start was similar to many. While the majority of riders I know started on dirt bikes, several people had to wait until adulthood to buy their own motorcycle: quite possibly a used 1980's Japanese bike (I have the exact same beginning story in that regard, including frustrating electrical problems).
Allan has come a long way since his early riding days, in more ways than one.
RBMA: "So let's start at the beginning: what got you into bikes originally?"
AL: "My older brother. I'm the youngest of six kids, and it was my middle brother, Gregory. […] I was a bit of a late bloomer because I watched the heart attacks he gave my mother. […] I remember one time, he had a moped, and he led the Philadelphia police on a very long, slow-speed chase. It only ended when he ran out of gas. I was very, very little at the time but I remember thinking, 'that's it, that's the life, how do I get some of that?' [laughs].
"And after that, I was maybe seven, eight years old, that seed was just planted. So when I had the opportunity about twelve years later– I was about twenty, twenty-one– I finally got my first bike. It was a 1985 Honda Nighthawk 750. It was a red bike, but it had a bad regulator-rectifier… it couldn't hold a charge [for the battery]. And so, it didn't really kill the fire, but it got really annoying, not being able to trust the bike. What I do remember and appreciate about that bike though, it the time I spent really learning to ride it."
RBMA: "So despite a bit of a sour taste early on with mechanical gremlins, you obviously fell in love with motorcycles. How did it turn to sportbikes and Ducati's specifically?"
AL: "[…] I went to high school with Eraldo Ferracci's kids. Are you familiar with Eraldo Ferracci?"
RBMA: "As in Fast by Ferracci??? [a company that makes Ducati performance parts]."
AL: "Fast by Ferracci, right. […] So fast-forward, I'm working at a bank. I'm good at the job but I hate it. This is around 2003, and I fall in love with the Ducati Monster, that matte black. And the bank that I'm working at is literally on the other side of the mall from Fast by Ferracci's new location. […] So, I go into the dealership, I buy the bike [a Ducati Monster 620 Dark], and when I quit the job at the bank, Mr. Ferracci offered me a job. And that's when everything, I mean everything, came together."
RBMA: "Gotcha. So, now you're working for Ferracci…"
AL: "Yeah, me and Eraldo… color has nothing to do with it but it has something to do with it. It wasn't Eraldo, but there were other people, taking note, that a black person hadn't worked for the shop before, or that they could recollect. I stood out. […] To this day, that was my most favorite job ever. Now, I was with him for about four or five years. I was the first one walking in and I was the last one walking out: I loved that job because I was surrounded by the things that I loved, every day."
"[…] I think I was so successful and stayed there so long because I understood a few things about Eraldo. He was a very passionate man, but passionate about motorcycles and components more than anything else. If you understood that, you couldn't take anything personally if he got upset at you."
Creator of Hard Knocks Motorcycle Entertainment
In my experience– both in and outside the motorcycle industry– having a job you love means getting paid less than you're worth. For Allan though, the job at Fast by Ferracci was commission-based: the sky was the limit. Understanding your product and your customer is essential to sales, but Allan was already immersed in motorcycles, so the job came naturally. Soon he wasn't just on the phone making sales but was attending events– not just to drum up sales– but to make long-lasting connections.
Being black and in the world of motorsport can be a blessing and a curse: people can dismiss you as an event security guard, but once they realize you're a fellow gearhead, they'll instantly remember you the next time you cross paths. And in a world like motorcycles you run into a lot of the same faces. Allan still encounters this phenomenon today.
AL: "[…] It wasn't about color for us, but people would take note. They'd say, 'who's the big black guy in the Fast by Ferracci booth?' […] Our industry is very small: if someone sneezes on the east coast someone says 'God bless you' on the west coast. So news traveled fast that there was this big black guy working for Eraldo, and Eraldo was sending me out to be a representative for the company. And that's when my network just exploded."
But working event booths didn't just expand Allan's contact list, it gave him an understanding of how events worked. Attending shows, running booths at race events, and attending industry parties where the different players interacted (racers, crew chiefs, organizers, sponsors, parts vendors, etc) shined a light on the industry that many can miss: motorcycling is not just about motorcycles.
The different contacts Allan made while working at Fast by Ferracci allowed him to move around the industry's different areas, and being a black man from Philly also made Allan just as comfortable in the street scene and the stunt riding scene, which was exploding in the early 2000s.
In 2007 things really started to spread out for Allan, with him launching his own shop as well as Hard Knocks Motorcycle Entertainment.
RBMA: "So there was a lot of shuffling. You've got a podcast, a magazine, an event company: even a coffee brand. It had to start somewhere though, in phases, right?"
AL: "[In 2007] I started my own company, called Everything But The Bike, which was a shock,[…] and it was the same year that I launched Hard Knocks Motorcycle Entertainment. And that was the same year I did the first Clutch Control, which was the first event in Philly that I put together… just outside of Philly. We did the ride the night before, and that's when Jason [Britton] and I first met."
A Philadelphia native, Allan has been able to spread through many facets of the motorcycle world while sticking to his roots.
For those out of the loop, Jason Britton was already a fixture in motorcycling at this point, having already been in the stunt riding scene when it was just people selling VHS cassettes of riders doing wild stuff on the street, often shot with hand-held cameras out the side window of a car. As the scene developed so did Jason Britton, hosting several shows on Speedvision (later SpeedTV) and forming Team No Limit, a traveling show that does event appearances, battles it out in stunt competitions, or just puts on its own events.
Allan knew while he planned the first Clutch Control that it couldn't just be another bike show. Having Team No-Limit perform at his Clutch Control event was a no-brainer. What Allan didn't realize was that it would be the beginning of a partnership and friendship, with Allan working as emcee for Team No Limit, further broadening his skill set and reputation.
RBMA: "So after [Jason Britton] comes out to do [Clutch Control], what ends up happening?"
AL: "[…] He killed it, just smashed the show… Philly hadn't seen anything like it. But what made it even bigger– super strong– was he brought his production crew out. […] So, having TV cameras, in Philly, [showcasing] our bike culture, was major. And it was established that I was the guy who put it together.
"Now I was 'the guy' for Philly. I had people keep asking me, 'can you do that for us here where I live?' So, my touring with Jason happened after that. That's when people started to notice, 'hey Allan has a talent for running his mouth [as emcee/event host]… Jason used to call me Stunt Mouth. [laughs]."
Just The Beginning
After just over an hour of talking with Allan, I could easily tell we were only at the tip of the iceberg. There are multiple chapters he is still in the middle of. His online magazine, Sportbikes Inc., has survived over a decade in the turbulent seas of online moto-journalism. Hard Knocks Entertainment is still charging hard and has expanded to host events in many segments of the industry, even helping Kawasaki launch their ZX-6R sportbike in Times Square among huge fanfare. Allan even has a Hard Knocks brand of gourmet coffee out.
The only way to do this story justice is to hit the pause button here and break it into two parts. Wish the backstory fleshed out we can see why Allan has his hands stirring so many pots, what it takes to balance that many businesses, manage family life, and handle brand ambassador duties for companies ranging from Ducati Motors to Springfield Armory. With Allan clearly proving he is an expert at straddling divides and standing on both shores, we'll also ask him about the differences (and similarities) between the world of street bike riders and those who only get their two-wheel fix on the track.
Does Allan Lane still get mistaken for a security guard at his own events? Yes, but it only adds to the mystique of a man who can stand with confidence in any room. Until Part 2 of this interview series drops, you can chase down the mythical figure– known as Black Moses to many– by checking out his personal Instagram (@mrblackmoses), signing up to the Sportbikes Inc. online magazine, or by hitting up www.hardknocksmoto.com.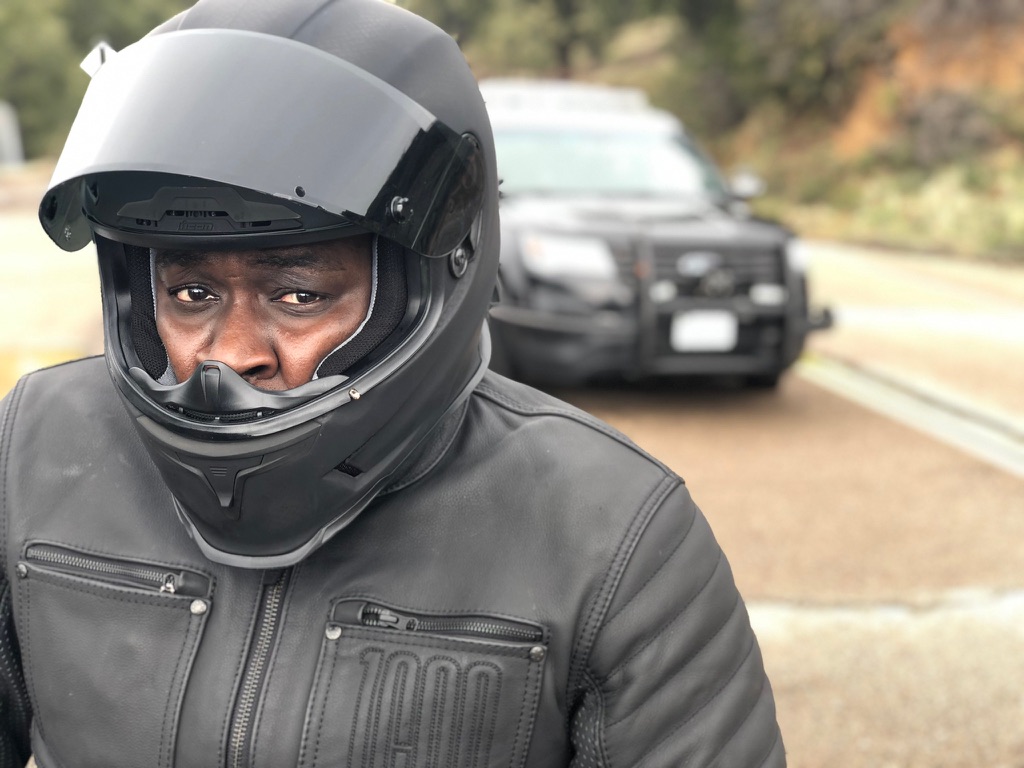 "If you have been involved in a motorcycle accident, don't let it steal your freedom! Call 1-800-4-BIKERS to learn how an experienced motorcycle accident lawyer can get your bike fixed, money for your medical bills, and compensation for your pain and suffering."