Photographer, Chopper builder and LA socialite
Interview by Becky Goebel @actuallyitsaxel
Before I met Ben he was showing up on every motorcycle media I could get my hands on. His photos were in Showclass, Dice, Easyriders, all over the Internet and on the walls at every event I was attending. He was shooting all the coolest bikes in California and seemed to know everyone. People were always saying, "oh you haven't met Ben the Boog yet?!"
It was at the '1 Moto Show' in Portland where I first hung out with Ben and his California crew. He never didn't have a camera around his neck – shooting all the partying, bikes, personalities and craziness that goes on at the shows. Ben always had some crazy artsy old Harley chopper he was riding around at events and it was Giddy Up Texas where I first saw one of his show builds. They really are one of a kind: always some crazy set of handlebars, lots of chrome and a solid bright frame/tank color.
Since that Giddy Up, I have travelled around the world with Ben. We both work for magazines and blogs and run in the same crew. He's been in the scene a lot longer than me though. It seems as though everyone is a bike photographer these days, but Ben was there first. Just this past December we both travelled to Japan for the M00neyes Show in Yokohama. Ben was an invited builder to the show and was invited to have a main show bike that rode in during the main ceremony. That event is pretty much the Olympics of choppers, and Ben was front and center.
There's a lot more to know about Ben. I didn't know for years but his name is in the credits of some of yours and my favorite TV shows and movies, he's a talented musician, an artist and more. You'd think there'd be more about Ben out in the magazines and blogs, but he's always the one behind the camera, or creating the content. Today, I got to flip the switch and ask him a couple questions:
Who are you and where are you from?
Hi! I'm Ben! :). I'm originally from San Diego, CA. But now reside in Los Angeles, CA.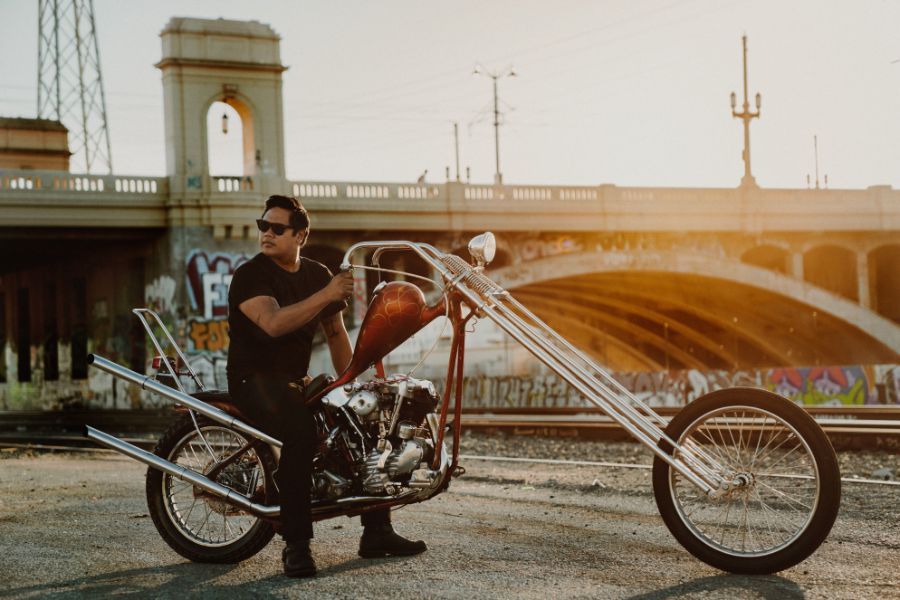 This photo is of Ben
How long have you been shooting bikes?
I've been shooting bikes for roughly 12 years now.
What came first? Bikes or photography?
Photography came first. I was really into doing environmental lit portraiture.
What's your top 3 most favorite shoots you've done?
In no particular order:
1. Ryan Cox's Panhead at Walt Disney Hall.
2. Dayten Likness's Ironhead in a Downtown LA abandoned building.
3. My Denver's Choppers in Downtown LA.
Is photography your only job?
It is not. I've been a Music Editor for Television and Film for 20 years and I love It!
How does your job tie into your photography?
Hmmm…I usually pull inspiration from my work as a Music Editor on films and TV. Being inspired by how things are filmed usually overflows into my thought process when I'm on a photography job.
What's the "motorcycle photography" industry like now compared to when you started in It?
Like everything else in our world…everything was maybe about 50/50 analogue to digital. Now it's like 90/10 on the digital side. And also of course it's probably a little more saturated than it was.
What bikes do you own?
1947 Knucklehead
1963 Panhead
1964 Panhead
1967 Shovelhead
1978 Shovelhead
I've seen you at tons of events around the world, what shows/events have your bikes been shown at?
I've been very fortunate enough to be a part of several shows and events. Some of them are:
Paradise Road Show
Mama Tried
Giddy Up Texas
Fuel Cleveland
Born Free
Mooneyes Hot Rod Custom Show
Harley Davidson's No Show
David Mann Chopperfest
Who are your biggest influences in the motorcycle world?
I have several influences in motorcycles! They all happen to be my friends who build amazing bikes! Jamal Holis, Dayten Likness, Chase Stopnick, Ryan Grossman, and Will Thomas to name just a few.
And in the photography world?
In photography my influences are usually film makers! PT Anderson, David Fincher, Sam Esmail, and Ari Aster are all directors whose work I hold very high.
Everyone knows you as Mr. chopper/photography guy – What are you into other than bikes & photography?
Wedding photography is also something I enjoy very much. When you're working with other great photographers that you look up to and respect…it's very rewarding! I've been very fortunate to have been working on weddings with other photographers a lot lately and it's something I want to do more of.
Also Films! I love the craft of making well made films!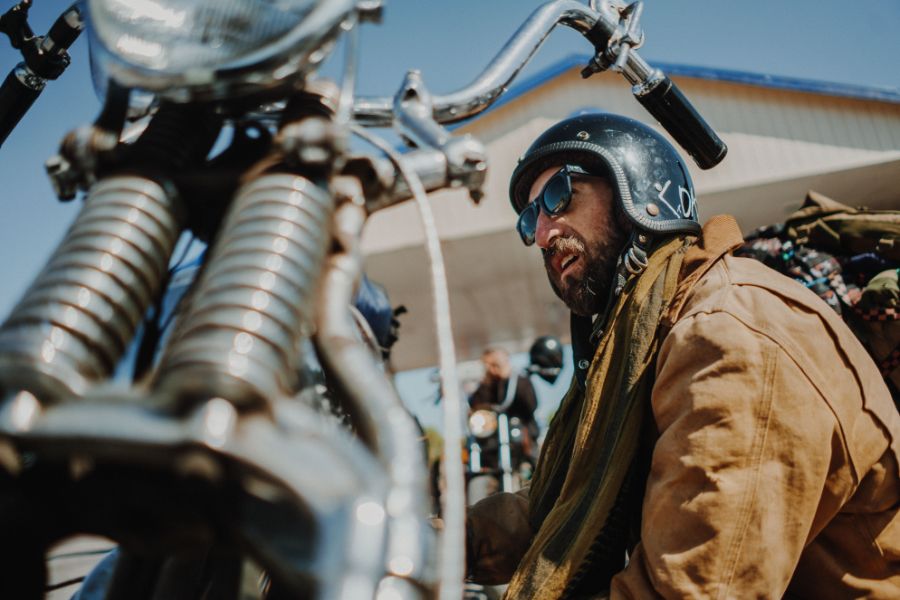 Do you ride your bikes? If so, what's some trips you've done?
I ride my Knucklehead and Shovelhead as my daily riders. I've done a lot of riding on the West Coast… up to the Bay Area and to Reno.
Can you be hired for jobs? Photography or bike building? If so – how do people contact you?
I do like being hired for jobs, both photography and bike building. Best way to get in touch with me is probably my instagram: @bentheboog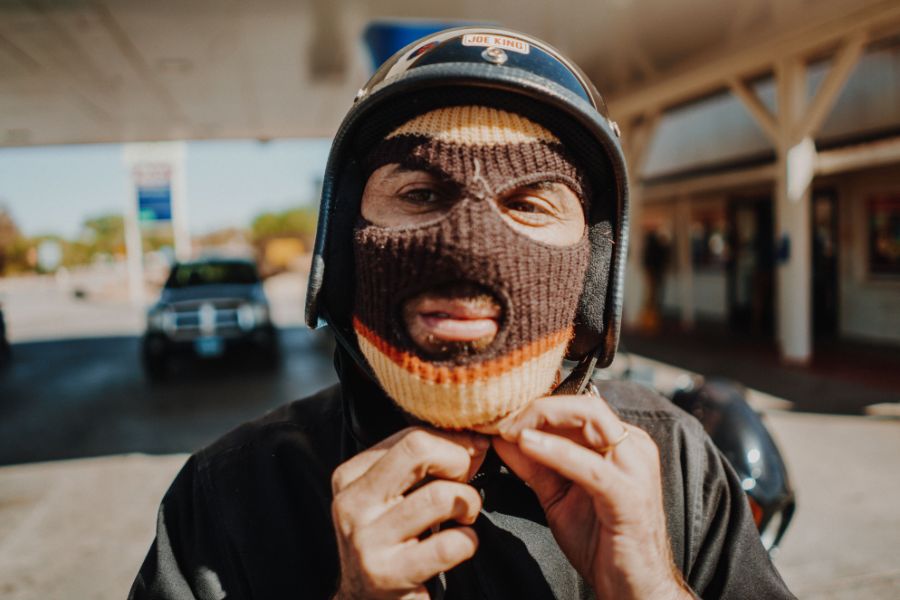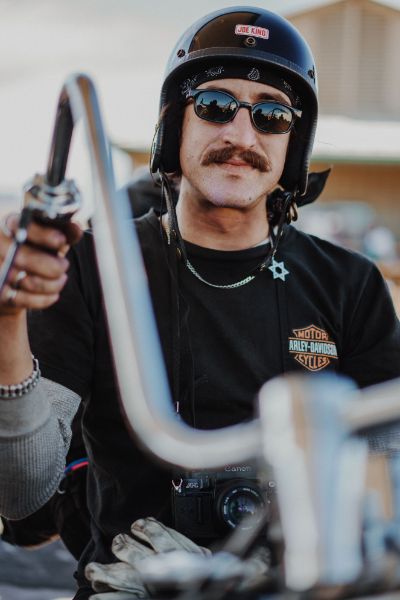 What would you say to someone who looks up to you?
To anyone who wants to shoot bikes – get out there and start shooting! Learn as you go. Photography for me has been an 'on the job learning experience" and that's honestly what has made it fun over the years.
As for bikes…do you research and learn as much as you can so that when you're out there doing It, you're confident in your skills!
Also, both of these things should be fun… so if it's not, dial it back to where it's fun again!
Thanks for talking with us Ben! Follow Ben's Instagram for daily updates and more photos: @bentheboog
"If you have been involved in a motorcycle accident, don't let it steal your freedom! Call 1-800-4-BIKERS to learn how an experienced motorcycle accident lawyer can get your bike fixed, money for your medical bills, and compensation for your pain and suffering."