You might wonder where is the connection between Blackall Racing and veterans besides the fact that the Owner (Janet) and the Rider (Tony) are both veterans. Well, my name is Jeff, I'm a Navy veteran and here is my personal experience with Blackall Racing and feeling/seeing the impact and connection between Blackall Racing and Veterans.
I first met Janet and Tony at Road America through a friend. When I first met them, they were welcoming, but still held a somewhat reserved presence on not just letting anyone in. During that weekend's race and through conversations I just knew there was something about Blackall Racing I just had to be apart of. I made it a mission to photograph Tony everywhere I could during all the races that weekend. On Sunday before I left, I made sure to get Janet's email and made a promise to give her all the photos I had of Tony as soon as I could. 3 days later, photos were edited, uploaded and a gallery link sent to Janet. I also made sure to note I would see them again at the upcoming MotoAmerica event in Atlanta, Georgia.
The Monday before the Road Atlanta race I emailed Janet and asked if there was anything I could do to help them out, and what time they were going to arrive since Blackall Racing is based out of Michigan. She said, "Should be there early Thursday Morning for Staging and you can help us with set up if you want." I replied with "I will be there". A week or so later Janet and I were talking on the phone and it was clear to me that they didn't think I was really going to show up. Little did they know, for some reason I was drawn to them and I wanted to be a part of the team.
Jeff
Back to the story, we are at Road Atlanta, it's the 3rd race of the season. My parents come to the race because they haven't seen me in a while. After the warm welcome from my folks, I put a camera in my dad's hand and told him come help me. I introduced my folks to Janet and Tony and referenced that my folks were Navy veterans as well. Later that day we needed to make a run to the store. I asked Janet if they needed anything and she said just some ice and a piece for the trailer.
Janet
Here is where the rubber hits the road. After the Road Atlanta race, most of the rest of the season is a blur. However, I can tell you this, the Blackall's are legit and strive hard to spread the word to help veterans and active-duty service members, so no one is forgotten. Janet is a strong woman, maybe it's being a Marine, maybe its her personality, or it could just be a combination of both. Besides being a disabled woman veteran, Janet is a business owner. During her free time, she is a mother, a supporting wife, a crew chief, and the team mom at the track. And what can I say about Tony? Besides having one of the most important jobs, if not the most important job as our Rider. First and foremost, he is always a dad to his kids. He also always wants to give the best performance possible for our fan base. Tony is also very dedicated to his performance and continuously works at keeping his mind and body in tip-top condition. I have been astonished to personally witness Janet and Tony always putting their family first. For example, whenever possible their kids will be at the track with Grandma and Grandpa in tow to cheer on their dad. Their kids are awesome. When they see dad on the track racing, their faces just light up with smiles! They are so proud of their dad. Trust me I witnessed it when we raced at Indy.
Tony
As mentioned earlier, I was just drawn to wanting to be a part of Blackall Racing. As the season wound down, a lightbulb went off! What I needed and Blackall Racing had to offer was camaraderie. I had a need to be apart of something that was bigger than myself or Blackall Racing. That something bigger is helping other veterans and active-duty members.
The Team
In the military and when we deploy, there is a bond that happens with people. A bond unlike anything else that comes from working so close together day in and day out, in the wildest conditions imaginable. Some call each other 'battle buddies' for the Navy its 'shipmates'. There is nothing in the military as you are transitioning out of active duty back to a civilian that teaches or prepares you for the sense of being lost in the sauce of civilian life after service. At times we feel like outcasts to the civilian population because most people don't understand us, and in the meantime, we just want to fit in and feel like we did before we signed that dotted line and rose our right hand.
Jeff
I do not know how the Air Force or Army does it, but for the Aviation side of the Navy and Marine Corps every shift change we have what is called a production meeting. Yeah, we talk about what is going on maintenance-wise in each of the shops for the planes and mission readiness, but also it gives us time to see our peers and make sure we are all doing ok. With that being said, Janet and I have a weekly meeting where we go over our week's work of what needs to get accomplished. I also ask for all the updates about how Tony did during his track day weekends. Just like a production meeting from back in the days of Active duty. Additionally, anytime the team has any good news or big news we share it with the team in a group text or email. Blackall Racing has made me feel like I belong to something again. It's like we are family.
Jeff
My current role with Blackall Racing is the Media Director and that's not the only hat I wear. I help fill in wherever Janet or Tony needs me; from my normal duties of photographing, videoing, making promotional videos, marketing, and graphic design needs; to correspondence with potential sponsors, current sponsors, and beyond. Once our 2021 MotoAmerica season starts I will add to my list of jobs, with the likes of working in the hot pit putting tire warmers on, being motivator, team chef, and point of contact at the track for interviews, and any other media responsibilities that come along.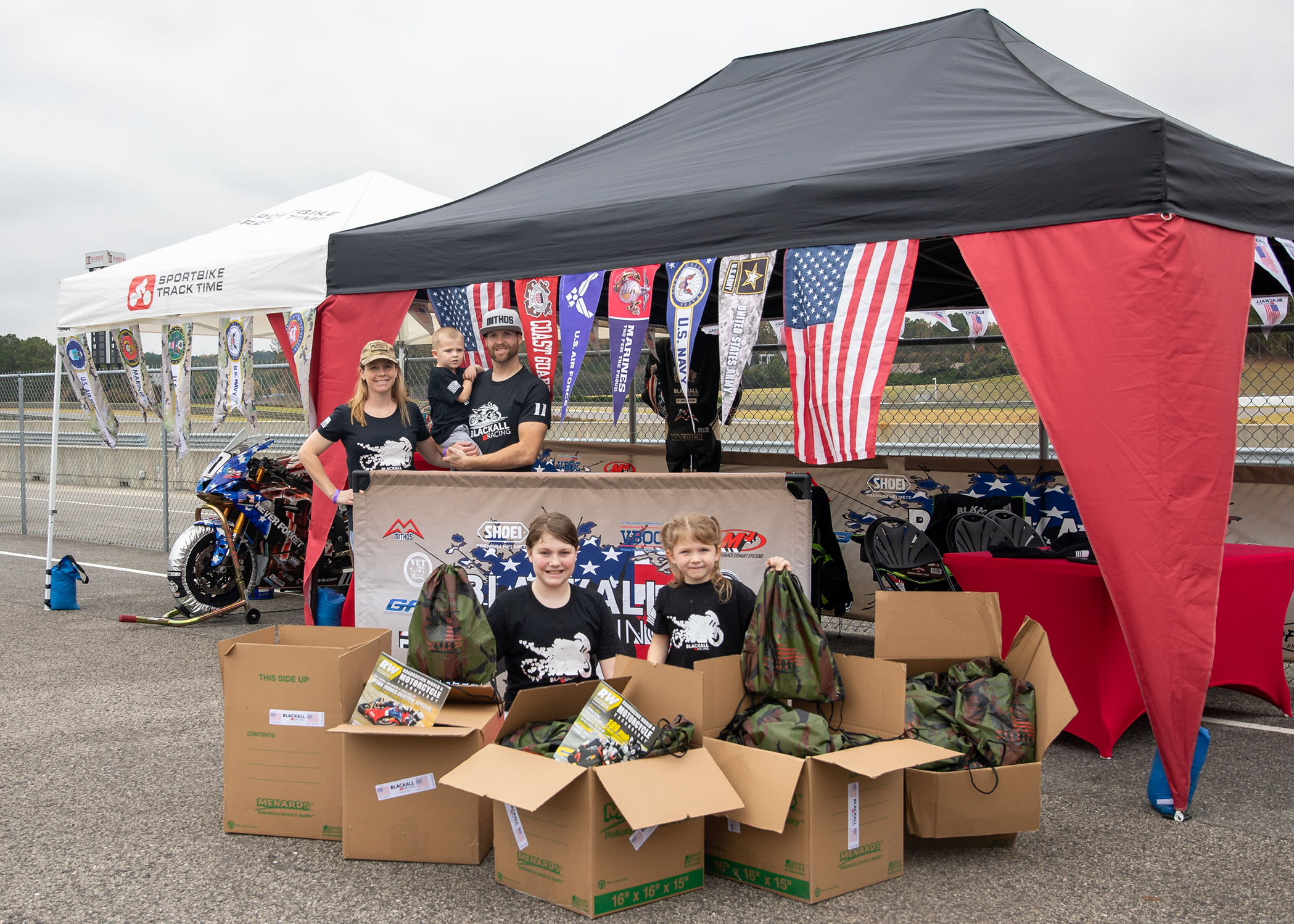 With the memories, I have made I can't thank Janet and Tony enough for giving me the opportunity to be apart of Blackall Racing. I am so looking forward to what our 2021 season has in store. We are seeking sponsors to 'Join the Fight' with us for 2021. If you're interested in being part of something bigger than yourself visit www.blackallracing.com to see how you can help. We have seasonal opportunities to support the team or market your business or support the #patrioticpackages initiative. You can also check us out on social media and YouTube @blackallracing. We look forward to seeing you trackside soon!
"If you have been involved in a motorcycle accident, don't let it steal your freedom! Call 1-800-4-BIKERS to learn how an experienced motorcycle accident lawyer can get your bike fixed, money for your medical bills, and compensation for your pain and suffering."