Biker rallies build their own sort of culture the longer they go on. Names like Sturgis, Daytona, Hollister, and Laconia evoke an immediate reaction from motorcyclists "in the know." But the "majors" can sometimes be crowded and have a bloated, over-promoted vibe. Of course, there are always smaller, local events that people love to hit up each year. There might be a local bike night, an annual car show, or maybe the local MC puts on a pig-pickin' to raise funds.
In between these massive rallies and small-time events lies a series of newer events, where rows upon rows of bikers show up, there are a ton of show bikes, some racing, and a whole lot of atmosphere. Shows like Mama Tried, The One Show, and of course Born Free are among these. While not new, Born Free is still evolving when compared to massive rallies that have been going on since before World War 2.
Some focus on racing, some focus on custom motorcycles as an intersection of art and design. The focus for Born Free is on vintage custom motorcycles, with most of the machines featured being period-customs from the 1960s. However, a huge part of the shows' grounds (near Silverado Lake in Orange County, California) is actually for bike parking. This means those who purchased a "Grass Pass" ended up as part of the show.
I personally love this since I spend a lot of time at bike events walking the parking lot. It gives the show a sort of ad hoc feeling instead of feeling stuffy and pretentious. And like any proper motorcycle show or rally, there was more to do than look at bikes. With two stages, a ton of vendors, and The Stampede (hooligan flat track racing), there was plenty to see and do. But instead of telling the story of the Born Free Show, it might be better to simply show you some of what was happening.
First and foremost, Born Free is a bike show. Focusing on vintage customs, machines were of course primarily Harley-Davidson based, but they ranged from pre-war bob jobs to chrome and metal flaked choppers, with a sprinkling of barn-fresh machines complete with copious rust from being parked for decades.
Much like back in the day, Triumph was well represented among custom bikes, with more than a few CB750 Honda-powered bikes as well.
Sitting on "the other side" of the fence were many period-correct machines that looked to be pulled straight from the barn, except for their shiny new license plates.
Aside from the bikes, there was still plenty to check out. With two stages, there was always music worth listening to along with a few quiet corners where you could layout and chat up friends, take a break from walking, or just enjoy some of the best weather Born Free has had. Ahh, southern California weather.
There was even a small mini-golf course. Heck, I even saw some people fishing in the small pond as well. The line for the beer tents seemed to be the most popular place to hang out though, with long lines most of the day to grab an 805.
Two stages meant you had your choice of music, and a bike giveaway kept people around as well. The atmosphere was laid back and the crowds seemed to be enjoying themselves.
The second stage had a more intimate feel and was far enough away that sound didn't bleed through between the two stages. You could sit back and enjoy or stand up close and blow your eardrums out.
Miniature golf at a motorcycle show? Well yes, why not? This was a great way to plot your exit from Born Free since traffic was about as congested as these lanes despite some great work managing the entrance and exit of the event. You just can't get that many motorcycles in and out of an area without things sprawling for miles in every direction.
Fishing the pond was fairly easy since the area was surrounded by the backs of vendor booths, creating a sort of tranquil cove amongst the noise and crowds.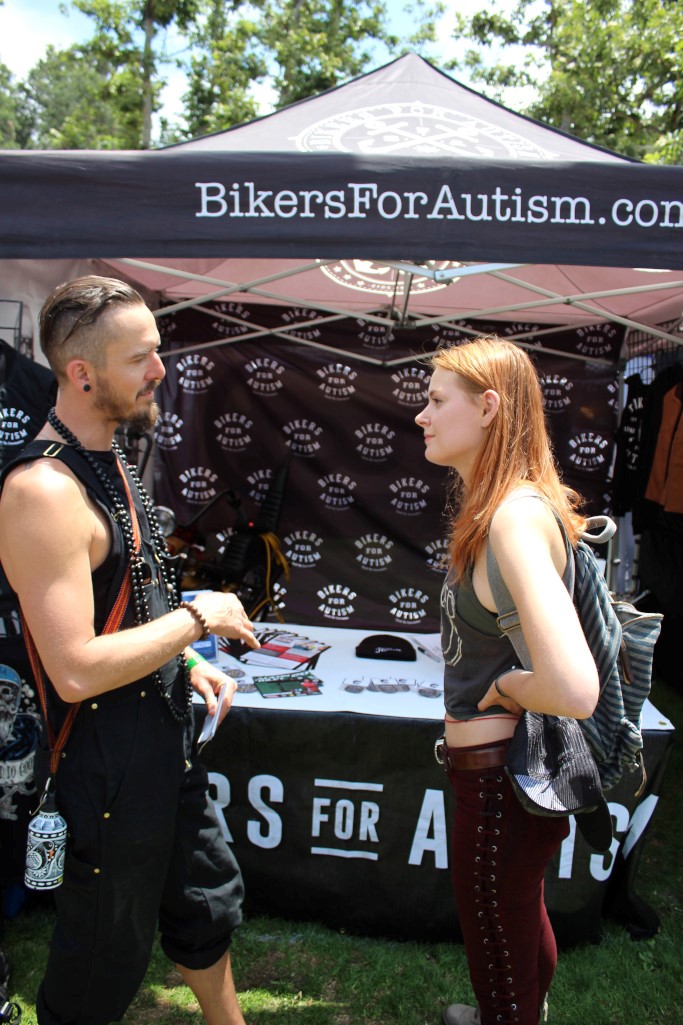 Vendors comprised most of the show, with gear and clothes as well as artists and causes, such as Bikers For Autism, subject of a future Russ Brown blog post.
Vendors ranged from Harley Davidson to known brands like Burly Brand and Loser Machine, down to many small and independent T-shirt companies. From hard parts to luggage on down to sunglasses and T-shirts, there was a lot to look at.
Born Free is also a great place to run into people, like BOMONSTER, a well-known scratchboard artist and the subject of a Russ Brown feature last year.
It wasn't just vintage bikes at Born Free, with Harley Davidson showing off several of its new machines, including the Livewire electric bike.
There were also half pipe displays which allowed onlookers close enough to feel the crack of skate wheels striking the lip.
But of course, Born Free is mainly about motorcycles… custom, vintage motorcycles…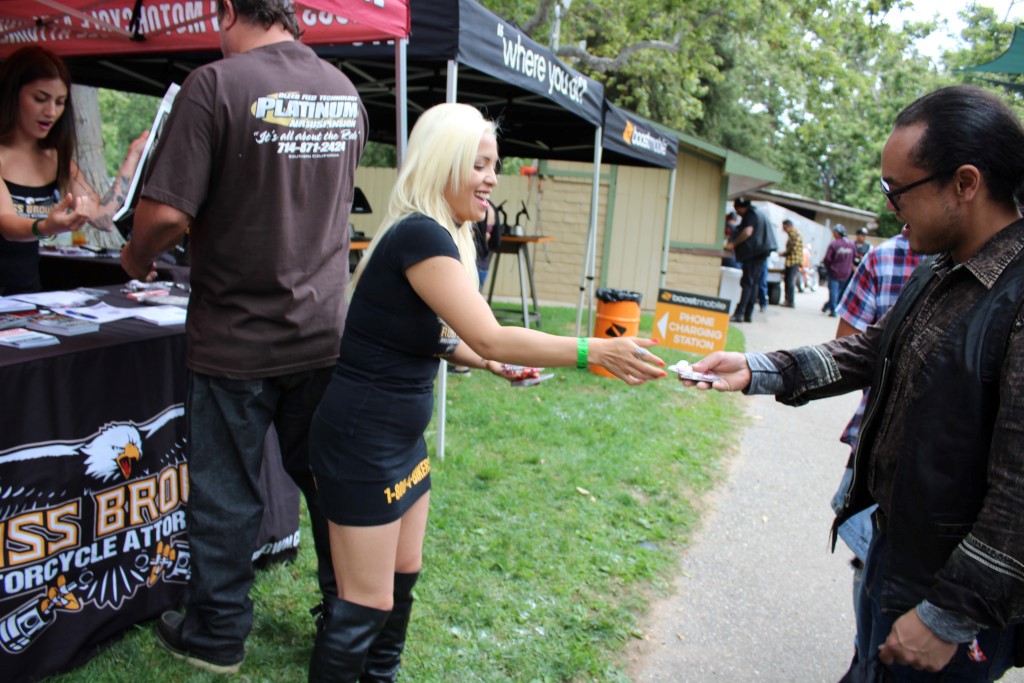 … but it doesn't hurt to chat people up and get some free swag while you're at it.
"If you have been involved in a motorcycle accident, don't let it steal your freedom! Call 1-800-4-BIKERS to learn how an experienced motorcycle accident lawyer can get your bike fixed, money for your medical bills, and compensation for your pain and suffering."