Brittany Morrow, who was involved in a bad motorcycle accident in 2005, has used the accident to inspire riders worldwide to seek out more training and always wear proper gear.   Brittany was a passenger on a motorcycle when the driver of the motorcycle accelerated to 120 MPH.  The bike was going so fast that it caused her face shield to lift on her helmet.  The wind ripped Brittany from the motorcycle and forced her to slide on the asphalt for over 500 feet.  Brittany had significant injuries, including severe road rash covering 50% of her body and causing mental health issues.  The motorcycle accident was 16 years ago, and she still deals with psychological and physical problems.  To know more about Brittany Morrow's motorcycle accident, you can visit her website at www.brittanymorrow.com.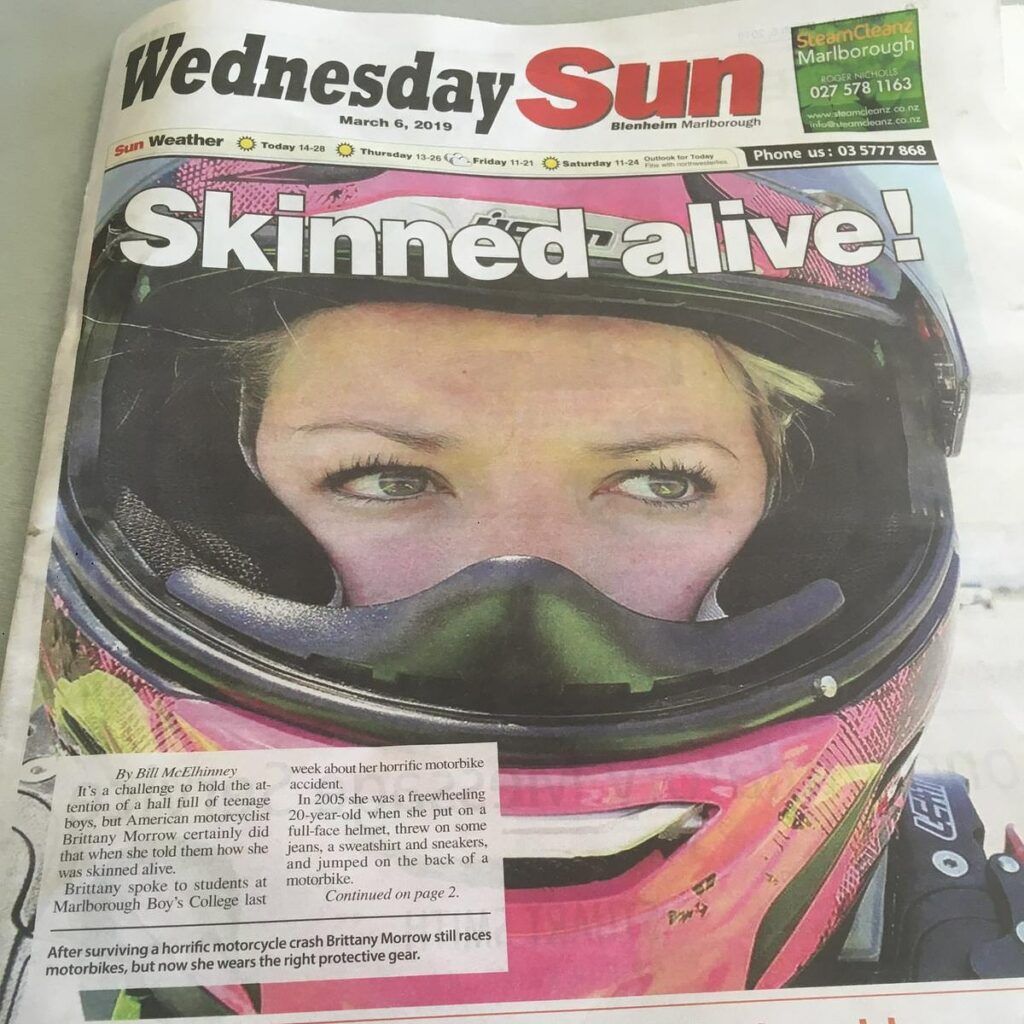 RBMA:  How old were you when you first started riding a motorcycle?
Brittany:  At five years old, I rode on a motorcycle with my uncle.  The ride was just down the road and back, but it was my first introduction to the motorcycle world.  The next time I rode on a motorcycle was at seven years old.  I went for an actual ride outside the neighborhood.  I did not start riding my own bike until 2006, when I was 21 years old.
RBMA:  What was your first motorcycle?
Brittany:  My first motorcycle was a 2006 Yamaha R6S.
RBMA:  Why did you decide to start riding a motorcycle?
Brittany:  I loved being a passenger on a bike until I was involved in a motorcycle accident while a passenger.  After I recovered from my injuries, I decided to continue to ride, but I wanted to be in control of the bike and be the driver instead of the passenger.
RBMA:  What kind of motorcycle training have you done?
Brittany:  I have done hundreds if not thousands of hours of training.  Here is a list of most of the training that I have done over the last 16 years:
In 2006, I learned to ride on the race track and later took the MSF Beginner Rider Course.  After I got my motorcycle license, I continued to attend track days and searched for courses and guidance from expert riders.  In 2009, I became an MSF Rider Coach and taught the introductory riding course for several years.  In the summer of 2012, I interned with Lee Parks and learned from Lee about having total control of my motorcycle.  I also took a beginner dirt bike class during that summer.  In the fall and winter of 2012, I became certified to teach the MSF Basic Rider Course 2, Advanced Rider Course, and military sport bike rider course.  I taught these classes while a Navy contractor for several years.  In 2013, I took Kevin Schawntz's two-day track training in Texas.  In 2015, I became a professional representative for a gear manufacturer and took professional training on all aspects of safety apparel from multiple sources.  In 2016, I traveled to New Zealand and took the Ride Forever on-track Gold Level training course.  When I returned from New Zealand, I became a total control instructor and taught the introductory riding course for several years.  In 2017, I took an intermediate dirt bike training course and Moto gymkhana class.  In 2018, I took Reg Pridmore's class on-track training and took a new racer school with SMRI, where I earned my race license.  In 2019, I returned to New Zealand and took the Ride Forever on-street gold level course and an MSF 3-wheel rider course.  In 2022, I became certified to teach the MSF 3-Wheel Rider Course.
RBMA:  Why did you become a motorcycle riding instructor?
Brittany:  I wanted to help riders learn the "easy way" and be an example for new riders to follow.  The easy way meant not getting hurt or reducing the chances of getting hurt and learning the basics of riding a motorcycle properly.
RBMA:  What other motorcycle-related stuff are you involved in or were involved in?
Brittany:  Since 2007, I have attended, volunteered with, coordinated, and have been the National Director of the Women's Sportbike Rally .  Also in 2007, I was a guest speaker during special events for multiple branches of the United States Military, Dealernews Dealer Expo, WRN's Revved-Up Women, America's Moto Rally, New Zealand Transportation Safety Administration and ACC's Shiny Side up, SMSA, WMT's Women's Motorcycle Conference, Women Riders World Relay and International Motorcycle Shows.  In 2008, I started an international protective equipment awareness campaign called Rock the Gear.  In 2014, I competed on an all-women team in a 24-hour mini-moto endurance race.  In 2017, I won the expert division of America's Moto Rally with my teammate, Michelle.  In 2019, I competed in another 24-hour mini-motor endurance race on an all-women team.  In 2021, I co-founded Revvoultion Rally with two of my best friends and fellow Women's Sportbike Rally volunteers.  I have also volunteered at multiple Real Deal Revolution events.  I was featured on the cover of Dealernews magazine and American Motorcyclist Magazine.  I have been featured in BikeRider NZ Magazine, Backroads Magazine, Super Streetbike Magazine, and many other regional publications.  I was featured on revzilla.com, motolady.com, webbikeworld.com, rideapart.com, forbes.com, and many other motorsport-focused websites.
I have worked directly with Yamaha, Can-Am, Indian, and Kawasaki on product launches, long-term test rides, takeovers, demo rides, and special events.  I worked for Icon Motorsports as a brand specialist for over two years, where I visited around 500 motorcycle dealerships across the United States and Canada.  I worked at special events like AMA Supercross, AMA Outdoor Nationals, and MotoGP.  I have been a guest on several podcasts, including the Wheelnerds, Moterrific, Coast 2 Coast, Tales from a Gemini, and Arrive Alive.  I co-built several motorcycles that have competed in and been featured at the Women's Motorcycle Show and Sturgis Buffalo Chip Women's Build Competition.  In 2021, my motorcycle build won the Jesse Combs Foundation Best in Show Award at the Sturgis Buffalo Chip.  I have written for several motorcycle magazines and publications, including RoadBike Magazine, Women's Riders Now, WebBikeWorld, Stuntride Magazine, Sportsbikes Inc Magazine, Modern Moto Magazine, CycleSpace, Ride Forever, my blog, and many other online publications.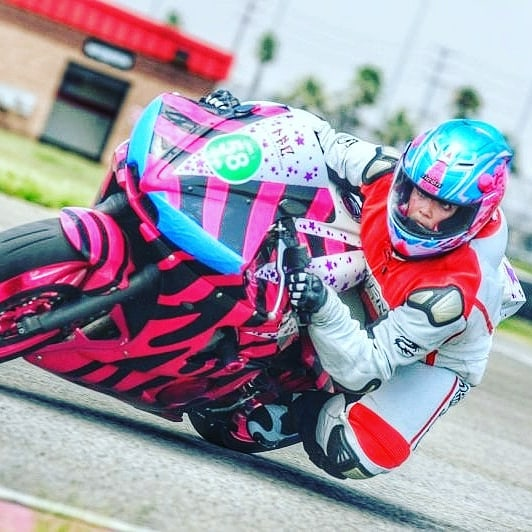 RBMA:  Why do you think motorcycle gear is so essential while riding?
Brittany:  I nearly lost my life in 2005.  Due to my choice of motorcycle gear or lack of motorcycle gear, I almost died.  I was wearing a full-face helmet, but that was the only motorcycle-specific gear I was wearing while riding as a passenger on a motorcycle.  My helmet did a great job of protecting my head, but I sustained severe road rash and internal injuries.  Due to my injuries, my life was completely changed physically and mentally.
If I could have prevented just one of my injuries, I would have done it.  Since my crash, my goal has been to teach riders the reality of crashing without gear and what can genuinely happen during a collision.  I also wanted to educate riders on the issues you can have with injuries years later.  I am hoping that if I can tell my story, it will help riders make informed decisions on wearing gear before they learn the hard way like I did.
RBMA: Why do you think motorcycle training is important?
Brittany:  Gear should be the last line of protection, which can only help so much.  Training can prevent the crash from ever happening in the first place.  Training doesn't just teach skill but can also change your riding behavior over time.  Training helps you perform to the best of your physical ability.  A rider's attitude is the most critical factor in preventing and surviving crashes because attitude will dictate decisions you make before you get on the bike and while you're riding.  We can't control outside factors, so why wouldn't you stack the deck in your favor.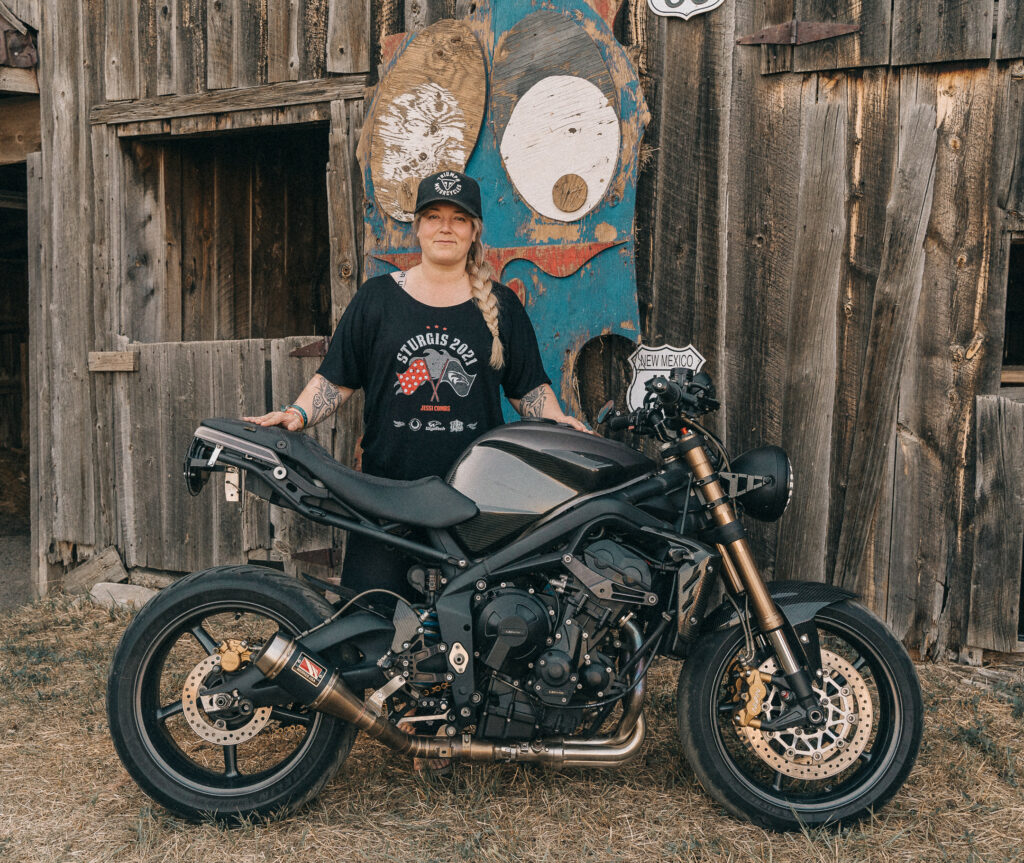 RBMA: What motorcycle are you riding now?
Brittany:  I have three motorcycles: a 2009 Triumph Street Triple R, a 2019 KTM SMC-R, and a 2019 Can-Am Ryker Rally.
RBMA: Have you had any motorcycle crashes since you started riding as the driver?
Brittany: I have crashed one time in 16 years.  It was a 40 MPH low side during morning practice before a race in 2018.  I crashed because I was pushing my limits, nervous, and running on cold tires.  I was trying to accelerate out of a decreasing radius turn with cold tires, which caused me to crash.  After the crash, I got up and brushed myself off.  I would never push myself that hard on the street because there are too many unexpected hazards on the road.  I fixed my bike and still raced twice that day.  My crash reinforced the importance of attitude, training, and gear.  All three items worked together to keep me safe and injury-free.  Of course, with any motorcycle crash, there is always a side of luck to go with it.
As you can see, Brittany has done a lot over the last 16 years since her motorcycle accident.  After the accident, Brittany could have done nothing and hid from the world because of her injuries.  Brittany decided to tell the world about the accident and be an example for other riders to follow.  If you would like to follow Brittany you can go to her website at https://brittanymorrow.wordpress.com/ and https://brittanymorrow.wordpress.com/blog/.
I have attached some additional links about Brittany if you want to learn even more about this amazing woman who has done so much for the motorcycle community in a short amount of time:
https://smri-racing.wildapricot.org/
https://can-am.brp.com/on-road/us/en/discover-can-am/women-of-on-road/women-behind-wheels/brittany-morrow.html#:~:text=Brittany%20is%20a%20long%2Dtime,have%20fun%20on%20the%20road.
https://www.brp-world.com/int/en/brands/can-am-on-road/experience/can-am-collective/brittany-morrow.html
https://www.brp.com/en/about-brp/blog/women-in-powersports/brittany-morrow.html
https://womenridersnow.com/the-motorcycle-accident-that-changed-my-life-forever/
https://www.roadrunner.travel/author/brittany-morrow/
https://www.nytimes.com/2020/02/09/business/women-riders-world-relay-motorcycles.html
https://womenridersnow.com/wrwr-final-update-wrapping-up-in-london/
https://www.stuff.co.nz/motoring/77069537/american-road-rash-queen-rides-for-motorcycle-safety-in-wellington
https://www.newshub.co.nz/home/new-zealand/2019/01/american-road-rash-queen-s-message-to-kiwi-motorcyclists.html
https://canadamotoguide.com/2018/08/10/road-rash-realities/
https://womanrider.com/2019/08/ride-as-you-are/
https://www.bikergirlbling.com/bling-n-it/zebra-print-pink-and-black-motorcycle/
https://www.army.mil/article/56805/bikes_abound_during_the_jbsa_motorcycle_safety_rally
https://www.luke.af.mil/News/Article-Display/Article/640837/keep-motorcycle-riding-fun-keep-it-safe/
"If you have been involved in a motorcycle accident, don't let it steal your freedom! Call 1-800-4-BIKERS to learn how an experienced motorcycle accident lawyer can get your bike fixed, money for your medical bills, and compensation for your pain and suffering."