Meet Randie Raige: Pro tandem stunt rider with a flair for showmanship and a heart that lives and breathes with pride in the community that she loves.
If you've spent any amount of time in the SoCal moto scene, you're bound to have met her… whether on a bike, stunting, or repping for Russ Brown Motorcycle Attorneys' well-known BAM network, a nationwide program offering Free breakdown and legal assistance to over 2,000,000 rider members.
We caught up with Randie to ask her a few of our most burning questions about her career, inspiration, and how she's currently staying active.
Q. Thank you for taking the time to chat with us! Your name is pretty bad ass. Do you mind telling us the story about how it originated?
A. Absolutely! Randie is short for my "real name". RAIGE or Rage was added on later, creating my "nickname" or "biker handle", if you will. In my beginning, I was the youngest (still often am), riding with my 3 older cousins who were more like brothers to me. Being the "tomboy" or "tough girl" eventually lead to "Randie Rage". I customized the spelling to "Randie Raige", just to add a little bit more authenticity.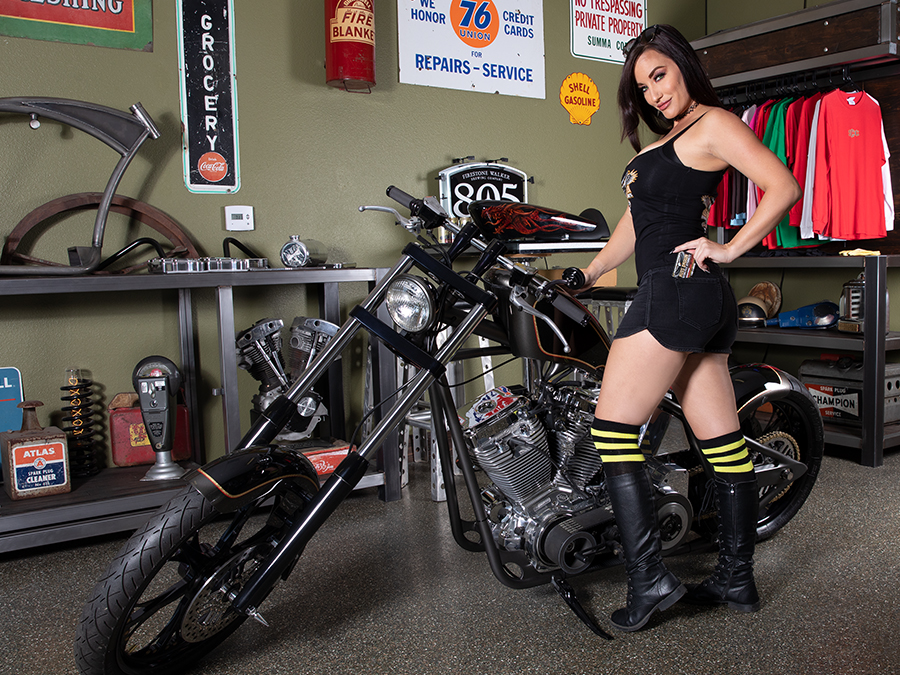 Q. What inspired you to start riding?
A. My cousins. They inspired me to ride bicycles then motorcycles (and everything in between). I was never much of a girly girl. Anything with wheels has always been, and will always be, my cup of tea.
Q. What was your first stunt? What went through your head?
A. Imagine this, it wasn't even a wheelie! My 1st "stunt" was learning how to turn around backwards on the backseat of a moving motorcycle (closed course of course). Shortly after that, it was standing completely up on that same, moving backseat. What was going through my head? Freedom, balance, MORE…
Q. Who inspires you and why?
A. My inspiration comes from a wide array of uplifting people. I'll name a few. From stunt GOD Travis Pastrana, who is my ultimate hero –could we arrange a meet and greet asap please, lol!–Professional drivers Tanner Foust and Ken Block, motivational speaker Tony Robbins, and writer Rhonda Byrne. Why do each of these legends inspire me? If you don't know, do a little bit of homework and thank me later. You're welcome. :)))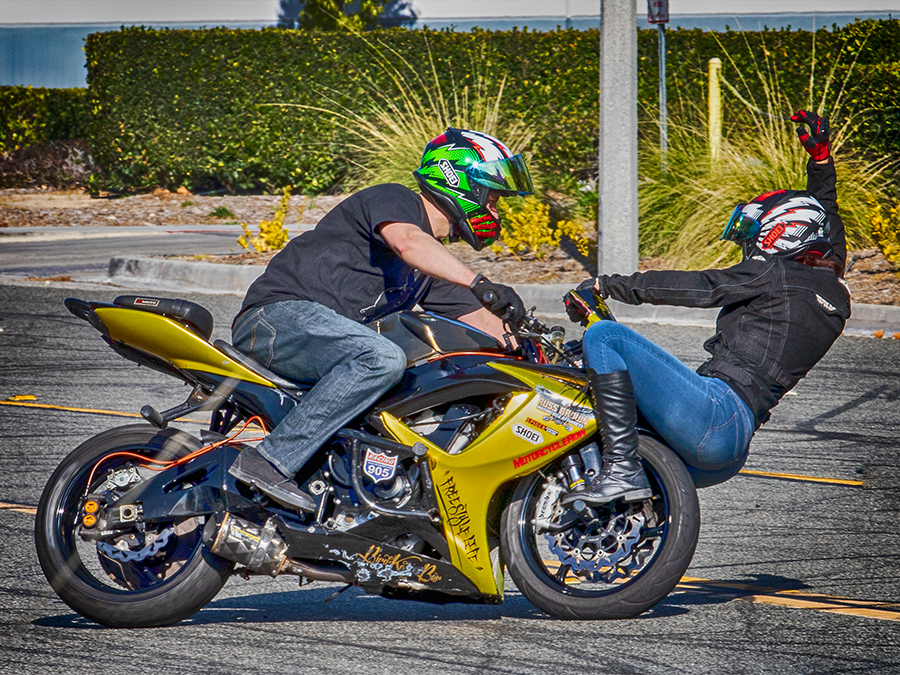 Q. We get a lot of new riders on the road every day… what three things would you tell them?
A. GEAR. Always wear your GEAR. All of your GEAR.
Q. We're all experiencing a bit of cabin fever right now in our current climate. We can't wait to get back to it! How are you weathering these times when you just want to be out riding with your crew?
A. Any advice? Staying positive first and foremost. Be creative! Now is the time to write down all of those ideas and concepts we've never had the time to do. Peddle forward, never backwards. Always.
Q. How are you keeping yourself active with your community right now?
A. Thank you, social media! I am so grateful to have the platforms to keep in touch with EVERYONE! I feel even though these times have been hard, we can all thank social media for keeping us close. The community support is stronger than ever (at least in my opinion) and we should all be grateful for our current technology and social media platforms.
Q. You rep for Russ Brown's "BAM" program. Can you tell us a little bit about that? How can we become a part of it?
A. It's FREE roadside assistance for riders! It's all Riders helping Riders, that's how it's free. Nationwide 24/7. BAM is a buddy program of over 2,000,000 riders helping each other out! I break down in your neighborhood, you help me, you breakdown in my neighborhood I help you. The catch? You help me, I help you. That's it. Sign up at RussBrown.com for your free membership now. P.S. We don't call you for any other reason. Occasionally we get free tickets to motorcycle shows/events and might email to see if you want any, that's about it.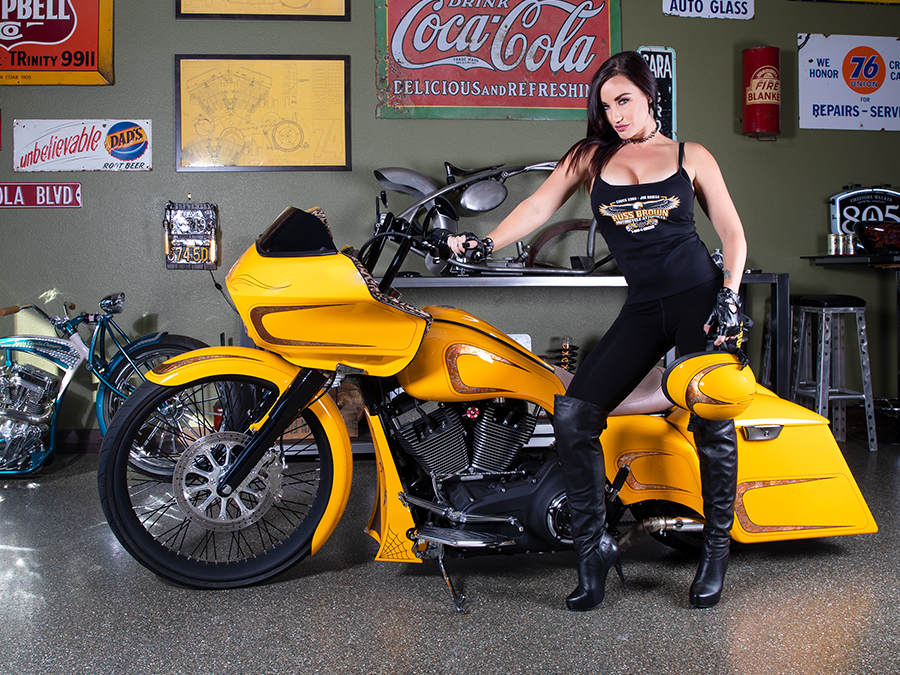 Q. You must hear interesting volunteer stories all the time. Are there any that stand out in your recent memory?
A. I feel that all of our BAM success stories deserve to be recognized and credited. The program keeps our community looking out for one another, that's what makes it so special as a whole.
Q. Any suggestions for staying involved and connected with fellow riders and helping our community right now?
A. Keeping positive and safe, not only now but always. Doing our part individually can really make a difference for the big picture.
Q. Favorite ride in CA: Go.
A. California offers so many scenic routes to ride on. From long desert highways to twisty canyon roads, lit up city streets, and beautiful coast lines hugging our beaches. They are all equally amazing to experience, but in their own unique ways. I am a Cali girl 100%, although I do love adventuring the world.
Q. Where can we find you?
A. Instagram Model Profile: @RandieRaige1 – Instagram Stunt Profile: @teamRBfreestyle .
Q. Any last words of advice?
A. Again, gear Gear GEAR!
Randie would like to send special thanks to her family, friends, sponsors and fans for all your continued love and support!
Randie's sponsors include: Russ Brown Motorcycle Attorneys, Shoei Helmets, Galfer Breaking Systems, Racing 905, Race Tech Suspension, Spider Energy Drink, ChatterBox, Freestyle Life Co, 5th Gear Sprockets & Spyt Shyne.
Article co-written by: Vanessa A. & Randie Raige
Article photography by: David Weathers
"If you have been involved in a motorcycle accident, don't let it steal your freedom! Call 1-800-4-BIKERS to learn how an experienced motorcycle accident lawyer can get your bike fixed, money for your medical bills, and compensation for your pain and suffering."