We sat down with President Carol Bothe-Ramm and Vice President Angie Hill from the Road Diamondz Chapter of the Chrome Angelz – based in Sioux Falls, South Dakota – to chat about their first two years as a club and what makes their organization special.
"Chrome Angelz RC is an international organization, and we actually have our own chapter called the Road Diamondz. Just between the two of us, we're riding an Indian Roadmaster, Honda Shadow, Harley Davidson Dyna low-rider, and a Yamaha VStar 650. We are open to everyone – everyone who is a woman and rides any type of motorcycle. Our chapter specifically has only one sportbike rider, and the majority of everybody else rides cruisers, but we are open to any woman – even trike and three-wheel riders."
Here's a quick history lesson: Chrome Angelz RC was formed in 2012 in New Jersey. As an international presence, Chrome Angelz is focused on connecting and supporting both local and international communities as a whole. Many of the chapters in the USA are doing different events like poker runs, fundraising for local humane societies, or are simply providing a Thanksgiving dinner, or buying Christmas gifts for a family that can't afford it.
Carol Bothe-Ramm and Angie Hill started the Road Diamondz, a chapter of the Chrome Angelz RC, in July 2019.
"Angie and I were actually members of another chapter of Chrome Angelz in a different part of Sioux Falls and we just didn't feel like we fit in, or fit into the type of riding style that chapter had. So, we thought about splitting off and starting our own chapter. I reached out to the national president of the Chrome Angelz and discussed it with both her and the director. We told them what we wanted to do and they approved us to start a new chapter. So Angie and I split, and then two more girls from our old chapter decided to come with us. It's really about our riding style, we just like to get out and just kind of cruise at our own speeds, putz around, do whatever and explore the world.
Together, these two women had a vision for this new chapter, and it goes way beyond the club's riding style.
"We want to encourage women to ride and support all women. We really put our focus on fundraising for any charities specifically for women, because we're all women and women-oriented. There's a lot of charities that overlook women in their causes. Children's causes are great, and there's a big spotlight on fundraising for cancers, but you know, we wanted to look at some of the other ones that are out there that are lesser-known and that support women. I was just wanting to expand our horizons. We chose Dress for Success as the first charity to benefit from our annual events. Dress for Success empowers women to achieve economic independence by providing professional attire and the help they need to thrive in work and in life.
The Road Diamondz raised $5,930 for Dress for Success at their very first event, which was held on June 13, 2020. Considering what they were battling with Coronavirus, protests, and the political climate, the Road Diamondz did very well indeed.
"When we were looking for a charity, we all decided that since we are a women's riding club, we wanted to look at something that's going to help ladies get ahead. So we started checking around and eventually checked into Dress for Success. We went and talked to them and told them what we wanted to do. And they were just absolutely ecstatic about us wanting to help. We had more ideas of what we wanted to do during our poker run because we were going to raffle off a couple of rides with our 'guardians' – Chrome Angelz significant others. We unfortunately were not able to follow through with that due to Coronavirus. But we're hoping this year we may be able to do that! When we handed over the money we raised to the director of Dress for Success at the end of the whole thing, she was so grateful. We got a video of her doing a happy dance."
Overcoming Coronavirus restrictions proved to be a challenge, but it was one these women were ready to face.
"The time that we had the event was in June, our government started lifting some of the restrictions around here. People were ready to get out and about. So that kind of helped us get the flow going. And we actually were very happy with the participation. I think we had 63 riders, both women and men, that were registered with us."
When it comes to the Road Diamondz pulling off a successful inaugural event, Carol said, "Our chapter just knows that with all our members involved, we are all a team. We all work together very well. Everything just falls together, and we are really organized. That's what made our first event really fantastic, especially for a first-year poker run. Everything went really smoothly. Awesome women working together. I mean, there's nothing better."
The Road Diamondz currently has nine members and two guardians, with a President, Vice President, Secretary/Treasurer, and Sergeant at Arms.
"At the time it is me leading, but if somebody comes up with an idea, then that's the person who will be the road captain since we're smaller. We can take turns and that's fine with us. We do have one girl who prefers riding in the back. That's why her road name is tailgater," explained Carol.
Road names are always fun, especially when learning the origin story.
"My road name is glitter and there is an 'interesting' story behind my road name. A few years ago we attended a two-night camping event, like a small bike rally, called a rendezvous. You had to be 21 or older to get in because they had a beer wagon. So the poker run was on Saturday afternoon, and I went out on the run wearing eyeshadow with glitter in it. When we got back that night, my (now husband) boyfriend at the time, had glitter on his face. Someone said, 'What were you guys doing?!' We just rode, I swear. But it was so funny. So yeah, I just kind of stuck with the name glitter because of that."
Carol's husband is now a guardian, although the guardians don't necessarily get their own road names.
"I don't think we've ever given a guardian a road name. So, my husband, he'll just be guardian number one."
Angie offered up the story of her road name as well. "My road name is Jiggles. My husband gave me my road name, but it kinda came about from a weekend of motorcycle camping. We had another couple camping with us and one of the nights that we were there, my husband asked his friend, 'Why is it every time you and your girlfriend are in the tent, she always giggles?' So her nickname became giggles, and I ended up with jiggles 'cause they rhyme. So we were giggles and jiggles and it just kind of stuck, and jiggles followed me over to the Chrome Angelz.
My husband and I always vacation on our motorcycles. We don't take four wheels very often unless the weather dictates we have to."
Jiggles & Glitter – could be the name of a boutique hipster toy store.
Carol laughed, "I guess it could be an adult store if you consider some of the other road names we've got. We have a Banana. Then we got Pickles. And then we also have Tailgater, Madam Mayhem, Quicksilver, and Wolf Eyes. We gave Madam Mayhem her name because she kinda likes to stir the pot every once in a while. Like that progressive insurance commercial."
It sounds like these women have a lot of fun together, which is really what this group is all about.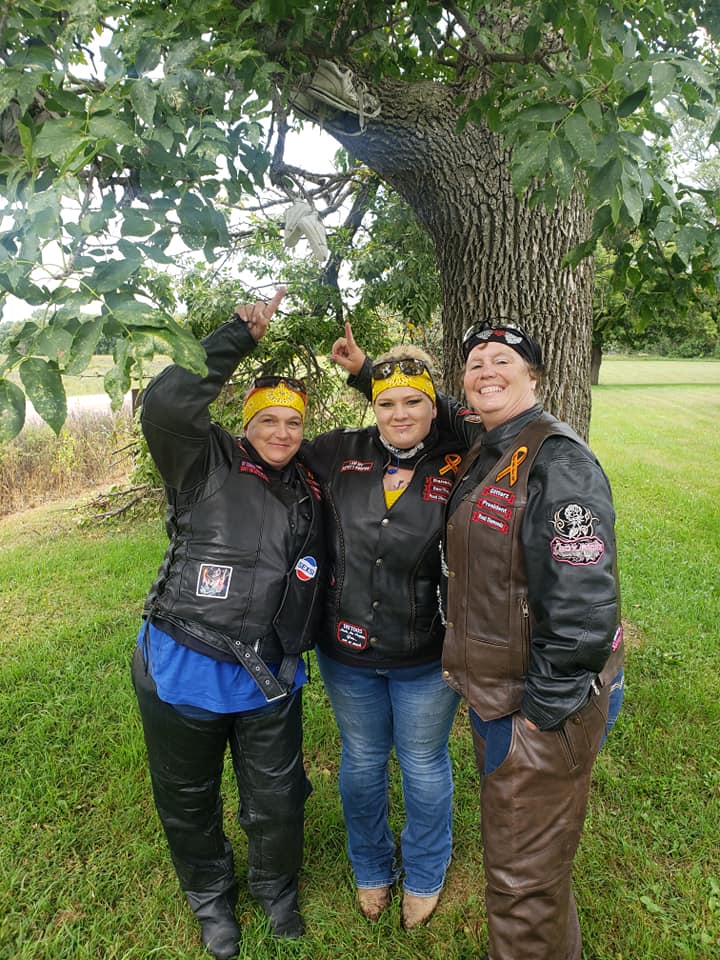 "We go on a lot of short day rides, and some of the most fun we have is on out-of-town overnight trips. Last year we went down to Topeka for the Women's Freedom Ride. This year, a couple of friends from Omaha, who we met for the first time on the way to the Topeka event, came up here and we rode out to Rapid City together in June.
This is actually a really funny story. We have the Chrome Angelz patch on the back of our leathers. The very first time we met up with the women from Omaha, we pulled into the gas station where we were meeting up, and they were sitting at a picnic table waiting for us. They're sitting there thinking, when they first saw us, 'What did we get mixed up in!?' One of them thought she had met up with some big MC. We must have looked really intimidating," Carol laughed.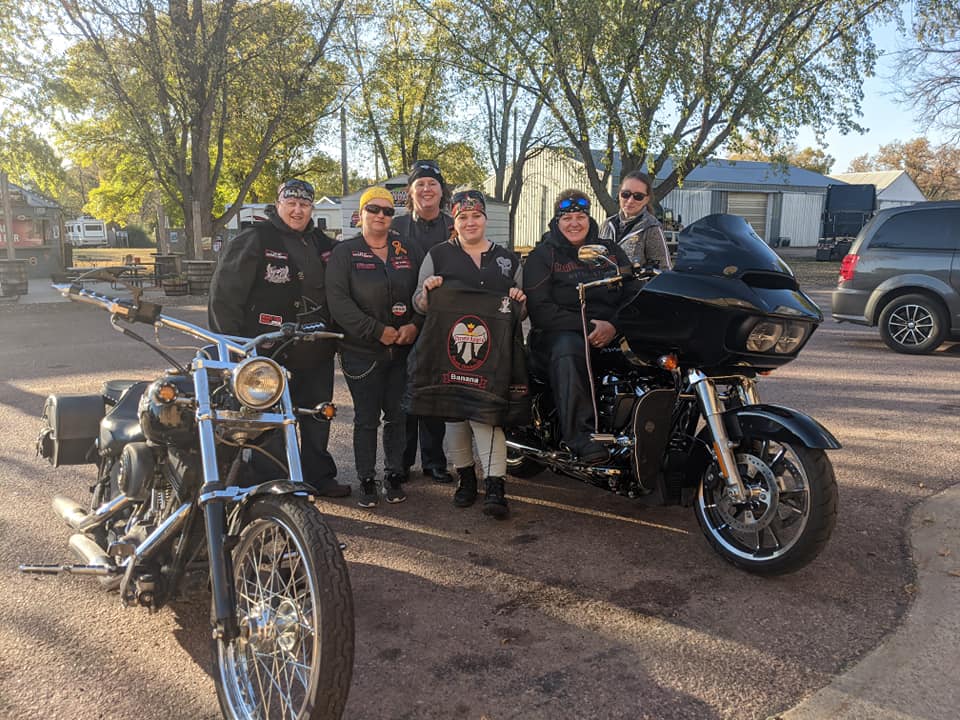 "One of her friends was hungover and laying down on the picnic table, and she saw us and said, 'Get up, they're here and we're going to die.' It's so funny to hear her tell that story because those girls from Omaha, actually just started their own chapter of Chrome Angelz. We inspired a group of women to start their own chapter!"
After just one weekend with the Road Diamondz, the women riders from Omaha were inspired to start the Dream Chaserz chapter of the Chrome Angelz in August of 2020. And lucky for the Road Diamondz, Omaha is only three hours from Sioux Falls. So there are already joint chapter events in the works.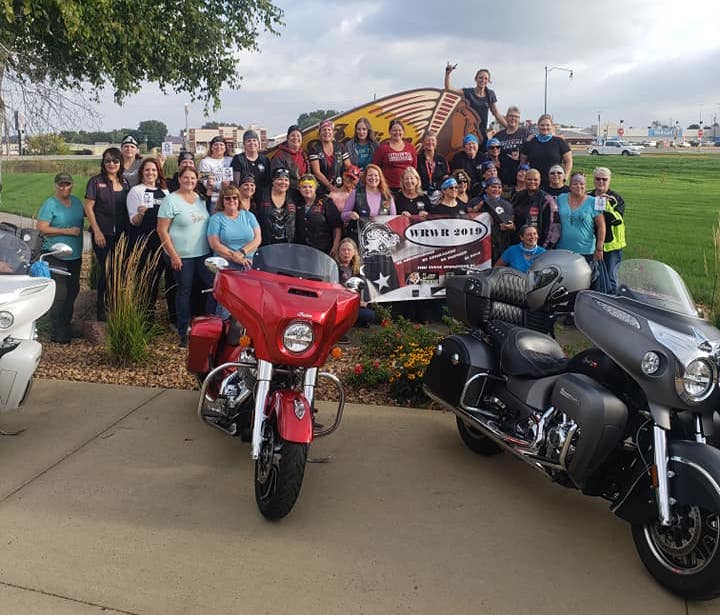 "There's a chapter that's over here in the Northwest part of Iowa that we are friends with too – the Backroad Babez. So we actually have a group that we put together called the tri-state Chrome Angelz, so we can all get together and chat online and plan to meet up."
Backroad Babez is a chapter of two. But in fact, you can start a chapter of your own with just one member. A rather unique concept in a world obsessed with big numbers. As we all know, there are rules with other clubs and organizations where you aren't necessarily encouraged to start your own thing if you're the only one. Instead, the Chrome Angelz organization is empowering women by saying, "Join us, even if you're the only one right now because you won't always be the only one."
Carol exclaimed, "Yes, and we will help you get the word out. I helped a woman in Florida find a chapter in her area, and I live on the other side of the country!"
The Chrome Angelz has quite a network that has been built from the ground up. It seems like everything they do is very friendly and uplifting. And it is all thanks to the vision of a woman named Anna Marie from Galloway, New Jersey.
"I feel that we are very supportive and encouraging, and that is what makes us special. There's always somebody to reach out to help you somewhere within the network. We're always very supportive, which is really what I really liked from the start.
Part of the reason why I joined Chrome Angelz, to begin with, was just to meet other women that liked to ride just as much as I did. We don't care what you ride, just as long as you get out and enjoy the wind therapy. We get to see the world together.
We've been known to ride with other clubs or non-club riders. We just love the fact that we can meet new people. There's such a great network of women out there riding compared to what it used to be. It's a growing number and you can see evidence of it all the time."
Connection is a core value with Chrome Angelz, and it is so important nowadays, especially when human interaction is scarce and people are at risk for feeling very alone.
"I want people to remember the Road Diamondz as a strong women's group out there promoting riding for women and telling women, "You can ride!" There's a lot of women that feel that they can't ride until somebody talks to them or they see other women riding. It makes them say, "I can do this. I see that girl doing it. I can do it. I'm going to do it." We just want to inspire and support them. One of the big things about Chrome Angelz is that it's important for us to give back to our communities.
One of the things that I think is really cool about Chrome angels is that it's more about the community and not so much the attention. We don't say, 'Hey, it's me doing it.' It's just us doing it, and if somebody happens to notice and says something, that's fantastic, but
we're there to just make a difference."
A beautiful statement in a world where attention is valued like currency.
The Road Diamondz also rode with Hailey Bell and the Women Riders World Relay in 2019. They did a tour of the Indian Motorcycles factory, shared moonshine, and even got Hailey to shoot an AR-15. These girls sure know how to make an impression!
"I want to just tell all the ladies, you know, don't be afraid to get out and ride. If you're interested in having other ladies to ride with and are interested in the Chrome Angelz, if there's not a chapter near you, don't be afraid to start your own. If you build it, they will come!"
For more information, visit their website www.chromeangelzrcnationals.com. Follow them on social media Facebook, Twitter, Instagram, and YouTube.
Follow Brittany Morrow.
"If you have been involved in a motorcycle accident, don't let it steal your freedom! Call 1-800-4-BIKERS to learn how an experienced motorcycle accident lawyer can get your bike fixed, money for your medical bills, and compensation for your pain and suffering."