What many locals call, "The Swap Meet," is far from just a swap meet. The Colorado Motorcycle Expo is, without question, one of the largest motorcycling events in the Four Corners states, and the largest in the state of Colorado. Never heard of it? Well, picture a motorcycle rally set up inside of a gigantic building, better known as Denver's National Western Complex. A building that is more commonly filled with cowboys and livestock is taken over by motorcycles, live music, 700 vendors, and nearly 20,000 attendees checking out the two-day event.
Before you could even get into the Coliseum, there was a "free" motorcycle show happening in the parking lot. A perfectly timed heat wave resulted in hundreds of bikes rumbling into downtown Denver for the Expo on February 1st and 2nd. What is normally a brisk time of year, yielded sunny skies and highs in the low 70's all weekend. While most bikes in the lot were American V-Twin touring models, there were plenty of unique builds, like Sportster choppers, cafe racers, custom paint jobs galore, and plenty of leather fringe to get you tickled for the day.
The event showcases a number of attractions, but upon entering the front doors, your first stop is a jam-packed room, filled with motorcycles of all varieties being shown off for the bike show. From Viclas, Choppers, Vintage bikes on display from the Antique Motorcycle Club of America's Rocky Mountain Chapter, and big wheel baggers decked out in chrome and airbrushed paint jobs, there is something for every enthusiast to admire. Some folks set up chairs and hung out next to their bike displays, others created unique display accents, including dressed-up skeletons and ropes to deter people from touching their pristine machines.
After spending some time admiring the bike builds, I moved on to the vendor area. When the expo advertises 700+ vendors, they really mean it. Whether you're looking to grab some support gear from a local Motorcycle Club, buy jewelry for yourself or your girlfriend, check out artwork from local painters and leather smiths, or walk out with a new leather jacket for the ride home, the vendor area has everything.
"Even though [the show] seems to be held early before the riding season, it's sort of a "kickoff" to the year. The event also offers a way for motorcycle vendors to sell some things in the Winter, and help them get through the slowest time of the year. We've had a lot of vendors appreciate this," said Scott Schulz, director/promoter of the Colorado Motorcycle Expo. My friend, fellow rider, and local Colorado artist Kayla Kouene of Inferno Art Studio can back up Schulz's statement. When I walked up to her vendor booth, which was full of attendees watching her do a live painting session on a helmet, she told me, "I already sold out of all of my prints and it's not even 2 pm on the first day. This event is definitely a success for me this year."
While the swap meet vendors are dispersed throughout the vendor area, there's no shortage of "score" sightings. From one man pushing a completed front end through the crowds as if he was steering his own bike, to motors hoisted onto dollies and toted out of the building, ready to be transplanted into their new machine, plenty of attendees found something they were looking for over the weekend to complete their bike builds.
"The swap is a great place to catch up with our customers, both current and future," explained Summer Maurer, who co-owns Maurer's Motors with her husband Chris, a local motorcycle service shop in south Denver. "This year it was fun to hear multiple people say, 'Hey! I follow you on Instagram!' And now they can put personal faces to our business name at Maurer's Motors. It's just a great way to talk face-to-face with new customers and let them know who we are and what we do."
As I made my way through the maze of Vendors that seemed to never end, I finally found the back stairwell that led downstairs to even more vendors and an auditorium which hosted live music, stunt shows, and what seemed to be one of the biggest attractions of the day: the wet t-shirt contest.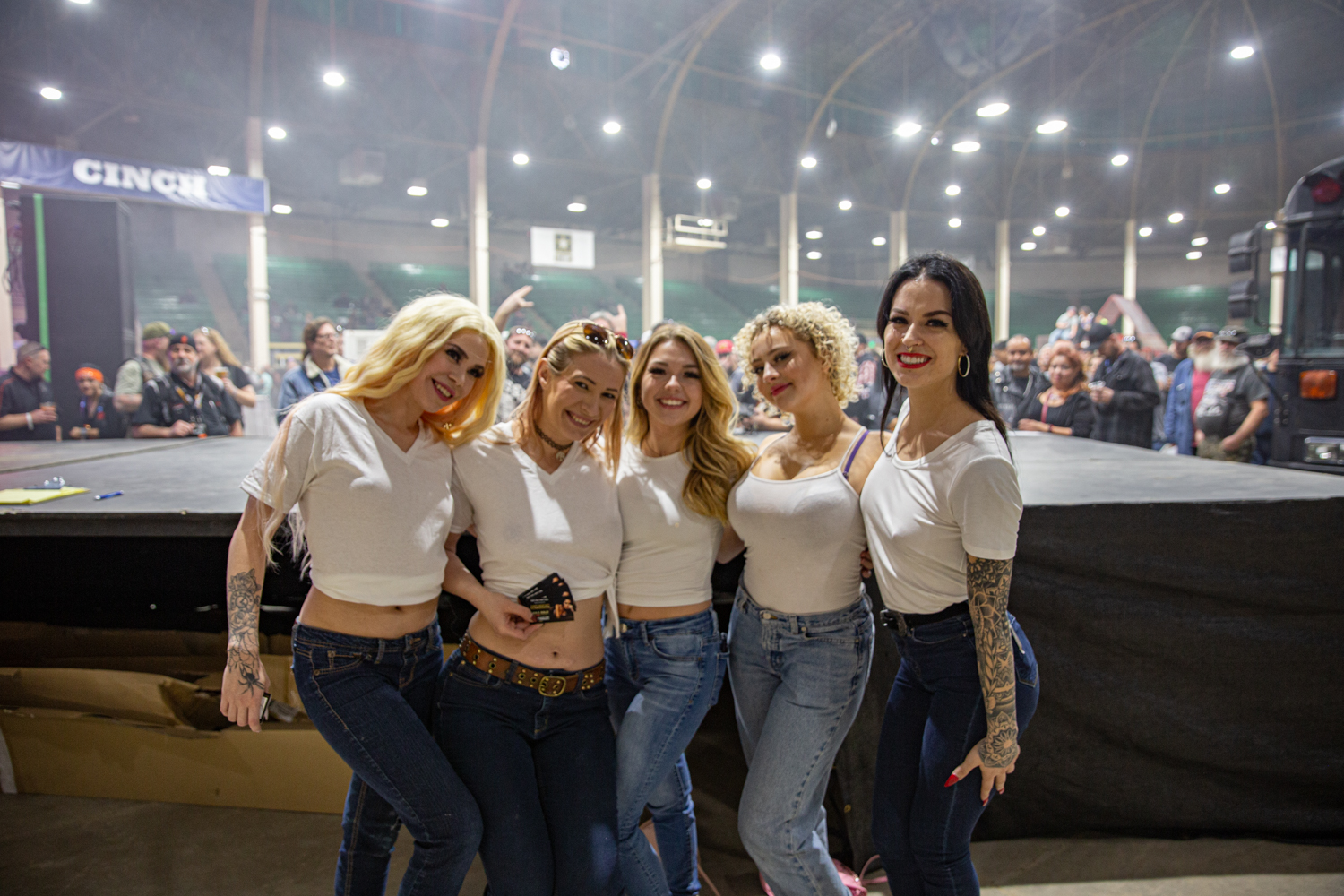 "By popular demand, we brought the wet t-shirt contest back this year. It was a crowd favorite for sure," claimed Schulz. Somehow, I made it a decade of riding motorcycles and attending "biker" events, and never managed to sit in on one of these showcases. That was quite entertaining to watch, to say the least. Good for those girls for hustling themselves for some money. After a few buckets of water were donated to the cause of good times and high testosterone levels, I made my way back up to the vendor area, where I chatted with friends before heading out of the event.
I only spent five hours at the Colorado Motorcycle Expo over the weekend, which I've learned, is nowhere near enough time to see everything that this event has to offer. The Expo blew away my expectations on multiple levels. But if I had to summarize it, I'd say that I love how multifaceted the event and its attendees are. This show brings in every type of motorcycle enthusiast you can think of, under one roof.
"I just can't say enough about the positive vibe of the event this year and how many people have told me that they are so excited for next year," said Scott Schulz. The motorcycle show was larger than last year, the cash prize amounts were increased, we added live music in the front room to liven up the place…everything is getting bigger and better. So many people love this event for different reasons, and that is why we keep trying to improve and expand on all aspects of the event."
For more information on the expo, check out www.coloradomotorcycleexpo.com.
"If you have been involved in a motorcycle accident, don't let it steal your freedom! Call 1-800-4-BIKERS to learn how an experienced motorcycle accident lawyer can get your bike fixed, money for your medical bills, and compensation for your pain and suffering."