I recently connected with Drew Briggs, a Service Advisor at Orange County Harley-Davidson. When Drew is not at work, he usually has a wrench in his hand customizing a motorcycle. During our conversation, he shared that he was one week out from a motorcycle accident. The conversation unexpectedly evolved into the importance of patience when riding on rainy days here in California. With talk about the horrors of going down on the road, the true star of the conversation was his 2016 Harley-Davidson Road Glide Special. Read on to learn about Drew's World War 2 fighter jet inspired motorcycle build.
Russ Brown Motorcycle Attorneys: Tell me a little about yourself and what you do?
Drew Briggs: My name is Drew. I currently work at Orange County Harley-Davidson as a service advisor and some may know me as the custom or go-fast guy, building all the performance bikes. I've been working with Harley on and off for the past 13, 14 years. Got into it after riding street bikes as soon as I got a license. Just been a gearhead since day one and kind of fell into Harley-Davidson and just been running with it ever since.
Caption: The 2016 Road Glide Special torn apart (Photo: Owned by Drew Briggs)
Russ Brown Motorcycle Attorneys: So you have been into motorcycles for a long time. Did your family ride at all? Is that what pushed you into motorcycles? What's the story behind it?
Drew Briggs: So for as long as I can remember, my dad always had bikes. When I was going through some old pictures, I found a couple of my dad from way back in the day, probably when he was younger than me now, of him on some old shovel heads, some old-school choppers back in the seventies. And I just remember growing up as a kid, my dad was always in the garage working on bikes and cars — painting bikes, and cars.
Russ Brown Motorcycle Attorneys: Tell us about the 2016 Road Glide Special you're working on and why did you start this project?
Drew Briggs: It's kind of a funny story. I bought it brand new with zero miles on it — off the showroom floor back in 2016. If you go on Google, you can look up the gold Road Glide 2016 factory color, which, sorry, Harley-Davidson, that was a terrible choice in color for a motorcycle. But I got a really good deal on it because nobody else wanted to buy it. I already planned on buying that bike. I wanted a CVO, but they didn't make a CVO Road Glide without the cool system and the tour pack and all that. And I didn't want to strip it all off. So I decided, this is where my first real bike build came in, take the 2016 and make it better and just all-around more powerful than the CVO version. So we pulled the motor out, took all the chrome off, powder-coated everything, and put a 120 cubic-inch Screamin' Eagle motor in it. We finessed it a little bit with some S&S parts and some Westcoast-Tbars suspension. Nothing too crazy as the current build, but that was kind of the initial start of the process.
Russ Brown Motorcycle Attorneys: What was the most challenging part of this build?
Drew Briggs: The most challenging has got to be the time, being that I'm a full-time employee at [Orange County Harley-Davidson].
Parts have been difficult to come by, especially when you get into this level of customization. If somebody doesn't make something, you gotta wait for them to actually make it.
Caption: A mechanic working on the Road Glide Special (Photo: Owned by Drew Briggs)
Russ Brown Motorcycle Attorneys: Talk to me about your approach to starting a build. Do you draw something out? Do you have a Pinterest board? Do you save things on Instagram, then go back to it? How does that work for you?
Drew Briggs: Lots of screenshots. So Google image, Instagram, Pinterest, all the above. I just screenshot something that I like and then I have a little notepad either on my phone or off to the side and I just kind of jot down what it is I'm looking for.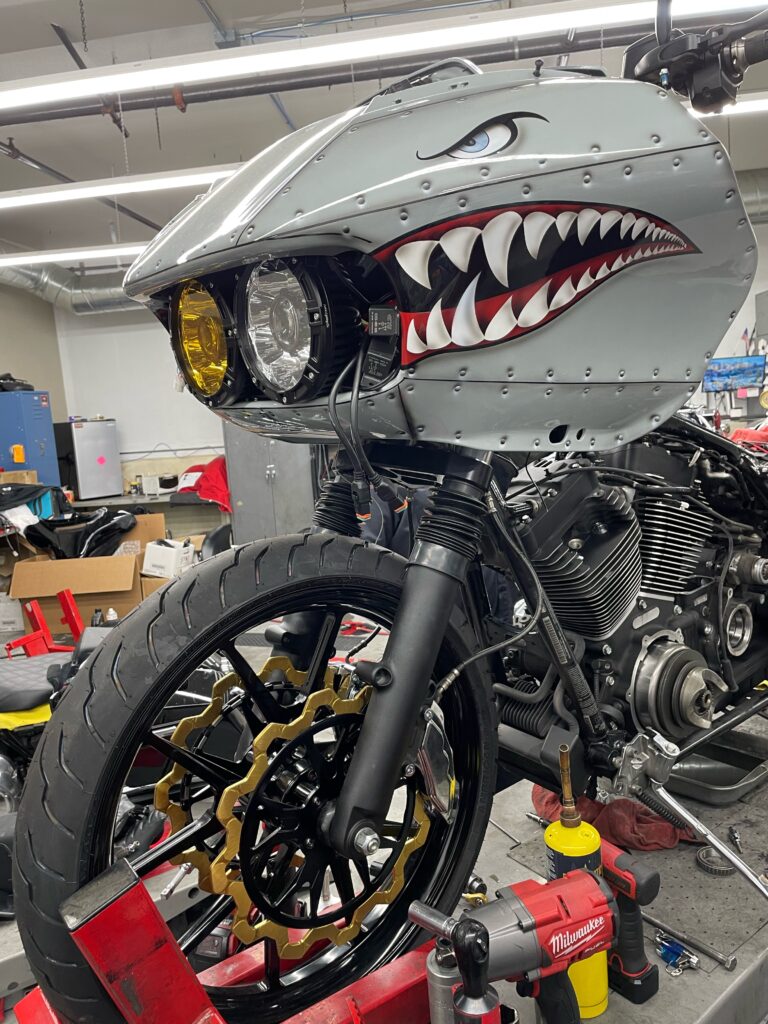 Caption: World War 2 fighter jet shark grin inspired (Photo: Owned by Drew Briggs)
Russ Brown Motorcycle Attorneys: You got Jeff Styles, the "SoCal Pinstriper" to airbrush your bike. What was the inspiration for the WW2 Fighter Jet shark?
Drew Briggs: So I had always wanted the shark eye and teeth on the bike because I had seen a couple done, but they were always either a matte black or matte green or a sand color — but none like the full fighter jet — just the eye and the mouth. I've been working side by side with Jeff since he does all the paint work for our shop, and I figured this is the perfect opportunity because he's an amazing painter, probably the best one that I know and that's why he painted the bike.
Caption: Back suspension of the Road Glide Special build (Photo:x)
Russ Brown Motorcycle Attorneys: Are there any other ways that you go out and try to gain inspiration for your bike builds?
Drew Briggs: So every day is inspiration working at the dealership. I mean, I'm around bikes all day every day. 
Russ Brown Motorcycle Attorneys: When we first connected to do this interview, you told me that you got into a motorcycle accident. So, let's talk about that. You've gone down on the bike before. What did you learn from this latest accident?
Drew Briggs: I learned to take the 10 seconds, put the clear visor on and go a little bit slower and watch out for those dips in the road and just be more patient, be more observant of the surroundings — especially in Southern California. It's a great place to ride. We get great weather all year round, but sometimes we get some weird weather and everybody forgets how to drive in the rain.
Russ Brown Motorcycle Attorneys: So how long have you been living in California and where's your favorite place to ride in California?
Drew Briggs: So, born and raised. I left a few times, but I always came back after a few months because somebody once said, "There's no place like home." And as much as I complain about parts of California, it's always going to be home. As for riding, right here in Orange County. 
To see more of Drew's Road Glide Special, follow him on Instagram. Ride safe, and thanks for reading!
"If you have been involved in a motorcycle accident, don't let it steal your freedom! Call 1-800-4-BIKERS to learn how an experienced motorcycle accident lawyer can get your bike fixed, money for your medical bills, and compensation for your pain and suffering."