For years I had been hearing the name "Espinoza's Leather". Even before I lived in America, the name would pop up – being tied to brands I knew about, or riders in my community. I assumed the company was just another motorcycle jacket brand. When the crew at Russ Brown suggested I do an Instagram Story Takeover for them at the Espinoza's Leather Co. shop up in Rosemead, CA I decided to do some research before going. That's when I quickly figured out these guys weren't just another "motorcycle jacket brand."
A quick Google search and a few YouTube videos later, I came to figure out that Espinoza's is the OGs when it comes to custom biker jackets and cuts. The company has been around for over 50 years – specializing in custom leatherwork primarily for biker wear. They are as "Made In America" and "family made" as it gets. With family members working at every level and within every generation – the company has a deep history in the motorcycle history and culture in the Los Angeles area and beyond.
I rolled up to the Espinoza's shop on my Dyna – their sign is very obvious and hangs over the street. Under the title of their shop is a huge graphic of a biker riding a chopper with big apes. Gilbert Espinoza, the founder, and owner of Espinoza's Leather bought the lot 51 years ago in 1971. I parked my bike and walked inside the building. It opened up to a storefront filled with leather goods: leather jackets and cuts for men and women, wallets, bags, Espinoza's merchandise, helmets, chains, boots, gloves, belts… Two entire rooms full.
I spoke with the employee working the front desk and he told me there have been dozens of versions of the building. Over the course of the past 50 years, there have been multiple buildings on the property, tons of renovations, extra rooms built, and even extra floors added on. I got introduced to Gilberts son, Eric Espinoza. He was the one who was going to show me around the building.
The original version of the Espinoza's shop. Photo from 1993
Eric Espinoza and I in the Espinoza's Public Showroom/Store
It was very obvious that the company was half of Eric. He grew up around the brand and talked about Espinoza's Leather-like it was second nature. He said there were always 4 Espinoza's working in the building every day. It truly is a family business and it's obvious that Eric grew up at the building and around the companies customers.
Back when the Leather Co. was just starting up, there was a Harley Davidson Dealership right down the street from their shop – Laidlaw's Harley Davidson. Laidlaw's is one of the first Harley dealerships in Los Angeles County and has been in business for 60 years. Their new location is in Baldwin Park, but they used to be located right near Espinoza's in Rosemead, CA. The newly acquired Espinoza's Leather building had a broken window and it was a Laidlaw's H-D biker who passed by and helped him out with some glasswork. Gilbert ended up making some leather gear for the rider and that grew to some of that biker's friends, and from there, it's history. Now Espinoza's is one of the most well-known leather jacket/cut makers in the USA. They are infamous for making everything right in-house and have been since day 1.
The Grand opening of Espinoza's Leather
Eric took me upstairs where the manufacturing happens. I was surprised how much space there was up there, but all of it was filled with tables, sewing machines, people working, leather piles, jackets hanging, work stations, etc. Eric told me that on any given day, there are 25 people working under the Espinoza's Leather roof.
Part of the workshop today
An "OG" Picture of the workshop
Mrs. Espinoza – One of the owners in the store back in the day
He walked me through the process of creating a custom leather piece – showing me the cutting room, where every piece of leather is custom cut for the customer's size. Eric said, "We're not like other companies, we do things the old way" as he held up an X-Acto Knife with its handle wrapped in tape, "this knife cuts every piece of leather you see in here."
He then went from work station to work station introducing me to each worker by name and telling me what they each did – in order of how the jackets are made. Eric was extremely familiar with everyone in the building and knew exactly what they all did. It was very refreshing to see a "boss" be so involved and immersed in their product. Knowing where your products come from and how they are made is such a vital piece to your brand and when you can be so confident with your products, you can be just that comfortable with knowing and marketing your brand and it's obvious that is why this company has such a good reputation and continues to grow year after year.
An employee working away on the beginning phases of a leather jacket
Eric showed me the racks of repairs the employees were working on. I noticed a lot of items that weren't made by Espinoza's, like race suit leathers. Espinoza's can do alterations and repairs on any type of leather. The workers there are all obviously very skilled and I met one dude who has been working at the company for over 20 years. It was pretty eye-opening and refreshing to see a brand right there, in front of my eyes, doing every part of the business from start to finish.
Espinoza's does more than just make custom jackets and cuts for bikers. They make pieces for TV/Movies: for instance, they make all the jackets for the TV Show: The Mayans. They also do collaborations with brands. They recently did a collaboration with Loser Machine and made hundreds of units together. They are infamous for being the masters of patch sewing, for clubs or personal. They also do custom creative work such as reworking old pieces. There is a vest they made that had an internal liner made from a shirt that was cut off of a fallen rider for the person's family member and a vest that had a custom liner full of family photos printed right onto the fabric. You can tell that every piece is made with care and is very unique to each customer.
Eric Espinoza at the Mayans Red Carpet Premiere
Gilbert & his wife at the Mayans Red Carpet Premiere. Gilbert stated that the premier was "huge for our little shop, both in exposure and just acknowledging our hard work thus far."
Over the years Espinoza's has gotten the recognition they deserved. They were featured in biker magazines, visited by many celebrities, and made custom jackets for every type of well-known men and women on a bike. They are a household name in the motorcycle industry. They've managed to keep up with the ever-changing trends, the growth and changes of the internet and social media, generations of bikers, and the style changes over the years.
The first article published about Espinoza's Leather in Revolution Motorcycle Magazine
It doesn't seem like the Espinoza's brand is slowing down anytime soon. Going back to their history, Espinoza's recently announced that they are teaming up with their old friend LaidLaws Harley Davidson to build a custom bike out of a new Harley Davidson for Born Free Show 2022. They also hired a new designer who will be assisting in rebranding their women's line.
Eric with the new Harley Davidson that will be used for the Born Free bike build.
Erica, Espinoza's new designer
Getting to know the story behind the Espinoza family was really eye-opening and inspiring. Being able to live in LA where all this history has taken place and is continuing to grow and influence motorcycle culture is pretty awesome. Espinoza's is a perfect example of how unique and tight the motorcycle culture is and also how much it's grown over the last 50 years. Espinoza's will continue to grow and be around for years to come and now that I (and you, the reader) have the background story – it's going to be awesome to watch what they do next, or know the backstory to the leather jacket your riding buddies are wearing.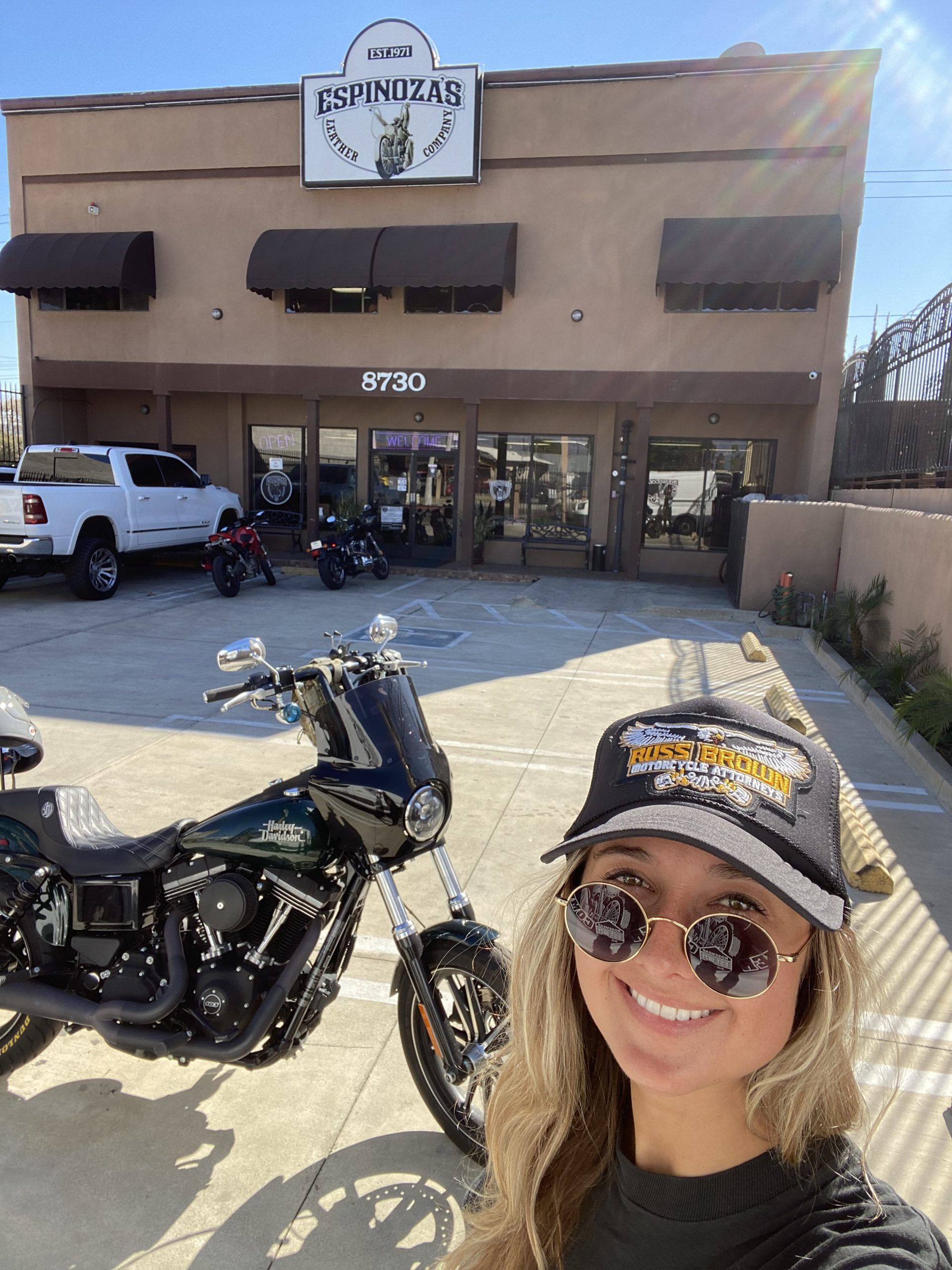 You can purchase any of their amazing pieces on their website and follow them on Instagram, Facebook, and Twitter. 
Becky Goebel @actuallyitsaxel
"If you have been involved in a motorcycle accident, don't let it steal your freedom! Call 1-800-4-BIKERS to learn how an experienced motorcycle accident lawyer can get your bike fixed, money for your medical bills, and compensation for your pain and suffering."
"If you have been involved in a motorcycle accident, don't let it steal your freedom! Call 1-800-4-BIKERS to learn how an experienced motorcycle accident lawyer can get your bike fixed, money for your medical bills, and compensation for your pain and suffering."