The Ruby Red Riders!
Having so much fun… it may encourage you to start a group too!
Florida Motorcycle Lawyer Blog; It's so refreshing to come across women riders supporting other women riders. I connected with a vivacious group out of Florida, the Ruby Red Riders, to find out how their motorcycle riding group came about.
Back in 2006 the founder's Carolyn and Lesia were the only gals riding their own motorcycles among their circle of friends. Lesia explained, "A lot of girls were packin' with their ole men and wanted to ride their own but were anxious about it for various reasons. When we first started riding our own bikes, a major barrier for us was the men wanted to ride fast. They demonstrated (in many ways) their frustration because they were held up by the "girls". Some of the girls that did have their own bikes rarely rode due to their men yelling at them or fussing about something they did "wrong", or the way they rode, etc. Carolyn and I decided that we should have our own little ride, just the girls, to support each other in learning not only how to ride but to get some miles on our asses so we could acquire the confidence we needed to ride well and safely. We invited some of our friends, no men allowed, so the ride could be laid back and more relaxing and "What happens on the girl's ride stays on the girl's ride", meaning if someone makes a mistake like dropping their bike, there would be no criticism just support and understanding between us girls."

"In June 2006 four of us gals decided to ride to Daytona, Florida, and stay the night. We were pumped and found the ride to be exciting and so enjoyable that we realized two things. 1. One night away was not enough to really enjoy our time together and 2. once a year was not enough, so we decided we would do a ride twice a year. Once we got to Daytona, Florida, while sitting in a booth at the Boot Hill Saloon on our 2nd beer we realized our faces hurt from laughing and the checkout time the next day came way too soon."
Florida Motorcycle Attorney Blog cont
"Since then the ride has been as few as 3 girls and as many as 33. On our fourth ride we rode to Treasure Island where we discovered these LARGE, GAUDY, $5, RED, ADJUSTABLE rings. We promptly bought them and called them our Ruby Red Riding Rings of Silence, because what happens on the girl's ride stays on the girl's ride. We had so much fun with the rings, everyone noticed and we showed them off a lot. This is when we decided that we would give every girl that rode or packed on a bike on our ride a Ruby Red Riding Ring."

"Around the same time we discovered the rings, we also discovered the movie from the 60's, "The Girl on a Motorcycle". She was never as happy as when she was on her Shovelhead riding down the highway contemplating her life. We immediately identified with her experience and decided that the girls on our ride should also have a copy of this movie.  So this is now our tradition at each ride."
"The girls on our ride come from all walks of life, homeless to professionals and all with these common bonds: the love of motorcycles, the feeling of freedom and sisterhood. We have only three strict rules, 1. NO DRAMA 2. NO MEN (hence no drama) 3. HAVE FUN!!! So far these rules have been invaluable in making our ride so successful. We hope that our story will encourage other women to seek what we have found."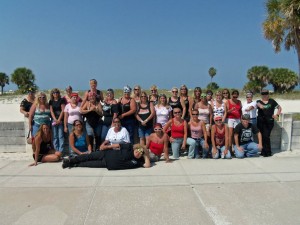 Sharing the world of motorcycles with great people you connect with make the road to memories even better. Thank you to the Ruby Red Riders for sharing their story and inspiring others to laugh, ride and live life at full throttle!
Ride ON!
Brenda Fox
Russ Brown Motorcycle Attorneys® have been fighting for injured bikers in Florida for over thirty years. Motorcycle Lawyer Russ Brown had been a supporter of Daytona, Florida Bike Week for many years. Russ Brown Motorcycle Attorneys® will be in Daytona, Florida March of 2013 on Main St and at Destination. Russ Brown Motorcycle Attorney have aggressive experienced motorcycle lawyers Nationwide. If you have been hurt in a Florida motorcycle accident or a California biker accident or injured in Pennsylvania, or Ohio, Arizona, Georgia, Wisconsin, Nevada, Colorado, Texas, etc we have you covered. Regardless of where you ride in the US we have an experienced motorcycle accident lawyer ready to fight for you. Call 1-800-4 BIKERS now.
"If you have been involved in a motorcycle accident, don't let it steal your freedom! Call 1-800-4-BIKERS to learn how an experienced motorcycle accident lawyer can get your bike fixed, money for your medical bills, and compensation for your pain and suffering."