Two and a half years ago Becky and I planned a trip down the Baja to San Felipe, MX to shoot a campaign for Harley Davison Originals, one of HD's clothing lines, so we headed south with a group of about 8 on two wheels and four. Becky invited a few buds to meet us there and one of those friends was Mark Kirkland. He had been traveling across the US with his lady and his pup in a cool RV camper they spruced up, with Marks chopper strapped to the back, of course! They met us at our Airbnb and joined the crew for the next few days! Since that trip, Mark and I have become friends and I genuinely look forward to seeing his work pop up on my feed! When we first met he was putting together these really fun little videos of his personal adventures and now he's doing it for some of your favorite brands! You'll see his photo and video work pop up on pages such as Solstice Intimates, Dice Magazine, and Paughco. I'm so happy to bring you another badass photographer you need to know about, meet Mark Kirkland.
Who are you and where are you from?
My name is Mark F. Kirkland. I'm originally from Tacoma, WA but recently relocated to Phoenix, AZ
What bikes are you currently cruising on?
I float in and out of different bikes based on my current needs at that time, but I always have a chopper of some year range. Right now I have a 1994 Evo Big Twin chopper and a 2001 Dyna Lowrider. Having a chopper and a  long-haul bike at the same time is always a great combo, in my opinion.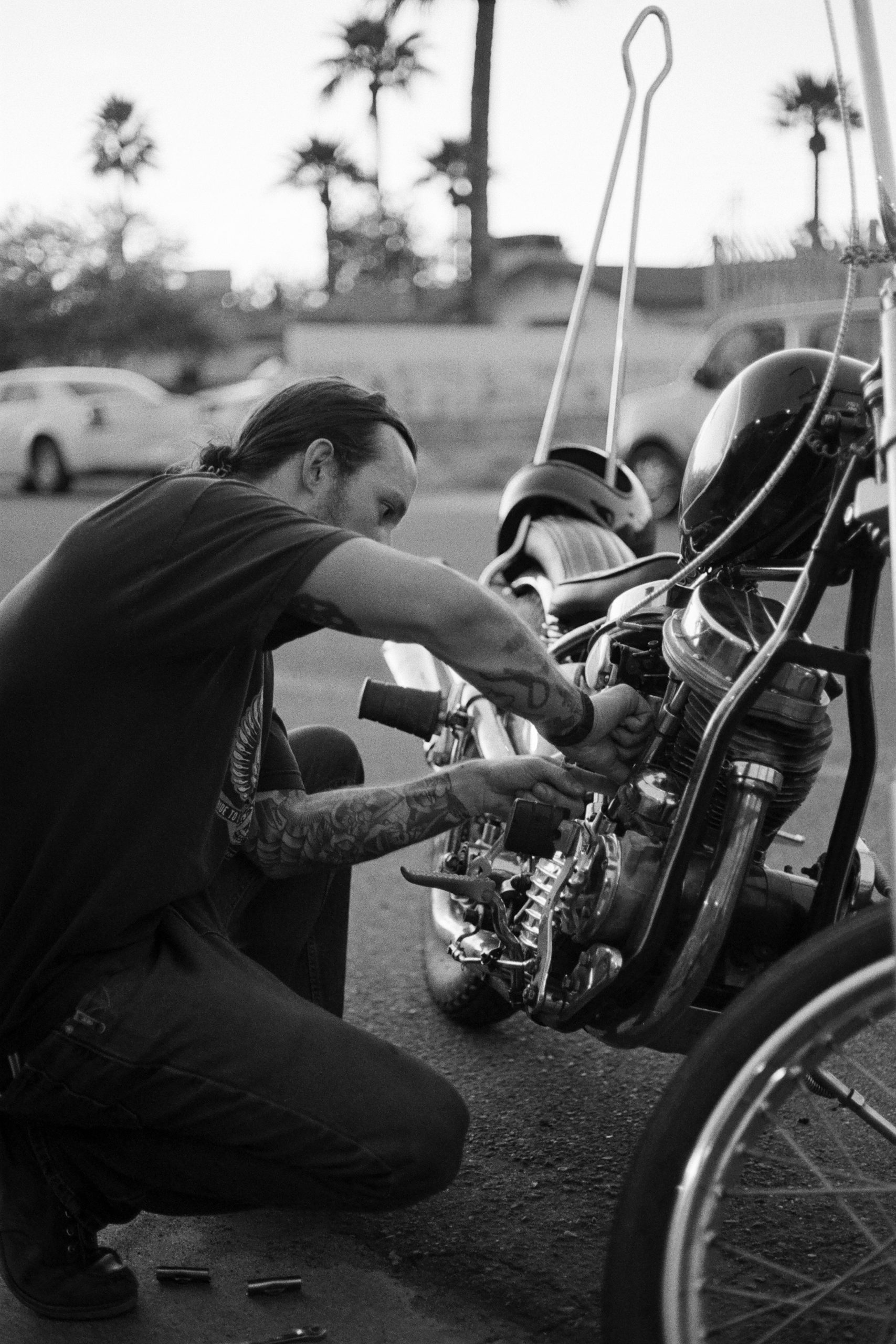 How did you get into Motorcycles?
Growing up I never had anyone in my family or close to me that rode, so it wasn't anything I was born into. As a young skateboarder I used to watch teams take tours from park to park on motorcycles, it always seemed like a killer adventure. I was 20 at the time and like most skateboarders, it's natural to be looking for the next outlet. I remember seeing a commercial on TV about learning to work on Harley-Davidsons and the next day I enrolled in a motorcycle mechanics school out of state. I had 3 weeks to get my GED, get my motorcycle endorsement, and get packed. Since then, it's been a pretty wild time and I've been to a lot of great places because of bikes.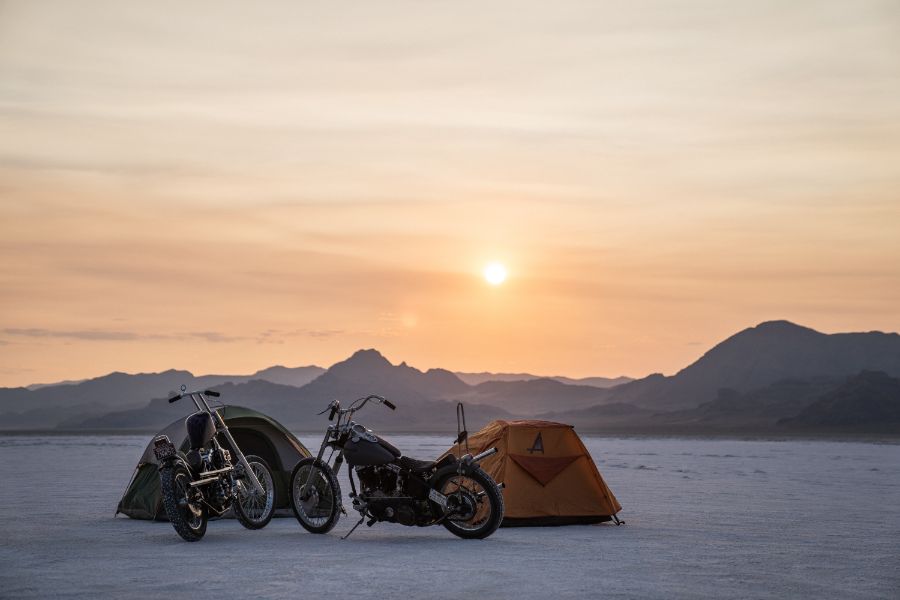 What is your favorite ride?
One of my favorite rides I have been on is from Washington State down the coast to San Felipe, Mexico. I've done that a couple of times, choosing different routes both times. It's hard to beat riding HWY 1 for days on end. From coastal cliffs to drive through trees, crossing the golden gate bridge and so many insane views in between. Almost every trip I take ends up being amazing in its own way, whether it's a two-week trip cross country or just an overnight camp out an hour from home. 
Favorite memory from the road?
Anytime I'm camping and relaxing fireside is the best time.
Moto trip essentials?
Sunflower seeds, tool roll, spare parts, hatchet, lighter, night eyes, hand/toe warmers, and a camera of some sort. Since every trip's needs are different it slightly changes but these are what I normally bring on every trip.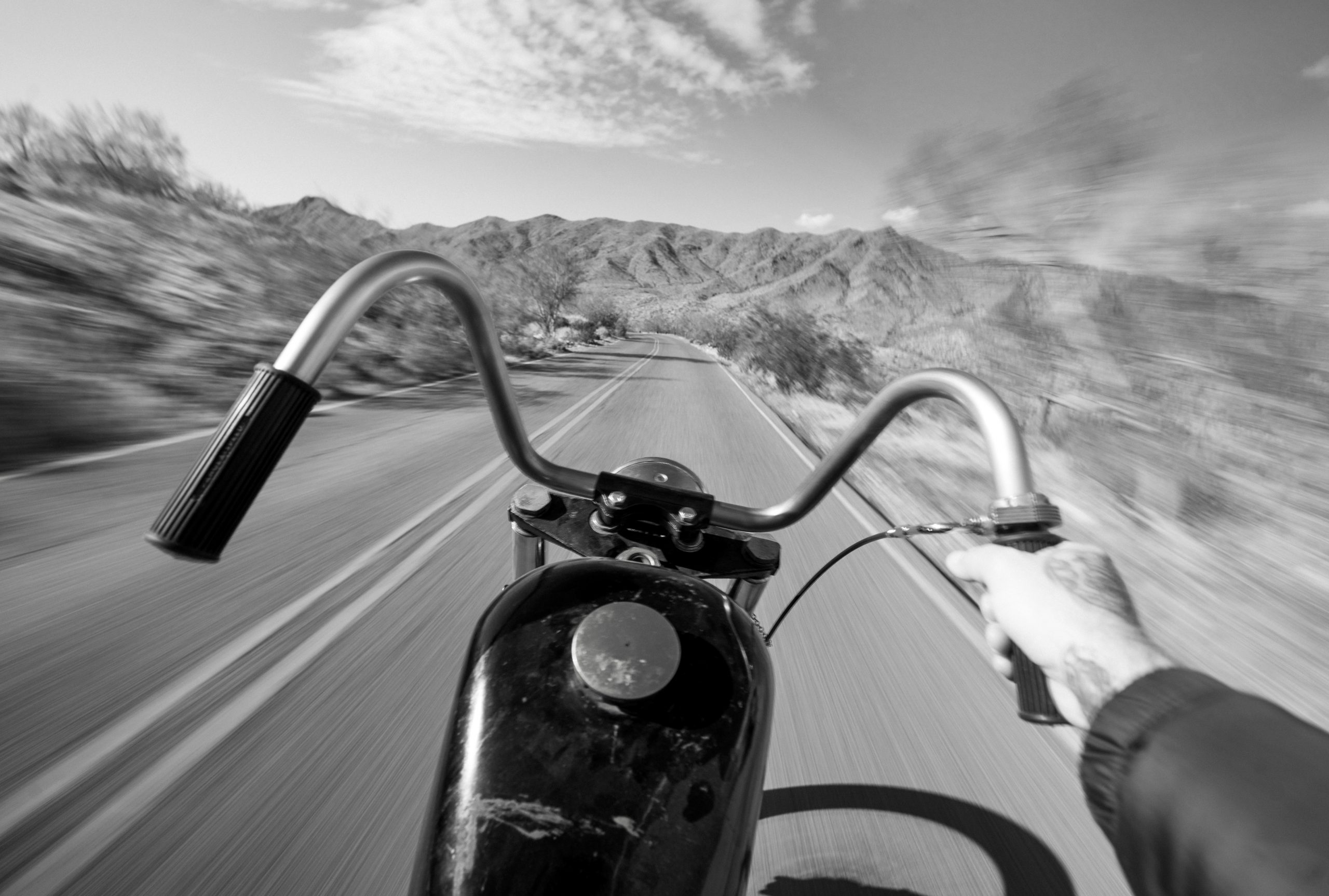 What got you into shooting photos/videos? What kinds of cameras do you shoot with?
I've been interested in cameras since my teens. Documenting the trips, I would go on with friends. I was never good at the standard classes in school, but when I took photography and videography, I would always score high grades. Since then, it has just stuck with me.
My favorite and main photo camera I shoot with is a Canon AE-1P. This is the first camera that had me jump into the film world and is what I prefer to shoot with today. I actually found this camera while I was out skateboarding. I sat down at a spot and found a bag inside a bush next to me. I opened the bag to find this little gem. A couple of years went by and I finally shot my first roll of film with it. The results had me hooked. Since I loved older bikes the period-correct cameras just went hand and hand to give the look I was hoping for. Fast forward a few hundred rolls of film and here we are.
The other camera in my bag is the Minolta HiMatic AF2 that I bring everywhere at the moment. If I'm shooting Digital, I use my Sony Mirrorless. 
As far as video goes, since day one I have shot on Sony Products. It's what I know and trust. That's why I use them today. I also shoot a lot of super 8mm film which I do on a Canon. 
Where has photography/videography taken you that you never thought it could?
As to where I'm at now it's been amazing. I've been able to work with really great people and companies. Ones that inspire me and ones I've looked up to. I can't say one has done more for me than the next, but all have helped me as a whole. I took quite a long break from shooting videos while attending school and working for Harley Davidson. During that time, I really missed the creative outlet that shooting daily brought me growing up. In 2018 I left my job at Harley to pursue shooting and hoping I could make something happen with it and since then shit has just been crazy busy. It's rad to see people stoked off the work that I do and put together. Being able to do what I love and having the control of being my own boss every day was the biggest life-changing experience.
How have photography/videography and riding changed your life?
I think the biggest change is just combining the two. Being able to bring motorcycles and shooting together and into my daily routine even more than it already was. I really live to ride choppers and shoot. Its lead me to travel to amazing places, meet incredible people, and live life how I think it should be spent, which is enjoying it.
What is your mission/purpose behind the lens? 
My only real purpose is to create something that inspires me to want to keep creating. If it's motorcycles, then I want to create a video or image that makes me want to pack my bags and hit the road and I hope it does the same for the viewer because that's what it's about. Something that you can only experience or capture if you're there in the moment.
What do you do when you are feeling uninspired? I steer clear of social media if I'm feeling uninspired. I know some people look towards others' work to get inspired but it's the opposite for me. Just grab a diet coke, some sunflower seeds, a camera, and head to the open desert on the chopper. That usually does it for me.
What advice would you give those who want to learn to ride?
My only advice is to go for it. Sign up to your local Riders Academy and take the course to see if it's really for you. They are very knowledgeable riders that teach those classes, and the information is priceless. If you find out it's  not for you then that's ok, better to take the chance than always wonder, "What If?"
Where can people see more of your work and get in touch?
I need to get up with times and get all the normal things updated like website, Vimeo, youtube, etc., but currently, you can see most of my stuff on Instagram @markfkirkland.
Blog by Adri
"If you have been involved in a motorcycle accident, don't let it steal your freedom! Call 1-800-4-BIKERS to learn how an experienced motorcycle accident lawyer can get your bike fixed, money for your medical bills, and compensation for your pain and suffering."