Joshua Tree's natural beauty, combined with a nice combination of freeway and rural highway riding, makes it a great California motorcycle destination!
A ride through Joshua Tree is a great way to see the park (Photo by Freddy Sherman)
Joshua Tree National Park, located about an hour from Palm Springs and about two hours from Los Angeles, is an excellent place to ride (and to ride to). The park offers some spectacular scenery and a lot of it is accessible on and visible from paved roads. There are also campsites and hiking with hundreds of thousands of acres of desert wilderness to explore. I rode out to Joshua Tree from LA on the very cool 2019 Kawasaki Z900RS. It's their throwback, naked sportbike with cool 1970s styling yet a modern Ninja engine, frame, technology, and mechanicals.
The road through the park (Photo by Freddy Sherman)
The Ride
The ride to Joshua Tree is a great experience regardless of which direction you come from. If you ride out from Los Angeles, (and don't get caught up in traffic) it takes about two and a half hours. From LA, it's mostly freeway riding until you get off on the 62, which takes you almost to the park gate. CA 62 (and then 29 Palms Hwy) is a 50-60 mph, mostly four-lane road. Inside the park, it's a two-lane road with limited passing and low-speed limits. Coming from the east, the park is a three-and-a-half hour ride from Phoenix.
Joshua Tree National Park (Christopher Michel CC by 2.0 via Flickr)
The Route
If you're coming from LA, ride out on the 10 east and then take CA 62 eastbound. It's the exit just before you get to the 111 and Palm Springs. The 62 becomes 29 Palms Hwy and leads you right to Park Blvd., which leads to the main gate. This is the West Entrance, there is also a North Entrance in the area. You can also enter from the south, via exit 168 in Chiriaco Summit from the 10 freeway. This area doesn't have the commercial development (which includes stores, hotels, and restaurants) as the other entrance but you can ride through the park to get to the other side. The ride through the park from one entrance to the other is about 70 miles long and takes about 90 minutes (if you don't stop).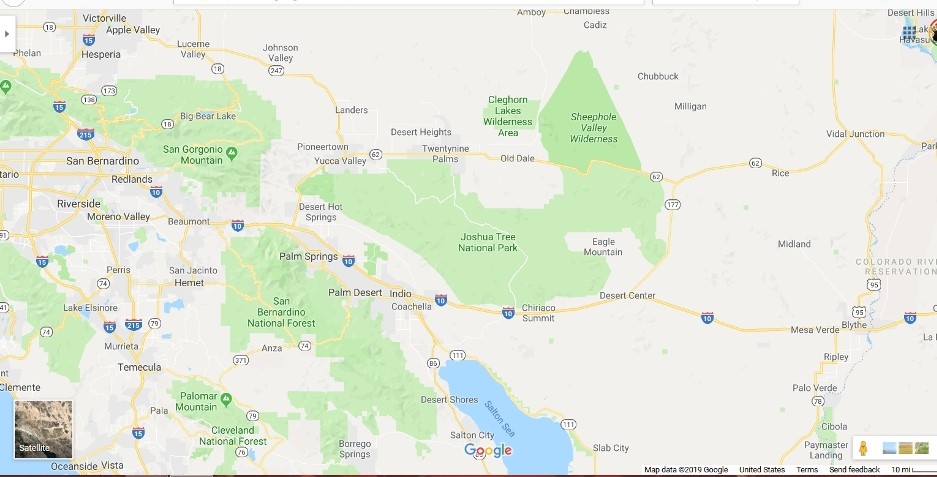 The Park
Joshua Tree National Park is open year-round and consists of over 800,000 acres of desert wilderness. It's a popular place for hiking, camping, rock climbing and photography with dramatic mountain views. It's great for riding as there are miles of smooth, paved roads and you can ride for hours while you enjoy the staggeringly beautiful scenery around you. If you're down for a quick visit, the gate attendant leaves at 5 PM and the park is open until sundown so you can get in free for an hour or a few hours depending on the season. Always ride with a buddy, there is no cell service in most of the park area and no services or facilities in most places. The weather can be extreme with snow in high elevations in the winter and temperatures over 120 F during the summer.
Pappy & Harriets always have some amazing musical performers (Jeff Hollett CC by 2.0 via Flickr)
The Stops
Pappy & Harriets is a very cool roadhouse bar and music venue located high in the mountains in a former Old West movie set called Pioneertown. It's about a 45-minute ride up from the town of Joshua Tree and worth a visit. The Joshua Tree Saloon is another legendary local hang-out with a cold beer, decent music, and great food. The area around the saloon, along Twentyninepalms Blvd., is filled with a few blocks of eclectic, locally-owned shops, boutiques, and art galleries and it's fun to park your bike and stroll around.
The Joshua Tree Saloon is a great place to stop for lunch or dinner (Jeff Hollett CC by 2.0 via Flickr)
Where to Stay
The funky Joshua Tree Inn motel is popular with musicians (like Gram Parsons) and has a lot of hippie history. I also like the Best Western Joshua Tree as it's a new property, close to the park entrance. You get clean, stylish rooms with flat-screen TVs. They also have a nice, big swimming pool, which is nice after a long day of riding and exploring the park. The area is also filled with Airbnb home rentals. Some of these are on the road leading the national park or on the border of the park itself.
Channel your inner Gram Parsons at the Joshua Tree Inn (Photo courtesy of Joshua Tree Inn)
The Bike
I rode out on the cool 2019 Kawasaki Z900RS, a very retro version of the Z900. It's a tribute bike, looking back at the legendary 1972 K1 900, considered one of the first superbikes. It's powered by a silky smooth 900cc Ninja engine with a modern frame, ABS and other state-of-the-art technical parts. But you get a very retro seat, tank, mirrors and other visual elements that make it look vintage. It gives you the best of both worlds, a cool throwback look with ultra-modern mechanicals and technology. The 2019 Kawasaki Z900RS is $11,199. There's also a Z900RS Cafe model, which adds a 1970s front cowl with vintage graphics.
The 2019 Kawasaki Z900RS (Photo by Freddy Sherman)
Follow motorcycle rider and writer Freddy Sherman on Instagram @drivewithfred and on his car and bike YouTube channel.
"If you have been involved in a motorcycle accident, don't let it steal your freedom! Call 1-800-4-BIKERS to learn how an experienced motorcycle accident lawyer can get your bike fixed, money for your medical bills, and compensation for your pain and suffering."