Russ Brown Motorcycle Attorneys®: Harley Davidson's Savannah riding boots – One of many good riding styles.
I feel very fortunate to live in California where I can ride all year long and to always meet new people when out on the road. Recently I ran into a fun bunch of gals, who I was a bit taken back when I noticed a few of them wearing summer fashion shoes aka sandals to ride in.
Yes you heard me right … open toe, sparkling, barely there pieces of material covering or actually not covering much of their feet.
Trying to not come across as the Queen Bee Safety Thumper, I engaged in a soft approach conversation about protective gear. They complimented me on the Harley Davidson Savannah boots I was wearing and we chatted about the design and details. (Full-grain leather uppers, cushioned insole, full-length inside zipper, durable rubber outsole, lace-up closure with durable metal eyelets and speed hooks with heel pull. The Goodyear® welt construction features an adjustable strap with buckle around the shaft.)
Although they seemed much more interested in the "look" of the boot verses the function, I continued to talk about the stable feel of the boot and how they were comfortable. Being able to ride all day in and walk around a rally or bike event, seem to peak their interest and crack their preconceived barrier that protective footwear was fugly.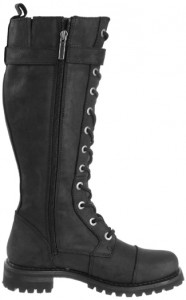 Fugly is having your foot ripped off. Keep your ten toes!
Now days we have such a great selection of styles that offer protection. The Savannah style I mention is one of my many favorites.
Crafted out of suede, I promised a few of you I would include the care
Instructions:
HD Footwear recommendations to care for suede boots:
Protect: After purchasing a new pair of suede boots, treating with a water-repelling product will help reduce stains and water damage to the material.
Dirty boots? Purchasing a suede brush or suede eraser may be helpful for removing dirt. Be sure to read the directions first; however in general you would want to brush the dirt off the suede with a suede brush, going in one direction to not ruin the nap and then rub the suede eraser over the soiled area to remove any traces of dirt.
Wet boots? Do not try them near an active heat source. This could lead cracking or damage of the suede. Instead, blot moisture with an absorbent terry cloth towel. Allow boots to air dry. Once they are dry, fix the flat nap of the boots by rubbing with a towel or lightly with a toothbrush.
Store boots in a cool, dry place out of direct sunlight.

This is one of my MANY favorite pairs of riding boots. I like a diverse selection and I'll be doing several reviews on the various styles, so please stay tuned.
To find a style you like, visit: www.harley-davidsonfootwear.com
Ride ON!
Brenda Fox
Russ Brown Motorcycle Attorneys®
Russ Brown Motorcycle Attorneys®  – protecting injured motorcycle riders in court for over thirty five years. If you have been injured in a motorcycle accident you need an experienced motorcycle lawyer on your side. Motorcycle Lawyer Russ Brown has been helping injured motorcyclists on the road and in the courtroom. Motorcycle Lawyer Russ Brown created BAM, free breakdown and legal assistance for motorcyclists  – available 24-7. No one wants to think about motorcycle accidents – but when they happen it helps to have an aggressive motorcycle attorney at your side. Call Russ Brown Motorcycle Attorneys® 1-800-424-5377 and get a top motorcycle lawyer fighting for you today. We can help you in California, New York, Pennsylvania, Ohio, Wisconsin, Michigan, Georgia, Arkansas, Nevada, Arizona – ANY WHERE IN THE USA.  Russ Brown Motorcycle Attorneys® are Nationwide. 
Russ Brown Motorcycle Attorneys®
"If you have been involved in a motorcycle accident, don't let it steal your freedom! Call 1-800-4-BIKERS to learn how an experienced motorcycle accident lawyer can get your bike fixed, money for your medical bills, and compensation for your pain and suffering."