So what do you get when you open up the speedway track to 500 plus pounds of American steel? Yep, its Harley Night! We're here again at the Costa Mesa Speedway and the vibe is definitely heavier than usual. We first started up the night by meeting up at Lifestyle Cycles in Anaheim, CA. They are a pre-owned Harley dealership and one of the main sponsors of the season. The crew at Lifestyles always makes their pilgrimage to the track every race night but tonight is a little bit more special…its Harley Night!!
Photos Courtesy of  Michael Hope – @dvhqlifestyle

I haven't seen this many burn-outs since I saw American Graffitti!
We rolled out from the shop a couple hours before sun down. We headed straight to the freeway. With more than two-dozen bikes zipping in and out splitting lanes, the baggers and ape hanger riders were keeping up as we revved our way through traffic with that feeling you can't get from any other types of bikes, respect and authority. Well at least that's how I felt.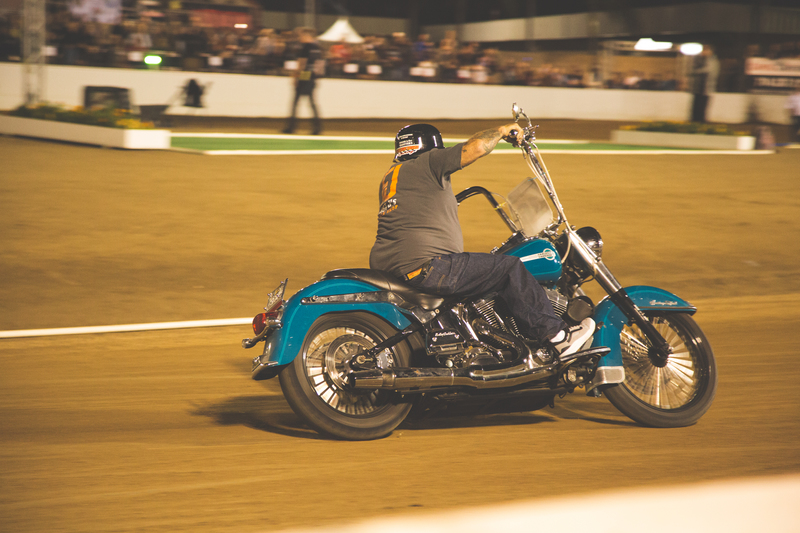 Taking those turns as if he's done this before on his Heritage bagger. I hope he wore his steel shoes!
You ask yourself, do I ride a Harley? Yes I do, as well as a BMW, Ducati, Yamaha, Kawasaki, Indian, and even a Royal Enfield! So why does it feel better riding in a group of Harleys compared to any other motorcycle manufacturer? I guess it's that "MC" mentality, the club atmosphere, and that special camaraderie you naturally adhere from the distinctive sound that syncopates with other Harley riders and ultimately drowns out everyone else.
The parking lot was already filling up as we show up to the track a half hour before the first race starts. The motorcycle parking was predominantly Harleys and baggers as you might have expected. We grabbed our seats at the south end of the track and 5-6 rows up on the bleachers. With beer in our hands and a good buzz going we settled down to watch the flat track pros start the night off right. These seasoned veterans like Billy the "kid" Janniro, Aaron Fox, and Eddie Castro to name a few fought to find their positioning in a fast short race.
As the dealership sponsor of the season, Lifestyle Cycles is holding it down at their booth. Go check them out in Anaheim, CA.
Still keeping America Great with the National Anthem opening up the night.
Gino Manzares, defying laws of physics in mid turn. Take a look at his front wheel perpendicular from his back!?!
The night was just getting started as the sidecar races pulled out onto the tracks. If you notice there are two riders on the motorcycle that looks more like a trike. The race is also going clockwise rather than the typical counter clockwise to single riders.
Now if your passenger can lean into a turn like this…lol
Aaron Fox taking a little breather as he preps for the Scratch Main Event race.
Our hot August night was more tolerable tonight since the weather was a breezy 75˚ as we were only a few miles away from the coast. I saw a lot of denim patched jackets and hoodies amongst the crowd. I can only imagine the rest of the country in deep envy with the perfect weather on a Saturday night at the races.
Our tribe trying to look somewhat normal when getting their pictures taken.
With the California weather systematically on temperature control of close to perfect each day, there is never a shortage of motorcycle events all throughout Southern California. It's usually hard to get all of your friends at one event but tonight was Harley Night and whether you're a Harley fan or not, who wouldn't want to see a bunch of American V-twins trying to maneuver their thick frames and heavy engine blocks run side ways on a tenth of a mile track?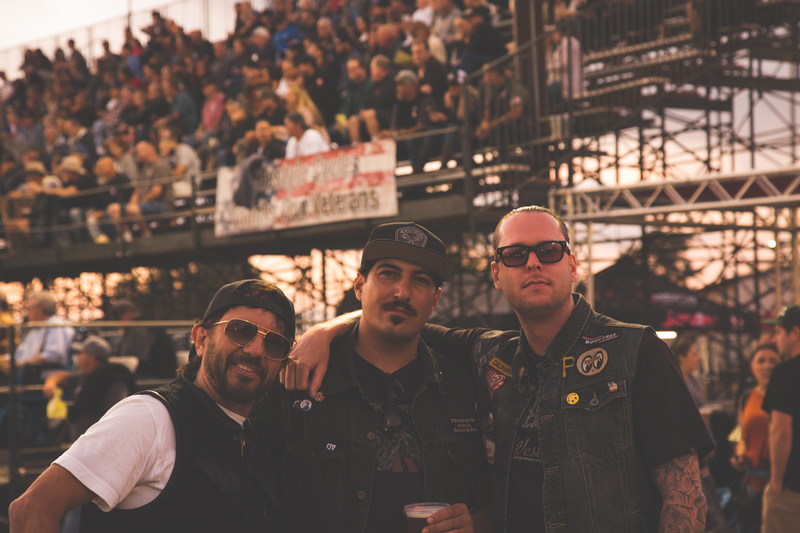 Good Times Moto Crew.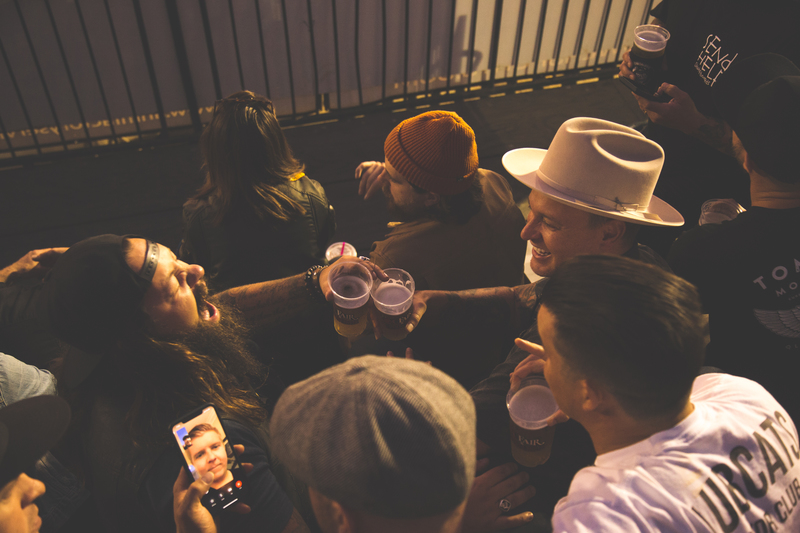 A general admission ticket gets you into the track but the Hubcaps Crew section is where the laugh zone is paid in jokes and beer toasts.
My favorite races were the open class big baggers. The rule is wait for it…there are no rules, ride what you brung! Well I'm sure there are some minor safety rules but as you can see, riders are free to test out there abilities on any Harley they choose. Anyone courageous enough to put your bike on the track without the appropriate tires, gear, and altogether wrong bike to begin with deserves a cheer from the stands. This is the second Harley Night of the season and the qualifiers from Night One will join the qualifiers from Night Two and battle it out at Finals in October 5th.
And the Ape Hanger takes the lead!
Tonight needs no explanations on bike details except that it's all about the brap and more brap! My friends and I spent most of the nights socializing than watching the races. Once and a while a loud pipe and throttle revving gets our attention back onto the track. These Harley Nights shouldn't be taken so serious. It's a way to attract a different kind of crowd that normally wouldn't have any interest in flat track. You can feel that amongst the crowd as they range from the devoted seasonal ticket holder to the ultra ride or die Harley owner. Nevertheless, everyone seems to be having fun especially when the burn out contest started to rip.
Last place don't seem so bad if you get to do burnouts at the end.
The Crowd was cheering him on.
You know what they say when all else fails, do a burn out and you'll have the crowd. Smoke started filling the track as a few riders ended the night at the crash wall right next to the stands. We all want to be entertained and that's what you'll get when you come to the track. There are still a lot of races left for the season. There are three races happening in the month of September, one to mention is the Roland Sands Super Hooligan National Championship Series / Speedway. Then on October 5th is the Harley Night Finals.
I encourage you to invite anyone you know that has any interest in riding motorcycles. Costa Mesa Speedway is the best atmosphere to take any noob to experience the moto community. For the most part you'll have a friendly crowd willing to teach and educate them about bikes.
The speedway is also family friendly and encourages you to bring your kids to the track. I would suggest buying earplugs for the small ones since it does get pretty loud.
One of the stars from The Mayans took a break from filming to race at Costa Mesa Speedway.
Jake Isaac takes the checkered flag for the Second Division Main Event.
My final thoughts on this night were all about having fun. It seems that motorcyclist tend to take the whole lifestyle too seriously. We're no longer the counter culture of society and no longer need to be the 'bad asses' on the streets. If anything, the moto community should embrace the newbies that has the enthusiasm to learn more about bikes and the passion that engulfs us all. Harley Night opens that gate way so let's bring more people into this amazing club.
A young fan looks out taking notes on how to go sideways and wheelies.
Words by Mark Gamo – @LosAngelesMoto
Photos Courtesy of  Michael Hope – @dvhqlifestyle
"If you have been involved in a motorcycle accident, don't let it steal your freedom! Call 1-800-4-BIKERS to learn how an experienced motorcycle accident lawyer can get your bike fixed, money for your medical bills, and compensation for your pain and suffering."