Article by Becky Goebel @actuallyitsaxel
The Chun – a staple in the Los Angeles motorcycle community. Tucked into the side of the downtown high-rises, The 3,000 square ft space is full of memories from every biker who ever attended a Born Free pre-party, an under-ground biker band album launch or a memorial for one of our fellow fallen riders. The Chun has housed many chopper builds, many bikes, and many bikers themselves.
The Chun sits just on the edge of Downtown Los Angeles.
The iconic stage area at The Chun – Photo by @thechunstudio

In 2012 the space was acquired by Ryan Grossman, Davey Cooperwasser and Snake. It was just a huge open warehouse. The space has since been built up by the array of tenants and friends who have used it and who created a hangout space, a kitchen, a cyc photography wall, a fully-functioning bathroom, a stage and of course, stripper poles. In the past 8 years, the Chun has been used in music videos, movie sets, celebrity photo shoots and  some iconic rager biker parties. Want to see for yourself? Check out this YouTube video from the night The Picturebooks played on their stage:
Snakes bike in the Chun during his reign as Chun King.
The Chun when they first started building some walls:
Throughout the years, there were many bikers and builders that came and went at the Chun. Snake stayed for the entire 8 years but others came and went, renting spaces to work on their bikes then moving along. As of 2020, it was just Snake and photographer/biker Todd Blubaugh renting the space and had been for quite some time.
Recently, the day came when they were ready to move on. These two were the backbone to the last couple years of the Chun, the reason why a lot of us in the chopper/custom community know each other and a lot of the reason this community
even exists. Watching them move out of the space they literally built with their own two hands was sad, but it was time for them to move on.
Cody Kemmet moved to Los Angeles from Bismarck, North Dakota a little over a year ago. He is famously known for popping wheelies on long front-end choppers and tearing apart a kiddy pool at Born Free with the back tire of his People's Champ build. Cody is a killer mechanic who specializes in Shovelheads, Panheads and anything old Harley Davidson. His shop, Hawg Supply was stationed at a warehouse in Santa Ana for not even a year when he got the call from Snake that the Chun was up for grabs.
Cody Kemmet of Hawg Supply
While shooting photos at the Chun for this article, I asked Cody about his first time ever coming there was. This was the story that ensued:
"Me and my two buddies were going to ride to Born Free 7 from New Mexico. None of us had ever even been to LA. We stopped in Phoenix to try to wait out the heat and didn't end up leaving until 10pm. My bike kept breaking down and I realized I had a motor issue and couldn't ride. This one-legged dude in a 90s Chevy Silverado picked me and my bike up and drove me all the way to Palm Springs. When we got there, I charged my dead phone battery at a Wendys and got a voicemail that my 2 other buddies had actually got hit on their way to meet me… all the way back in Arizona. I made an Instagram post needing help and this dude got his wife to come pick me up from this Wendys in Palm Springs. I was all dirty and I'm pretty sure she was scared of me at first. She ended up taking me all the way back to Arizona to get my other two buddies and their bikes. She then took us to her house in San Clemente where we stayed for 5 days fixing our bikes before Born Free. Super crazy, I still talk to those people at shows to this day. When our bikes were finally fixed, it was Friday and we had heard about a Born Free pre-party in LA. We had never even been to LA before, so we rode up there to check it out. There was bands playing, tons of people there and tons of cool choppers lined up down the street. It was an awesome space and awesome party. Right when we got there, I met a weird dude who introduced himself as 'Snake' who got us into the party. That was my first ever experience of the Chun!"
Cody and Lee at the Chun, both of their first times in LA
Fast forward a couple months of heavy lifting, a couple zillion beers and a couple melt downs, Snake and Todd were cleaned up and Cody was moved in. Of course the signature pieces of The Chun remained: The matching stripper poles, the ginormous American Flag, the "Chun" painted garage door and the Moose head watching over the entrance of the shop.
Yes, that's a Panhead margarita machine.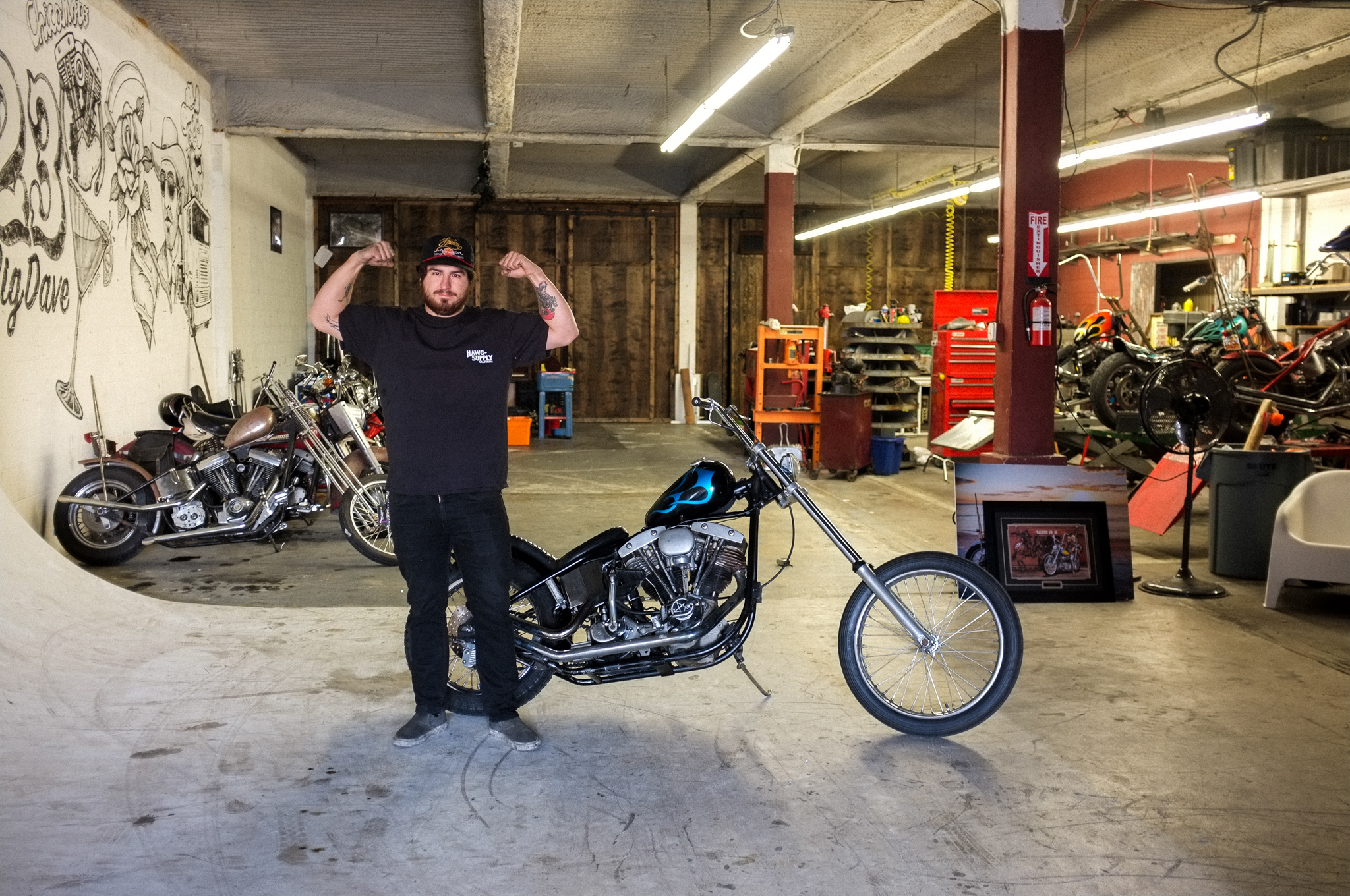 For being just 25 years old, Cody has seen his fair share of bikes, parties and highways. He was the other half of the Vitzy Boys parts dealer brand until his move to California and has had his hands on many builds that you all have seen in ads, shoots or at shows. Cody is a staple in the chopper scene. The move to the Chun was a no brainer, not only for Cody but for Snake and Todd and the rest of the chopper community.
To take over such an iconic space, especially in Los Angeles, is a big deal. Cody doesn't seem to have a ton of time to worry about that though – the second he started unpacking at his new space he had customers needing his attention. If you need Cody, you gotta find him. But people sure seem to figure it out. The Chun is not an open-to-the-public kind of place. It doesn't have a store front and it doesn't have a sign. You need to know Cody's Instagram, website or phone number to get in contact with him and it works good for the 1-man-show that is Hawg Supply.
What's it like to take over the Chun?
"It's cool to be able to keep the history of this place place alive"
Although Los Angeles is globally recognized as a custom motorcycle hub considering we have year-long summers – the city doesn't boast a ton of custom shops that know their shit. As someone who often needs repairs in the LA area, I find we often end up at a Harley dealership or going outside the city to garages that are more affordable for the average custom motorcycle enthusiast. LA is expensive in regards to everything, so to have Hawg Supply right in the heart of everything, is a treat for us all.
What is Hawg Supply and what do you do?
"Hawg Supply is a business I run so I don't have to work a real job. I work on old bikes, engines and transmissions. I also make parts and build choppers from the ground up."
Moving forward, the Chun is sure to come alive once again. Like it did in its glory days, the space will be full of motorcycle conversation, biker BBQs, chopper building and the people that make this community what it is.
The Hawg Supply shop/The Chun is open to repairs, custom part fabrication, bike construction, motor re-builds and more – as long as it's stamped Harley Davidson. The space is also available for rent for location shoots. It's exciting to think about the cool things that are going to roll out of the shop throughout the next couple years so stay tuned!
You can get in touch with Cody through his site: www.hawgsupply.com or his instagram @hawg_supply.
If you want to see a bit more history from The Chun, check out their old studio page on Instagram: @thechunstudio.
"If you have been involved in a motorcycle accident, don't let it steal your freedom! Call 1-800-4-BIKERS to learn how an experienced motorcycle accident lawyer can get your bike fixed, money for your medical bills, and compensation for your pain and suffering."