On August 17, 2004, Marine Corps Sgt. Richard Silva and his recon unit in Fallujah, Iraq, were attacked by mortars, rocket-propelled grenades and relentless enemy fire, leaving him critically wounded from shrapnel and the impact of the blasts.
Richard was medically evacuated and returned stateside as the only survivor from his unit. The injuries to his right knee left him unable to safely ride a two-wheel motorcycle. But in December, he was delighted to be the recipient of a three-wheel Can-Am Spyder motorcycle donated by Russ Brown Motorcycle Attorneys® ™ .
Russ Brown Motorcycle Attorneys®™ takes great pride in sponsoring and supporting hundreds of worthy veterans clubs, organizations and nonprofits across the U.S., including Rolling Thunder®, Inc. As The Original Attorneys Who Ride®™, our entire practice is dedicated to helping motorcyclists.
Forty years ago, our founder, Russ Brown, also created BAM (Breakdown and Legal Assistance for Motorcyclists), the largest free biker buddy system in the world, now numbering over 2 million members. Since an estimated 30 percent of our BAM riders at one time served in the Armed Forces, our connection and commitment to veterans is very strong. We hope the Rolling Thunder®, Inc., message reminds everyone that our men and women in uniform sacrifice so much.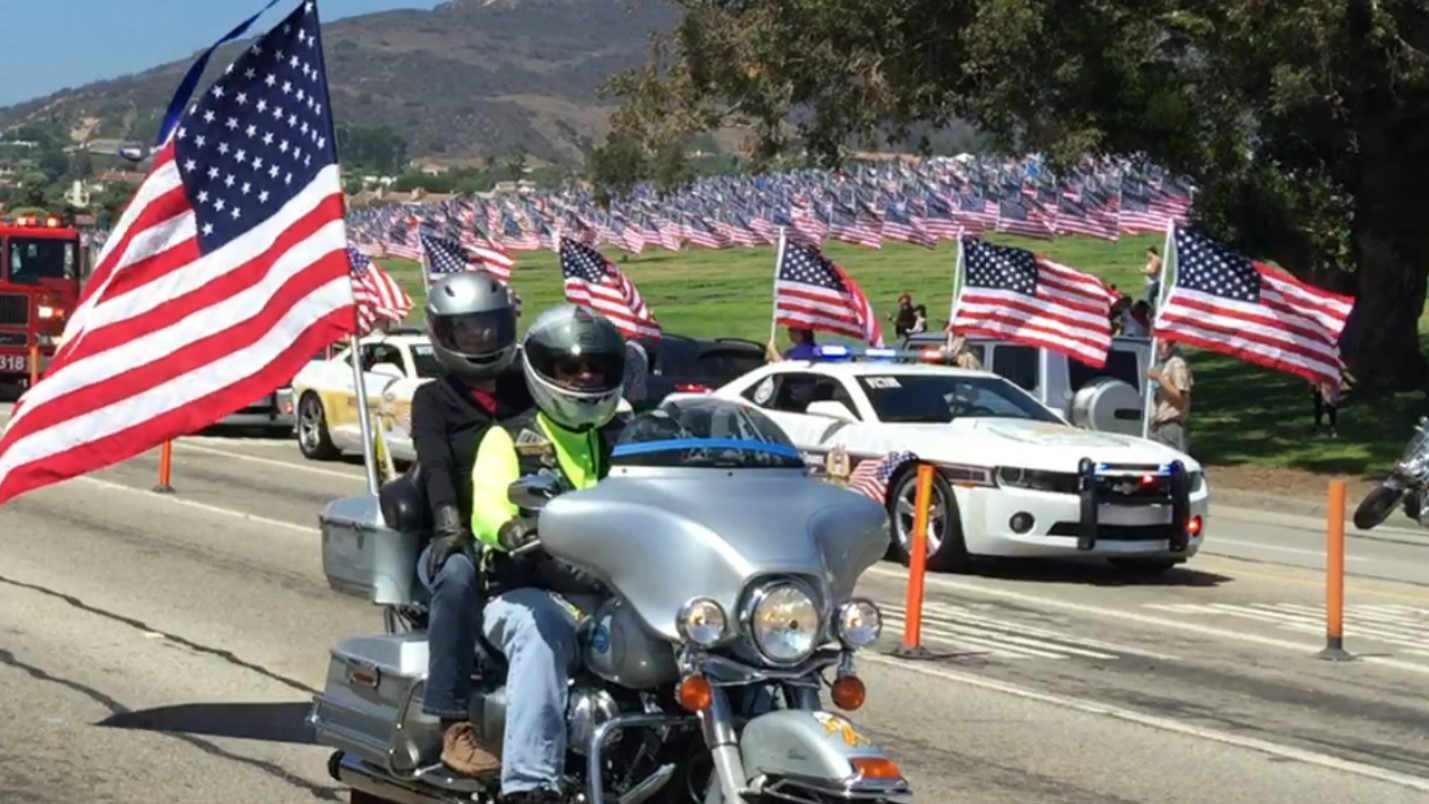 (White Heart Foundation's Ride to the Flags is one of many sponsored by Russ Brown Motorcycle Attorneys®)
Veterans Charity Ride (VCR), sponsored by White Heart Foundation and others, is one of our very favorite veteran nonprofits, as it combines our passion for two-wheels with our desire to give back to those who have served. Russ Brown Motorcycle Attorneys®™ recently donated a 30-foot trailer to VCR to help them accomplish their goals.
VCR is a year-round nonprofit program conceived and developed by veteran Army Airborne Paratrooper Dave Frey ("Indian Dave"), while riding solo to the Sturgis Bike Rally in 2014 in South Dakota. Along the way, he met a fellow paratrooper, and they commiserated about extreme hardships experienced by their friends and compatriots returning from Iraq and Afghanistan, such as severe injuries, post-traumatic stress disorder (PTSD) and adjusting to civilian life.
On the ride home, Dave couldn't stop thinking about his fellow veterans and wanted to do something special for them and make a difference in their lives. Then it hit him … let's use motorcycles to help our veterans. Dave and his business partner Robert Manciero, Emmy Award-winning producer/director, came up with the concept of a veterans ride to Sturgis … incorporating the therapeutic effects of riding a motorcycle on an "adventure of a lifetime" for wounded veterans. They scrambled for backers — like Indian® Motorcycles — who were instrumental in making their dream a reality.
The Veterans Charity Ride program encompasses: 
• Motorcycle therapy rides and excursions.
• Personalized nutrition, physical therapy, exercise and therapy with certified health coaches.
• Motorcycle safety course; maintenance, repairs and upgrade assistance.
• Trusted vet mentors to renew hopes, goals and a sense of purpose.
• Special events and activities to keep veterans engaged and active.
• Veteran family support outings to share wins, breakthroughs and peace of mind with family.
• New and used motorcycle/ATV donations for vets — VCR will refurbish and modify bikes if necessary.
Testimonials from the vets tell the story:
"I was going through a really hard time. I was at rock bottom … with almost 12 years of active service, all served in the time of war, during which I suffered multiple combat injuries, and was awarded two Purple Hearts for being wounded in action. This ride changed my life forever, physically, emotionally, and most importantly, mentally. Once I left the Marines, I found myself without an identity, dealing with traumatic brain injury (TBI), severe PTSD, and many other physical injuries. The Veterans Charity Ride Organization came to my aid. They rescued me and saved my life." — Doober H., Marine veteran, Idaho
"I want to thank Veterans Charity Ride for all you've done … lifelong friendships, amazing memories, and a forever support system for me, as well as my family. The healing and happiness I've experienced in this short period of time takes me to a place I never thought I'd be again." — Keith H., Army veteran, Texas.
"In October of 2007, while deployed to Mosul, Iraq, I had my left leg blown off below the knee. I tried to build myself back up by participating in activities like scuba diving, snowboarding and softball. However, these proved only to be superficial distractions from the mental agony I felt. Despite my best efforts, I was losing the mental battle and grew to have a jaded, love/hate relationship with all aspects of my life. …Veterans Charity Ride to Sturgis provided me the tools needed to process, confront and overcome my damaged mental state. Equally important, it strengthened my network of friends I can turn to when needed. Now every time I feel the stress of life bearing down on me, all I have to do is take a ride on my motorcycle and the positive memories and experience of the ride to Sturgis washes over me. I would highly recommend it to anyone going through tough times." — Michael Brown, Army active-duty, Alabama.
"The trip helped me to take stock and appreciate what I have in my life. It helped to empty my mind of all the junk that was stuck up there. It gave me a peace I have been looking to find for the last decade, and it has truly helped me to finish my healing process. So, thank you Veterans Charity Ride; those 14 days really helped put the last 10 years to rest." — Damon, S., Army veteran and sidecar passenger, Michigan
"After losing both of my legs in Afghanistan, I had no idea what mobility would look like for me, let alone any sort of fun activities anymore … Once I was fitted for prosthetics, I tried to go and engage in the activities I had always wanted to, but never had. Veterans Charity Ride gave me the opportunity to experience being on a motorcycle … Even with how amazing that was, it is the people that make it so worth it! Having that military-squad feel … that sense of camaraderie that is lost when you leave …VCR gave me another family through all these veterans I rode with, and honestly that is the hardest thing to leave behind once you get out. Thank you VCR for such an amazing opportunity!" — Jed M., Marine veteran, sidecar passenger, Oregon.

Original Article: Washington Times – Russ Brown Motorcycle Attorneys®

Wendy Koro is marketing director at Russ Brown Motorcycle Attorneys®™ (russbrown. com). VeteransCharityRide.org is a program run by White Heart Foundation, a 501(c)(3) charity. All donations and contributions are 100 percent tax deductible.

"If you have been involved in a motorcycle accident, don't let it steal your freedom! Call 1-800-4-BIKERS to learn how an experienced motorcycle accident lawyer can get your bike fixed, money for your medical bills, and compensation for your pain and suffering."