Bringing motorcycle racing to a new audience has been a goal of varying importance since the dawn of motorsport. Some of the biggest hurdles organizers and promoters run into is making the rules easy to understand, finding a nearby venue, and having more to do than just watch motorcycles go round and round.
Roland Sands has solved that and more with the ever-growing Super Hooligans series. Based loosely on "Harley Night," a run-what-ya-brung class at Costa Mesa Speedway where fans from the crowd could race the clay oval on their street-legal Harleys, the Super Hooligans series is both able to piggy-back with current racing series' as well as create their own one-off events at makeshift race tracks.
Rules used to be as simple as a street-legal twin-cylinder, 750cc or bigger. Big bikes on small tracks kept relative speeds down and made the riders' struggle for control instantly obvious to the casual onlooker (an 883 Sportster seems like a small bike until you lay it over and pin the throttle in 1st gear).
As the sport grew in popularity it became a points-paying series with real prize money, which brought more attention from pro riders along with pro bike builders. This is what happens to every racing series when it grows, but organizers have been able to control things with minimal rule intrusion so far (the 2018 rulebook is only five pages). Other classes are added for small dirt bikes, mopeds, vintage bikes, and so on by letting local clubs partner up with the Hooligan series.
At the inaugural Bay Moto Classic (and most Super Hooligan events), Western Flat Track (WFT) was there to help run the show. The event also ran in conjunction with the police skills competition, where motor officers from different localities took on a tight gymkhana course on their large, fully loaded police bikes.
This of course led to a "cops vs. hooligans" competition where local riders (and several of the racers) took on the motor officers to try and "beat the heat." It remained friendly and fun from what I saw, and it looked to be the most fun anyone was having based on the amount of smiles I saw.
Fingers were pointed in the cops vs. hooligan gymkhana but it was all fun and games.
That is, until event organizer Roland Sands showed the ace up his sleeve. He put all of the police officers from the skills competition into their own impromptu heat race on the tight oval course. Jaws hit the floor as sparks flew off of floorboards, elbows were thrown, and even a post-race burnout happened.
I watched front wheels tuck under and saw some rear wheel slides, but in the end there was no stopping the one SFPD motor officer who was on a Suzuki dual-sport bike. In such tight confines, having a bike that weighs half that of the competition beats out any horsepower advantage the Harley's brought to the track. I saw smiles everywhere: from the police, the fans, the flagger, the announcer, and the photographers. I overheard one officer say to the other, "this is so much fun, I can't believe I'm getting paid to do this!"
Over half the race looked like this as a police Harley fought off the attacks of another officer on a dual sport Suzuki, yet there was never any contact.
When was the last time you saw a police motor officer wheelie past the checkered flag?
Although it looks like a huge smile for winning, everyone was smiling from the racers to the fans to the photographers.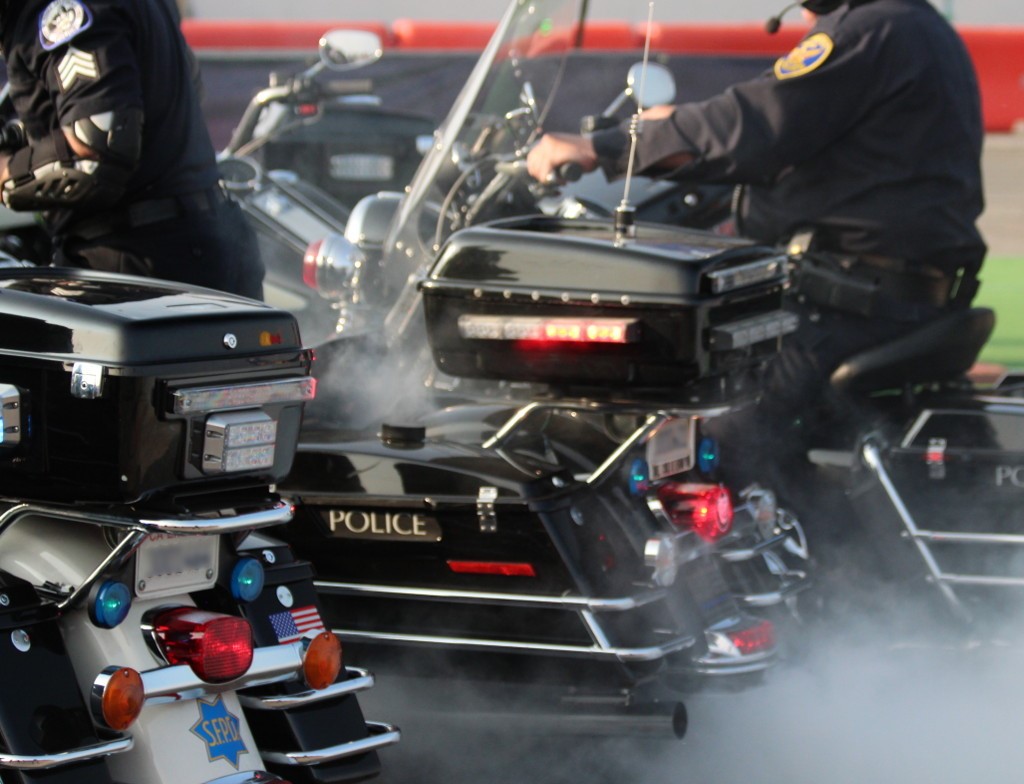 This wasn't to say the Super Hooligans main event was anti-climactic. Quite the opposite. Robert Bush (#40) took the holeshot and was holding off #1 plate holder Andy DiBrino for over half the race. DiBrino is fast on any surface, racing flat track, supermoto, as well as road racing.
Still, it took a bold dive up the inside of turn 1 while hard on the brakes to make the pass happen. Bush was listed as riding a Honda but the engine was clearly a Harley Sportster, and it appeared to be just that microsecond slower to spool on the power, allowing DiBrino and his Harley XG750 to pull out a slight lead. With lap times under 10 seconds, it's hard to be patient and pull off a clean pass, but the pair were all smiles on the podium, meaning things were clean enough.
Andy DiBirno (#1) took his time to set up a pass for the lead. Robert Bush (#40, but wearing jersey #44) ended up 2nd, but with a large gap back to 3rd place finisher Mikey Virus (not pictured).
Robert Bush (left) and winner Andy DiBirno were all smiles on the Super Hooligans podium.
And what a podium it was. About half the field remained to do burnouts and show off for the crowd, just in case they weren't already entertained. Then it was time for legendary punk rock band The Vandals to fire up their instruments for a different kind of hooligan behavior. The Eagles of Death Metal finished out the night, ending their set at the exact time that San Francisco's Carl the Fog decided to drop in and make sure everyone got the full Bay Area experience.
It matters where you finish, but it also matters how you finish. If you aren't able to celebrate a win, celbrate being alive and on a motorcycle.
The event was a smash hit in my eyes. Everyday riders could enter the Hooligans vs. Police event, casual race fans got close to the action and saw everything from pros on heavy streetbikes to amateurs dressed in banana costumes racing mini-bikes. The fire department even came out with a fireboat, blasting their water cannons while the national anthem played.


And the Run What You Brung class meant anyone who wanted to race could have paid the entry fee and gone for it. In fact, the stunt teams that were doing intermission shows actually entered. San Jose's Straight Up drifted a Dyna through the 6-lap heat and professional stunter Aaron Colton had a go on his Triumph 675 Daytona.
Everyone wants into the act. I've never seen the stunt crew enter the racing event they're working at, but it should be pretty easy to spot the stunter amongst the racers.
Pro stunter Aaron Colton (left) performed with Jimmy Burnouts (right) and the Straight Up crew ofr San Jose, and did some racing of his own.
The biggest area for improvement would have to be the food and art show. Both were great, but both were small. Great is great, but more great is, erm… more great. With San Francisco's famous food truck culture, there could have been a dozen trucks adding yet another element to a great event. The BBQ on-hand was great, it just limited options.
The art featured fantastic custom bikes, photography, drawing, and custom painted tanks, but I was able to see all of it in about 15 minutes. I've been to moto-art shows that featured only two artists that took up the same space. Of course, event planning is more than just having ideas; coordinating an inaugural event is a balance of making them want to come back and not dreaming so big you can't pull it off.
The art show was small but featured paintings, drawings, custom motorcycles, and  photography: all in the shadow of the San Francisco skyline.
At $30 for a general admission ticket though, you are competing against dozens of other things to do in San Francisco on any given day. This is roughly the same price as tickets for an American Flat Track race (the national pro series), where the top names on the planet compete.
But there is something to be said about a giant party where flat track racing suddenly breaks out, and that's what happened at San Francisco's Pier 32… a location that isn't hours away, like many dedicated race tracks.
The series continues in Lemoore, CA with the Hurley Surf & Turf. For the full calendar, rulebook, and entry info, check the RSD webpage. For full event results, check the Western Flat Track website. This is still grassroots racing but no series that has prize money stays that way; I recommend attending a Hooligan race sooner than later.

Punk rock legends TSOL and The Vandals played the event, with the Eagles of Death Metal capping off the night.
Roland Sands is a major driving force behind the series' success. He remains hands on, seen here shooting Facebook live video of the main event.
"If you have been involved in a motorcycle accident, don't let it steal your freedom! Call 1-800-4-BIKERS to learn how an experienced motorcycle accident lawyer can get your bike fixed, money for your medical bills, and compensation for your pain and suffering."