On October 1st, ABATE of Southern Idaho hosted a "Legislative Fundraiser" to support their efforts to pass an anti-motorcycle profiling law in 2017. I was invited to participate and speak to the community about the process of successfully passing the law in Idaho.
What stood out to me the most about my trip to Idaho was the fact that independents and ABATE members were the driving force behind the movement to end profiling in their state. For many years, motorcycle profiling has been perceived as a motorcycle club issue. As a result, most independents and ABATE members were not involved. But as motorcycle profiling becomes a national policy discussion, it is becoming clear that independents and ABATE members are impacted as well.
Bridging the gap between clubs and independents has been an important factor in states that have successfully passed laws addressing profiling, and that process is underway in the state of Idaho, too. In my opinion, collaboration is the key to success.
Starting With A Motorcycle Ride
The ride started at 1pm at Cruisin Biker Wear, a cool shop in Meridian, Idaho. The shop is owned by Bree Walker, the key to Southern Idaho ABATE's legislative affairs.
The pack took short breaks at each stop. The event consisted of a 100 mile 5 stop Dice Run that ended with with a gathering, food, live music, and the opportunity to discuss the process for successfully passing the law in Idaho.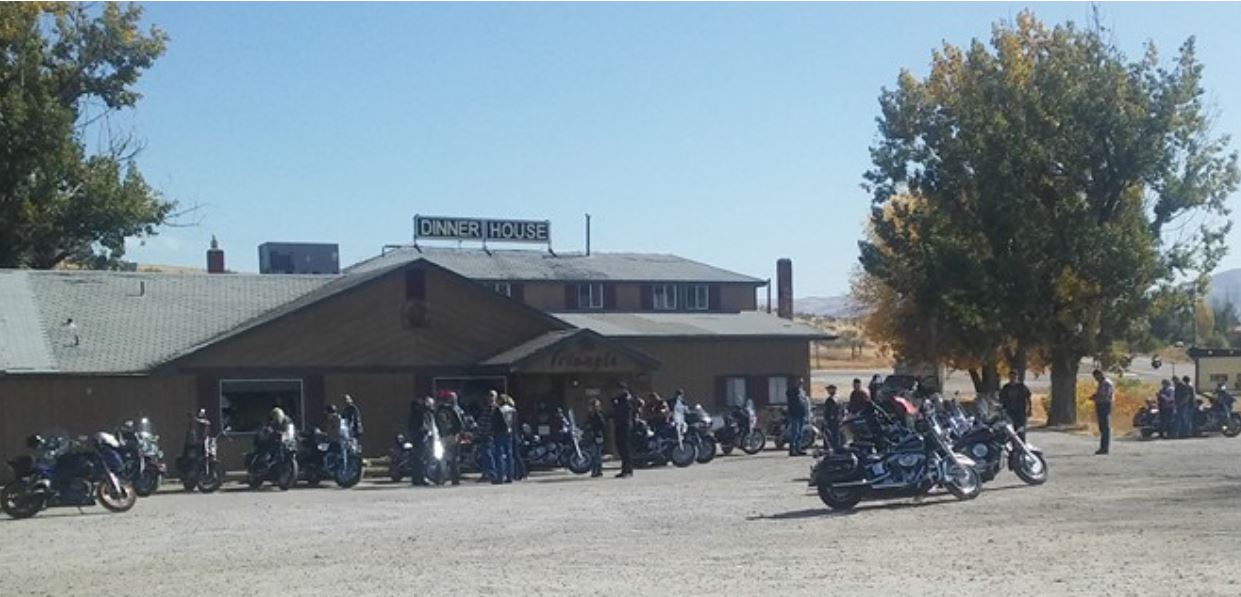 I was given a Dyna Wide Glide to ride (thank you Lori B. from S. Idaho ABATE!) and taken on a beautiful ride through southern Idaho farmlands and rugged mountainous terrain. The ABATE community in Southern Idaho is one of the friendliest and most hospitable I've been around. I didn't know I'd be riding so I had no riding gear with me. But I was quickly provided with everything I needed!
Even though this was an ABATE chapter, not a motorcycle club, the group was very organized and took the ride seriously. Meaning that everyone was safe and comfortable the entire time. I could tell they were a tight knit community and that many of them have ridden together for many miles.
At about 5pm the pack pulled into the final stop. After a good day of riding it was now time to talk to the community.
Addressing Idaho Motorcyclists- Independents and Clubs Working Together
Before food was served or the band began playing, I was invited up to address the crowd. My message was obvious- that unity between the independent and club elements of the motorcycle community is needed to maximize the probability of success.
I explained how the MPP has been working with Bree Walker and Lori B. from Southern Idaho ABATE for months now. A comprehensive legislative proposal specific to Idaho was prepared by the MPP and is proving to be a valuable tool. There are legislators in Idaho that are interested in supporting legislation in 2017 based on the quality of the presentation.


This example shows the strength of independents and ABATE. They are familiar with the legislative process and have connections to lawmakers that, in many cases, have developed over years.
So What Can Club Members Do To Help?
My message to club members was: participate. ABATE brings experience and organization to the table. What role can clubs play to maximize the chance of success? The answer is simple. Manpower. Just show up.
I explained that in Washington and Maryland, the first 2 states with laws addressing motorcycle profiling, club members and independents played their respective roles. Club members showed up in big numbers and filled hearing rooms. Manpower was a key element in both states.
In Idaho, ABATE has the relationships with legislators and the grassroots lobbyists in place that are capable of delivering the message. And clubs, if they commit to participating, have the ability to show up in large numbers which magnifies the message. And when legislators see numbers they also see support and votes.
Club members don't have to talk, testify, or interact with legislators if they don't feel comfortable. But all club members can take a ride to the Capitol for Black Thursday (legislative day for bikers in Idaho) or show up for a hearing and fill the room.
Will Idaho Be The Third State To Pass An Anti-Motorcycle Profiling Law?
Based on my trip to Idaho in early October, I think that Idaho has a very good chance of passing the law in 2017. The independent and club communities seem willing to work together and Southern Idaho ABATE is becoming an impressive organization. The pattern of evidence is irrefutable in Idaho. There is every reason to believe that Idaho will be successful.
"If you have been involved in a motorcycle accident, don't let it steal your freedom! Call 1-800-4-BIKERS to learn how an experienced motorcycle accident lawyer can get your bike fixed, money for your medical bills, and compensation for your pain and suffering."