One summer day, having a cold one at the local VFW, the idea was floated to have a motorcycle show in the vibrant Downtown Fargo ND city. Sometime after the Sturgis Rally when the lake places were closed up, school started and NDSU Bison Football was in the air. People looking for fun in town on a Saturday.
Springing into action the visionary crew was assembled to convince the City to close a street, approve the permits and okay the noise… Yikes!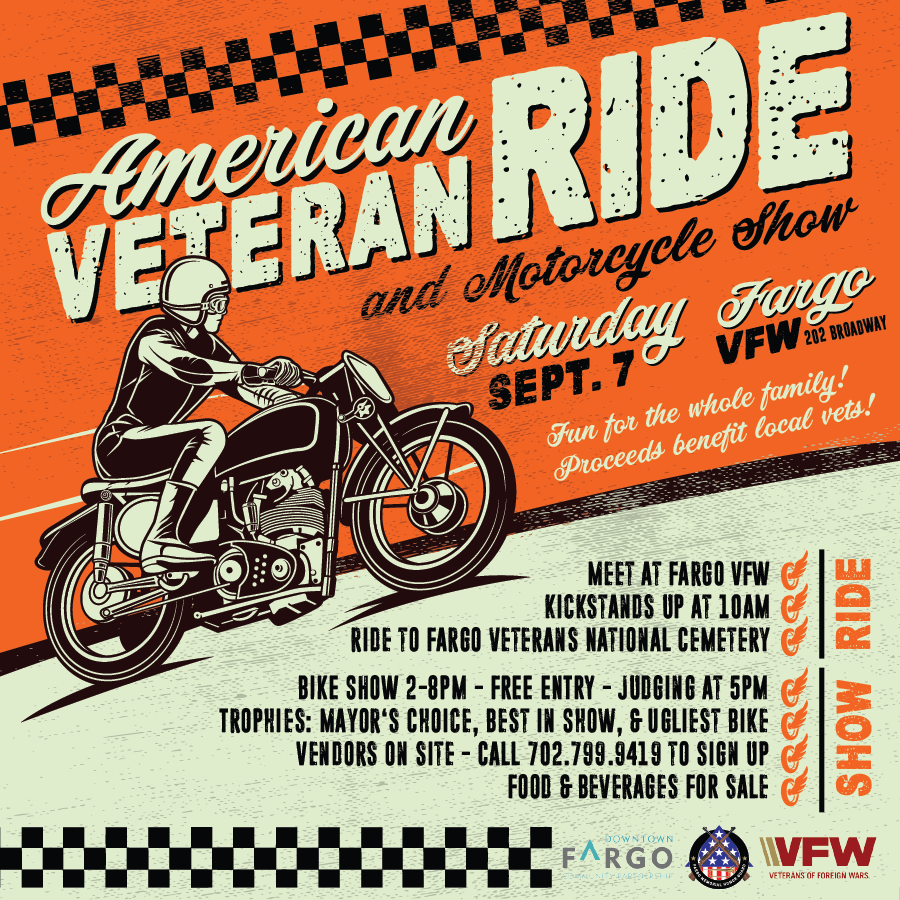 Veterans are huge lovers of everything motorcycle… From rusty old rides to sparkling works of art. Rounding up all the motorcycles the community has to offer was our goal for the inaugural event. The event crew's window of opportunity was barely 40 days to our prime date. The target date was the same day as the dedication of the brand-new Fargo National Veterans Cemetery in the morning with the bike show set for afternoon to evening. What a great match for the military and community spirit.
VFW Manager Jeanne Broadbent & X Games Athlete Dan Jacobson
The key players like cream rise to the top. Our local Shriners (mostly veterans) rolled out support and get the word out power. Quickly closing in on the event date, all hands were on deck to ready the fencing, barriers, port-a-pots, outside bar, stage, pop-ups for vendors, food, even a rolling Dyno trailer from Grant County Coppers was in the schedule. Harley-Davidson of Fargo welcomed the invite and brought a show of their own.
The street outside of the Fargo VFW is conveniently located on the front row / 50-yard line of downtown with Roberts Alley and the new Parking Ramp for overflow crowds / bikes… We had it all going on! Filled with the excitement and an eye on the weather future cast, the days and hours ticked closer to go time.
On September 7th, Saturday morning, the radar was hopeful for an optimistic plan to continue if the rain evaporated or has not moved forward. Adjusting more entertainment from a bar stool became the party and the show outside went on in the wet. The amazing story is all the riders that toughed out the weather, rode to the Fargo Nation Cemetery dedication and showed on Broadway. In several areas, Mayors opened the celebration and made their selection for "Mayor's Choice" award.
Pinky's Yamaha custom winner of Mayor's & People's Choice awards.
Spirits not dashed, the amazing finish of a motorcycle show in the wet was a huge success because of the fight of our veterans and community… Award ceremonies were done inside on the stage and people liked the great bar stools and fabulous Fargo VFW hospitality.
John Van Damn's Best of Show Norton after the Vote tied 2 times settled by the VFW Bartenders.
The invite is coming for year two of the American Veterans Motorcycle Show in Fabulous Fargo Downtown… Channeling the weather Gods for dry, sunny and warm.
"If you have been involved in a motorcycle accident, don't let it steal your freedom! Call 1-800-4-BIKERS to learn how an experienced motorcycle accident lawyer can get your bike fixed, money for your medical bills, and compensation for your pain and suffering."