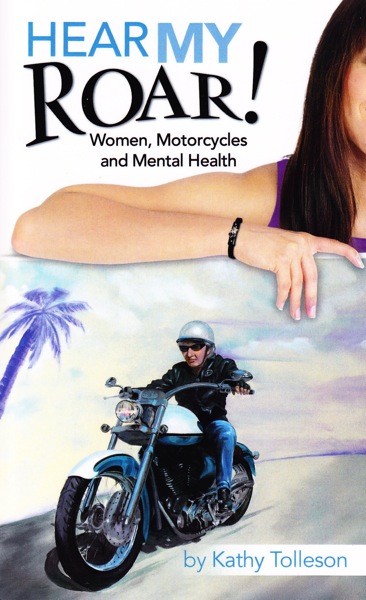 Motorcycle Lawyer Blog;
Leave it to a five-foot female rider, to make a ROAR heard from coast to coast – and beyond. Kathy Tolleson is the founder and President of the ROAR Motorcycles Corporation, and the owner of the ROAR Motorcycle dealership in Daytona Beach — the first motorcycle dealership in the world for women only.
Kathy knows first-hand, the joys of speed and power. To her, motorcycles are an empowering symbol, making  freedom and adventure possible and accessible. She grew up in northern Minnesota, riding motorcycles on dirt roads; but it was hard finding bikes fast and powerful enough, that fit her five-foot stature. Her solution? Assemble a team to design a motorcycle just for women.  The result? The WildKaT, a motorcycle designed to suit women from less-than-five feet tall all the way up to six feet tall.
She can maneuver a business and a three-dimensional personal life as well as she can maneuver a motorcycle. ROAR appeals to the fastest-growing segment of the industry: women. She's also built a personal line as well as a business empire: she and her husband Rodney have five children and thirteen grandchildren between them. Canadian and Left Coast riders will soon be able to ROAR as well: she recently sold the licensing rights to use the ROAR Motorcycles name and sell ROAR Motorcycles products in the Seattle, Washington, and Vancouver, Canada, area. West Coast ROAR is planning to launch a riding school, establish a ROAR Sisterhood Association and offer riding tour packages through the Pacific Northwest.
In addition to a machine that serves females well, she's also created an environment for women that makes them feel welcomed and comfortable. Men can be welcomed and comfortable there, too.  Kathy's business philosophy is based on building a motorcycle business where the men who love and support their riding ladies can be at ease in the ladies' niche. ROAR also carries accessories designed for women, from riding gear to cosmetics and skin care products. They even offer Cycle Service Gift Certificates – equal-opportunity gifts, to keep your riding sweetie safe!
 Kathy has made economic reality overcome the historically male-centered attitudes in the sport of motorcycling. Women now ride in so many areas that it doesn't make sense for them to take a back seat on anybody else's motorcycle.
Hear more of
Kathy's story by checking out her book Hear Me Roar!
Kathy is someone who continues to the pave the way and encourages women not only in riding but in empowering their lives. We welcome Kathy, ROAR and the men and women who offer their support  and ask you to join The Sturgis Buffalo Chip's Biker Belles Ride and charity event on Wednesday August 8
th
. Celebrate Real Women Real Stories Real Fun. All for a great cause. Join us by visiting www.bikerbelles.com and help make a difference in other's lives by sharing your own.  100% of riders contributions go directly to the charities.
Motorcycle Lawyer Russ Brown and Russ Brown Motorcycle Attorneys® are counting down the days to the Sturgis Motorcycle Rally. We will be in Sturgis and at the Legendary Buffalo Chip. Stop by and say hi and don't leave without our BAM Card.  BAM, Free Breakdown and Legal Assistance for Motorcyclists offers assistance to bikers in need 24 hours a day seven days a week. 1-800-4-BIKERS – help is just a phone call away.
"If you have been involved in a motorcycle accident, don't let it steal your freedom! Call 1-800-4-BIKERS to learn how an experienced motorcycle accident lawyer can get your bike fixed, money for your medical bills, and compensation for your pain and suffering."