I met Brittney and Al Korff about 5 years and 2 babies ago. They live in Redlands, Ca where Al builds custom choppers and fabricates parts while Britt sews and sells amazing vintage and custom pieces. They also have 3 of the best dressed, not to mention the most adorable kids you've ever seen. This super cute family's lives have revolved around motorcycles and the culture for quite some time, and that's precisely why I wanted them to be my first interview for this series, Family Values. I'm so interested in people who have made their Moto lifestyle a family affair, so I paid the Korffs a visit. I shot some photos in their home and sat down to ask them a few questions, Let me introduce you!
Who are you and where are each of you from?
AL: Al, but my friends call me Alboy… from the inland empire… SoCal!
B: Brittney. Same. Redlands, CA
Did either of you grow up around motorcycles?
AL: My dad always rode, he got my brothers and me on dirt bikes pretty young, so yeah.
B: Not really… but my dad did have a Yamaha when I was really little, I only have one memory riding on it.
How did you get into bikes? When did you start building them?
AL: It all started with dirt bikes, I spent years racing motocross around SoCal, but then I sorta just stopped after high school… years of working at vintage clothing shops around LA made me want to build myself a chopper. Next thing ya know I quit my job and all I do is work on bike stuff now…
Give us a bit of background on your journey together and how each of you has ended up where you are today, Al with Sick Cycles and Brit, with Sunset Vintage.
AL: I was super into collecting and wearing vintage clothing and obviously liked vintage motorcycle stuff too. When I met B she was way into making clothes and the 2 of us just clicked right away. I wanted to make clothes, and she knew how to do it… On our 2nd or 3rd date, we were at the Rose Bowl buying vintage kids' clothing for our future kids. It's trippy to think about since neither of us was phased by it at all, just like 'yup we're having kids and we're working together on vintage clothes and making our own'. It was really natural and it just happened. As years have gone on we kinda have our own deals now, B with her Sunset vintage line, and myself doing Sick Sycles stuff, but really it's pretty much the same things we have been doing since we met all those years ago…
B: I've always bought vintage/second-hand clothing growing up. I never wanted to look like anyone else, and we didn't have a lot of money, but it wasn't until meeting Al that my true love for vintage old pre 60's stuff came about. He showed me a whole new side, like collecting rare stuff, etc., and when we got pregnant and moved back to the IE we opened a cool antique shop with vintage clothing and that was kinda the birth of Sunset Vintage.
What is the most significant way your life/lifestyle has changed since having kids? What is the biggest challenge?
AL: It's a bad time to ask me because we are just in the thick of it… 3 kids under 5 years old. Our life is chaos. Ask me again when are like 15 maybe I'll say I miss it…
B: Haha yea. 3 is a lot and it's super hard. Us just trying to have a convo is difficult. The biggest challenge for me personally is getting time by myself so I can be me. I'm pretty much with the kids 24/7.
Did you ever consider giving up riding when the kids were born?
AL: That has never crossed my mind… but I have been considering getting back into motocross…
Do you feel different about Al riding and taking trips now than you did before the kids?
B: No, I feel the same I've always felt, a tiny bit nervous every time he takes off, but TBH I feel the same when he takes off in his car too.
But trips are always good. Then we miss each other more and that's nice.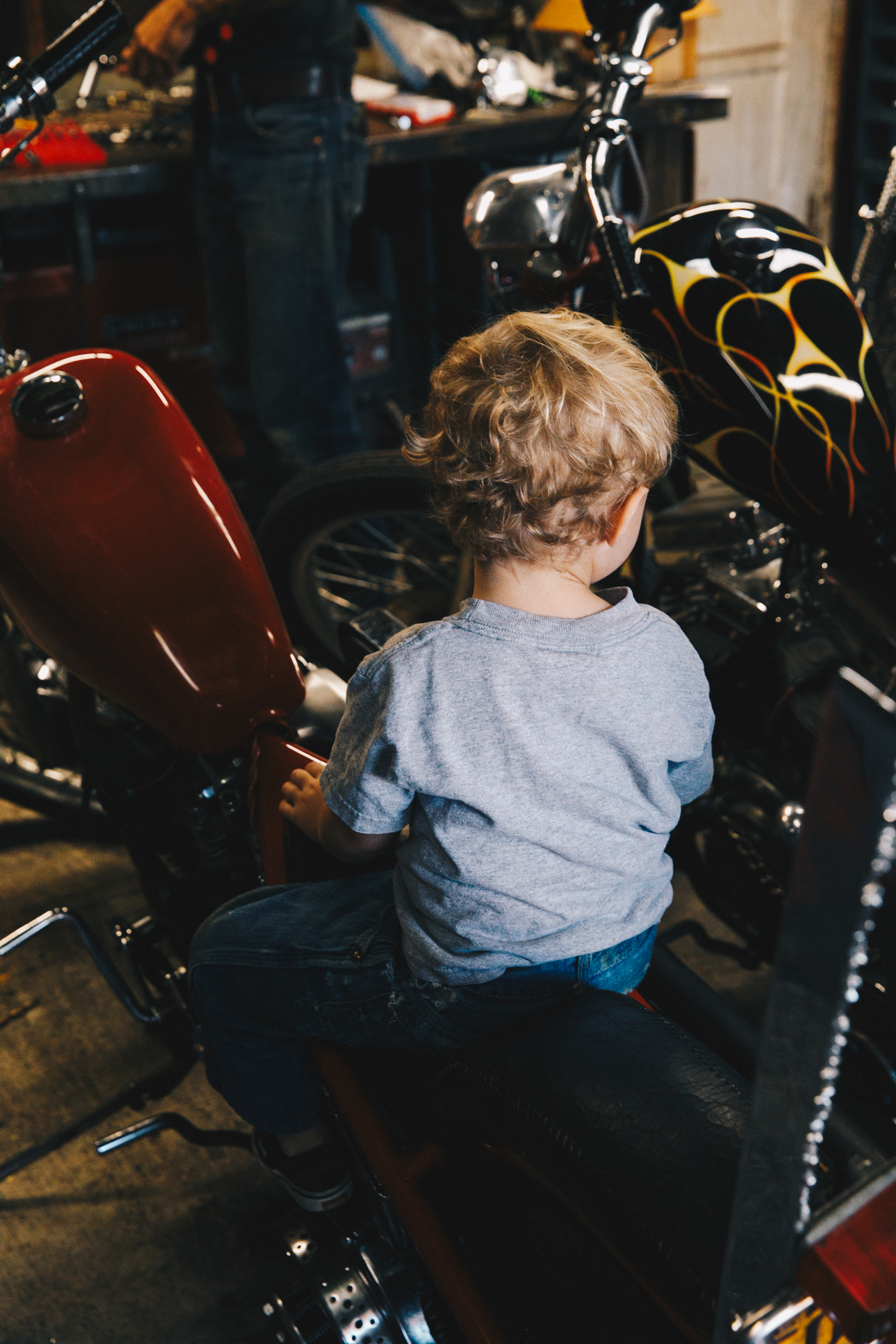 Have any of the kids show interest in bikes yet? Do they like to hang out around the shop?
AL: All of them have grown up completely immersed in choppers… looking at the naked chick posters on the wall of my garage and handing me wrenches or walking through oil pans barefoot …the kids should turn out alright!… I hope!
B: Cal has always been obsessed with motorcycles and bikes… he's definitely gonna be riding alongside Al. Our baby Franny wants to be in the garage with Al all day and I remember that's how our oldest was when she was a baby too, they just wanna be with dad.
How does each of you balance your time between work and spending time with the kids?
AL: Balance? Does that sound organized? Cuz it's not. It's just non-stop– either family stuff or bike stuff or work stuff…every day it's always something.
B: Yes we're still trying to figure this one out. For me I'm a stay at home mom, that's my job. But I've refused to let go of my work, it is one thing I have that makes me happy and it's a necessary creative outlet. But what I do is creep away any chance I have, usually at nap time and after the kids go to sleep. I'll stay up until 1 AM sewing. It's terrible and extremely exhausting.
If any of them want to ride are you opposed? if not will you want to build a bike with them?
AL: Counting down the days….
B: This part makes me nervous. Al will take the kids around on his lap on our dirt bikes and the kids love it, but every time I'm like terrified? Maybe it's just cuz they're little. Idk I hope I don't freak.
You can keep up with each of them here @shopsunsetvintage + @Blackboard_Al
"If you have been involved in a motorcycle accident, don't let it steal your freedom! Call 1-800-4-BIKERS to learn how an experienced motorcycle accident lawyer can get your bike fixed, money for your medical bills, and compensation for your pain and suffering."