Ahh….Milwaukee. The land of cheese curds and motorcycles. It's no secret that I am a fan of both. Two years ago I made my first journey to the Mama Tried Show, and although I'm not a fan of the frigid midwest winters, I am a fan of Industrial-styled cities, culture, food, brews, and motorcycles—and Milwaukee perfectly encompasses all of those things. I've been anxiously waiting to make my return to the brewtown and the show, so when Russ Brown said, "Hey, wanna cover this event for us?" It was an easy "Heck Yeah!" response.
I flew in to Milwaukee on Thursday afternoon with zero plans in mind. It was my birthday weekend and I decided I'd let my girlfriends out of Florida build out our party schedule. Within minutes of getting to the hotel, they walked into the room with Miller High Life's in hand, ready to get the night going. We landed at Fuel Cafe's Pre-pre-party (because one night before the show is never enough!), where mini bikes were launched off the bar tops and flat track bikes were doing burnouts in the bar. Ah yes, now I remember why I love going to motorcycle shows. The people love to have a good time!
Friday
Friday started as expected — a little hungover and a little behind schedule. But that's what happens when you're having fun! We headed over to the MTS venue to grab our passes for the weekend, and then started searching for food. With it being Friday, there was one clear choice on a meal — a traditional Milwaukee Fish Fry. These traditions date back to the 1800's, and have heavy roots in the prohibition era, when many establishments used Fish Frys to stay in business, or even cover the scent of booze in the speakeasies. We stopped in to a downtown pub, chowed down on curds and fish, and then made our way over to Flat Out Friday. Braaap!
The track was freshly coated with syrup and the arena wreaked of two-stroke aroma as soon as we walked in the doors. MoPeds, Groms, Rigid Choppers, sportsters-turned-hooligan class, traditional trackers, you-name-its, there was a bike for everything. The races might be my favorite part of the weekend. You get the guys who are really competitive out on the track, and then you get the guys and gals out there who just want to have some fun with their friends on two wheels. There are no bad times at Flat Out Friday (unless you crash and hurt yourself), and you can't help but smile as you see your friends faces light up underneath their helmets as they turn right and go left around the track.
The races ended and we all slowly made our way to the Cactus Club, the unofficial FOF after party. A tiny bar on the south side of town turned into a trap music, booty bouncing affair before 10pm. It's safe to say I love trap music and hadn't had nearly enough vodka sodas to show off my terrible dance moves until after midnight.
Saturday
This year's show was bigger and better than ever. This year the show was relocated to a much larger, more fitting venue — the Rave/Eagles Ballroom — which by noon was jam packed with attendees. The venue holds a ton of history in and of itself. It sits across the street from the famed Ambassador Hotel, known for the haunting tales of Jeffrey Dahmers graphic murders. The venue itself is supposedly haunted, and was a hot topic of discussion throughout the day. Locals told us stories of murders that had happened in the building and secret access points throughout (there's a hidden swimming pool underground!!!). I took in all the history lessons I could while oogling and oggling over the 100+ bikes that were in attendance this year.
Something that makes the Mama Tried Show stand out amongst the masses is the variation in styles of bikes that are invited to be displayed. From classics from the early 1900's, to ground-up custom builds from modern chassis and motors, eye candy is everywhere you turn. A large majority of bikes are also not the insta-famous ones you see as you scroll through your feeds on the daily, and that is a huge plus. It's a playground for any motorcycle enthusiast that needs some eyeball stimulation. Pro tip: Plan to be at the show all day. There is SO MUCH to see and do! I wasn't even able to catch the Mama Tried Moto Film Fest, but heard the movies were rad.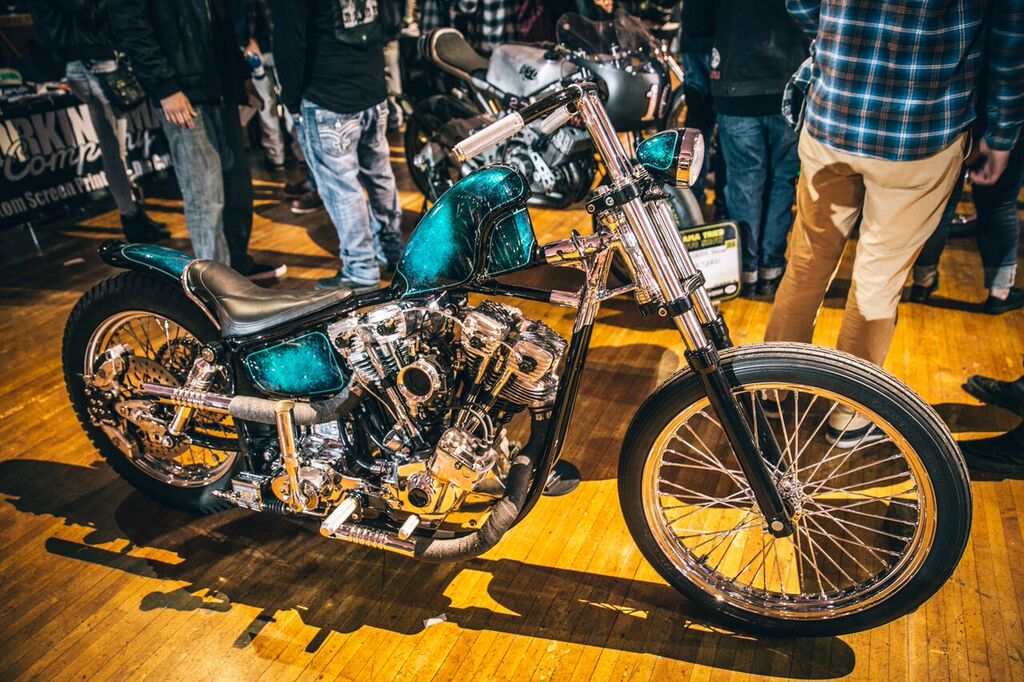 We followed our Friday food decisions with another MKE tradition — weens! The town has a heavy German history and influence, so the Vanguard for Brats and Dogs was a no brainer. You can add cheese curds and cheese wiz to your hot dog folks…make wise decisions.
Saturday evening got crazy. Ever seen 200+ chopper kids take over a small karaoke bar? Well if you don't like karaoke, it's still a sight to see for five minutes or however long you can handle it. Shirts were coming off, dudes were singing their hearts out, and a chair or two might've flown through the air. We ended up at the Ramada — I mean Ra-Mama-Tried — for annual after party hotel shenanigans, and that's about as far as that story needs to go.
Sunday
With an overload of show bikes on Saturday, the girls and I decided to take a much more calm approach to our Sunday Funday. We started our day at the Milwaukee Public Market, which is a must see for anyone visiting the town. From chocolate motorcycle candies to lobster rolls, this spot has you covered on all things Milwaukee. We wandered the streets of Milwaukee and checked out the canals and buildings before we headed over to the Harley-Davidson Museum where a whole different show of bikes were waiting for us to drool over. If you haven't been to the museum, prepare to be overwhelmed in the best way possible. There are hundreds of bikes on display throughout the multi-story building, and you can easily spend an entire day reading up on all the history in the place. Luckily for me, this trip to the museum was just a memory refresher, so it wasn't such an overload, as planned. My one goal for the weekend was to get into the HD Archives, but unfortunately we weren't able to make it happen. One of these days I'll find my way into those dang Archives! (One of everything Harley has ever made).
That's a wrap. By Sunday afternoon I was awaiting a much deserved nap on the plane ride home. This year's event left me yearning for more Milwaukee adventures, and I definitely see myself adventuring around the brew town on two wheels this summer. I had a total blast seeing friends from all over the country (and beyond!) over the weekend, catching up on motorcycle tales and bike builds. Thanks to Russ Brown for not only sponsoring the Mama Tried Show, but for also allowing me to cover the event and tell my story of my weekend adventure. 'Til next time! See you on the road. – SW
"If you have been involved in a motorcycle accident, don't let it steal your freedom! Call 1-800-4-BIKERS to learn how an experienced motorcycle accident lawyer can get your bike fixed, money for your medical bills, and compensation for your pain and suffering."