Ever heard of The Brawl stunt competitions? Regardless if you have or haven't, you're in for a treat! 
Interview with the competition creator himself, Max Kuszaj who gives us the lowdown on how and why these ultimate V-Twin motorcycle competitions were created.  
Tell us about your history with riding and stunts. Where did it all begin for you?
Max: That is an extremely deep-rooted question.  Even as a little kid my fascination with motorcycles was nearly instant. From a late 1970s DT125 dirt bike that barely ran as a kid, to my first Harley around 2005, I have always had a passion for motorcycles and anything two wheels.  
Once getting into Harley-Davidsons in the mid-2000s everything changed. The lifestyle, the stories from the "road", and the influence of the Southern California riding style really pushed a more serious passion, from road trips to stunting and everything in between. 
What sparked the idea to create
The Brawl
stunt competitions? 
Max: As few may know, after a long career in competitive action sports (Freeskiing, Skydiving, and BASE Jumping), and working for major production companies like ESPN, NBC Sports, and more I always wanted to start a brand and production company.  Specifically, I wanted to create a company that catered to the Harley-Davidson underground stunt scene happening in Southern California where I spent a lot of my time riding at the time. 
From 2013-2015 there wasn't a huge scene for this type of stunt riding that is now considered mainstream. It all comes down to one point in time for myself and many other riders… Seeing Unknown Industries, the godfathers of Harley stunt street riding. Yes, there was Jason Pullen, who is undoubtedly one of the best to ever do it on a Harley-Davidson. Unknown Industries pushed what was possible on the streets with a big-twin motorcycle, attracting a whole new breed of rider. The motocross rider, the surf/skate rider, and in my case, the action sports enthusiast.  
When it comes to the conceptualization of "The Brawl", it goes back to 2017 in Sturgis, South Dakota where we held our first contest.  It was the idea to take what was happening out on the streets and parking lots and put the riders into a controlled environment to showcase their riding styles and "brawling" it out in the parking lot to see who was the best rider of the day.   
The Brawl gives riders a platform to build themselves as athletes/riders while gaining sponsor and brand recognition. It also offers an opportunity for the motorsports industry to involve their businesses in this riding segment without the liabilities of supporting illegal street riding. 
Add all those ingredients along with social media and the rest is history.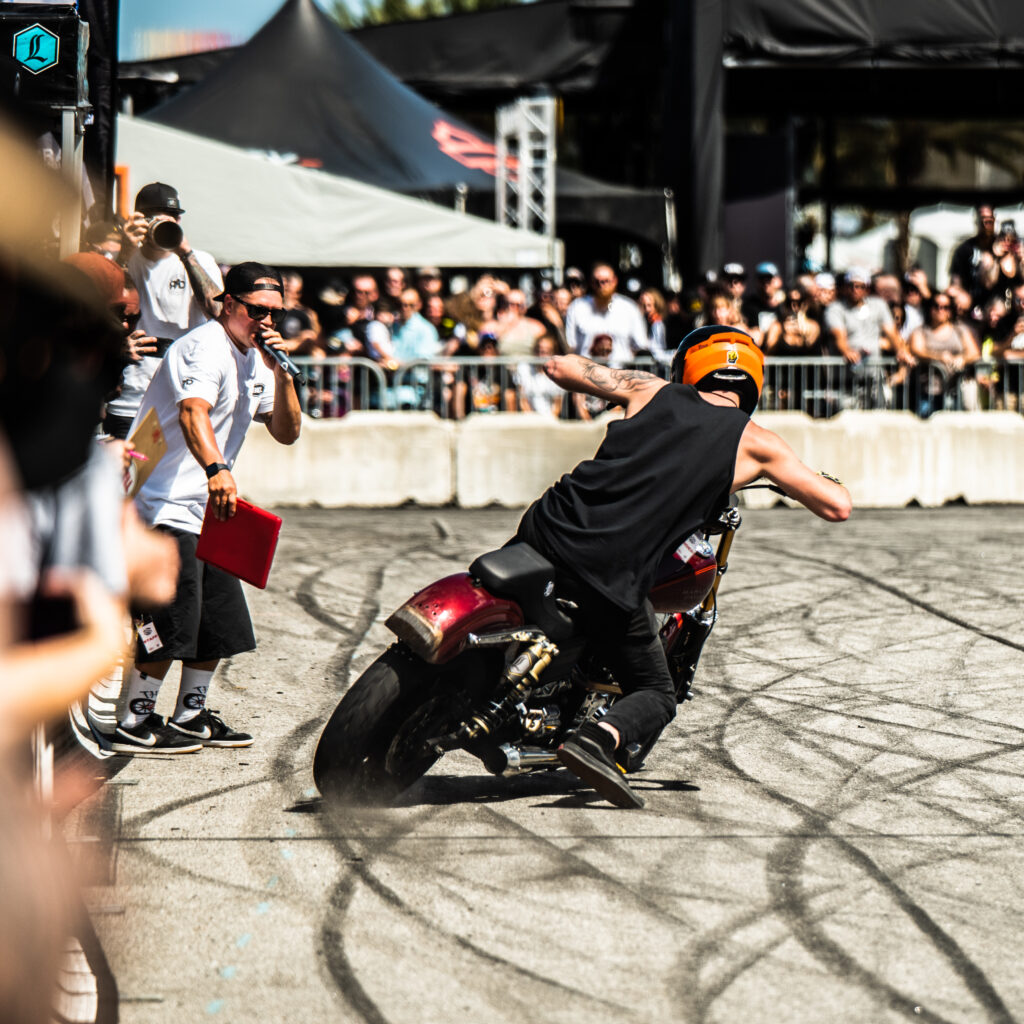 How has the creative journey been thus far? (Describe the sweat, blood, tears, and thrills!)
Max:  The creative journey has been wild, to say the least. I have always considered myself to be the "guy behind the guy" and want to make sure our Brawl events first and foremost showcase the riders and what was progressing in the streets. 
When we started the whole Brawl event series in 2017, the rider pool was small, but the talent was most certainly there. We still struggled to fill 10 spots on a start order for a contest.  Fast forward to 2022, we fill our events with 20 riders instantly and have a massive waiting list for each event.   
What the riders and people don't see are the sleepless nights of planning, long days of event operations to build and take down the Brawl riding lots, and all the logistics that occur to make these contests a reality for these riders… But that is why we do it. 
Like with any extreme sport, the risk is always involved. Have any of your athletes experienced any injuries while competing?
Max: Next question, please… 
Luckily, no.  We have a strict criterion for rider invitations for the Brawl events. As the big-twin stunt scene rapidly grows, we still hold very high standards to who gets to qualify for the Brawl events.  
Have you ever experienced any motorcycle accidents yourself? 
Max: Unfortunately, yes.  You ride long enough; the risk will always be out there. It was a bad accident in 2010, but I was able to bounce back and get back on the bike… Just with some extra hardware in my legs and wrist.  
Any tips or advice you can share to highlight safety? 
Max: I am a big promoter of always wearing a full-face helmet, regardless of what laws may be in the state you are in. Always be prepared, always anticipate three, four moves ahead, and when riding the streets, always be aware of other drivers.  
The moto industries have never seen such a well-organized and highly attended stunt competition circuit. The success is truly inspirational! Fill us in on what it takes behind the scenes to coordinate and put together such a flourishing set of events. 
Max: Thank you, that is a major compliment. When it comes down to it, I'm extremely particular and always want to give 150% to make our events enjoyable for the riders, brand partners, and spectators alike. It's a harmony of a well-balanced event machine, from the event staff working well, to the behind-the-scenes preparation, to the athleticism of the riders. 
I've personally been in the starting gates at events and know what it feels like to have that anticipation and adrenalin as an athlete at a contest.  When the contest is run smoothly, that is one less thing to be worried about as a competitor. What is not witnessed is the behind-the-scenes grind, but again, that is why we do it. 
What are your mission and ultimate vision moving forward with
The Brawl
stunt competition platform? (Described your overall goals.) 
Max: Every season the Brawl continues to grow, from the rider participation to the demand to bring the contest to new locations. 
I personally would love to see more hosting locations across the US, and potentially internationally. As the industry and rider talent continues to grow, I want to have the Brawl grow with it. There are so many ideas and directions it could all go. 
Any advice to share with the next generation of motorcycle extreme sports enthusiasts and advocates?
Max: Never give up on anything you want to accomplish and never sell yourself short. You won't get anywhere if you aren't willing to put in that daily grind.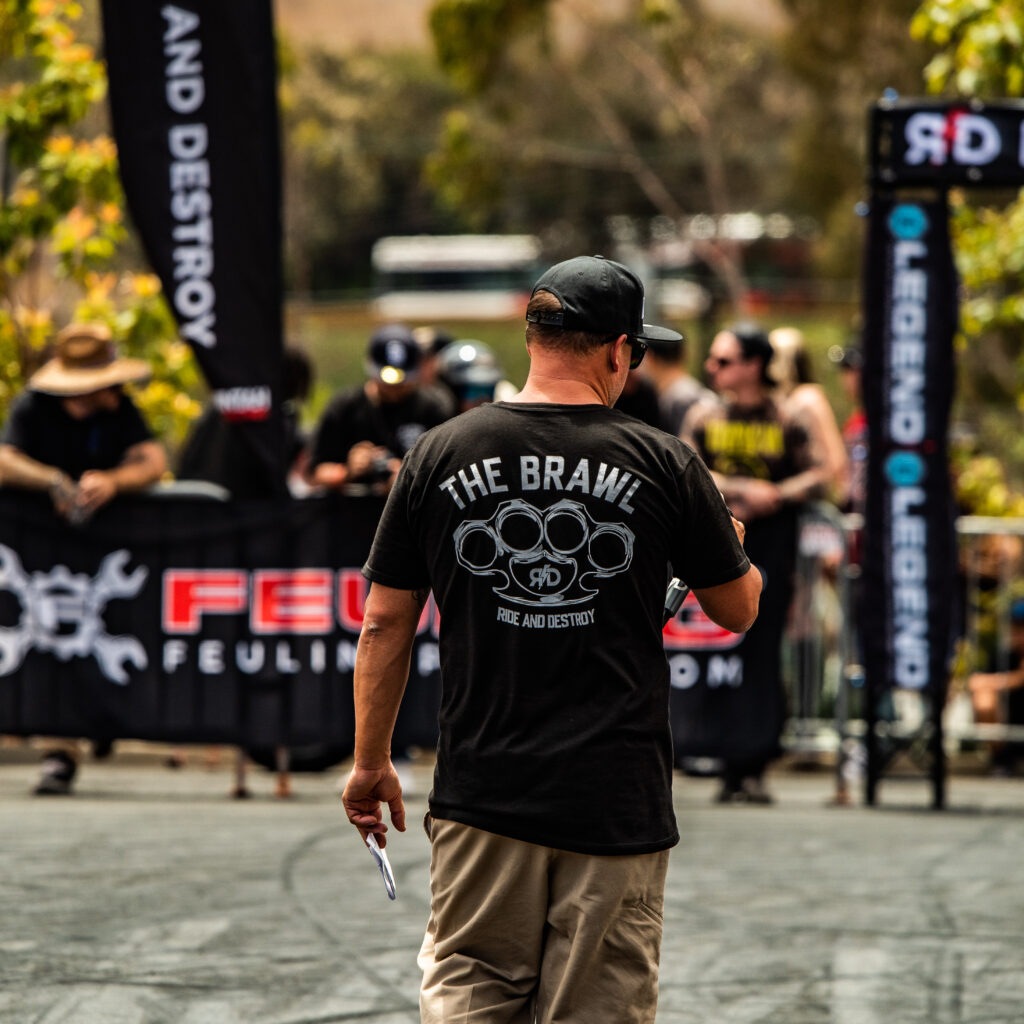 Any acknowledgments or people you'd like to thank?
Max: There are so many to thank over the past 7 years. 
I want to thank the first crew of stunt riders who showed up to my first event ever in Salt Lake City: 
@tallboyytee 
@dom_829 
@foley829 
@holden.vs.theworld 
Brett Conley from @BellHelmets for the support over the years and believing in a V-Twin-specific stunt contest series idea. 
All the Brawl riders and current 2022 Brawl Tour partners:  
Where can fans and supporters find more info on
The Brawl
tours/events?
Website: www.RideAndDestroy.com 
Social Media: @ride_and_destroy_com @thebrawl_official 
Photo Credits: @ride_and_destroy_com @thebrawl_official 
Follow the blogger, Randie Raige on Instagram!
"If you have been involved in a motorcycle accident, don't let it steal your freedom! Call 1-800-4-BIKERS to learn how an experienced motorcycle accident lawyer can get your bike fixed, money for your medical bills, and compensation for your pain and suffering."