Michigan Motorcycle Lawyer;
Nancy is a woman who's enjoyed riding with her large H.O.G. chapter, a smaller private riding group and then became a proud member of the Great Lakes Chapter of Women in the Wind. Read on to learn more about another road sister!
NAME:
Nancy Genschaw
LOCATION:
 Farmington Hills, Michigan
OCCUPATION
: Medical Biller
CURRENTLY RIDES
: A 2006 SoftTail Springer Motorcycle
When did you start riding motorcycles and how did you start:
Started Riding in 1993. My Uncle bought me a 5 HP Briggs and Stratton mini bike – at the age of 12 and I was hooked. My ex-husband bought me my first motorcycle in 1993. It was a 1984 1100 4-speed Sportster. 2 years later, I was on a 1987 Low Rider. Bought the Springer in 2006.
How has riding a motorcycle impacted your life:
I travel more because of riding and I have learned that the sound of motorcycles enhances every aspect of our senses. Sight unseen, you can hear and feel the power.
What has been a challenge for you
: My biggest challenge is bridges. After 20 years of riding, I am still nervous with heights.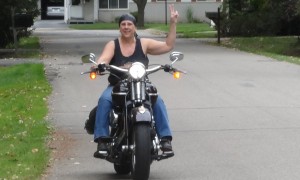 What do you like most about your bike
? What I like most about the Springer is that it has a retro look and feel to it.
What modifications have you made
to your motorcycle?
Power Commander, slip-on Vance and Hines pipes, Screamin' Eagle air cleaner, saddle bags, back rest, luggage rack and quick release windshield.
What do you like to do when you're not riding
? Wine making, canning, exploring the country with my new Jeep!
What advice do you have for other women riders
? My advice to other women riders is make sure when you pick your ride, you feel as one with the bike. Sit in it, not on it. Never skip you maintenance, especially when heading out on a long road trip. If traveling alone, stay in touch with family and close friends. We are easy prey because we are women and on a bike!
How tall are you
? I am 5'6.
What is the riding season like
in Michigan?
 We are lucky in Michigan to have all 4 seasons. Unfortunately, we are heading into a cold fall.
How is riding therapy for you?
Riding a motorcycle gives me mental and sensory therapy! I am so enthralled with the ride and my surroundings, all my stress rolls off my back with every mile I am in the wind.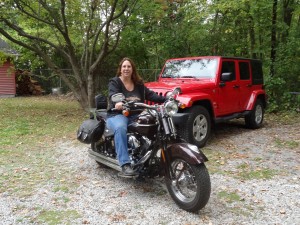 What better way to roll off the stress that miles on a motorcycle.
Ride ON,
Brenda Fox
Russ Brown Motorcycle Attorneys® have been fighting for injured motorcyclists in Michigan for over thirty years. Regardless of where you ride – from Michigan to Wisconsin, California to New York, Pennsylvania to Arizona, Indiana to Ohio – we have a top motorcycle accident injury attorney to help you. If you have been injured in a motorcycle accident call Russ Brown Motorcycle Attorneys® – 1-800-4-BIKERS.
"If you have been involved in a motorcycle accident, don't let it steal your freedom! Call 1-800-4-BIKERS to learn how an experienced motorcycle accident lawyer can get your bike fixed, money for your medical bills, and compensation for your pain and suffering."