If I had to create a role model for young girls, it would be Nerissa Cerny.
Not only is she kind, compassionate, and intelligent, but she also happens to be a total badass. Nerissa is a Systems Engineer for Harley-Davidson (world's coolest job?), a motorcycle racer (ice racing and flat track!), a volunteer mentor for The Iron Angels (teaching girls to build motorcycles!), and one of the nicest humans you will ever meet (seriously.).
When Russ Brown reached out and asked me to write a blog post, I decided to use it as an excuse to pick Nerissa's brain and learn more about her adventures. From motorcycle trips across Thailand to her first-time racing at Flat Out Friday– we talked about it all!
No matter your age, I'm sure you'll join me in looking up to Nerissa after reading this interview.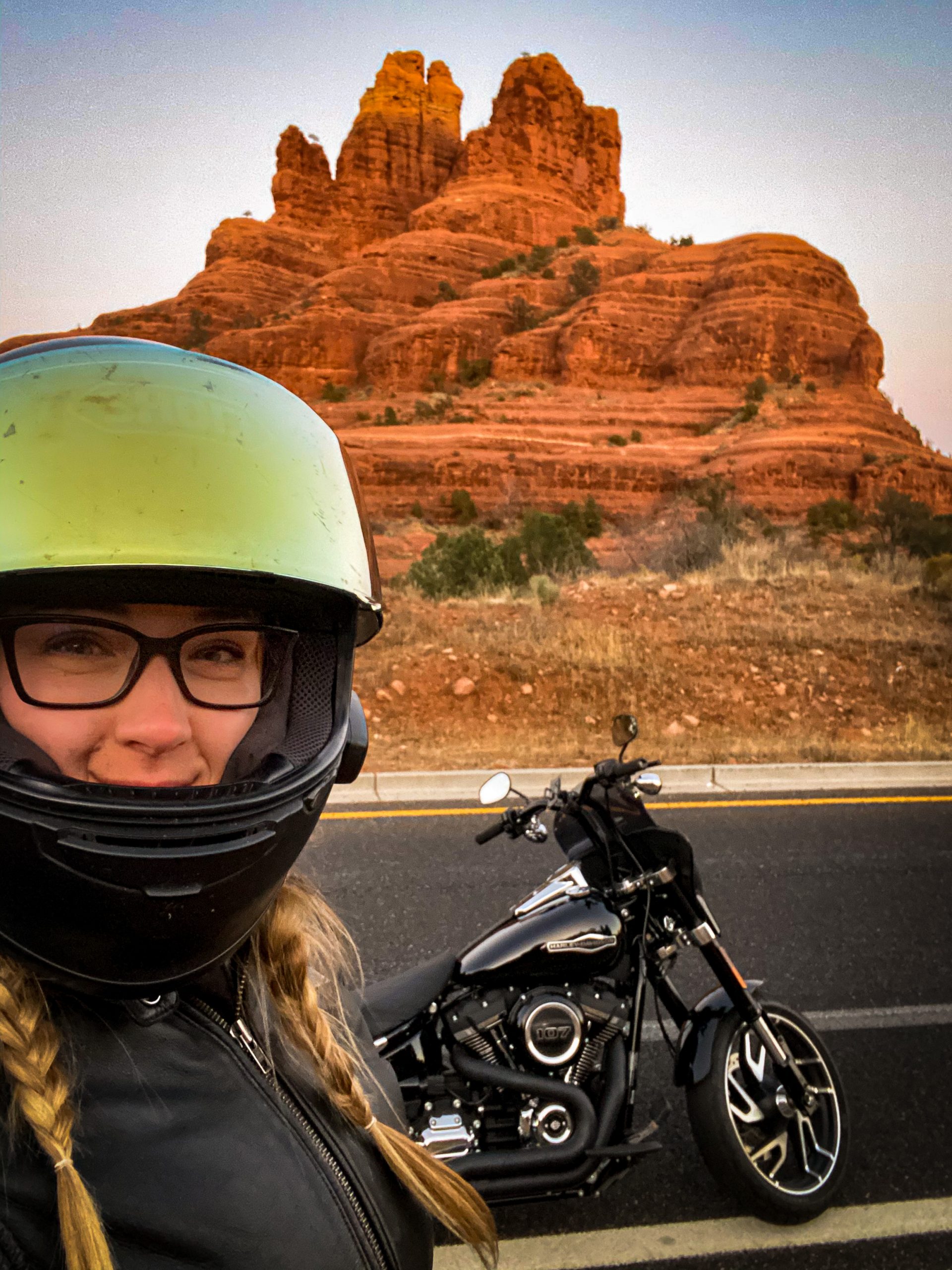 What is your degree in?
Currently, I have a Bachelor of Science in Mechanical Engineering. In the near future, I'm hoping to pursue a Master of Engineering in Engine Systems.
What is your position at Harley-Davidson?
My official title is Systems Engineer, but I'm more casually referred to as a Calibrator. For the last 3 years, I've worked in the Calibration and Emissions team. Instead of delivering a physical part to the bike, we deliver software. But, this programming requires a lot of special testing, validation, and engineering in order to properly develop so I'm not just sitting in front of a computer screen all day! My job is a significant mix of desk time and physical test time either in the labs or on the road.
For 2 years prior to this role, I was a Design Engineer in the Powertrain team. I helped deliver the Milwaukee-Eight big twin engine. I was also an integral member on the team that developed the 2018 Softails which was a massive cruiser platform update.
Was it always your plan to work for H-D?
It was not always my plan to work for Harley-Davidson. I originally pursued a degree in engineering because of a passion for racing, specifically Indycar and Formula 1 racing. My mom took me to my first race and I became obsessed with learning everything I could about the cars and the engines. Imagine a 12-year-old girl waking up at 5 am on Saturdays just so she could watch the Formula 1 race that was being broadcast from the other side of the world, that was me! In college, I was the lead for a competition team where we designed and built a small electric hybrid race car. After college, I spent a lot of time volunteering with a local professional race team. I helped around the shop and managed some of the instrumentation/sensors on the cars during race weekends. In exchange, I got to shadow their engineers and mechanics and learn how to process the data coming off the cars. I learned SO much through all these experiences. But, I realized that my passions lied more specifically in engine development and my skill sets were better suited to a more traditional engineering environment (compared to trackside engineering). When the opportunity at H-D came along I was stoked because it was the perfect combination of some things that I loved; engine development and motorsports. Plus I was already a rider and loved motorcycles.
What are some examples of parts/bikes you have helped design?
On every Softail, 2018 or newer, I designed the oil cooler, its decorative cover, the mounting for it, and all the fittings and tubes associated with it. I was responsible for those parts all the way from the initial napkin sketches to testing and validation, and through final production.
I understand that you get to go to the testing facility in Arizona. Can you tell us about that experience? Are you riding bikes that have yet to be released?
Yes, H-D has operations at a place called the Arizona Proving Grounds. I travel there multiple times throughout the year, usually during the winter months (since we can't ride in WI during the winter) or when we are testing a new product that is highly confidential. I can't say much about what I do at the track, but I will say that: a) I love riding in Arizona and b) performing special tests on a closed track is pretty dang cool.
I am often riding bikes that have yet to be released. In fact, I got to ride each of the new Softails that were released in 2018 before most of the world even knew they were coming.
A very significant part of my job involves riding to evaluate things that I am working on. Because of this, we take advanced rider technique classes to ensure our safety while performing tests. Over the years, my riding skills and confidence have drastically increased through these classes, so I've become a strong advocate for continued education!
What advice do you have for girls interested in STEM? Do you (or did you) face challenges as a woman in the field?
My advice to girls interested in STEM is to believe in themselves. Don't let the opinions of others slow your momentum. There are SO many opportunities within STEM. Figure out something you're passionate about and research how STEM relates to it, I guarantee there will always be a connection. I also recommend searching online for resources or mentors. There are A TON of great initiatives out there nowadays to support minorities interested in STEM. We live in a very diverse world, it only makes sense that the people designing the products we use every day are also very diverse!
Also, don't be afraid of math…I hear SO often "science is cool, but I'm bad at math". Guess what, I hated math too! It was always my worst class. I suffered through 4 levels of calculus in
college. But, I eventually learned how to take those calculus problems out of my textbook and apply them to the world around me. All of a sudden it clicked! It was as if I had learned a new language! So don't let it discourage you.
I have faced challenges over the years as a woman in STEM. From blatant discrimination to verbal abuse to unfair expectations, and even to lack of options for simple things like safety gear. I've had tools taken out of my hands and I've been told I was better off in the kitchen….(trust me, I'm not. There's a reason my husband does all the cooking!) But, I have found the ability to turn those negative experiences into motivation. I strive to be the best engineer possible so that my accomplishments can speak for themselves. I have also built up a network of other women in the field for support, which is tremendously helpful. When I graduated from college, I was 1 of 6 women in a class of over 200 students. The odds weren't in our favor. But the good news is that the number of women in the field has been increasing over the years, and more companies are embracing diversity and inclusion initiatives.
Can you tell us about the Iron Angels and your role as a mentor?
The Iron Angels are the only all-female team in the BUILD Moto competition. BUILD Moto is a non-profit organization in Milwaukee that pairs adults in the motorcycle community with high school students to learn technical skills such as design, engineering, welding, fabrication, mechanical repair, and media as it relates to the motorcycle industry. Every team is challenged with the task of designing and rebuilding a street bike into a flat track race bike within 6 months, all while staying on budget and promoting their progress via social media. I am the lead mentor and one of the founding members of the Iron Angels team. Myself and a few other local women who are either professional in the motorcycle industry, professionals in STEM, or a mixture of both, help guide the girls through the process. We try to stay as hands-off as possible so that the girls feel true ownership and responsibility for the project. The competition normally runs from January to June, so last season got cut short and 2021 isn't looking great either. But I can't wait to get things rolling again as soon as it's safe to do so. I am incredibly proud of every team we've had so far. Being a mentor for BUILD is a lot of work, but I think I can speak for all of us and say that it's incredibly rewarding. Some of our girls come to us with zero experience using tools, so we start with the most simple concepts (righty tighty – lefty loosey for example). My favorite moment of every season is the Pit Stop Challenge on Race Day. During this challenge, the teams are given a task to complete on their bike and they are timed against each other. The mentors are not allowed to touch the bike or any tools so the challenge is done 100% by the students. I absolutely love this challenge because the girls' growth is so apparent at this moment and I can't help but feel SO proud! Check out our page on IG to see pictures or follow along with progress! @theironangels
How did you get into riding motorcycles?
My dad has a CB750 built into a custom chopped frame that I used to ride on when I was little. Between the minimal suspension and narrow king/queen seat, it was never a comfortable bike
to ride on! But it really made me fall in love with the feeling of being on a motorcycle. When I was about 10 years old, my parents split and I moved out with my mom. It wasn't until I graduated from college many years later that motorcycles came back into my life. I had just landed my first job out of school, and I needed a new hobby. My (now) husband and I decided to take an MSF class, and the rest is history!
What was your experience with learning how to ride?
I took the Basic MSF class with my (now) husband after graduating from college. I was the only female in the class, and it felt like I was the only person in class who had never operated a motorcycle before. I was literally starting from step one. I dumped the clutch a lot on the first day. I remember my instructors were really nice and helped lighten the mood whenever possible. After I got my endorsement, I practiced as much as I could just by riding to/from work (which was a whole 10min commute), taking short cruises through the city to get gas, and then eventually riding on the highway. Where I lived, there weren't other female riders that I knew of (this was pre-Instagram). Once I moved to Milwaukee, I found other women who rode and that's when I learned how to ride in groups safely. Some of those women are now my closest friends.
What was your first bike? What bike do you have now?
My first bike was a 2001 Kawasaki Ninja 500. It was PURPLE! I bought it off Craigslist and it was in rough shape, but I didn't know any better at the time. I don't regret it at all though, I learned so much on that bike and it was a lot of fun.
Now, my husband and I own 6 bikes….and counting…My favorite is my 2020 H-D Low Rider S. This bike has really become an extension of me, and I ride it every chance I get. But we also own a 2020 Fat Bob 114, a 1973 Honda CL350, a 1970-something Kawasaki XS650, a 2009 Honda CRF150F, and a 2010 Kawasaki KX250.
I've seen you post pictures of your ice racing! Can you tell us more about that! How does it compare to riding on the street or dirt?
Winters in Wisconsin are long, our street bikes typically get tucked away in November and don't come back out until April/May. Ice riding is the perfect way to scratch that itch of needing to ride. Riding on ice is the perfect balance between "this is the most fun I've ever had on a bike" and "holy sh*t this is terrifying". Most ice bikes are converted from dirt bikes, but some local races also have vintage and Hooligan classes. We fit the bikes with specially-built studded tires and add a second layer of fenders for protection. The extra fenders are to protect the rider's limbs from the sharp screws in the event of a crash. There are 2 main types of races: flat track style, and TT. A lot of flat track fundamentals carry over to the ice; body positioning, throttle application, brake timing, etc. Much like riding dirt, the conditions of the track changed a lot over time. The best riding is fresh glare ice with no snow. On clean ice, the studded tires have more grip than normal tires in the dirt. For protection, we typically wear normal dirt bike gear then layer a winter coat and snow pants over top. The community of ice riders is relatively small, but most people are extremely kind and welcoming. We love sharing our unique sport with others. In fact, some people even bring extra bikes down to the lake just for others to jump on and try.
What was it like racing Flat Track at Flat Out Friday? Plans for future racing?
I've only raced in FOF once so far. I had plans to race in it again in March 2020, but obviously, that didn't happen. My first time in 2019 was crazy, exhilarating, hectic, fun, happy, sad, fast, confusing, fulfilling….I felt like I had every emotion possible in that 24 hr time span. The race is quite a big production, and the crew does a great job of keeping things moving smoothly. But as a first-time racer, it was a lot to take in. I was thankful to have close friends in the pits to help guide me through it all. On my warm-up laps, I forgot to take the choke off my bike so after 2 laps I basically had no power. By the time I figured out the issue, our time was up and we had to get off track. With that being my first experience on the track, it got in my head a bit and I had to shake it off. But once I got out there and things were working smoothly, I had SO much fun. I definitely wasn't the fastest, but I was having fun and learning. I've tried a few local races since then on the dirt and the ice. We have a few local women who absolutely rip on the track, so it's been awesome getting to know them and ride alongside them (or more often, be passed by them!). I don't have intentions of getting super serious into racing. But thankfully it's a very approachable and grassroots sport so I can dip my toe in once in a while. I do it because it challenges me, it forces me to improve my riding technique, and I get to hang out with some really awesome people.
What was it like riding motorcycles in Thailand? How was riding in Thailand different than riding in the States?
In 2019 I spent a week riding motorcycles around the Mae Hong Son loop in Northern Thailand. This was hands-down one of my favorite riding adventures I've ever been on. Thailand is absolutely stunning, and the people are extremely kind. The Mae Hong Son loop is FULL of tight twisties, massive elevation changes, and the views make you feel like you're living in a post-card. These roads make Tail of the Dragon seem like a warm-up; it's truly a rider's paradise. The roads were clean and well-maintained, you just had to watch out for wandering cows occasionally. Also, in Thailand they travel on the opposite side of the road from the U.S., so that took some getting used to! Rules of the road don't really exist, they're more like guidelines. It sounds scary, but it was actually a lot of fun. You could pass whenever and however, and you could filter through traffic easily. You just had to make sure you were always riding within your own limits and keeping your head on a swivel.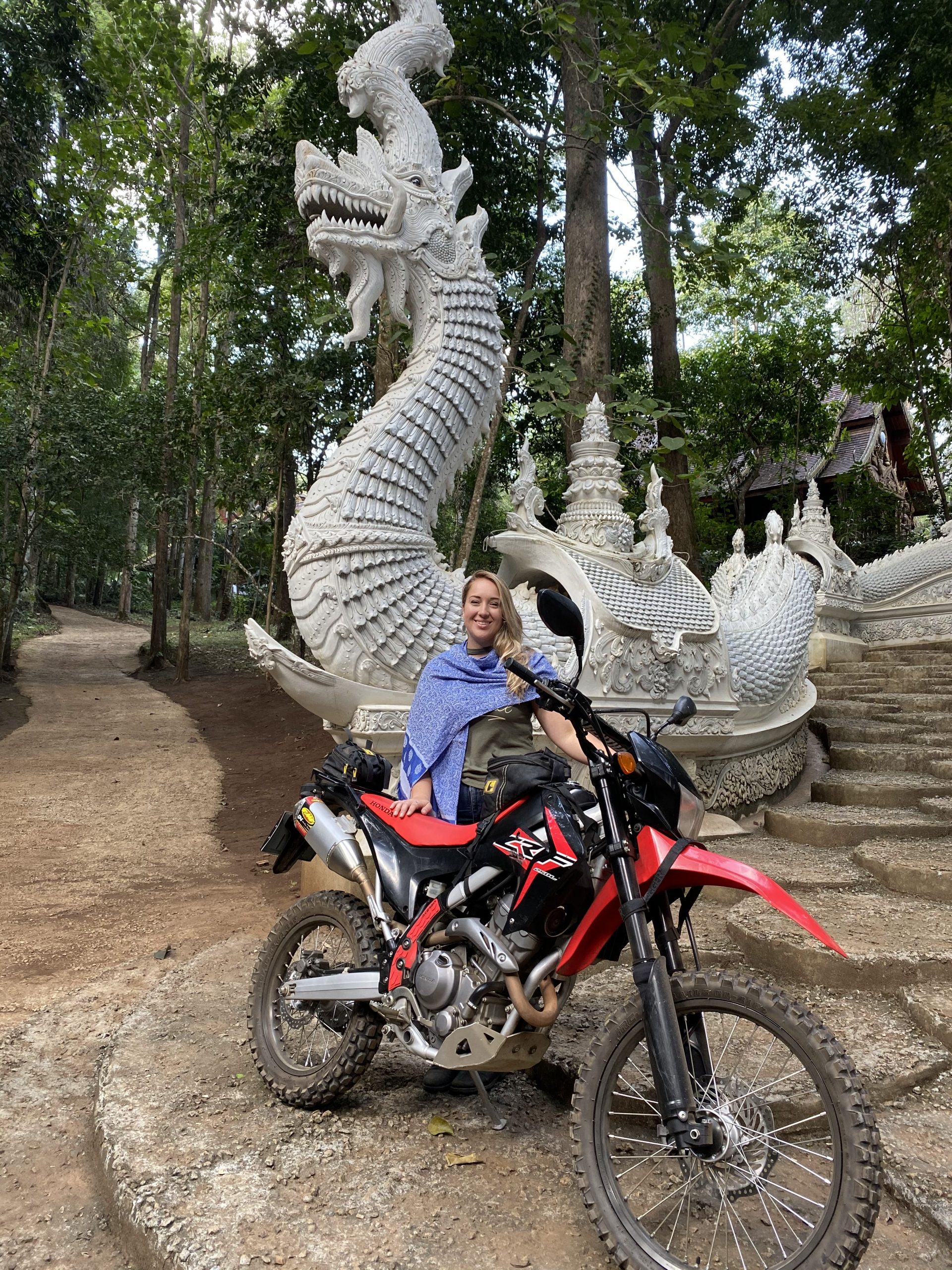 What was your favorite part about that trip? Least favorite part?
Least favorite: the spiders. THEY'RE HUGE.
Once we're able to travel safely, where would you like to ride next?
Taiwan, Canada, tip to tail of the UK, Nepal, Utah, the Ozarks …..I have a long list!
What is the best piece of riding-related advice you've ever received?
Always wear proper gear. Spending money on proper gear will always cost less than a visit to the hospital.
What song always makes you feel good?
I listen to a lot of EDM when I ride, so anything with a bumpin' beat that makes me want to dance makes me feel best! Lately, I've had "911 (Sofi Tukker Remix) – Lady Gaga & Sofi Tukker" on repeat. When I want something a little more chill though, I'll switch over to some reggae-rock like Dirty Heads.
Before I let you go, let's play a game of 'this or that'.
Flat Track or Ice Racing?
I'll say ice racing because I have more experience doing that, and I think it's something really unique to our region. But there are a lot of similarities between the two!
Dogs or cats?
I have one of each! I love all furballs!
Mountains or Desert?
Mountains in the desert 😉
Cheese Curds or Mozzarella Sticks?
Cheese curds with ranch dressing, always.
Introvert or Extrovert?
Depends on the day.
Read a Book or Watch a Movie?
Watch a movie.
Dancing or Karaoke?
Dancing!!! All my friends know that if they've lost me then just need to find the closest dance floor, that's where I'll be.
Follow Nerissa on Instagram!
"If you have been involved in a motorcycle accident, don't let it steal your freedom! Call 1-800-4-BIKERS to learn how an experienced motorcycle accident lawyer can get your bike fixed, money for your medical bills, and compensation for your pain and suffering."