Kahli Smith, Melissa Gee and I do a little ride every Summer. Last year we did Mexico, the year before we did Vegas and Palm Springs, and this year we decided on Lake Cachuma, CA. We all individually own our own businesses and are busy as hell – so it was time for a little vacation.
The night before we left on the trip, I went into my garage to load up my 1993 Harley Davidson FXR and there was transmission oil all over the floor. I opened up my transmission to check the oil and there was nothing left in there. I poked my Allen key into the tranny and sure enough – metal shavings. After my 2,000 mile loop around Utah last month, my bike needed some TLC – but I didn't think I had blown up the transmission…
Metal shavings that came out of my primary
I pulled my pipes off and checked everything out – there was no way I was riding this thing in the morning.
Melissa rolled up to my house on her 1974 Honda CB750K Survivor Chopper and together we decided that I needed a different bike if we wanted to leave bright and early the next morning. I called up my good friend Megan Margeson who now works at the California Harley Davidson over in Harbor City. Even though it was a Sunday night and the dealership isn't open on Mondays, Megan said she could set me up with a bike early the next morning.
Megan and I at the California Harley Davidson bright and early Monday Morning
Sure enough, the next morning there was a 2019 Harley Davidson Heritage Classic waiting for me at the California Harley Davidson. I hugged Megan and off we went towards Santa Monica to pick up Kahli!
My 2019 Harley Davidson Heritage Soft Tail
We linked up with Kahli by the beach, got some coffee, and went over our route. We would ride the Pacific Coast Highway from Santa Monica, through Malibu all the way to Ventura then take the 101 to Santa Barbra where you get onto a much smaller country highway up in the hills – the 154.
Our route on the way to Lake Cachuma
View from behind the handlebars in Malibu
The ride is just over 2 hours. It felt nice to just do a chill day and make a 2 hours ride into a whole-day thing. We stopped at the beach, stopped for lunch, and took our time. We stocked up on snacks and drinks and made sure we had more than enough beach goodies to last us for the whole day and night.
Lunch in the parking lot!
Kahlis Sportster Chopper
The 154 highway is extremely beautiful. You pass by Paradise Road which is also an amazing day ride – there's some nice camping down that way as well. Because we had never been to Cachuma Lake before, we went straight to our campsite. The Cachuma Campground is on a peninsula that pokes out into the lake. Almost all the campsites are waterfront. There are yurts mixed in with primitive camping spots and even campfires were allowed.
My Heritage and I when we first arrived at the campsite.
By this time, we were ready for drinks and a swim. You're not allowed to swim in this lake because it's a reservoir for drinking. We dipped our toes in and laid down by the beach anyway. The views at Cachuma are so pretty and the sun setting behind the mountains was right in front of our campsite. The campground is also very family-friendly, has really clean bathrooms, and even a store that sells beer, gas, and firewood – what more can you ask for?
Me beaching at Cachuma. This bathing suit is hand-made by Melissa who we were with. She owns a bikini company 'Moldie Goldies' and makes everything by hand – pretty cool!
We were a little late to buy firewood before the store closed, so we cruised around the dark campground stealing firewood from people's fire pits who had left the night before. True biker bums. After our fire went out, we all went to sleep in our tents… well not Kahli – she just laid her sleeping bag down in the dirt and passed out.
We spend the morning drinking canned coffees at our campsite and packing up our stuff. The temperatures in this area during this time of year are perfect. You're not too far from the ocean and you're up in the mountains, it's never too hot or too cold. I had a perfect sleep in my tent with just a sleeping bag.
Campsite Mornings next to Melissas Honda Chopper
Photos with my bike by the lake
We got back on the road and headed down the mountain towards Santa Barbara where we got lunch. We went over our route during some coffee and made a plan to head back the same way we came but to stop in Malibu and swim in the waves.
Melissa lead the way and missed the turnoff to get over to the PCH that runs along the coast. So we pulled off the 101 around Thousand Oaks and decided to take the canyons down to the ocean.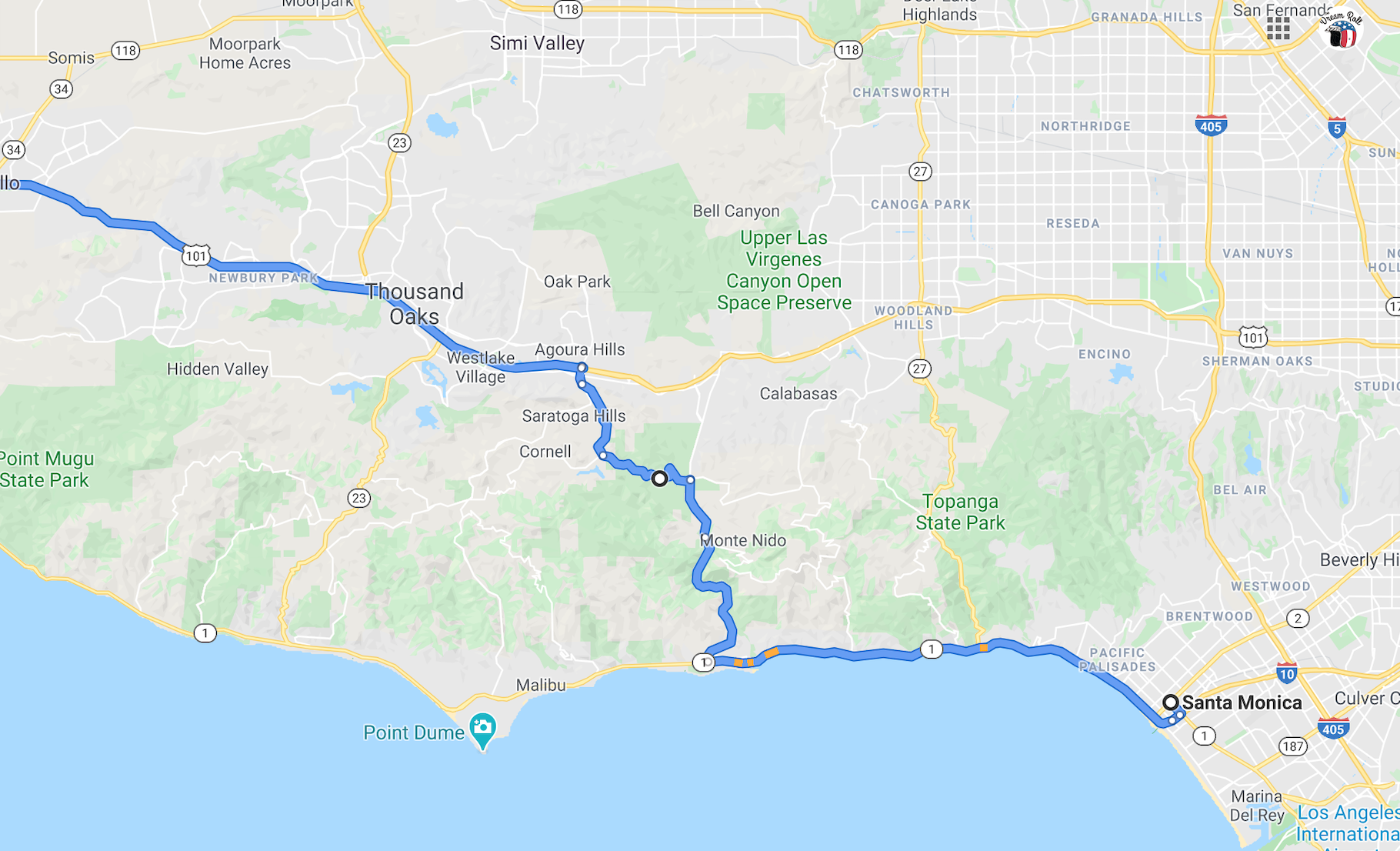 Our rouge route home through the canyons of Malibu. Topanga Canyon is rad through here as well. Actually, any road that can link the 101 to the coast is amazing. You pass crazy mansions, wind through the canyons, all the roads are smooth and safe, and you may even see a horse or 2. Plus, the views dropping down into Malibu over the PCH are always amazing.
Melissa and I mid-ride
We wound around a few random canyon roads and then merged onto the main Malibu Canyon road, which is amazing. You pass through a couple of tunnels and get to experience riding along cliff-sides. It's actually amazing these kinds of roads are so close to LA!
Because it was a Tuesday, we had a lot of the road to ourselves. Riding with just 2 other people who you have ridden with quite a bit before is so much fun. We all know each other's bikes,
each other's riding styles, and each other's moods. We always know when each other are tired and we always take care of each other. Girls trips really do rule.
The 3 of us heading home on the PCH
The sisterhood of the traveling leather boots
Even though it was a quick trip, we were all pretty beat. After a quick hang out at a beach in Malibu, we headed our separate ways. I needed to go take my bike back to Megan at the dealership as well. The 405 highway back to Harbor City was backed up like crazy, 'I guess people are back at work now' I thought to myself. Thank God I had the Heritage that had a horn and brakes in the front and the back. To me, this is luxury, especially on a lane-splitting mission down the entirety of the 405 Freeway.
Back at the dealership, I left Heritage and hung-out with Megan for a bit. Their dealership is really cool and also really popular. Megan runs their Instagram page and it has over 20,000 followers on it, which is tons for a dealership page! You may remember Megan from the interview I did with her for a recent Russ Brown blog post. She rides a Panhead chopper and goes on a big Panheads-only trip with her family every year. She is actually out on one of their 5,000-mile rides right now!
Megan at the California Harley Davidson. Go follow her Instagram page to see more of their trip: @meganmargeson
After that, I headed home and am now in the process of fixing my FXR. There will be many rides to come this summer though! Until then, go for a ride and have a good summer!
Peace out!
"If you have been involved in a motorcycle accident, don't let it steal your freedom! Call 1-800-4-BIKERS to learn how an experienced motorcycle accident lawyer can get your bike fixed, money for your medical bills, and compensation for your pain and suffering."