Interview By Becky Goebel
Porsche has been a long time team member of Russ Brown Motorcycle Attorneys. You may have seen her on this blog before, or out on the streets surrounded by other bikes. She's a self-made staple in the motorcycle industry and is known to bring together women who ride – especially black women.
Porsche is the founder of Black Girls Ride and is a voice for black women who ride everywhere. She hosts many events and is a content, communications and marketing master. I knew about Porsche because of a shoot she did with the Women's Moto Exhibit a couple years ago and when I moved to Long Beach, CA I would see her driving around in a Polaris Slingshot all over town – tunes blasting, custom paint, and a badass lady driver – you can't miss her.
Although Porsche has been featured on this blog before, we decided to do an interview with her in her own voice in light of the Black Lives Matter movement. I wanted to ask her some real questions about how she feels about what's going on right now after the murder of George Floyd and the uprise of Black voices, protests and the revolution that is going on in the world today.
Porsche was (not surprisingly) the first rider from the LA area to arrange a "Ride for Justice" in the name of George Floyd and to show support in the fight against Police Brutality and Systemic Racism. A poster began circulating social media announcing the meet-up and hundreds of people came out to show their support.
The Russ Brown Motorcycle Attorney's blog platform is a great place to put Porsches words and thoughts and when you read through this – put yourself in Porsches shoes, for the last 17 years as a black woman rider in the California motorcycle community. Here we go!
Who are you and where are you from?
I am Porsche Taylor, Born in Honolulu, Hawaii and raised in Inglewood, CA
How long have you been riding bikes?
I have been riding for 17 years. My cousin influenced me to buy a bike, instead of a flat screen TV, and I never looked back. There was a large community of African American Riders in Southern California that started in the late 50s and it's still going strong today. My first mentor was a black woman, who I met at a bike night. The first week I got my bike, I teetered into the parking lot, and she took me under her wing. Since then, I've met thousands of Black riders all over the world.
What exactly is Black Girls Ride?
Black Girls Ride is an online Magazine, highlighting women of color in motorsports. We began in 2011 and have grown into an international movement. While we are unapologetically black, we are all inclusive and love to showcase all women who ride.
What's the biggest event you've hosted?
We host our annual ride to Essence Fest every year in New Orleans, where we bring over 200 riders from all over the country. Essence Fest is the largest celebration of African American Women in the world, and we are excited to bring the motorsports community to this event.
What's your favorite event to attend?
I love any event or meet up where I can meet new riders!
Tell us about the Ride For Justice that you just hosted – it looked HUGE.
The Ride For Justice was essential to our SoCal riding community. We brought riders of all races, bike styles, and genders together to say out loud that Black Lives Matter. So often, the biker community is thought to be a hotbed of racist behavior. This ride showed that the road doesn't know color. Motorcycling has brought us together with people from all walks of life. We had a fun, safe ride!
Here's a recap video of their ride:
Poster from the ride
"Join the Movement!"
Have you seen a shift in the motorcycle industry for POC since the George Floyd murder?
Since Geroge Floyd's murder, I have seen our colleagues stand up against racist behavior. We recognize the allies who speak up, instead of sitting silent among racist behavior. The community has begun a movement to embrace people of color in motorsports, now more than ever, and I think that's so cool!
As a Person Of Color, how do you feel it's different being a part of the motorcycle industry?
I'd honestly rather shine the light on the organizations that have embraced us as people of color, rather than to give fuel to stories about discrimination or exclusion. I absolutely love working with Russ Brown Motorcycle Attorneys. They have been supporting us way before it became trendy to do so. They have been present in the community, assisting all motorcycle riders who need legal assistance, helping them to get their fair share. I'm also thankful for Polaris and Indian Motorcycle. They have been instrumental in making sure we have the resources to host nationwide educational workshops, to help women become safer riders. I have great mentors like Sarah Schilke, Erin Sills, Alisa Clickenger, Sarah Moreau, and Patrice Johnson, each who contribute to motorsports and bringing this community of riders together.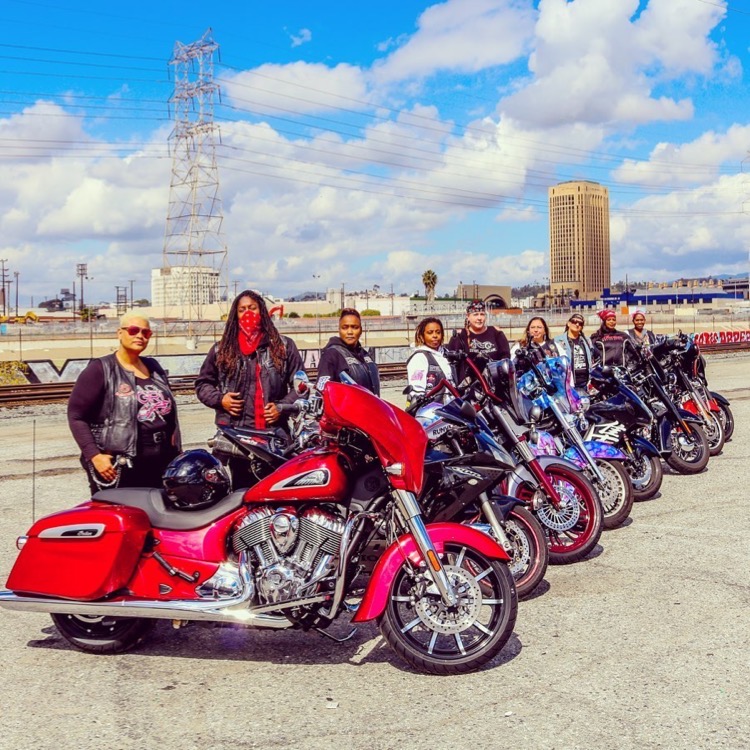 How do you see things changing for POC in the motorcycle world?
When you no longer have to ask this question, we'll be where we need to be. For now, I think the industry is realizing that people of color are a huge part of the marketplace, and it makes good business sense to embrace them as a part of the culture.
How do you feel about the world right now?
The world is in turmoil right now… We need to learn to embrace each other and help each other. That's the only way out of this tailspin we're in.
What would you like to see come from the BLM movement?
I would like to see an end to police brutality and I would like police who engage in illegal behavior held accountable for their actions. No one should be killed at a traffic stop or for a petty crime.
What events do you have coming up?
Our next ride is the All Girls On Ground Ride, in honor of our fallen sisters. This will take place on Aug 22, 2020. All Riders are welcome to attend! Get the details at allgirlsonground.eventbrite.com
How can people reach you if they'd like to team up with you, interview you or learn more about you and your brand/magazine?
You can find us online at blackgirlsride.com and @blackgirlsride on all social media.
Can you take me for a ride in your Slingshot?
Absolutely! Say When!
Thank you to Porsche for contributing to the making of this article. If you see her out at events or riding around, go say hi! Thanks Porsche and keep doing what you do!
Check out Porsche Taylor's latest interview with Fox News.
– Becky
"If you have been involved in a motorcycle accident, don't let it steal your freedom! Call 1-800-4-BIKERS to learn how an experienced motorcycle accident lawyer can get your bike fixed, money for your medical bills, and compensation for your pain and suffering."