If you ride you know about Powerplant, or P16, as you may have seen it on a shirt or hat at the last motorcycle event you were at, even if it was SO long ago. Yaniv and his shop are an LA staple in motorcycles and have been for years. He is an invited builder pretty much each year at Mooneyes and is kind of the king of FXR's. He has built badass bikes for tons of people including a long list of celebs, his shop is in Hollywood after all. I met him when I first started riding 6 years ago and it's been really interesting to see his journey from turning his cool neighborhood moto shop into an entire brand to seeing him become this very sweet father!
I had seen tons of photos of Mack, Yaniv's son but hadn't actually met him until we did this interview, and DAMN is he cute. He seemed to really know his way around the shop and was genuinely interested in everything lying around, especially the air compressor, which was very funny and so weird, because Al and Brittney's son, Cal, from my first Family Values story, was also so obsessed with theirs too! Anyway, I'm so pleased for you to get to know a totally different side of the Powerplant family…
Who are you and where are you from?
My name's Yaniv, and I'm from Los Angeles.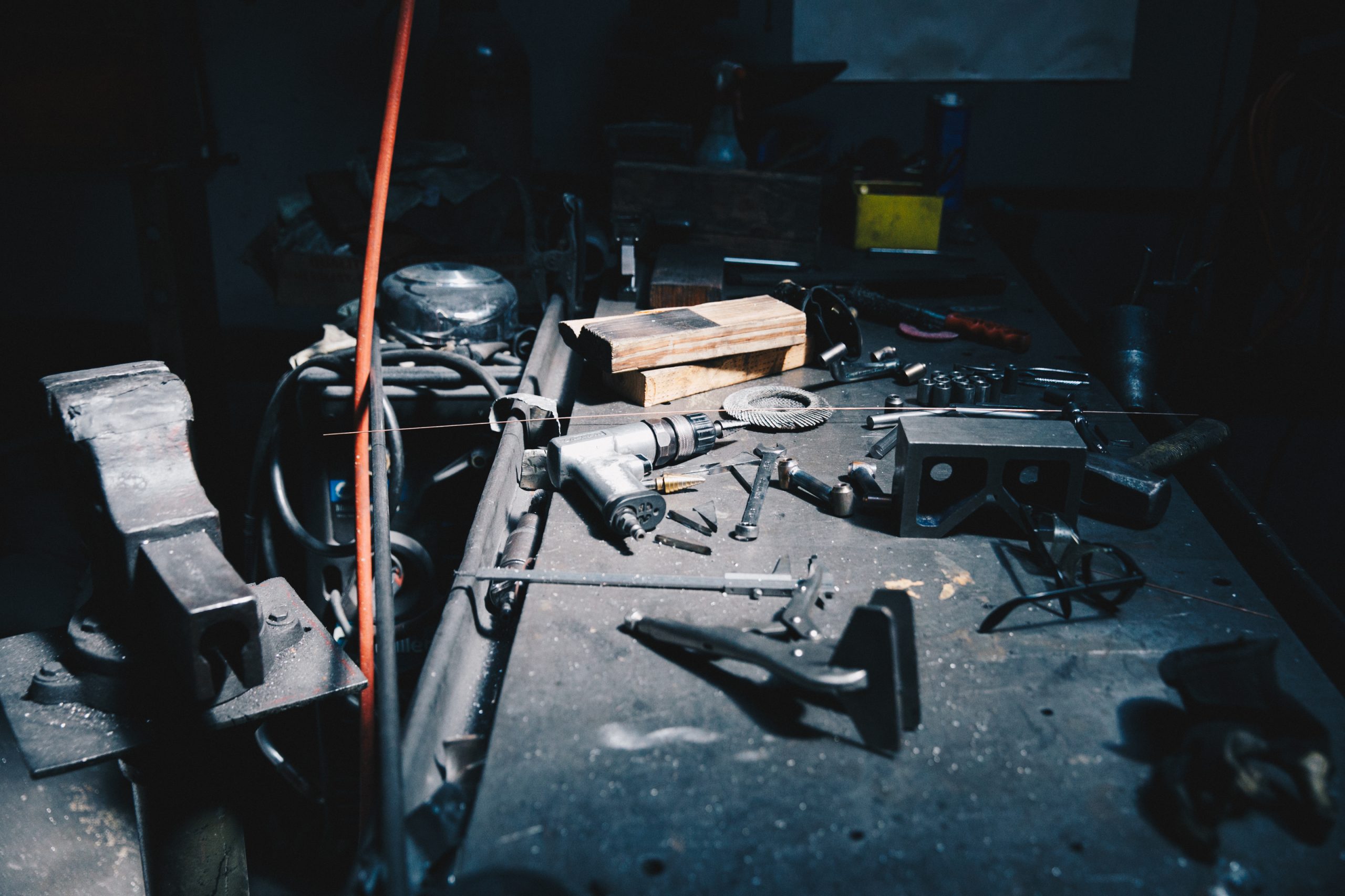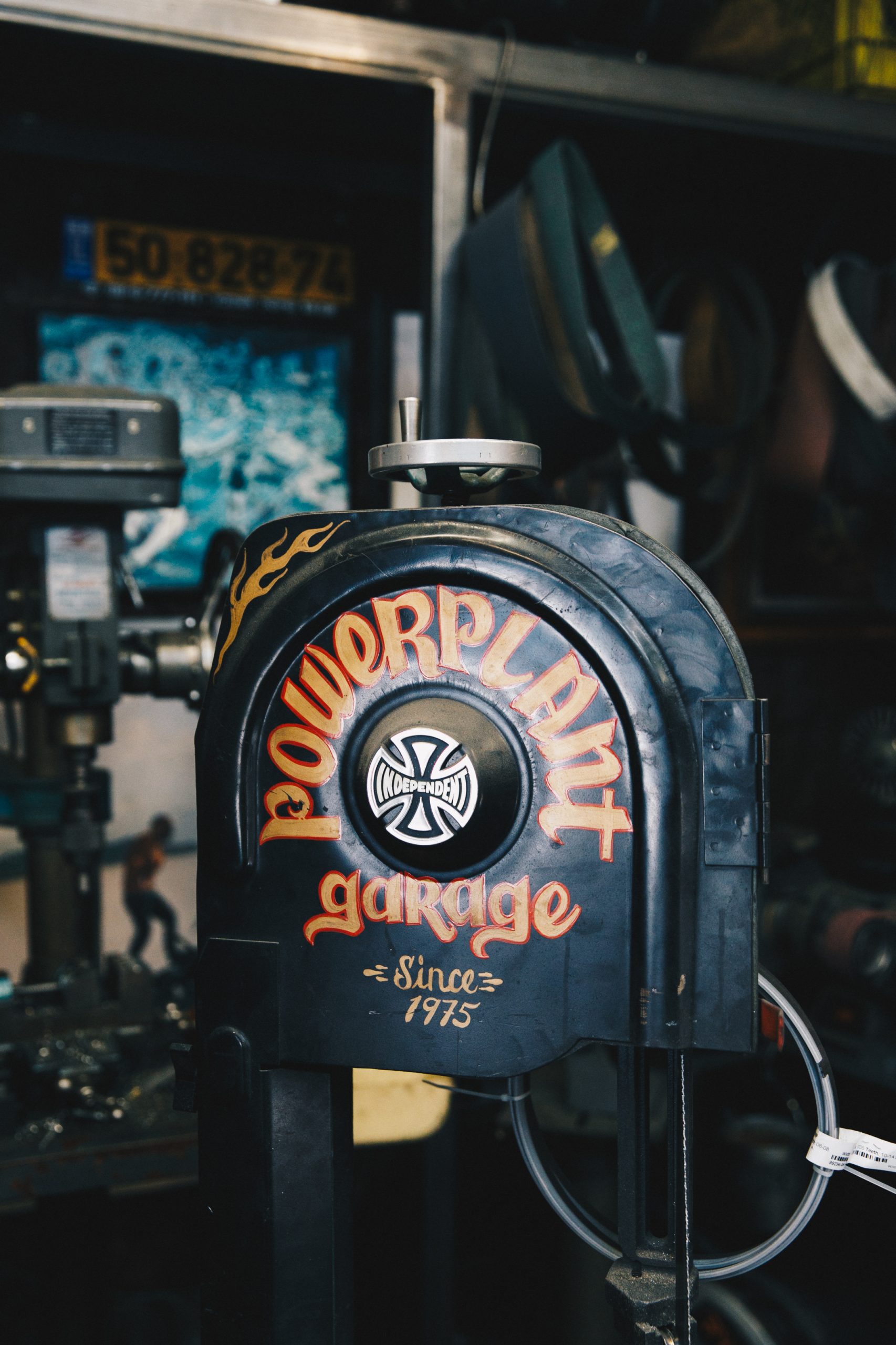 When / how did you get into bikes? When did you start building them? How did the idea for Power Plant begin?
I started building bikes around 2000 or 1990s kind of finishing my career with hot rods and building cars and got into vintage motorcycles. I fell in love with one at Bob's Big Boy, I used to go there with my cars and I met this guy Mitch. I ended up looking up to him because he built bikes the way I would build a bike. Everything was just stripped down and done in a less is more kind of way, like how I like my cars. I was kind of timid about it and scared, so I went around and apprenticed at a shop in San Pedro, Station 54, people probably remember it, they to restore old Harley's and Indians and that's when I got really deep into it. I started learning the differences between the old frames and it got me really really interested to learn more. I started taking it seriously then got a little shop down the street from where my current shop is. It was a little a two-car garage and I was really just doing it for fun. I had a 'day job' but I was putting stuff together and people were always stopping by cause it was on Melrose, and next thing you know, I'm actually turning around bikes for people. So that all started and I didn't know how to make money doing it, but luckily it just fell into my lap. I started adapting business into fun then it became a full-on business where Uncle Sam hit me up with taxes and it all got a little more official. There's obviously all these laws when you have a motorcycle shop, you gotta keep things clean and safe, but I didn't even know what I was doing getting involved, the shop I worked at didn't have any of those kinda rules, it was a mess! I had to learn how to run a business, which I'm still learning, and it became a whole thing, a full brand. I was making t-shirt designs people were stoked on, the parts I made, people were stoked on, so now I manufacture clothing and motorcycle parts. I'll build a bike and I'm like, "damn no one thought of this," so then I gotta make it!
That's my new thing, now that I'm a dad, I just want to figure out how to wake up in the morning without my back hurting and my hands greasy, but still have them greasy for fun. I think that's the ultimate way to have it all still and stay passionate about it. It can be really hard when I have a lot of bikes coming through the shop strictly paying the bills and you have to put all your energy and love into each one of those. It's a lot, it's like having a bunch of kids, you want them all to grow up and be 'successful' and not break down.
I do it myself mostly, so when I get employees, they have to deal with my sh*t, which is me hovering over them basically trying to mold them, I want them to think like me and be able to solve any problem the way I would.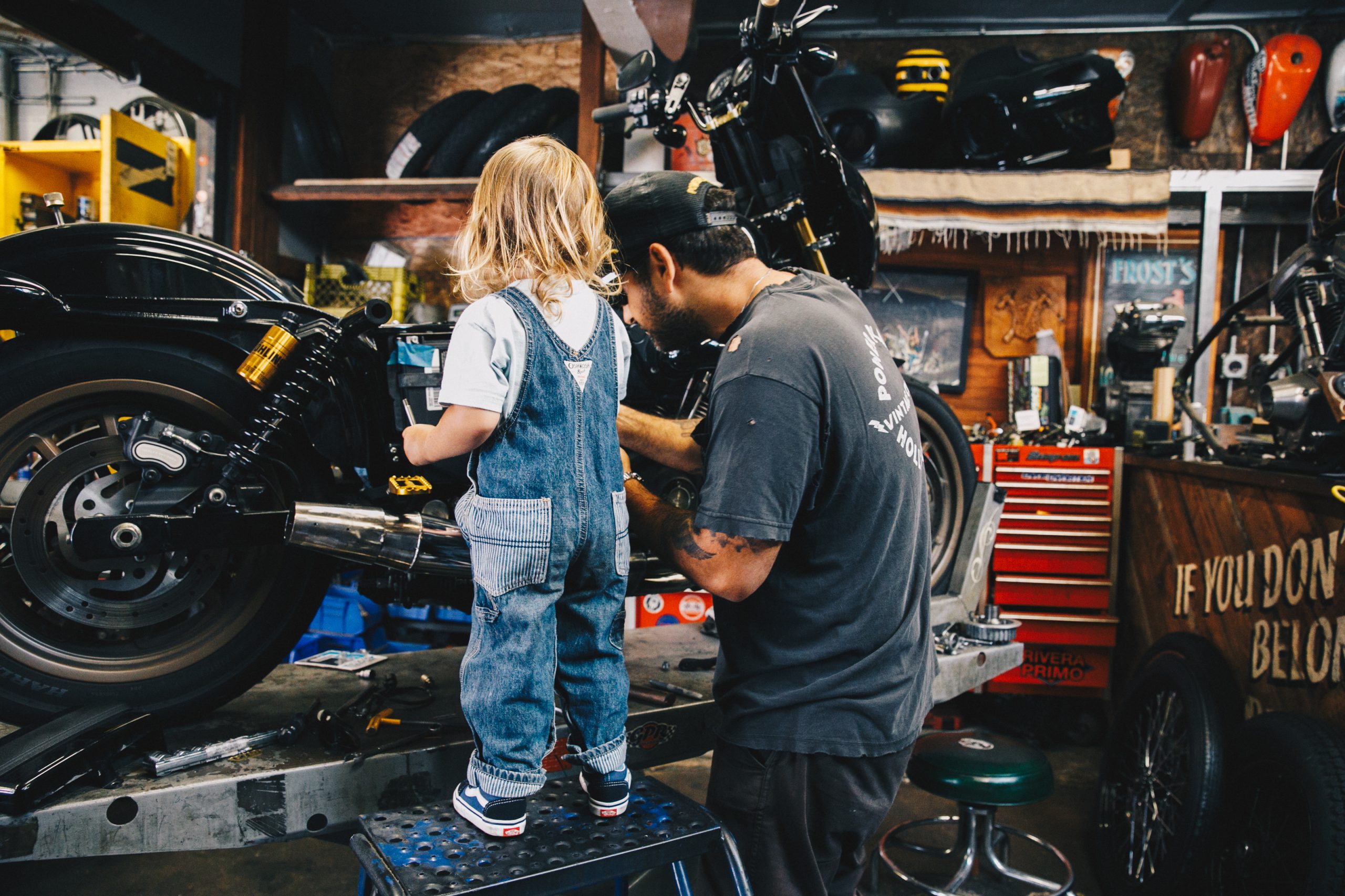 How do you balance your time between working at the shop and spending time with your son?
This is a strange time, three days before Covid Mac started daycare. His mother and I were stoked! By day three and he was having the best time and he wasn't dying to see us, then boom they shut it down. So now I'm like a full-time dad when Mac is with me, his mother and I share our duties 50/50. When I'm not with Mac I'm working 12-hour shifts because when I do have him, I want to us spend as much time as possible together.
When I'm with him time stops, everything stops, it's just like being a dad and showing him around. Luckily, I just got a house right across the street from my shop so if really have to do anything work-related I can just walk on over and do a quick meeting or whatever.
I feel like after this kid grows up I pretty much can handle anything in life. I know that there are people with like five kids, and I don't know how they do that, cause even one is a handful. But the thing is with this kid, he's like soaking it all in. I thought this wouldn't happen till he was like 14, but I can talk to him about wrenches and tools and he's already learning, but that's also the scary part, I'll turn around and he will be pushing the start button on a bike. It's only a matter of time where he hits a wall or crashes a bike, but my whole thing is to teach him how to hit the wall right when you hit the wall because that's the thing, he's gonna do it, it's inevitable. So, rather than do what my parents did, like try and have my bike stolen in high school, my mom literally paid people to steal my bike, I'm not gonna tell him no, I'm gonna teach him how to do it right.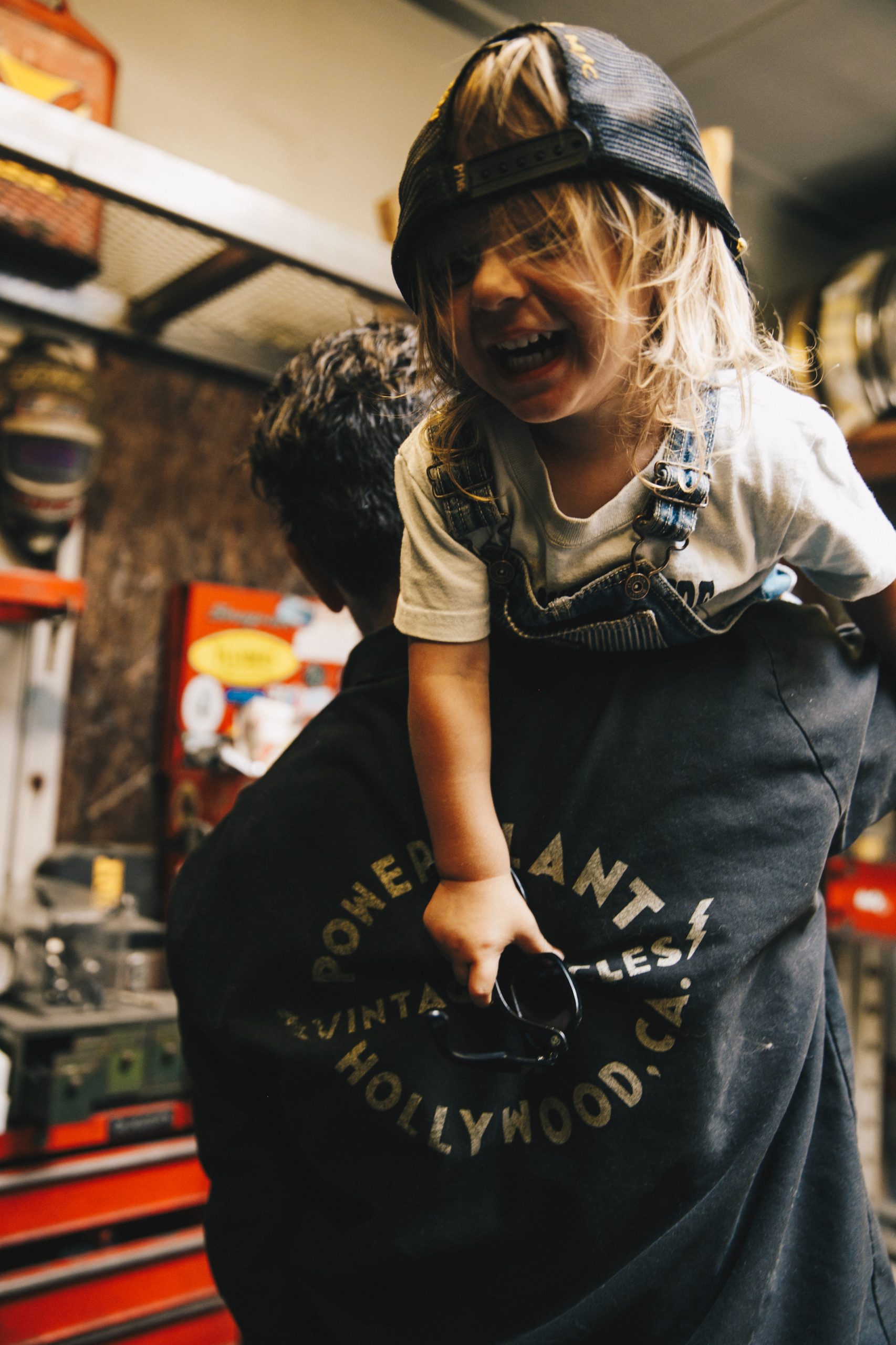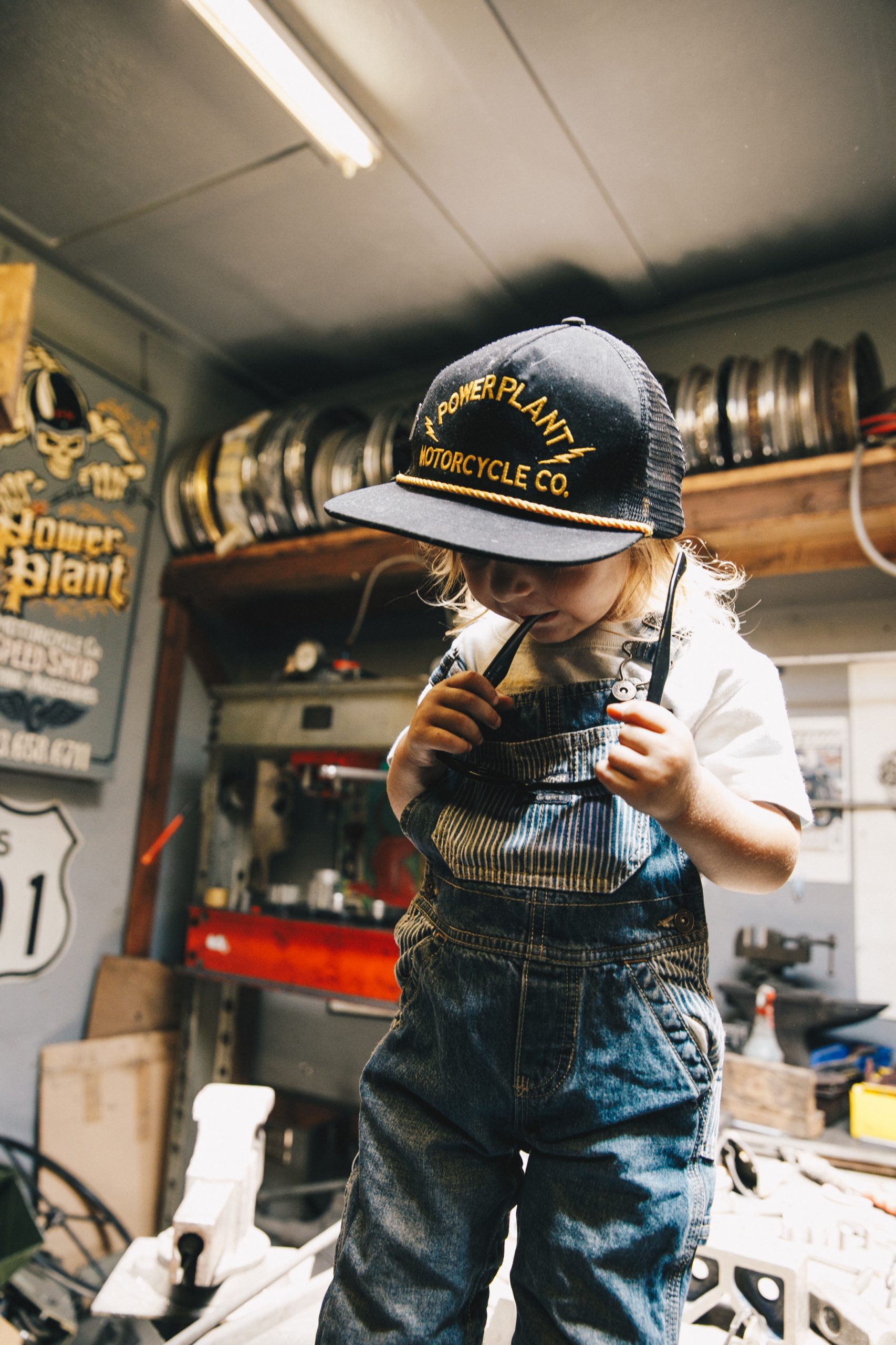 What was the biggest life/lifestyle change you had to make when Mack was born?
Smoking cigarettes, I had to quit, and getting the people around me to stop smoking cigarettes and weed. I know it sounds so straightforward, but Paisley, Macks's mom, engrained it into my head. She hates it and always hated it when I smoked. Six months before he was born I had to quit smoking and that was a really hard thing to do, and still is, as well as the partying the socializing I'm not here for that anymore. People can come hang out for a minute, talk to me, what do you need on your bike? Yeah, I'll write you up a slip, see you later. That's probably the biggest change, I weeded out, things that don't matter. My time is so much more important now. I'm tired, my legs hurt, I gotta go home. It's seven o'clock, its baby time, dinner, bath, bedtime. When he falls asleep that's my eBay time, I'll buy all my parts and order everything for the next morning. He wakes up between six and eight, so I'll be waiting for that. It's like the horn when he wakes up, I drop the phone and pay all of my attention to this kid because people can neglect their kid real quick. That was a big challenge.
I also have to say one of the biggest things is every time I get on my motorcycle, I think of my friend Adam's dad and how Adam was his only son. I felt terrible then and then I had Mac, and now could I really see what it's like losing your kid, especially on a f*cking motorcycle.
We already know that when we get on a bike we can potentially get hurt, but now it's like what's up with Mac if something happens to me?
I still ride the same way, but I feel like I'm riding better. I feel like I'm escaping from being around a lot of cars. I stay away from Cars and try to be in front. If I don't need to ride and I have a little bit of a weird feeling, I don't ride, which I never did that before.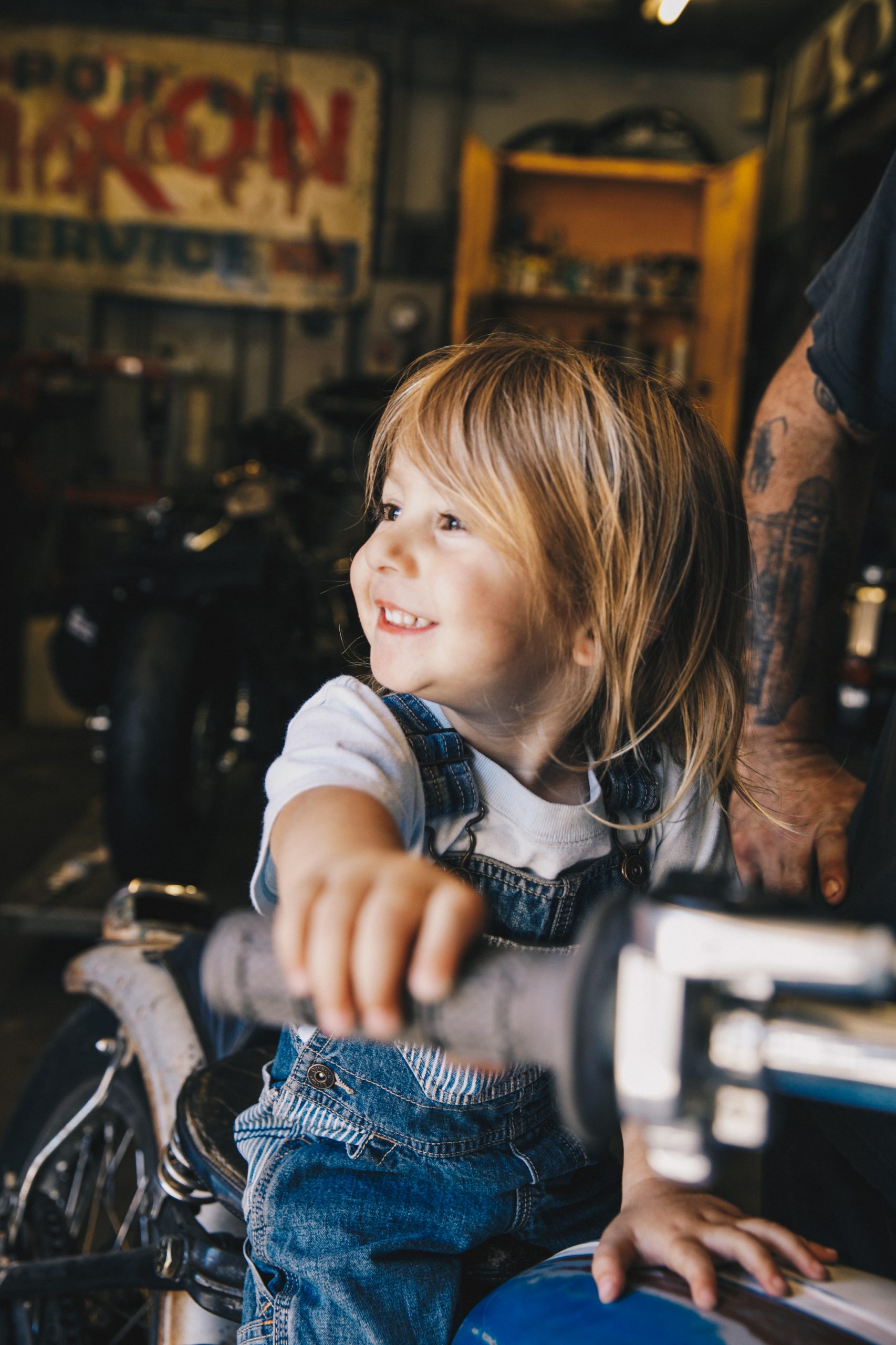 Does Mack already show an interest in cars and bikes?
Definitely, we had him on a motorcycle in Bali when he was six months old, Paisley and I sandwiched him between us and rode around like that. Bali is crazy, there are no lights and you can ride in any lane. It was sketchy, but it's legal there, and I figured we should get it out of the way, I didn't want him to be scared. I know a couple of kids are just really scared of being around motorcycles.
A few days before he was born we started up a bike over here (at the shop) and Paisley said he was moving like crazy every time he heard a bike. So, on the second day of his life when he was at the garage, there's obviously some bike noise, and instead of flinching and being scared it like hypnotized him, he wants to go towards it. Then there's the steering wheel when we are in the car, he loves it, so now he's got all these toy cars and bikes, all he wants to do is drive! His bicycle doesn't even do it anymore, he rides a bicycle with no training wheels, at 2!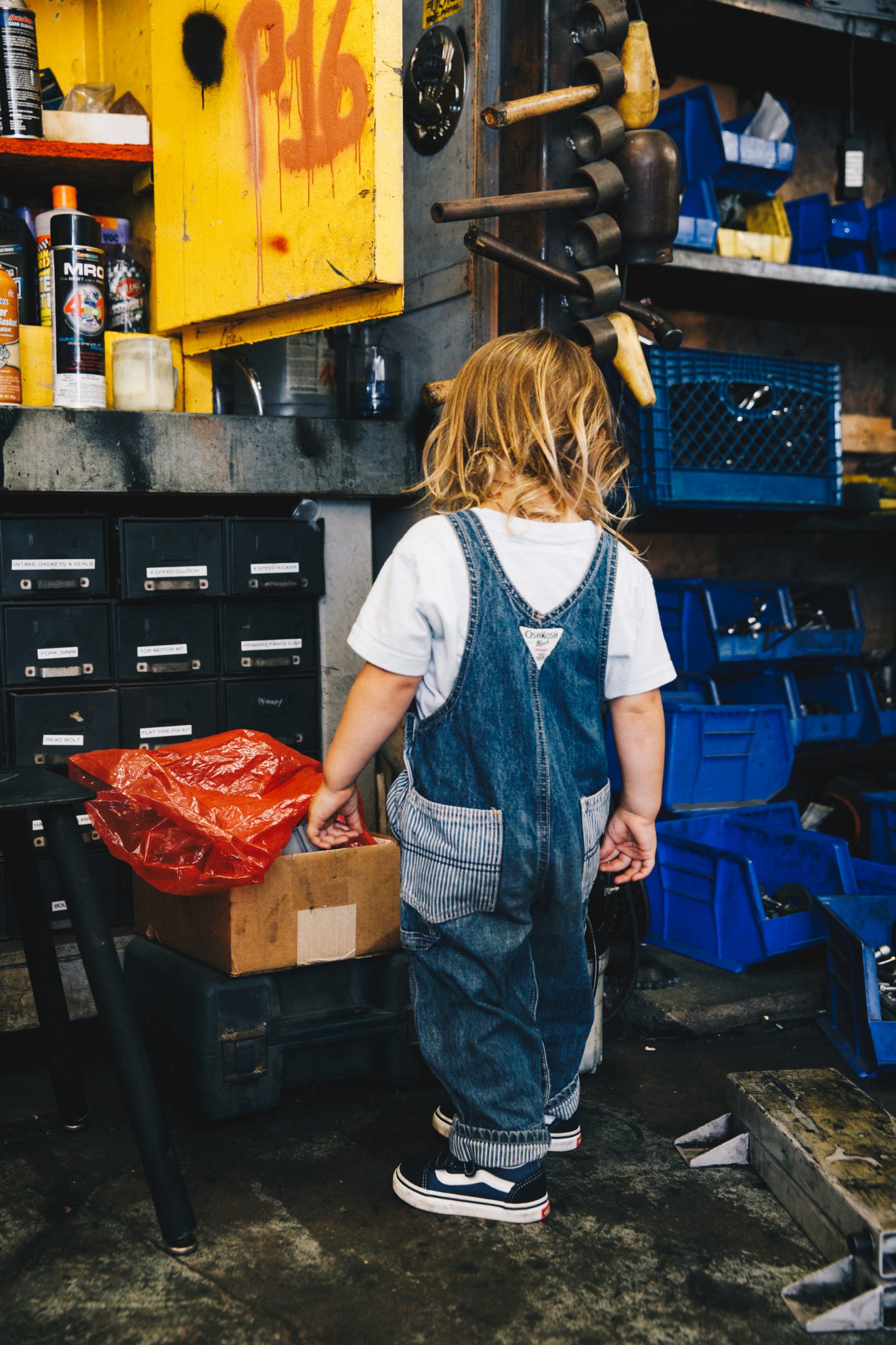 How do you feel seeing Mack run around the shop?
I don't feel like one day he's gonna grow up to be just like me, I feel like he's he might end up getting it out of his system early. I didn't really have any toys when I was young, so when I grew up I wanted all the toys. I'm going to let him be a kid as much as possible and hopefully, he decides whether he's had enough of this motorcycle bullsh*t in the garage, or if that's the life he wants, and if he does, I'm going to teach him how to do it right and make money and not just do it as I did it for a long time and be broke. I'm going to adapt what I learned and give them the tools; if he drops them and wants to go be a painter or whatever that's up to him. If wants to be an interior decorator, he could do that too, I don't care. I just want to love what he does and I'm gonna support him because I didn't get supported doing this. People think, "Oh what's an occupation that makes good money?" I was like what's an occupation that I can have, when 9 am rolls around and I got to go to work, I'm not dreading. I hated going to school and I hate going to work for other people. It's the worst thing to be dreading Mondays. It's my goal in life is to have every morning feel like a weekend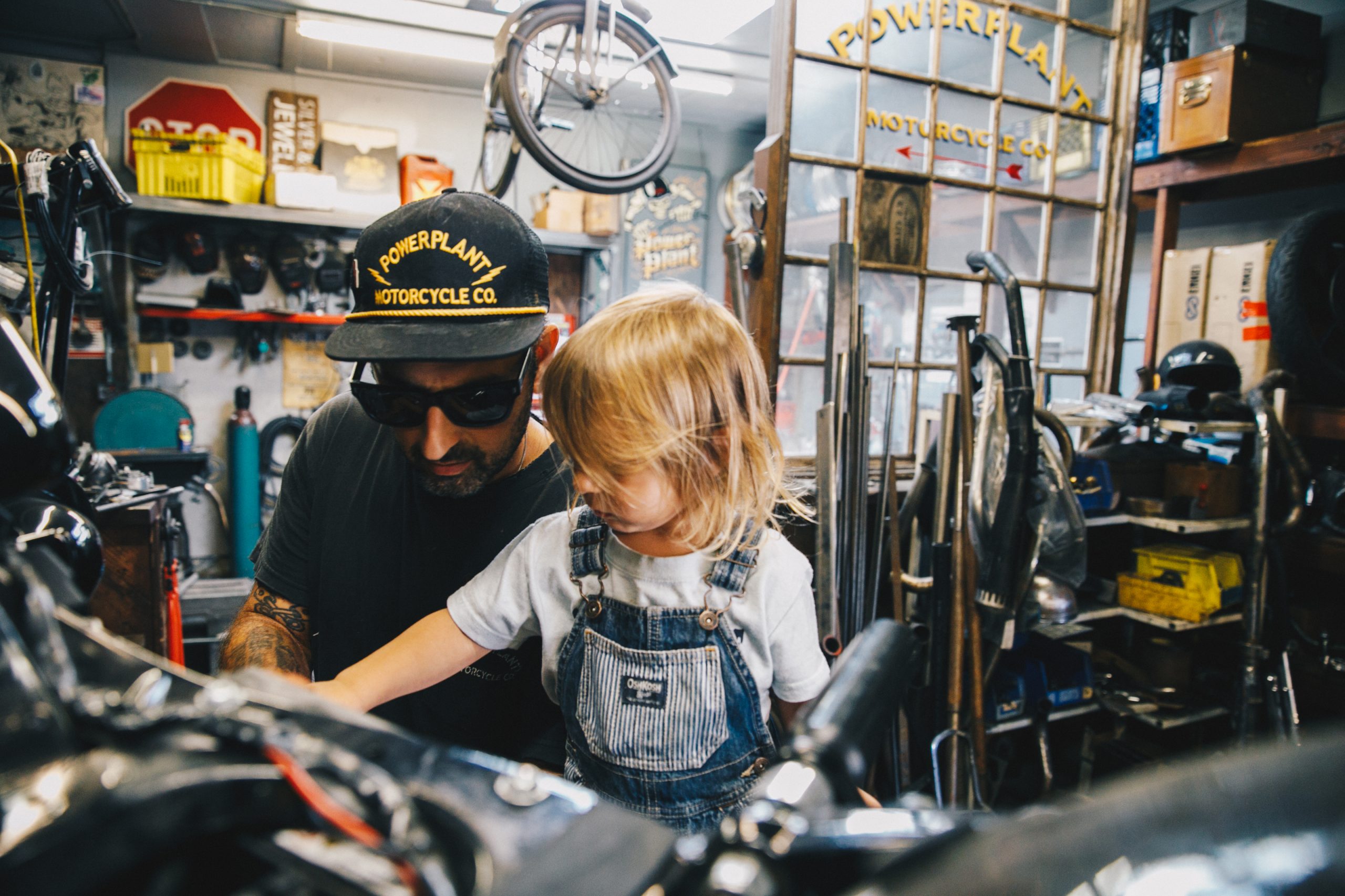 If Mack wants to ride when he's older will you build a bike with him?
100% I would build a bike with him. I actually would build let him like kind of take a shopping cart and go through the rows and take all his stuff and then put something together that he thinks is cool and we could see what it comes down to.
You can keep up with all the cool stuff Yaniv is doing here: @Powerplant
"If you have been involved in a motorcycle accident, don't let it steal your freedom! Call 1-800-4-BIKERS to learn how an experienced motorcycle accident lawyer can get your bike fixed, money for your medical bills, and compensation for your pain and suffering."