Russ Brown Motorcycle Attorneys®: Conversation with Ride Coach Nick Ienatsh on the well paved topic of Gravel!
Riding in gravel has to be at the top of the list when I go thru the requests I receive of riding techniques riders would like to improve on. I don't care if you're riding a big Harley Bagger or a lighter weight performance street bike, gravel and motorcycles will never be an ideal combination. Hence preparing yourself in advance for when the pebbles hit the road is something that can keep you upright and serve all motorcyclists well.
Nick Lenatsh is the ride coach that has never let me down (pardon the pun). He's the best at what he does, teaching people to become the best motorcyclist they can be. Here's the advice, Nick shared with me.
"Gravel Road!! Relax…
Relax…easy to say. And in fact, saying "relax" out loud is a terrific habit to adopt in this sport, especially when traversing a gravel road on a street-based motorcycle.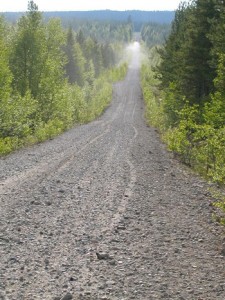 Here's why: As the front tire gets pushed around by the gravel, tight arms on the handlebars will often be a "cycle" of movement behind what the steering system is trying to do. Those tight arms often make the movement of the handlebars worse, and the tighter we hold, the more the bike wallows and wobbles and complains and misbehaves. The front tire needs to be able to move freely as it encounters the loose surface and the rider must let it move.
Whisper out loud, "relax", and start with soft hands on the handlebars and loosen those arm muscles. Let the front tire track and find its way through the loose stuff, and hold on enough to support the bike…and keep the throttle open.
Yep, try to keep the bike on-throttle, gently driving through the gravel, the weight transferred back to the rear tire. If you must close the throttle and apply the brakes, do so early and easily. Sneak open the throttle, sneak closed the throttle. It's the initial openings and closings that get people in trouble so do your best to eliminate the grabs and jabs. That's good advice for riding on any surface, so practice it on every ride.
Right about now you're saying, "I hate dirt roads, thank God I never ride on them." Oh yeah? How about next Sunday's ride that is interrupted by road construction and detoured onto two miles of dirt frontage road? How about going to visit your in-laws and finding a half-mile gravel driveway? How about the dirt parking lot at the campground?
Relax.
Let's add a couple minor techniques that will make dirt-road-riding easy. Use your upper body to help the bike steer with less lean angle, hanging off the bike like a Roadracer. Keep your eyes way out front and scanning so you will be smoother with your inputs. Learn to look beside the huge boulder, not at the huge boulder. Master both brakes so you can slow your bike with balanced, light braking. Ride in the right or left car wheel track to avoid the thickest gravel. If you're approaching an apparently deep section of gravel, accelerate through it. Don't be shy about putting your feet down during u-turns or slow going.


How about a final technique that might sound a little goofy? Try this: Next time you encounter a gravel road, gently push and pull your bars, moving each hand no more than an inch or two, intentionally steering the front tire right and left in a fairly-quick cadence for a few yards. If you try this right away, it gives you a feel for the grip and gets you in the habit of allowing the front tire and handlebars to move slightly.
Oh yeah…and relax."
Nick Ienatsch
Yamaha Champions Riding School, Fastersafer.com, Author of Sport Riding Techniques
You never know when the evils of gravel are going to cross you path. Nick shared some great tips that I hope you will spend some time practicing what he mentions.
Good skills do a motorcyclist good.
Ride ON!
Brenda Fox
Russ Brown Motorcycle Attorneys®
Russ Brown Motorcycle Attorneys® – fighting for injured motorcyclists hurt in motorcycle accidents for over thirty-five years. Motorcycle Lawyer Russ Brown created BAM, free emergency breakdown and legal assistance for motorcyclists as a way to giving back to the biker community. BAM always has a friendly voice on the phone 24 hours a day 7 days a week for fellow motorcyclists who find themselves in an emergency roadside situation or in need of legal advice. If you have been injured in a motorcycle accident – whether your accident was in Los Angeles, California or Pittsburgh, Pennsylvania, or maybe your bike crash was in Syracuse, New York or Miami, Florida, or you have a question about motorcycle law and you are in Chicago, Illinois or Las Vegas, Nevada.  Regardless of where you ride in the USA we have a top motorcycle accident lawyer to help you. 1-800-4-BIKERS.
"If you have been involved in a motorcycle accident, don't let it steal your freedom! Call 1-800-4-BIKERS to learn how an experienced motorcycle accident lawyer can get your bike fixed, money for your medical bills, and compensation for your pain and suffering."