Richie Neider stood out in the room, not because of his wheelchair but because he was the quietest. It was the first time participants of the 2017 Veterans Charity Ride to Sturgis had gotten together so you couldn't blame a guy for feeling a little uneasy in a room full of strangers. As everyone introduced themselves and conversations started springing up, Richie's steely reserves slowly began to chip away. Before the night was over, a small fire had been ignited in Richie's eyes, a cinder sparked by the thought of embarking on a cross-country journey to the Sturgis motorcycle rally with a posse of wounded veterans.
Each day spent on the road in a Champion sidecar, the sun warming his face, wind rustling his hair, Richie's wry sense of humor and magnetic personality began to rise. He and fellow VCR member Robert "Doc" Pinkham, who piloted the Indian Chieftain Richie's sidecar was attached to, became fast friends.
"At pit stops, he'd grab my wheelchair for me, either the one set up for off-road use or the one for on-road. Doc would always say, 'Which of your two chairs do you want?'  He got to a point where he was like, I need to give you a nickname, and I've been Richie "Two-Chairs" to my VCR buddies since."
Nothing brings people together like sharing the open road, and over the next nine days, the veterans forged through blazing triple-digit heat in the Mojave Desert witnessed the breathtaking beauty of Zion and Grand Staircase-Escalante National Monument collectively before blazing a trail over the Colorado Rockies. Flag-waving families lined Main streets in small-town parades at the end of long days, honoring the roving band of heroes as the troupe traveled across the western states. By the time they reached Main Street Sturgis, the quiet, reserved fellow from that first day was gone, the road-tested Richie rejuvenated with a new zeal for life.
This confidence led to the desire to ride a motorcycle once again. Richie loved to ride so much that at age seven he'd already built his own mini-bike with a Briggs & Stratton motor.
"After that, I just kept getting into bigger and bigger stuff and got into street bikes."
He plunked down the money for a Honda CBR600 and said "the rest is history." This all changed though when an IED exploded under his Humvee in 2005 leaving Neider with a wrecked spine and hearing loss. The E-5 Sgt. was "Medically Honorably Discharged" two years later but the spinal injuries continued to haunt him and he ultimately lost the ability to walk. A tsunami of emotions followed, the pangs of PTSD inflamed by the loss of his legs. In 2011, he thought he'd ridden a motorcycle for the very last time.
Then came the game-changing trip to Sturgis with the Veterans Charity Ride. One morning at camp the vets got Richie on a special Indian Scout, one outfitted with hand controls and a Champion sidecar, and he got to experience the thrill of riding again. Don't think that smile has left his face since.
No sooner had Richie returned home to Arizona from the 2017 Veterans Charity Ride than the proverbial wheels were spinning. Turns out the shop that built the red Indian Scout he'd ridden in Sturgis wasn't far from his home, so Richie approached Azzkikr Customs' John Meade about building his own. He scored a 2018 Indian Scout Bobber from Double D's Performance in Scottsdale along with an Avenger sidecar. As word about his ambitious project spread, so did part donations from top companies like wheel maker RC Components and Bassani Exhaust.
"Richie worked with me basically, I'm going to say for the last six months, full-time. If I was at the shop, Richie was at the shop," said Meade.
Richie became known as a hang-around at Azzikr as the project came together. Neider set up his Scout Bobber much like the original, the rear and sidecar brakes controlled by the left hand and the front brake by the right. His custom Indian has a parking brake, too, its button on top of the headlight housing. They ditched the Scout Bobber's stock clutch for a Rekluse centrifical clutch and a jockey shifter so Richie can grab the shifter's grenade-shaped grip tightly and bang through gears manually. The scoot features custom floorboards to secure his feet on while the high slung handlebars are a reflection of Richie's newfound can-do attitude. While he's gone to great lengths to make the Indian Bobber his own, it's the performance-based upgrades Richie talks about most excitedly.
"When we got the bike, we dynoed it and got 74 horsepower at the back wheel. After the addition of a Trask High Flow air filter, Bassani exhaust, a Power Commander 5, and tuning by John it bumped up power output to 97 horsepower," said Neider. "We were messing around outback a little bit and I probably left like a 100-foot black streak!"
While the hop-ups get Richie's blood boiling, the custom Avenger sidecar is the big attention-stealer. Azzkikr whipped up a one-off fiberglass tail, added a pair of headlights to the front, then mounted a metal rack on top of the back panel for his wheelchair.   
"We mocked it up a couple of months ago and once they got the lights in, they said it looked like a face, so they drew a mouth on it and this is how it came out," added Meade.
Decking it out in a P-51 Mustang-like paint job was a fitting choice for a veteran who had begun to once again spread his wings. Richie returned to the Veterans Charity Ride the following year, this time as a mentor and sidecar pilot. For the trip he'd proudly be rocking his own custom Indian Scout Bobber, the 2018 Veterans Charity Ride doubling as an opportunity to shake down his new rig. Joining him in the sidecar for the adventure of a lifetime was Jose "Freddy" Ruiz, Staff Sergeant, US Army.
"Freddy had literally died and they brought him back. And his mental capacity, he had to relearn to walk and talk, feed himself, bathe himself and all that kind of stuff," said Neider.
"Soon as they put him in the sidecar, he had a smile from ear to ear. I imagine that's what my smile looked like, too. Apparently, it made somebody happy, and that was my whole goal, to show that you can still get out there and do this stuff. I mean, hell, for the longest time I gave up on riding because I didn't want to go to a trike. To be shown that I could do a sidecar with a cool set-up and have it personalized to me, that made all the difference."
Richie said Ruiz had such a good time that he now wants to trick out his own ride.  
"They actually stuck Freddy on one of the blue Indian Roadmasters, riding around in the campground. It was pretty cool to see it from this side because they did the same thing to me. He was just constantly smiling and happy and enjoying himself and for me, that made the trip because all I wanted to do was help somebody else understand that they can keep going forward, they don't have to stop wherever the VA says this is as good as you're going to get."
These days Richie's wrenching on other people's bikes, particularly veterans interested in riding again.
"I've helped others do a sidecar set-up. Also did a Can-Am Spyder where I helped move the foot brake up to the handlebars so that he'd have hand brakes because he's a paraplegic," said Neider.
He also got to work on the Veteran Charity Ride's red Indian Scout, the same one he rode in Sturgis, diagnosing why it was acting up and installing a new Rekluse clutch.
The same guy who used to jump out of perfectly good airplanes for fun has also found a new outlet for his thrill-seeking side. Richie recently bought a Can-Am Maverick X3 Max X MR, a high-performance side-by-side with 195 horsepower.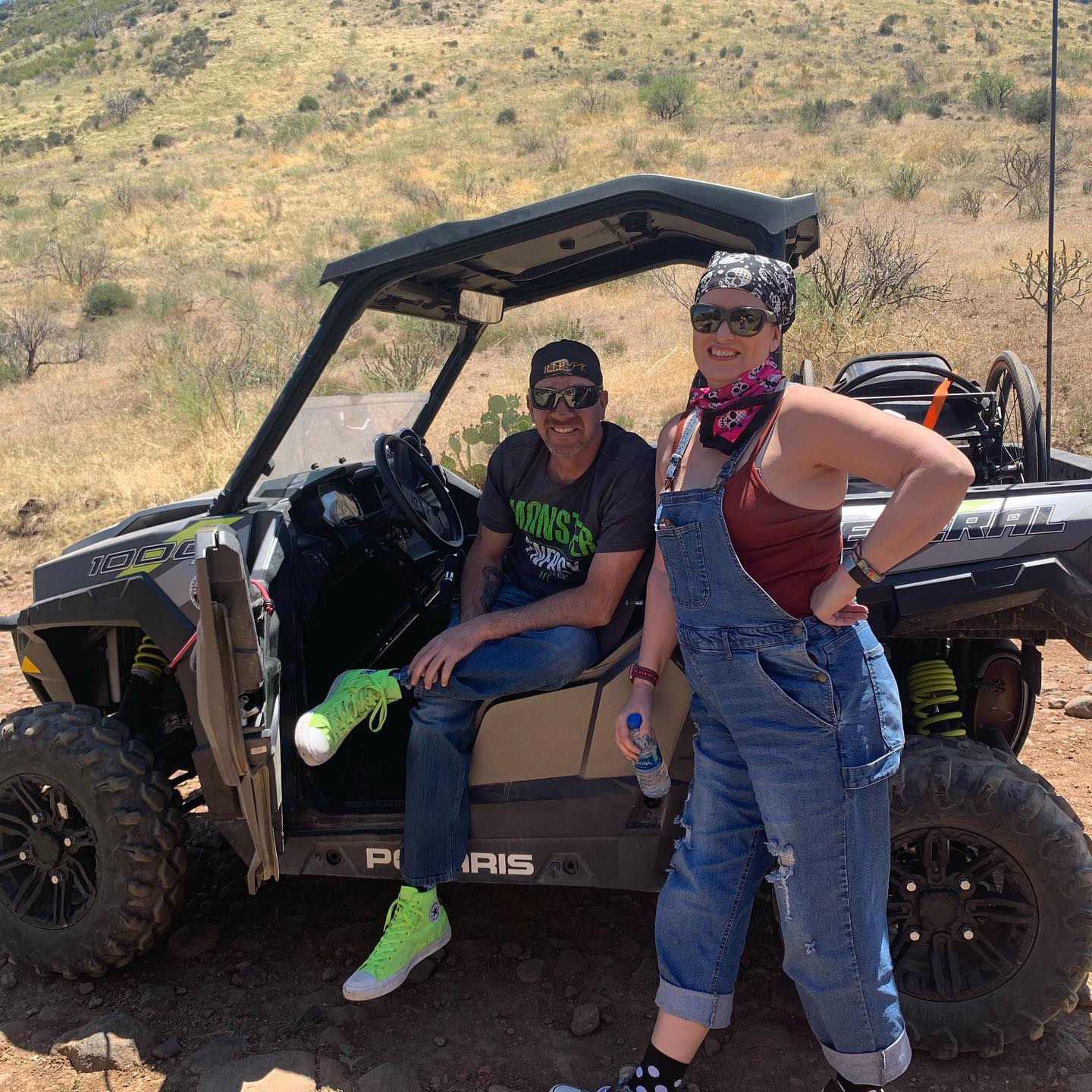 "It's stupid fast. As soon as I got it, I ordered the hand controls and installed them. The race shop here in Phoenix made a wheelchair mount on it so my wheelchair can go with me. Holy shit does that thing want to go!"
Back in March, he also got to go snowmobiling in Buena Vista, Colorado, thanks to Monster Energy Monster, a longstanding sponsor of the Veterans Charity Ride.  Though he'd never been snowmobiling before, it didn't take long before he was fearlessly ripping up Colorado's steep slopes as he's "been trying anything and everything out."
Since participating in the VCR program in 2017, Richie has also helped start an informal group called the VCR Alumni Program. For the past couple of years, they've invited other vets who have gone through the program to join their ride to Sturgis and stay in a cabin.
"It's usually my buddy Jack who I met through VCR, myself, Wardog, and Ian Freeman," said Neider. "We do the run every year and are usually joined by a couple of new people from the program. We do it outside of VCR but go to Moab first and hang out with the new vets in the VCR program, get them all hyped up to do their trip, then we take off and do our route. We'll meet them at Devils Tower in Wyoming then do the ride into the Indian dealership and Main Street Sturgis with them. It shows that there's life after VCR, but we're still a part of the VCR family."
When VCR founder Dave Frey came up with the idea to help other veterans through moto-therapy, Richie's results are exactly what he had in mind.  Through the power of two wheels and the camaraderie and support of fellow veterans, the open road can help heal even the deepest, darkest wounds. "Two Chairs" is living proof.
For more about The Veteran's Charity Ride visit their website and follow them on Facebook, Instagram, and Twitter.
"If you have been involved in a motorcycle accident, don't let it steal your freedom! Call 1-800-4-BIKERS to learn how an experienced motorcycle accident lawyer can get your bike fixed, money for your medical bills, and compensation for your pain and suffering."