Greg Lutzka is a skateboarder's household name. He's an OG in the skate world and has been a trailblazer for most of his life. He's the kind of skateboarder you see in mainstream skate videos, or on video games. Greg has been in commercials, Snoop Dog videos, he was on the TV show Wipeout, and recently he was even on Jimmy Kimmel Live skateboarding behind Avril Lavigne as she sang a new hit.
As Greg got more established in his skateboarding career and used his hard work in the skateboard industry to build his personal life up. He moved from Milwaukee to California, got into real estate, and also got himself a motorcycle. Being a Milwaukee boy, it's hard to stray away from being a motorcyclist, or a Harley Davidson fanatic! So as Greg got more and more into motorcycles and riding, he landed himself a sponsorship with Harley.
Because of Greg's heavy-duty resume in marketing himself in the skateboarding industry, he used his skills to make his new motorcycle hobby become a bit of a business. That's when Lutzka's garage came to life. Greg created an online distribution channel where you could buy parts for your bike. This also opened up opportunities for him to create collaborations with companies such as Saddlemen seats who now make a signature "X Lutzka Pro Series" seat.
It's specifically made for FXD Dyna's so check it out if you have one!
Greg also has a collaborative exhaust pipe he made with the company Bassani Exhaust. It's a 2-1 Dyna pipe that's really awesome – I've seen it in person and when I get myself a Dyna, I'll be hitting up Greg for a discount for sure!
It's safe to say that Greg has a cool job and a cool life. I was asked to write this article on Greg because he and I recently became friends. We both came from the board-sports world and it's very common to see other skateboarders, surfers, and snowboarders come over to the motorcycle realm – so we have a lot to talk about and a lot of mutual friends. There's a cool piece of a person's brain who likes extreme sports and I believe that goes hand-in-hand with riding motorcycles. Greg is a perfect example of that belief. So when Russ brown asked me to interview him, I knew it would be a breeze. Here's some more about him in his own words:
Who are you and what do you do?
My Name is Greg Lutzka. I'm a professional skateboarder and motorcycle enthusiast!
Where do you spend most of your time?
I spend most of my time traveling or at home hanging with my friends skating and riding motorcycles.  I really enjoy planning adventures either skating or going on motorcycle rides and trips.
How did you get into the motorcycle world?
I pretty much grew up in Milwaukee riding dirt bikes at a very young age. I've always been a HUGE fan of Harley-Davidson and as I got older I got into riding Harley's. I ended up being lucky enough to get sponsored by Harley-Davidson and from that point, I had a passion to help build badass motorcycle parts !! Over the past years, I've been designing motorcycle parts and recently released a Signature line of Saddlemen seats and BassaniXhaust that became Bassani's best-selling pipe. I also feel very blessed to be now working with Russ Brown and enjoy going to lots of different motorcycle events!!
What is the correlation between skateboarding and motorcycles? Seems like a lot of snowboarders/skaters venture into the motorcycle realm!
I think at the end of the day I'm an adrenaline junky. I enjoy doing crazy shit on my skateboard and going fast on my motorcycle. It all goes hand in hand !!
Tell us about your bike.
My bike is a 2017 DYNA Low rider with a custom paint job with @2lefthands. Big shout out to BassaniXhaust, Saddlemen, Biltwell, Feuling, Legends suspension, Alloy Art, Progressive, Memphis shades, and Moons MC.
Where are your favorite places to ride around OC?
I'm always stoked to go ride Ortega or go rip the Santiago Canyons back by Cooks Corner.
Have you done any big motorcycle trips?
I've done a ton of motorcycle trips but one of my favorite ones so far has been the Laughlin River Run. It's one of the largest motorcycle rallies on the west coast !!
Tell us about Lutzkas Garage?
Lutzka's Garage is a Motorcycle shop that I created a few years ago that I focus on only selling my favorite brands in the motorcycle industry along with my signature Bassanixhaust & Saddlemen seats. We also upload cool content and rad videos of us all riding!!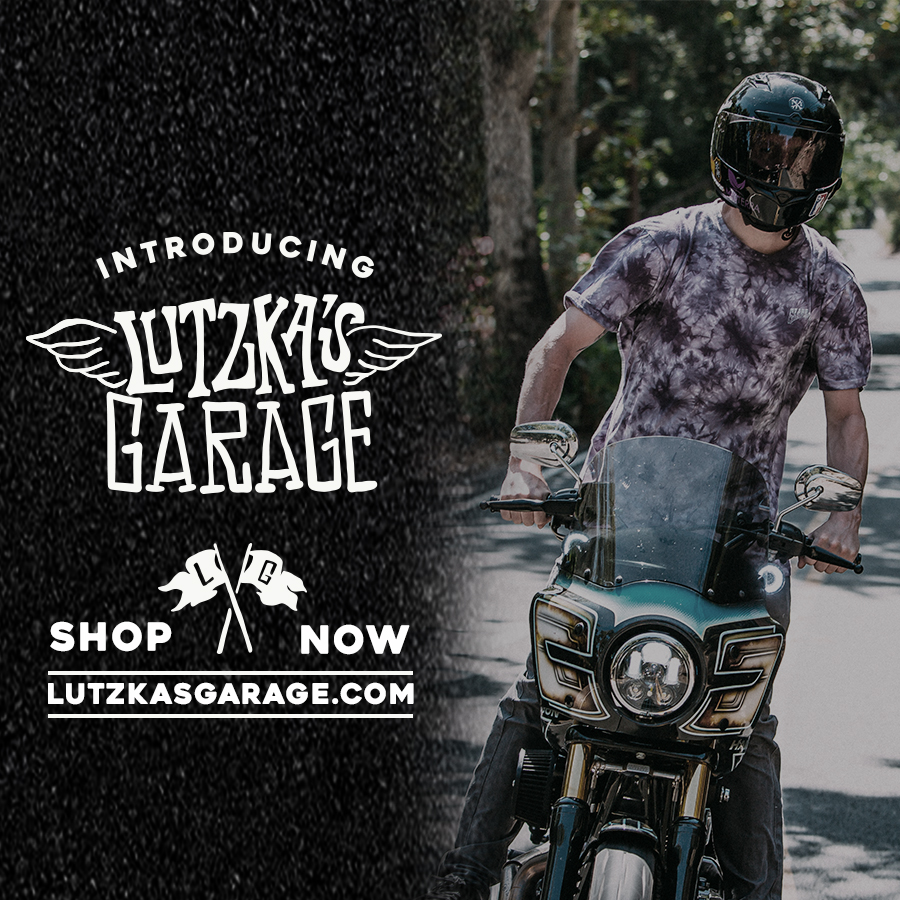 Got any big plans you can fill us in on?
Right now I'm working on a few different projects !! I'm working on filming another full-length skate video part and I'm also building at the moment a badass skateboard rack that will fit on all Sportsters, DYNA's & M8 Soft tail Motorcycles.
How do people find you?
If you want to check out my Instagram, Facebook, Tiktok, Twitter, Linkedin, etc. Check out @GregLutzka & @LutzkasGarage – www.GregLutzka.com & www.Lutzkasgarage.com
Thanks for chatting with us, Greg! Make sure you follow along with Greg's journey in the world of motorcycles and be sure to say hey if you see him at any Russ brown sponsored events!
Interview by Becky Goebel