Sade Sanchez is someone I've always admired. When I first saw her band, L.A. WITCH, play at Babes Ride Out 5 years ago – I couldn't believe I was looking at an all-women band that sounded so awesome and just, different. Since then, I have been to 5 of their shows and listened to their music religiously.
At the Harley Davidson 115th Anniversary Party in Milwaukee 2 years ago, I went to their show at a local biker bar and had the chance to actually meet Sade. She told me she also rides a motorcycle and I just thought she was just the coolest. After that, I moved to LA and we linked up as real friends.
I invited Sade on our Kernville "Hell Ride" – a story I had written for this blog last summer – and she came with. I was stoked there was another girl there who was a great rider. I left from Kernville that weekend later than everyone else and had heard that Sade crashed her bike on her way home, but she was fine.
A few weeks later and I saw Sade on Instagram tearing her broken-up bike apart. She was cutting it in half, welding it, stripping paint – the whole works. I was like, what is this chick up to!? Sure enough, she decided to take her crashed little Sportster and make it into a badass, women-built chopper!
It's been an absolute pleasure watching her this past couple of months. Not only building a bike almost entirely on her own but also write and release an album with her band and create a song and music video about motorcycles – which she filmed at my boyfriend's Motorcycle Shop, Hawg Supply.
Sade is one cool and well-rounded lady and it's truly inspiring to watch someone bounce back from a motorcycle accident like this. She's someone to keep up with and follow because she's always playing shows all over the world, riding her bike, exploring with her dogs, or doing something cool with her boyfriend who's actually a professional skateboarder and another all-around cool human.
Here's a little bit more about her and the story behind her build:
Who are you and what do you do?
My name is Sade. I was born and raised in L.A. and amongst other things, I play guitar and sing in a band called L.A. WITCH.
Tell us about L.A. WITCH?
My band formed in 2013 and with the exception of this year, we've been touring heavily since we started – mainly through Europe and the U.S. We're a 3 piece band, all born and raised in L.A. hence the name. We released our second full-length record this past June titled 'Play With Fire' on our label SuicideSqueeze.
What is your bike?
I currently ride a 1988 Harley Sportster 883. I also have a 1952 BSA in pieces that I'm working on.
Tell us what happened to you this summer with your 883.
Uhh, haha, well, a few friends, my boyfriend, and I took a trip up to Kernville. It was a pretty rad little trip. On the way back home we were riding towards Tehachapi on a 2 lane road. It was pretty windy and we were hauling ass. We all wanted to get home quickly after spending the weekend in 110-degree weather. When we turned a corner, there was a car stopped in the road.
In the opposite lane, there was a hotshot crew truck since there had just been all these wildfires up there. We had to brake fast since we couldn't get around the stopped car. I saw the car turning the corner, panicked, and slammed on both my brakes, and skid out. I broke the mount for my rear brake and twisted my hand controls on my handlebars. My footpeg and brake were dangling off my bike. I was all shook up and had some road rashes on my arms and legs.
I wanted to just keep riding but my boyfriend knocked some sense into me and had me sit back for a bit and gather myself. At that point, we kinda just thought we should tow my bike. They took forever tho and the rest of the crew we were with had made their way back home. It was just my boyfriend and me on the side of the road waiting and it was getting dark. We tried to twist the controls back into place so I could just ride back with my front break but we couldn't. The sun was down and I was over waiting around so I told my boyfriend I was down to ride to the next town with the way my bike was. It was dark out and we were going up and down some mountains. I had no control of any of my brakes and I was kicking it into gears cus my clutch lever was bent forward and my hand could hardly reach it.
Riding through the darkness with just my headlight to light a few feet ahead of me and the light from the moon and the stars were really terrifying yet hauntingly beautiful at the same time. I thought of all these crazy scenarios of what could happen to us in the middle of nowhere in the dark night in my head cus I watch way too many horror movies. haha. We eventually made it to a hotel and it felt like the longest ride of my life. As terrified as I was tho, I'll always remember it as one of the most beautiful rides of my life.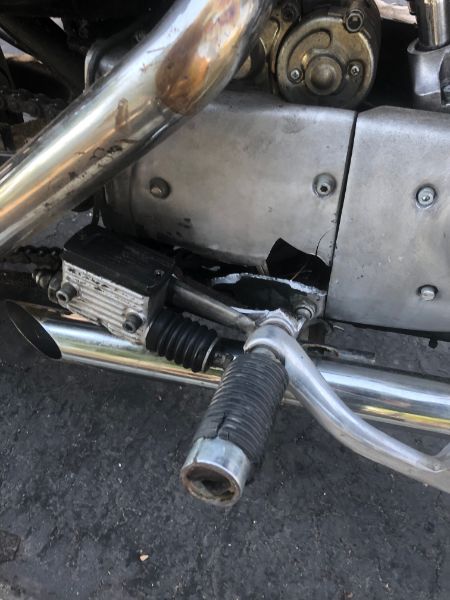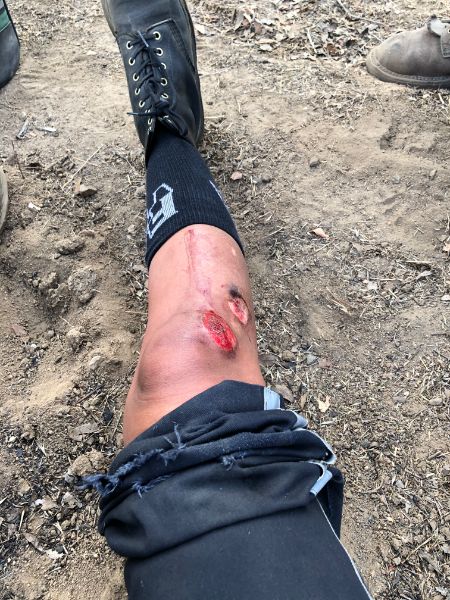 What inspired you to build your chopper?
I've always been in love with the idea of being self resilient. Growing up I watched my father who is a machinist build and fabricate in his shop and work on his car(s). I was the kind of kid that would never take something apart no matter how curious cus I feared not being able to put
it back together again. And yet, here my father was, making things last forever, constantly taking things apart, making them better, fearless, knowledgeable, and always with a solution.
I got of sense of being self resilient from all the years of touring. You have to learn to let go and let the road take you. That's not easy for someone who desires structure and routine such as myself. But eventually, your fight or flight mode kicks in and you just say fuck it. Rebuilding my bike was the first step to accomplishing that feeling.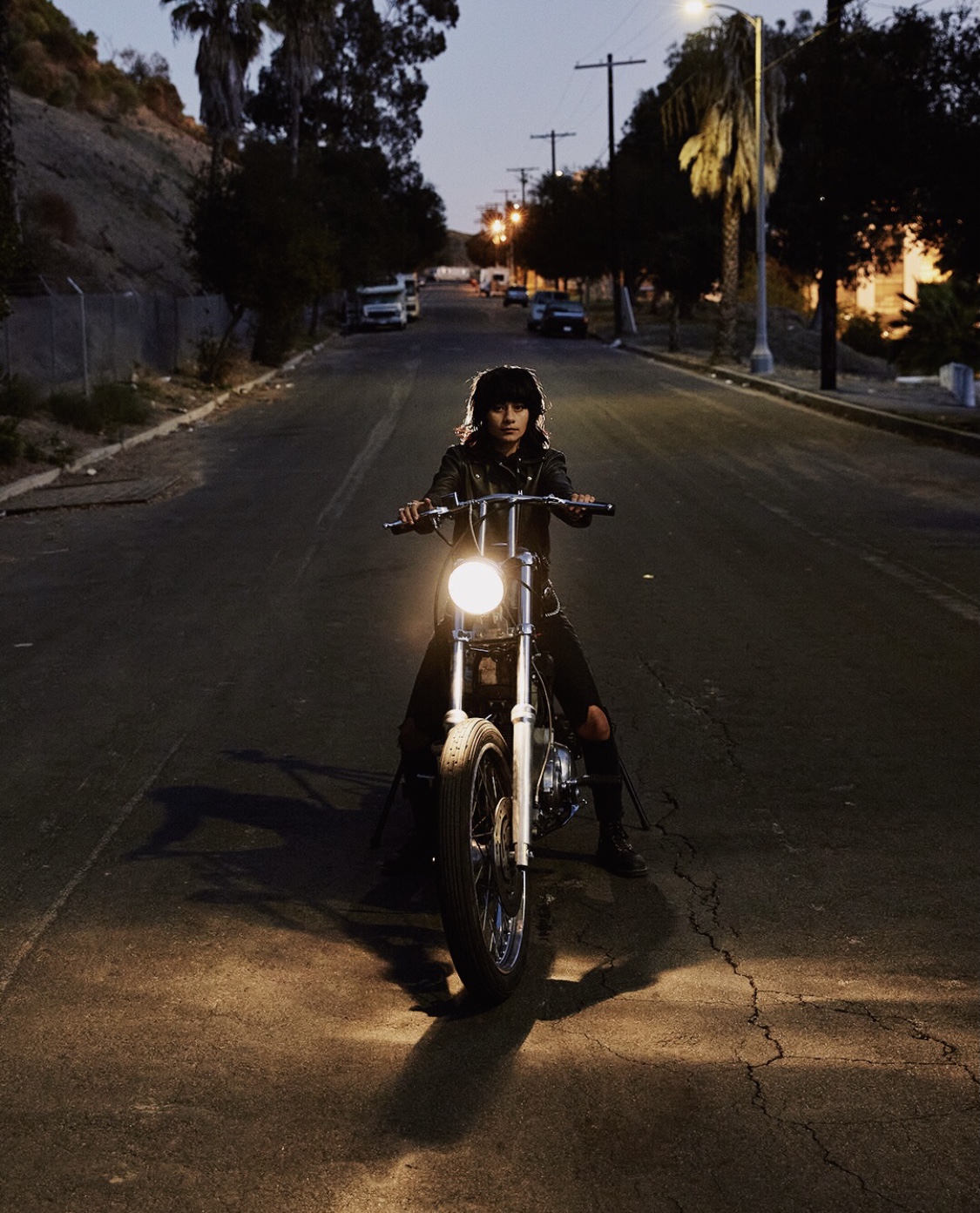 What did you do to your bike after the crash?
Well, I made it to a hotel in Tehachapi and the next morning I felt like shit. There was no way I wanted to ride the way I had done the previous night so we called a friend who was down to pick us up. That was really cool of him. Thanks, Grant! When I got home, I already had the frame and my bike was already kinda f'd up so I just started taking it apart to rebuild it.
Tell us about the build.
This was my first time doing any major work on a motorcycle so I definitely had a lot of help. A LOT. Haha. I got help taking the bike apart, pulling out the engine, and stripping some of the paint. When I first got the bike it was all blacked out. It was too much black for even me and if you know me, you know that I love black.
I stripped it and polished a lot of it along the way. I got help rebuilding the engine and transmission. I rebuilt the front end, plated the triple trees, and gave it new seals. I also made some custom exhaust pipes (thanks to Biltwell who hooked us up with the DIY exhaust pipe kit). I started learning to weld when I got this bike. My friend Stefan did a majority of the welding and was the one who mainly helped with a lot of the work.
Since the engine was already out, we took the heads and cylinders off and took them to Phil at Cycle works. He rebuilt the heads and machined the cylinders (that was probably the most expensive thing that was done to the bike). He also helped customize some mounts including the rear brake mount and did the electrical.
I had this idea of making an interchangeable sissy bar for traveling and for cruising around the city. It's kinda hard to explain what that custom piece looks like or how It works but basically some reverse threading on a connection piece to change out the sissy bar.
I had made a seat pan and some handlebars but didn't end up using them. My boyfriend gave me a seat set from River Seat Company. The frame was already chopped by James at Livin' Co. And yea, I mean, there's mores to list but that's the big stuff.
Sade's bike before the build:
After:
Do motorcycles inspire your music? If so, how?
I mean probably like subconsciously? Ha. When I wrote the song 'Motorcycle Boy' it was concise though. I was kinda stuck at one point writing for the album so I decided to try something different. I played a bunch of moto films like Kenneth Angers 'Scorpio Rising', 'Girl on a Motorcycle, 'Rumblefish' and a bunch of moto b-movie's on my projector while I played guitar to see what would happen and I guess that song is a result of that.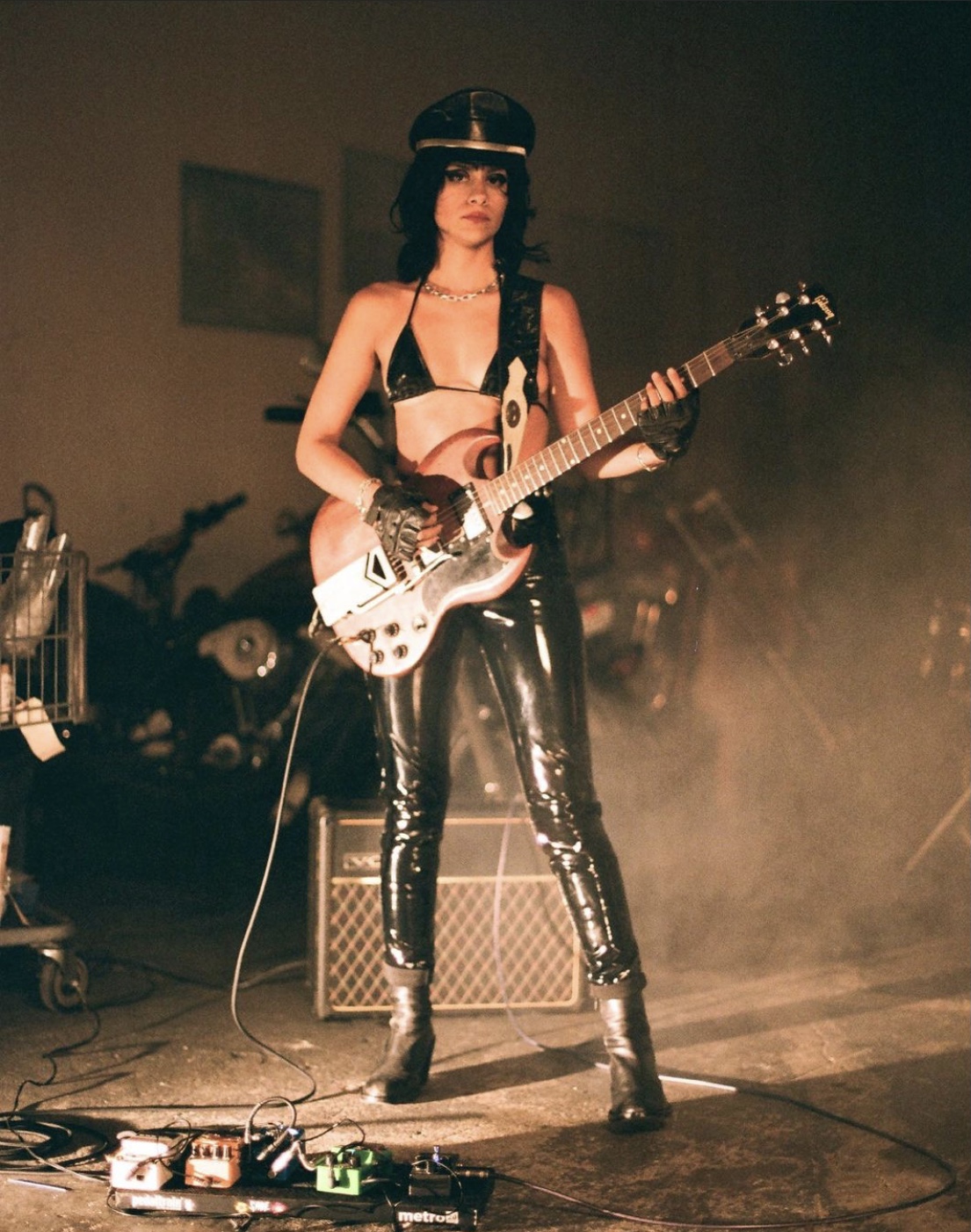 What are your other inspirations for the music you write?
It's mostly current feelings. Lots of love songs. But I realized I had to push myself out of writing only love or heartbreak songs. I started paying attention to current social issues in the world and have been trying to write about them. For example 'Gen-Z' was about the high suicide rate due to pressures of social media. Sometimes I just make up my own words or stories and write about them. I find inspiration in a bunch of other stuff tho. I like watching films, photography, architecture, etc.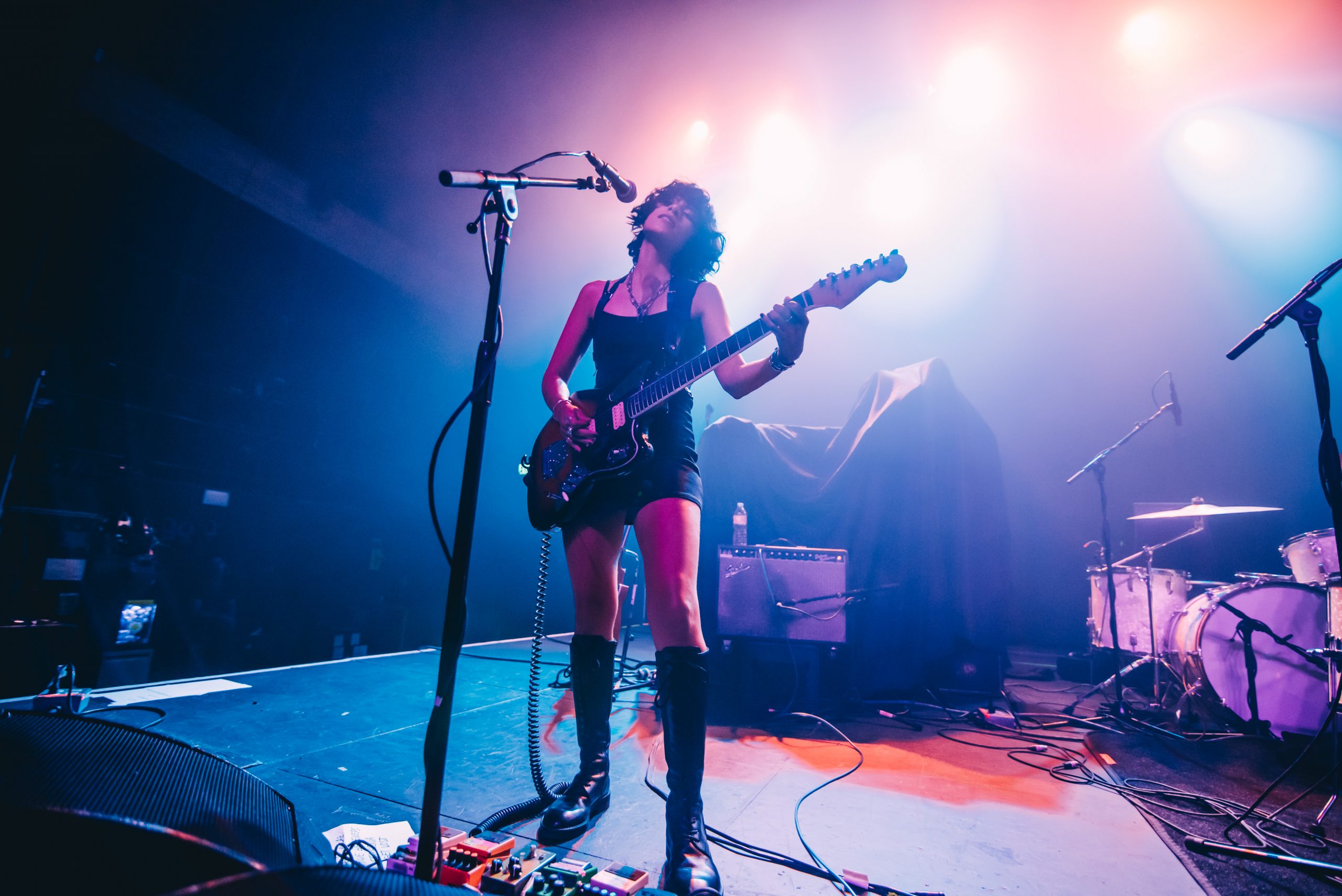 Tell us about your Motorcycle Boy music video?
The video was directed by our friend @ambarcutie. Her team did an amazing job. We wanted to capture a tragic and romantic love story and combine it with the core of motorcycle culture which to me is about freedom and rebellion. The song is about falling in love with a motorcycle boy and the fear of losing him forever to the road. In the video, the band is chasing the ghost of their Moto boy who was played by my good friend Tony Bang. It was pretty fun shooting. We shot part of if in Lancaster and at the homie Cody's sick bike shop Hawg Supply.
How do people find your music or more about you?
Instagram: @la_witch and @Sadessanchez
Motorcycle Boy Music Video:
L.A. WITCH WebSite: https://linktr.ee/la_witch
FACEBOOK: https://www.facebook.com/lawitches/
BANDCAMP: https://lawitches.bandcamp.com/album/play-with-fire
MERCH: https://lawitch.merchnow.com
Thanks for your time Sade! Can't wait to ride next to you again on our Sportsters! Keep up with Sade and her band. You can find their music anywhere you listen to music!
-Becky aka @actuallyitsaxel
"If you have been involved in a motorcycle accident, don't let it steal your freedom! Call 1-800-4-BIKERS to learn how an experienced motorcycle accident lawyer can get your bike fixed, money for your medical bills, and compensation for your pain and suffering."