I am privileged and proud to have joined tens of thousands of riders across the globe to raise funds and awareness for prostate and testicular cancer research and men's mental health and suicide prevention programs through the Movember Foundation. My first, of many to come, Distinguished Gentlemen's Ride.
Distinguished Gentlemen's Ride – September 27th, 2020
Santa Cruz Ride with Bex and Buddies
Ride Solo Together Poster- 2020 DGR
Launch: Sea to Skyline
Skies clear, sunny, yet a crisp morning. I had dusted off my distinguished duds, tuned my steed, to ride with others across the globe for men's health in the 2020 Distinguished Gentlemen's Ride.
Fueled and caffeinated, a few fabulous friends and I share some exciting words about the DGR mission: combining motorbikes, and men's cancer prevention and health awareness-how rad! Stoked to ride our two-wheeled loves for a great cause, we threw our stylish legs over and launched from a café in Scotts Valley, a moto-hub mountain town of Santa Cruz County.
Santa Cruz, California, 2020 Distinguished Gentlemen's Ride participants, riding Solo Together, respecting Covid19 modifications to this unprecedented year's DGR



Bikers: A Kind, Caring Community
Leila leads us on a cool cruise down a mountain, on a narrow, often one-lane road, following a redwood forest streambed. We shot out under a tunnel and into downtown. Our SC DGR crew saw some buddies and had an impromptu gathering at the Santa Cruz Courthouse.
A perfect stop for many reasons, but most unique was how the Universe reunited the beanie baby I rescued from the intersection with the little boy who lost it. His grateful father took photos so we all were included.
Sharing (and caring) our men's health mission, this father visiting from Brittan, was so moved he photo us for his album!
…small acts of kindness and caring communication make large ripples of good in our community and beyond…
Santa Cruz, County Courthouse, a planned stop with unexpected friends, opportunity to share the DGR mission, and even a heartfelt reunion



A Roundabout the Boardwalk: Santa Cruz Landmark
Santa Cruz and Boardwalk are like Paris and Eiffel Tower. Can't go to one and not see the other. Our classy crew, new supporters in tow, navigated about the tourists to indulge in smells of cotton candy, views of rollercoasters, and sounds of little and big humans' laughter.
Santa Cruz Beach Boardwalk rides, arcades, and miniature golf are canceled, due to Covid19, but the virus hasn't taken away the joys of breathtaking views, beach volleyball, sand sculptures, the Wharf, surf spots, sea lions, ocean-front dining, carnival food, and the Boardwalk itself

Pacific Coast Highway: A Couldn't Be Better Day
We headed north, out of Santa Cruz, up the PCH, wishing our surprise riding buddies awesome asphalt adventures as they headed south. Ladies in lead, Leila, Julio, Keith, and I opened our throttles, sang the song of the wind, as the salt of the sea kissed our skin.
Saying hello to Pigeon Point Lighthouse SP ranger, we shared our mission requesting a photo. Being a two-time breast cancer survivor, she celebrated Movember and the DGR, happily obliging with this photo

Alice's Restaurant: Gearhead Icon
Before our late lunch, Julio and I enjoyed many miles of breathtaking seaside views before we dipped into the Santa Cruz mountains to dance along perfectly banked sweepers winding us up to Skyline. To add to the jubilant jaunt, our Russ Brown buddies were enjoying the delicious day at Alice's too! With their Riders Helping Riders program they are experts at Riding Solo Together.
As the song should say, "you can see anything you want at Alice's Restaurant". Sure you can get good eats at Alice's, but it's the machines parked at Skyline Blvd and La Honda Rd. that make me, and numerous others, salivate.
Alice's Restaurant, La Honda, CA., a destination point for every motorhead, a phenomenal ride for all.
Painting from Alice's Facebook


Return: Skyline to Sea
Rides and riders refueled, we added one more unexpected rider to our DGR adventure, a friend to our community, Luis, a local rep for Russ Brown Motorcycle Attorneys. The three of us raced the sun down the Santa Cruz Mountains to the Pacific Ocean many twists and turns below.
Sempervirens Point, Highway 9, Boulder Creek, CA offers breathtaking views of the Santa Cruz Mountains, Pacific Ocean to Monterey (on a smoke-free day)
If you take time to 'smell the roses' you'll find all sorts of beautiful wisdom along life's ride, this one is on Hwy 9


Santa Cruz, DGR: Making a difference and doing dapper on steel horses!
It has been said many times, and should many more, that the riding community is the best!
Although we only had days, we raised over $1000 to help the Movember Foundation fight for men's health and wellness.
As if that wasn't awesome enough, we then dressed in our most dapper digs, and rode our motorcycles in the city, aside from the sea, and through the mountains sharing the DGR mission, building awareness, and making friends along the way.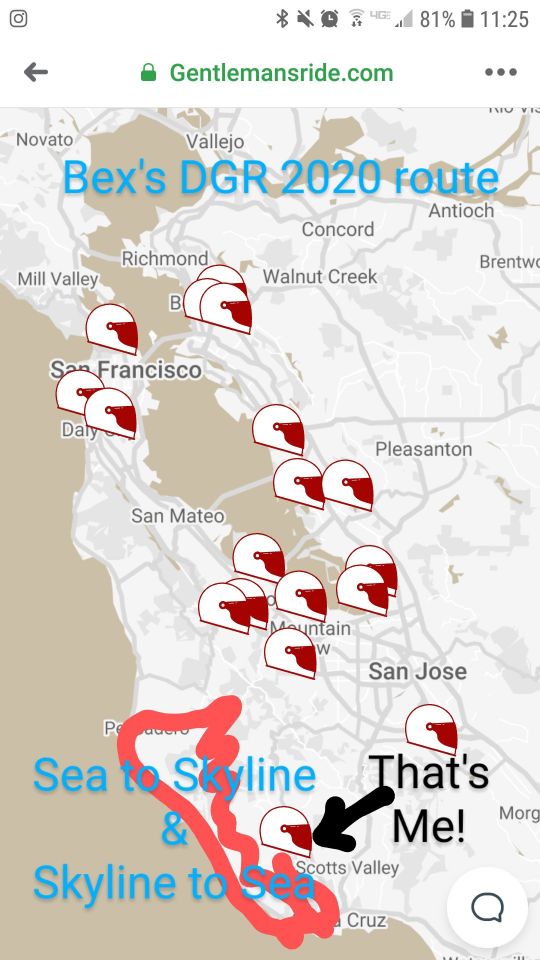 A doodle on the DGR map, of our moto bebop about the Santa Cruz area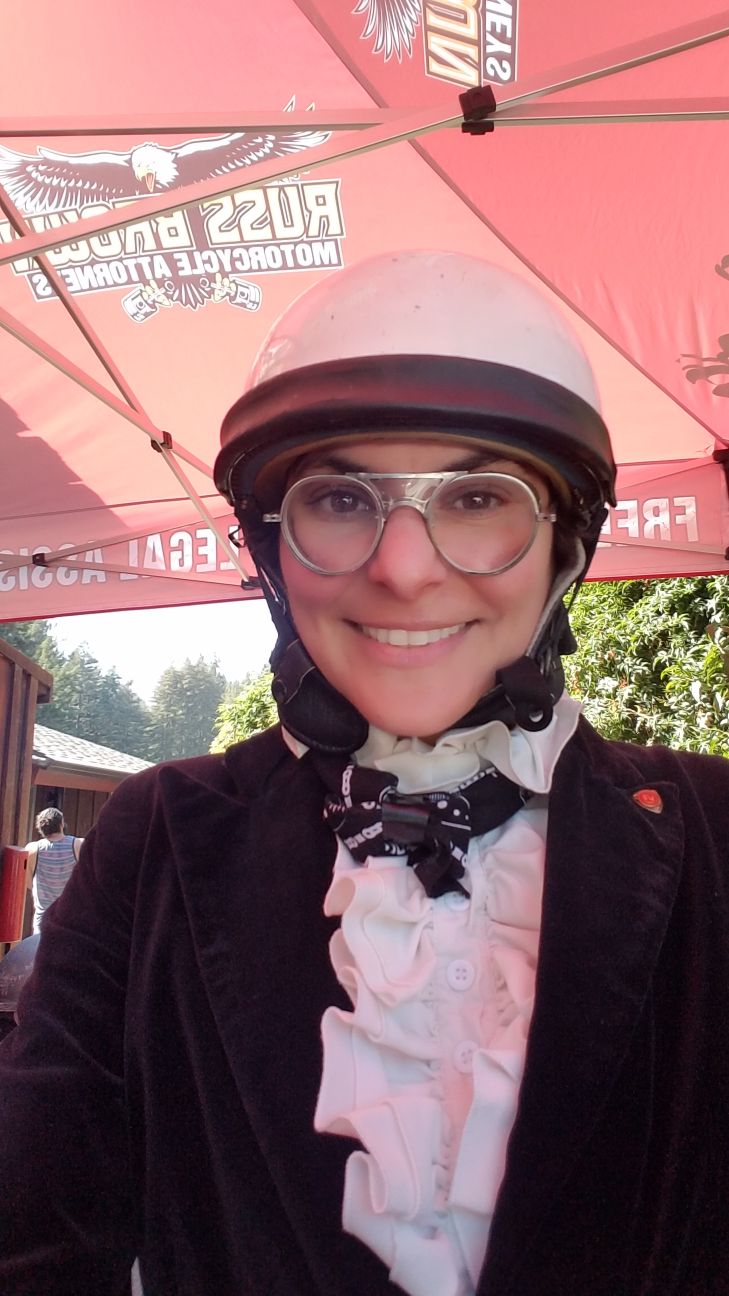 I can't wait for next year!
Licking dried salt off my smiling lips,
perfectly complimented the sweetest of days!
Be kind,
Bex
🙂
"If you have been involved in a motorcycle accident, don't let it steal your freedom! Call 1-800-4-BIKERS to learn how an experienced motorcycle accident lawyer can get your bike fixed, money for your medical bills, and compensation for your pain and suffering."