Sean Rucker started Sportbike Chic, a women's motorcycle apparel and accessories line, in 2016 – from absolute scratch. Sean's mission is dedicated to fitting women regardless of their size.
"With the growing number of women motorcyclists and passengers out there, there still seems to be a gap in what's available.
What we do is provide the protection every woman deserves.
We want them to be able to enjoy the riding experience and get home as safely as possible with gear that fits because it's sized appropriately for them."
It is one thing to notice that there is a gap in the market, but it's another thing entirely to decide to create your own brand. Sean admits that Sportbike Chic evolved from a desire for better gear for herself.
"At first it was more selfish, just noticing that there was a gap in what was available. As I grew in my motorcycle journey, I wanted more gear, I wanted more options and I wanted to make sure that every ride was the safest possible. Every place I went, they didn't quite have anything my size, and I was kind of disappointed."
"Then I had some conversations where, in the whole grand scheme of things, some of these ladies were just "used to" that environment.
By that time, I was frustrated enough to want to do something about it, to look for manufacturers, to design some jeans, and to actually start a business."
Starting from scratch posed a huge challenge, but Sean is all about breaking down barriers. After all, when it comes to starting something new, knowing where to start is half the battle.
"I had no idea. I was just scouring the internet with searches for manufacturers. I've been backing this business by myself from the beginning, so I had to look for someone that was open to working with a small business."
"Most important to me was ensuring that the manufacturer provided clear communication and quality products.  The technology was key in ensuring each vision was properly realized.  There were not many manufacturers who were willing to accept the work, especially not in the US. I was able to find one overseas that has been super helpful and helped me grow."
It took several years before Sean even had prototypes in her hands, which is pretty standard in the apparel industry. But Sean was doing something different – she created an entirely new size range and shape that wasn't already available in the moto gear design sphere.
"It was about two years in the making, just trying to make sure that the communication was right, the prototype was right, the expectations and the design, all of that stuff was right. When it comes to the fit, traditional manufacturers go by what's normally out there because that's what they've always done."
It takes someone to actually make an invested interest for size expansion to happen in the US market.
So, if no one's actually bothered to do it, manufacturers seem to go with what everyone else has. I wanted to get away from that. I wanted to have something very specific for the US market because that's what I saw and that's what we needed. That was the niche that I was looking to fill."
Sean didn't go to fashion design school. However, she hired a professional designer in her home state to help with the fundamentals. Sean has also done her research in the most grassroots way possible, and it has absolutely paid off.
"There's no 'one shape' for the US woman. Absolutely not. Attending different events all over the country, I am able to observe all these different shapes and just really take note of all the sizes that women actually come in. That's how I build new apparel shapes and sizes with my designer." 
It hasn't all been smooth sailing for Sean throughout her journey. She's received some pushback and had to jump over some hurdles to get to where she is now.
"There are some folks that are less receptive to me when I call dealerships trying to get my products into their shops, and I prefer not to speculate on why that is. However, I am grateful to everyone who has given me the opportunity to present my products. One of my goals this year is to expand our partnerships."
"Aside from that, I think finding a manufacturer that I could effectively communicate with was my biggest challenge. Nothing could be taken for granted or assumed with the language barrier."
"I've learned that it's important to know your focus and be able to go your own route regardless of where other people try to steer you.

 

Be open to guidance from your mentors, listen to your customers and consultants, but always remember your focus."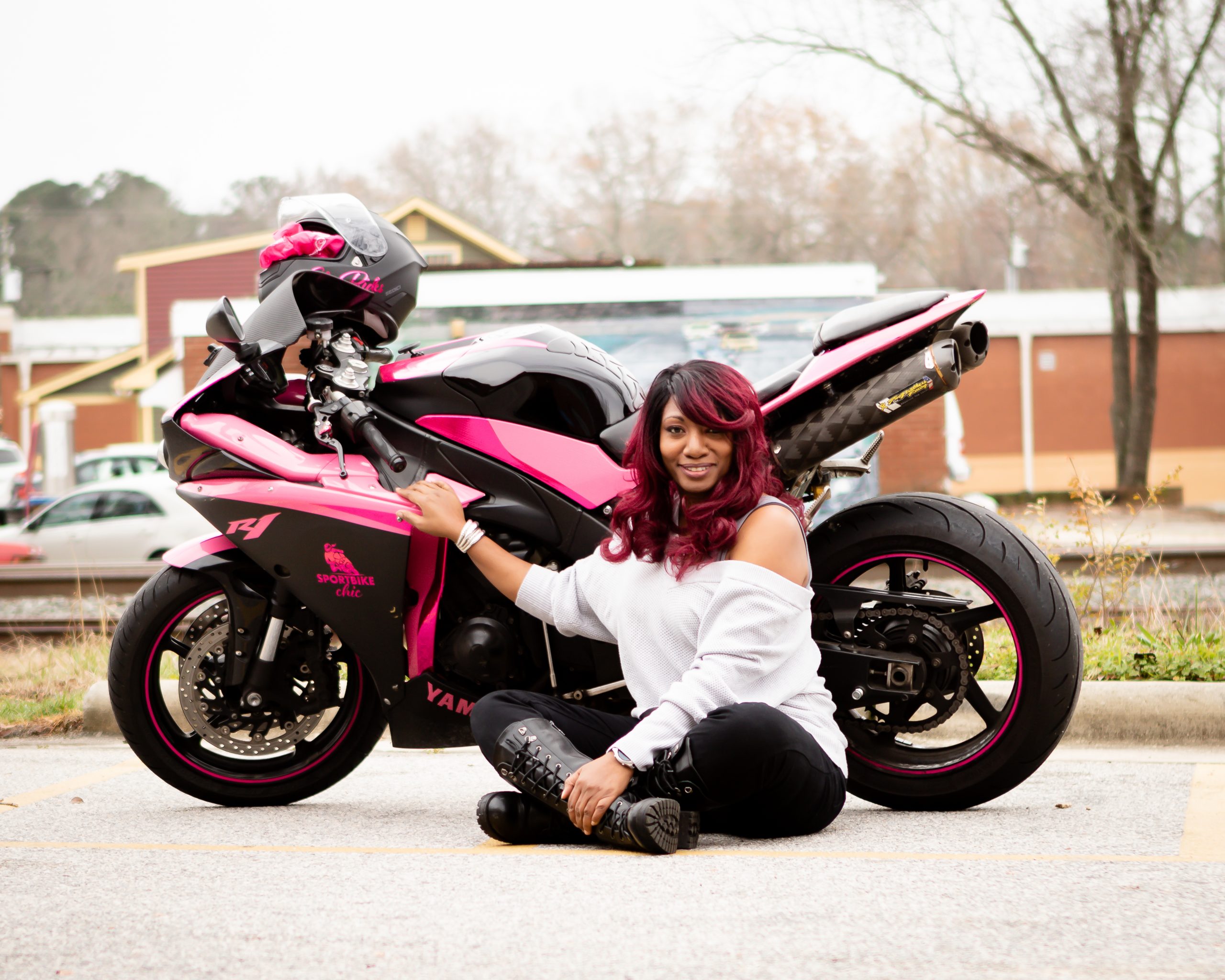 Fortunately, Sean possesses a few character traits that she feels have been integral to her success.
"Energy. Tenacity. Understanding your 'WHY.' I'm sure many people would say my stubbornness. Somebody had to take the leap. I'm definitely glad that it was me that made the choice to say, 'Okay, I'm going to do this. I'm going to build this. I'm going to design this. And I'm going to do it for someone else."
I think women are important enough. I think women are always underserved – and dare I say the underdog – because we are nobody's underdog!
We are so underrepresented more often than not. I think there is such an opportunity for us to do more and give more and allow women to grow into this motorcycle lifestyle in a safe manner."
When it comes to continued success, the biggest barrier between women riders who are looking for something that fits and the Sportbike Chic brand is simple exposure, according to Sean.
"If there's a problem, you go to the source. The problem with getting women to seek out, find and purchase motorcycle gear is their awareness. If I had unlimited resources, I would make sure that every woman knew that we exist, which would then give us the opportunity to serve them.  From there, my expectation is that my products will be representative of what they need.  If not, that's where the work continues."
Serving others in the motorcycle community is a large part of Sean's life. She's partnered with BUDS, a non-profit that helps downed riders who have been injured, and is actively involved in her local motorcycle organization's community service events. Sean also recently earned her Motorcycle Safety Foundation RiderCoach certification. 
Her goals for the future revolve around continuing to thrive and helping others thrive as riders and humans in general. Sean didn't start this journey to be seen as a role model, but her hard work and dedication have opened up doors she never expected.
"I want this to be just the beginning of something big. I want women to know that there is something out there for them.
I want to prove to myself that this can be done, that I built something that works and I'm able to give this gift to women in the motorcycling community all over the world. I think that means something."
"I'm not quite sure where this will end up, but I definitely hope that I'm someone who is able to give a voice to women. If that means being an example for a little girl who wants to do something bigger, like ride motorcycles or be an entrepreneur, then I'm okay with that."
"If you have been involved in a motorcycle accident, don't let it steal your freedom! Call 1-800-4-BIKERS to learn how an experienced motorcycle accident lawyer can get your bike fixed, money for your medical bills, and compensation for your pain and suffering."