The world of motorcycling owes a lot to Hessian Spike, yet few people know who he is. Holding positions with the National Coalition of Motorcyclists (NCOM), the Confederation of Clubs (CoC), and ABATE of California (among others), Spike has done more than his share to fight discrimination against bikers, all while holding a day job and a patch in a well-known 1%er club.
It's hard to know where he finds the time since 1%er life by itself can be a full-time job, let alone navigating through the political world of organizing multiple clubs and independent riders against government overreach. Bikers are famously individualistic, after all.
Still, Spike had enough time to host me at his California home one afternoon, where we were able to talk about what got him into bikes, how he came to America from his native England, and what keeps him going strong after decades in the 1%er world. As usual, we start at the beginning.
RBMA: So, what got you into motorcycling? I know your dad was a motorcyclist, but what are your earliest memories of bikes?
SPIKE: I can remember loving the motorcycle scene, as a tiny little guy, I think it was in our first or second car, going down to the coast in southern England. A pack of Hell's Angels went past and… people think of the Hell's Angels in America, but they started [around] the same time in England. They started out here [in the U.S.] in '48 I believe, and we [also] had Hell's Angels out there at an early stage in England.
I remember a pack going past, and I was glued to the window, watching them going past, and I remember thinking, 'wow, I want to do that one day.' And yeah, my dad was into motorcycles, he had a Triumph Super Twin. […] He and a friend, both of them had [Vincent] Black Shadows, but unfortunately, his friend had an early demise with a New Forest Pony, a type of horse that runs wild in southern England.
So that left a mark on my dad, but he vicariously lived his life on bikes through me since then. My first bike I ever bought, at only 16 [years old], […] I traded in my bicycle, which cost more, or was worth more, than my first bike, which was a Triumph Tiger Cub, the 200cc. A lot of my friends at school were into bikes, so people in the metal shop were making parts for their bikes.
[…]  I had the king and queen seat with a big ol' sissy bar, I had apes on it, and in England, we used to put these long wing mirrors on top of our handlebars, so they were only good for looking out for low-flying aircraft.

Hessian Spike at age 17.
RBMA: So, it sounds like from your very first bike you were interested [in the custom scene]. With so many different ways to go in motorcycling, did you just find yourself gravitating to Harley's and the custom scene?
SPIKE: Back then, I believe 1971 or '72, I had a person that lived across from my house, and he was [riding] the bigger motorcycles. I used to be in awe of them, […] and I remember, the coolest bikes back then were the ones with the minimum of attachments. If your seat was a Corn Flakes box, folded up, that was the coolest [laughs].
[…] And in fact, they're getting a second wind now, the cafe racers. I see the very bikes I started out on in shows, and ironically, as a patch holder, I can't get into those events to share the old stories with these new guys. [For example], we have this big event here in California and the police have put their foot down.
Even the organizers– I've spoken with them– said, 'hey, why can't [they] come in with [their] patches?' […] But it is what it is, so we'd have to drop our patches off to get through the gate. Some people will do that while others won't. It's ironic: I thought they would prefer to know who we are. All the guys in the clubs know who's who… the whole thing doesn't make any sense to me.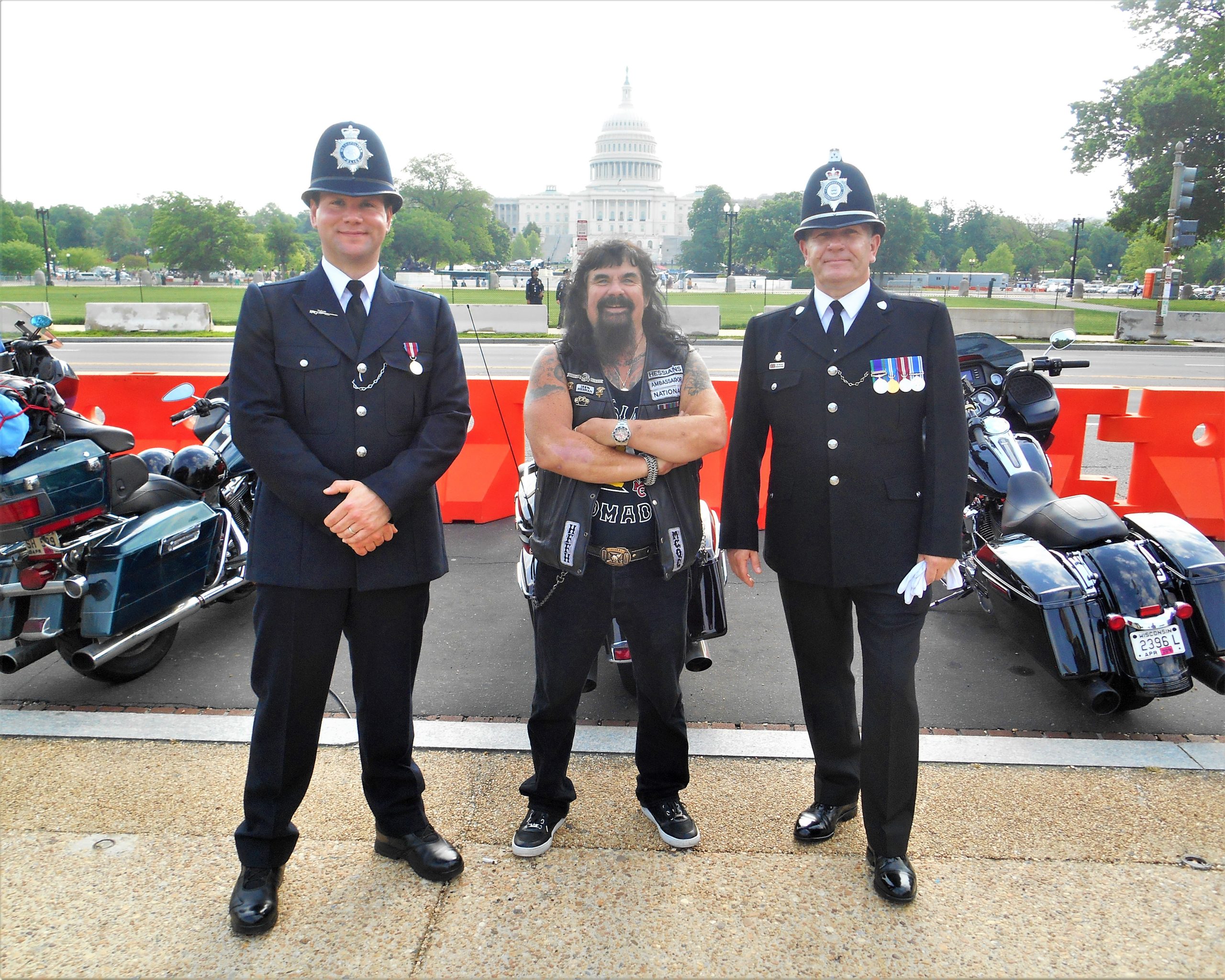 Change of Course
When a car turned across Spike's path in 1972 he was wearing a 3/4 helmet. In his case though, the extra weight of the helmet threw his head down on impact, punching into the side of the car while the rest of his body flew over. Amazingly he wasn't decapitated, but the helmet's chinstrap sliced open an artery in his neck. In another twist of fate, this all happened in front of a hospital, and an ambulance was parked less than 50 feet away. Spike would have most certainly died of blood loss otherwise.
Injuries from this incident ended his budding military career before it had really begun, leaving him with a strong opinion about helmets and safety when it comes to motorcycles. The incident did have a silver lining, in that he still had access to the British Army's version of the GI Bill, and he used that to attend university, where he earned a degree in Architectural Design and Town Planning.
Spike's Triumph chopper after the wreck.
In the early 80's he had an opportunity to move to America, creating technical illustrations. While it was supposed to be temporary, his girlfriend at the time was killed in a traffic accident back home in England. Suddenly home didn't seem like a place he wanted to be, so once again the winds of fate steered Spike towards life in America.
Switching from a Honda chopper to a Harley was also a seemingly small change that had huge ramifications. Hanging around patch holders eventually led Spike into the club life himself. And having spent decades in that world, we were curious how things had changed over time.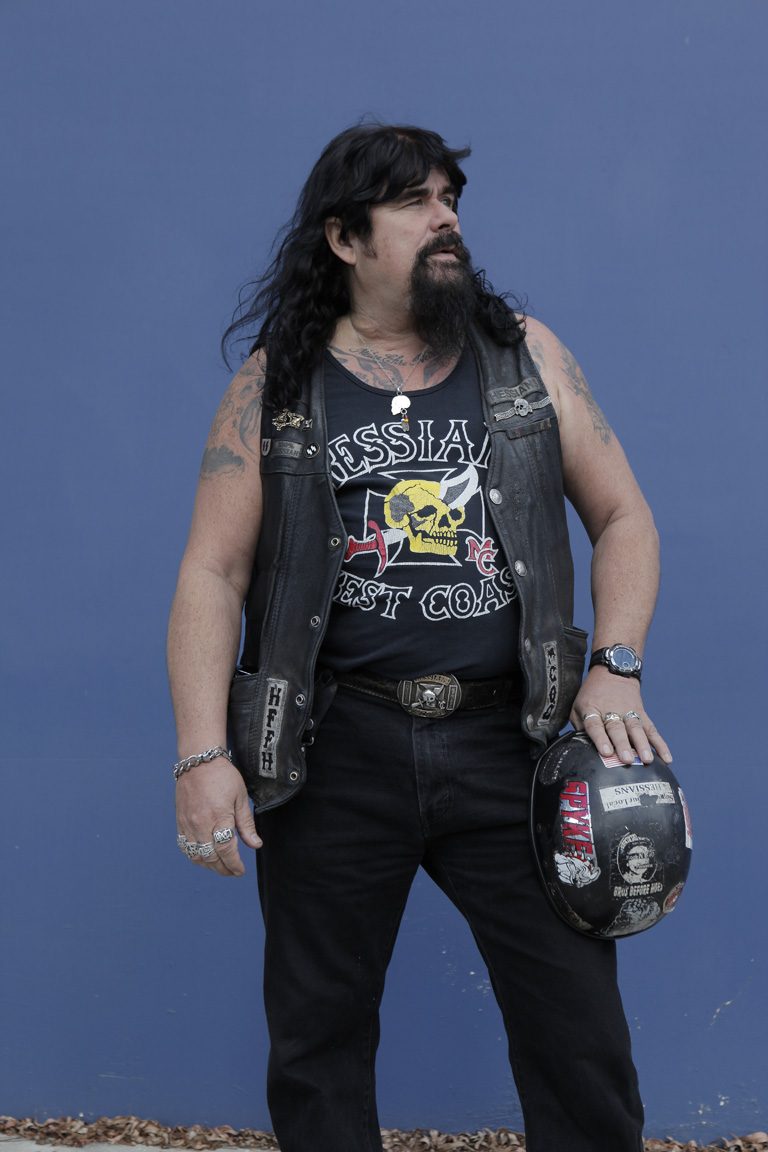 RBMA: So, what kind of differences do you see between club life back then [the 1970s-1980s] and today?
SPIKE: Well one thing is the bikes. You can't get a large Harley [new] for less than $20,000 these days. […] We used to have old scooter tramps who would essentially ride from clubhouse to clubhouse, and not do much of anything else. Back then you could piece together a bike quite easily, but now you have to have a selection of specialized tools. A lot of stuff is electronic now.
The brotherhood is still there. We're still expected at the drop of a hat, if a brother calls and is in trouble, we'll be there. We take care of our own, police our own, and we've got a great network now of organizations. I'm pleased to say that people who have made money from us riding bikes, like the attorneys that help us during accidents, not only help us during the accidents but help promote and sponsor some of our events that support our legislative efforts, which is commendable.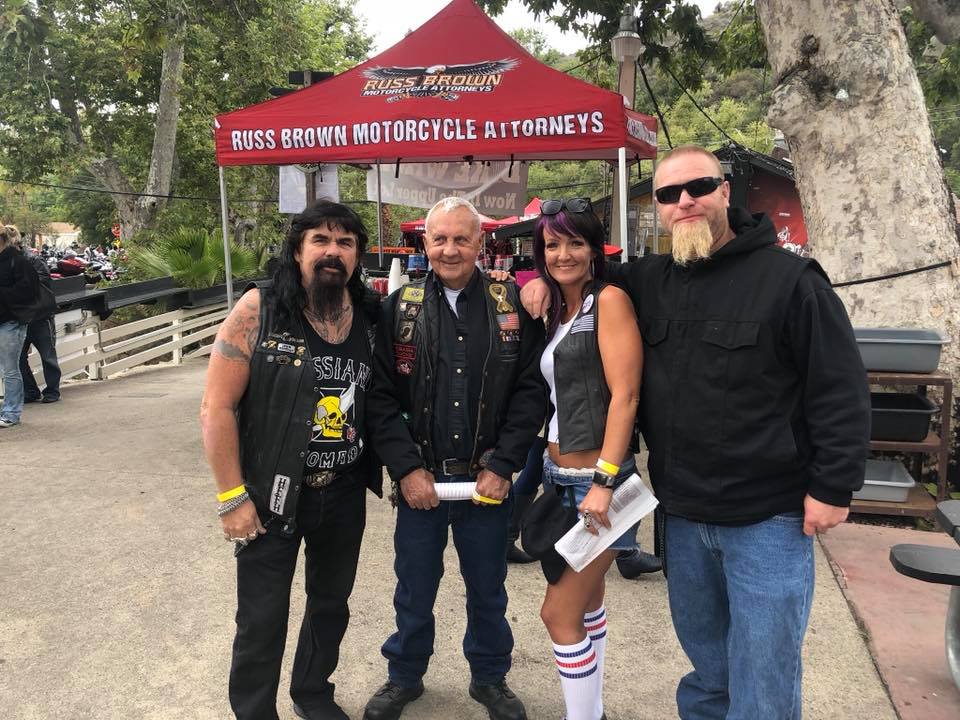 RBMA: Speaking of legislative efforts, you're deeply involved with bikers' rights and anti-profiling measures. Can you tell us more about that?
SPIKE: I'm on the board of directors of ABATE, for the state of California. I'm also the chairman of the Confederation of Clubs, which is an organization that has over 100 clubs locally. We cover a complete cross-section of society. We have hardcore clubs, family clubs, religious and motorcycle ministries. We have ethnic clubs, like black clubs, Hispanic clubs, the [Pacific] Islanders.
There are people of every persuasion, but if you're in biker attire you can be turned away. You don't even have to be in a club, in some cases, and I feel that profiling needs to be done away with within this time and age. Everything has changed, but that hasn't changed with the times.
The Confederation of Clubs brings together many different people who all share a common goal of promoting the biker lifestyle.
RBMA: So, living in the club life, it's kind of famous for wearing people down. Now, you've been in it since the '70s and are still charging hard. I'm wondering, what do you do to stay healthy not just physically, but totally. What does it take to survive a lifestyle that's famous for grinding you down?
SPIKE: For me, it was fairly rigorous. I'd been doing martial arts since my teens, competing in the British and then European championships in Tae Kwon Do […]. When I came to America, my sort of partner in crime, introduced me to a lot of Chinese styles and the softer ones like Tai Chi. Even now at 65, I still do some routines to stay limber, and some weight training.
When it came to the partying element of the lifestyle, which is quite a big part of it, […] I've always enjoyed a beer, but one thing I've never done is I never partook in the drug scene. […] It can be tough, on the long rides. I've ridden from California to Daytona Beach, Florida, and back in a week. That's tough riding, and I've drunk so many cups of coffee and tea by now that the caffeine rush doesn't even affect me. I can have a cup of tea and go straight to bed.
People have asked, 'how do you do it,' and I say that if you're fit you have a lot more stamina in the saddle. Plus the rush and the adrenaline, you get from partaking in those long runs, being at one with nature and with your brother riding right alongside you, it's a phenomenal experience and I think you get a natural high out of that.
A Man of Many Hats
In the hours I spent talking with Spike we went into much more depth about the anti-profiling movement, as well as other forms of harassment and discrimination. He mentioned the movie Ride Free or Die (available on Amazon Video) as a good way to learn more about what has happened and what is being done. He also mentions the Motorcycle Profiling Project ( https://www.motorcycleprofilingproject.com ), which tracks incidents, coordinates legislative efforts, and releases detailed white papers.

And fortunately, you can make a difference yourself without the intense dedication shown by people like Spike. There are several MRO's (Motorcycle Rights Organizations) who use their member's fees to keep a full-time lobbyist at the capital to watch for discriminatory legislation, or to gather support for anti-profiling bills. Joining the Motorcycle Rights Foundation (MRF) or your local ABATE chapter are also excellent ways to keep in the know about legislation that affects motorcyclists. Even if you don't attend monthly meetings or annual summits, you can be made aware of rallies and other fund-raising events happening in your area. Getting incited to party while also helping stop discrimination against motorcyclists? Who would want to miss that?
Photos: Courtesy Hessian Spike
Written By: Johnny Killmore
"If you have been involved in a motorcycle accident, don't let it steal your freedom! Call 1-800-4-BIKERS to learn how an experienced motorcycle accident lawyer can get your bike fixed, money for your medical bills, and compensation for your pain and suffering."