It's in our DNA to be part of a tribe, and back in our cave days, tribal culture was necessary for survival. Today we need it to be able to culturally grow. We constantly are searching for a connection to others to fulfill that sense of belonging. Every single one of us craves the feeling of being part of something bigger than ourselves but over time we have become disconnected from our tribe. When you are in a subculture you need that connection even more when you are a minority inside of a subculture.
We have a women's movement upon us with no signs of slowing down. Sure, women have been riding motorcycles since motorcycles were created — but today women are the fastest growing segment in the industry. With any uprising there is a need to meet and support the cause, to connect with other like — minded people and to celebrate the dichotomy of freedom and unity.


One of those gatherings is The Fox Run. An east coast camping and riding event geared towards women and all things two wheels. I have to be honest and admit that I have never been to a gathering of ladies like this, mostly because of my crazy scheduling but I want to know what drives these events and why they are so successful. So I sat down with Lucy Sarah, founder and one of the seven women who make it all happen, to ask her some questions and find out more. I ended up leaving with a new date scheduled on my events calendar for 2017 and an even greater appreciation for women riders.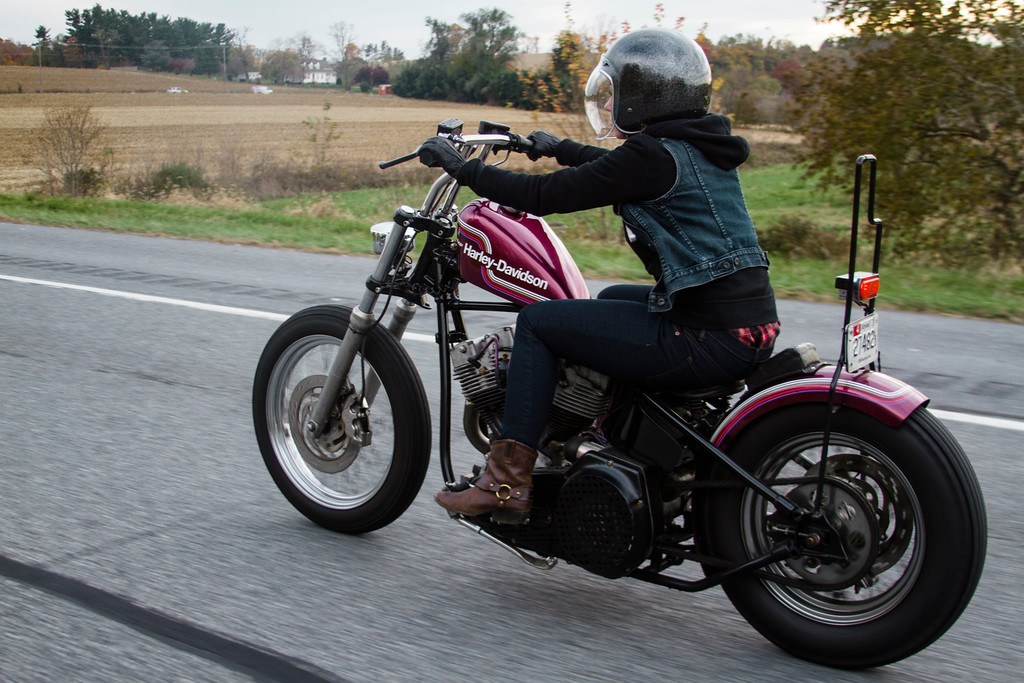 LC: Let's start with the most obvious and simple question, why was the Fox Run Created?
Lucy: The Fox Run was created by a gravitational pull, the need to connect talented women, to come together with common goals and create something amazing… perhaps the lack of women's motorcycle events on the east coast helped make that pull even stronger. That's when we got the idea of putting together an event — so we posted on Instagram to see if others were interested and the response was overwhelming! From there we got organized and started meetings and planning to create this all — women's camping and riding weekend called The Fox Run.

LC: Not planning any event like this before, how did you do it?
Lucy: After planning, we scheduled a few photo shoots, Thefoxrun.co was launched and our team took to social media again to spread the word. After a few months the Instagram page took off, ticket sales went live and in 4 hours we sold out pre-sale tickets!
When we launched didn't know what kind of response we would receive and what turnout we would have. We just wanted to camp in the woods with all of the baddest babes we knew. Little did we know we would sell out shortly after launching. The support from sponsors, vendors, volunteers and attendees has been exciting and humbling. The Fox Run  wouldn't be possible without them.
LC: The eastern part of the US has always seemed like wild frontier for motorcycle events. Sure it can rain and we do get some snow in parts which can make for a shorter riding season but the land is beautiful and a lot of it is still untouched. Still, why Pennsylvania?


Lucy: Lancaster/York/Philly have a huge art / creative scene; there's so much talent in this area! We want to showcase how beautiful it is here, the hills, the farmland, everything! One minute you can be in the city and within the next 10 mins you can be in the middle of nowhere: in the woods, water falls, scenic overlooks. Lancaster/York county has some of the best places to get out and into nature. We love it here and wanted to share it with everyone.
LC: An event of this size can be a huge undertaking. What has been some of the challenges in creating a lifestyle and riding event?
Lucy: We started planning right after last Fox Run ended, the most challenging part is that we all work full time jobs so it really becomes a balancing act. As a team we stay focused by using Google docs, setting reminders and deadlines, and constantly communicating with each other to keep everything inline.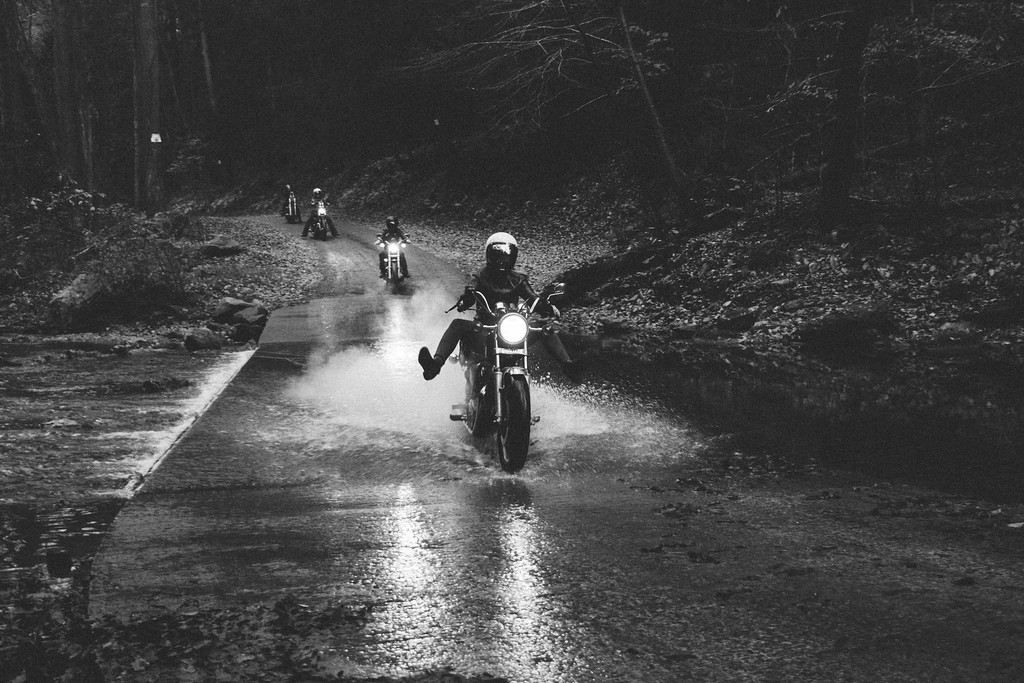 Another huge challenge is the weather. As most of our Year One attendees will tell you, it rained like hell, but that didn't stop us from having a killer weekend! The bonfire never went out — roaring day and night. At one point we had a mud pit — ladies were dancing and doing the limbo while the dj was spinning. One girl told me "I slept in a puddle but I  had one of the best weekends of my life". I'll never forget that. This year, we will have a barn for the whole weekend and increased rain cover.
LC: Lets get into the logistics of the event and how you foster those female relationships and support the movement. Tell me more about what people can expect when they come to The Fox Run.
Lucy: Our camp turns into a cooperative garage without the encouragement of classes or a staging area. Babes are working on their bikes and some walk by and stop and help and share tools. I remember last year, one girl rolled in with a snapped clutch cable and three girls ran over and started trouble shooting her bike and fixed it on the spot. We also have DJ's, live music acts, moto games, painting, tattooing, vendors from all over, tarot card readings and a Photo Booth. We also try to reach out to our moto artists. Many of the items in our raffle are handmade by emerging and struggling talented women in the moto community: leatherwork, metal work, jewelry, clothing and accessories. We are so proud of them.


As far as riding is concerned, we have about 20 different destinations / routes for ladies to pick from with options for riding, driving or hiking from the camp. Some ranging from only a few miles away and up to 120 miles away. Some of the routes include overlooks, state parks, great hiking trails, rivers, Downtown Lancaster, Amish Country and our favorite local spots. The route board is available to our attendees the day they arrive so they can form groups and plan their rides together.


LC: Speaking of riding, a lot of these events have a bar or alcohol…however it is also a riding event. How do you prevent someone from riding while under the influence?
Lucy: Great Question. Most of the drinking occurs after everyone returns to camp for the night. We have staff and cars on hand if anyone needs a ride or anything that we haven't already provided (we try to be really proactive and have everything on site that attendees may need). We want everyone to know, if they have had too much, there is always an option. I myself would be more than willing to drive them or get them what they need during The Fox Run weekend.
We have created almost an independent state of biker babes at the campground. We have food vendors, full facilities, shelter, camp store, and free beer. Many women just never leave the whole weekend because they found heaven at the camp ground. We also have a dedicated sober space for the entirety of the weekend.
LC: You ladies have dedicated a lot of time to ensure others have a great, safe and fun time, why do you do it? What do you hope comes out of this event?
Lucy: Our biggest goal is to connect women and support this giant, amazing network that surrounds and support us. As riders we know how hard it is to meet other women who ride, and as women in the world we know it can also be difficult to meet and network with other women in general. So The Fox Run is here to break those barriers, open doors, and help to create new and organic friendships. The Fox Run is about empowering and inspiring other women. "The only way to know your pack is to howl"


The women create The Fox Run just as much we do. They bring the possibilities, the adventure, and the sisterhood. They make the stories we retell every year about Fox Run. We are bringing women of all aspects of life together and creating a safe space for attendees to be themselves. When coming to an event like this you are going to meet a lot of women, a lot of women like yourself with similar interests and passions. It's going to open your world to a whole new level of friendships and a web of amazingly supportive women who all inspire one another.
If you ask what the Fox Run means to the women who come, the answers really represent all of what we stand for: "sisterhood, tribe, motorcycles, support and encouragement, liberation,  adventure, magic."
To find out more or purchase tickets for the The Fox Run visit their website www.thefoxrun.co
All Photos Courtesy of @TifaniTrueLove
[Best_Wordpress_Gallery id="3″ gal_title="The Fox Run"]
"If you have been involved in a motorcycle accident, don't let it steal your freedom! Call 1-800-4-BIKERS to learn how an experienced motorcycle accident lawyer can get your bike fixed, money for your medical bills, and compensation for your pain and suffering."