Mike Davis… a name you recognize if you are involved in the moto industry, and for those of you who aren't, we are about to tell you why he's kind of a big deal.
When speaking to anyone in the motorcycle world their story either starts with growing up on/around bikes or finding them later in life, for Mike it's the former. I'm always fascinated by those who grew up riding, I didn't even sit on a bike until my mid 20's, so I really can't imagine experiencing the world on two wheels as a kid! He and his brother grew up in Fresno riding dirt bikes, mini bikes, and four-wheelers; anything with a motor, he was interested. Their dad had an affinity for bikes, cars, and adventure which he passed on to his young boys. They rode daily around the neighborhood, in the open field across the street, and even took trips to Pismo; Mr. Davis loved the idea of them getting out and just going.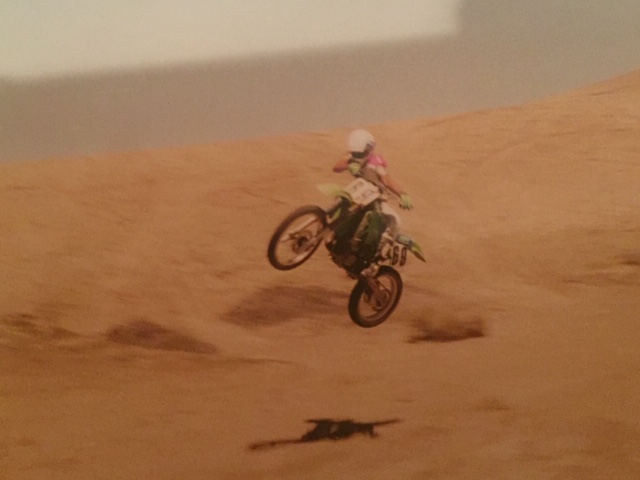 As time passed, Mike grew up and lost interest in motorcycles, but that changed around 2004. A buddy of his had gotten into old Triumphs, which Mike had never really seen before and from there on out, that spark had been re-lit, he wanted to know everything he could about these bikes.
Fast forward a few years and motorcycle blogs and forums are gaining traction. Vintage bikes and choppers are beginning to get some attention, but theres no organized events or meetups going on aside from the occasional small magazine release party, this is all pre-Instagram, mind you. Mike chats with his bud Grant, and next thing you know, they are throwing together a ride to Cooks Corner, near where they live in Orange County, CA, about 50 people showed up. They do a second one soon after, even more people show up. Seeing all those rad bikes together gave them the idea to put together a little event. They knew of a show coming up so they threw theirs on the same day. It sounds a little weird now, but that show was in the morning and Mike and Grants show was to be more of an afternoon event, and don't worry, no feelings were hurt in the making of their event. The turn out was surprising, not only because it ended up being bigger than expected, but because there were tons of people who traveled from different cities and even out-of-state, to attend both events, which was not common at the time.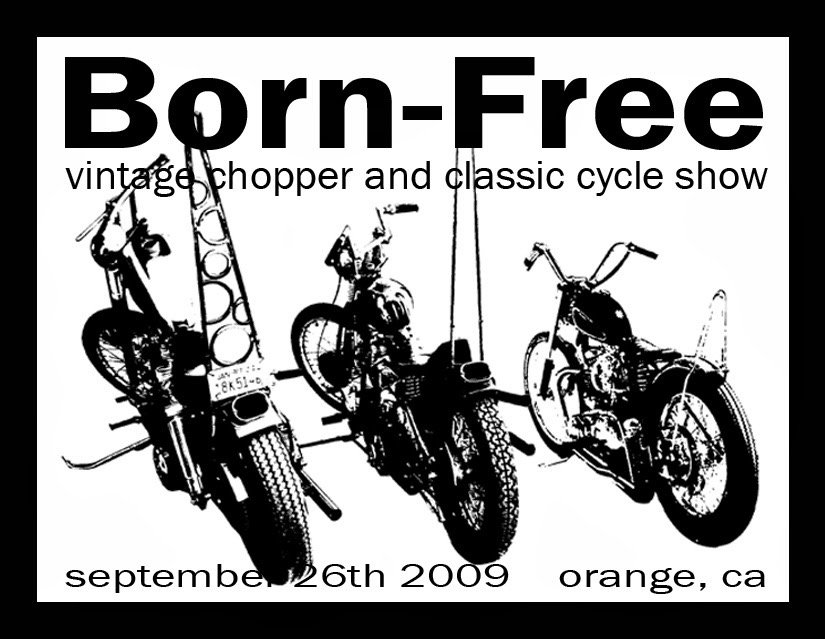 It only took a month to put together something a little more official, Born Free 1, if you are counting, a show with trophies, free food, and free beer! The name derived from Mike's brand Born Loser and Grant's brand Freedom Machinery, voilà, Born Free. About 150 vintage bikes and choppers gathered, which till this day is no easy feat! They realized this was something special and it needed to happen again, cue Born Free 2, which is arguably their most fun year to date; thousands of people showed up to their permitted block party, and from Mikes stories, it sounds like a RAGER. This is the year that put them on the map, they had a few cool sponsors, raffled off a Panhead, and gave away 5,000 free beers. Needless to say everyone had a damn good time.
Photo of Born Free 2
It came time to plan year 3 and they wanted to go back to their first location in Signal Hill/ Long Beach and even though everything had been done by the book, the city did not want the liability. They scouted for a new spot and found Oak Canyon Ranch in Silverado, CA where the event is held now, it's honestly the perfect location. Even if you are coming from close by, that scenic ride in really makes you feel like you've gone on a little trip!
This is the year they officially introduced their builder program. Years later and this is a massive component to the show, its something people really follow along and look forward to, not to mention the People's Champ competition. It's switched hands from Show Class to Biltwell yet still remains a highlight for many. Over the years they have gone on to 'invite' many of the builders that came from the competition.
It's 9 years since Born Free 3 but the ideology remains the same; the BF team aims to create a place where people can immerse themselves in everything motorcycle and create memories with friends old and new. The event has grown in many ways with thousands of people coming out each summer for a piece of the action, whether it's one of the many pre-parties or one of the newly added racing events, there's literally something for everyone. Born Free has become an iconic show, it's a staple in the community, and as someone who also puts on a show (Paradise Road Show) it's truly inspiring to hear Mike speak about Born Free. He's the man behind the scenes and even after all this time you can really hear his genuine love and enthusiasm for vintage bikes, the motorcycle world, and most of all, his show.
Year 5 is where the show really began to expand, their numbers were up, their footprint at the location was larger, and for the first time, they needed to charge an admission fee to cover the costs of the general expansion, which some people were not so excited about.
Free food, free beer, free to get in till BF5
Began racing about 5 years ago.
Put knobby tires on one of his Harley and just took it out there.
A few other buddies were interested and they have a group of about 12 guys racing.
Tank shift, British bikes, vintage dirt bike, as many classes he can get into.
He will loan out his bikes to friend if they wanna try it.
Just wants to get as many people involved as he can, it's not easily accessible to get into, so he's in a way bridging that gap for those interested. He's found a thing he really believes in and loves, you can hear it in his voice.
53 Pan Head – His fave bike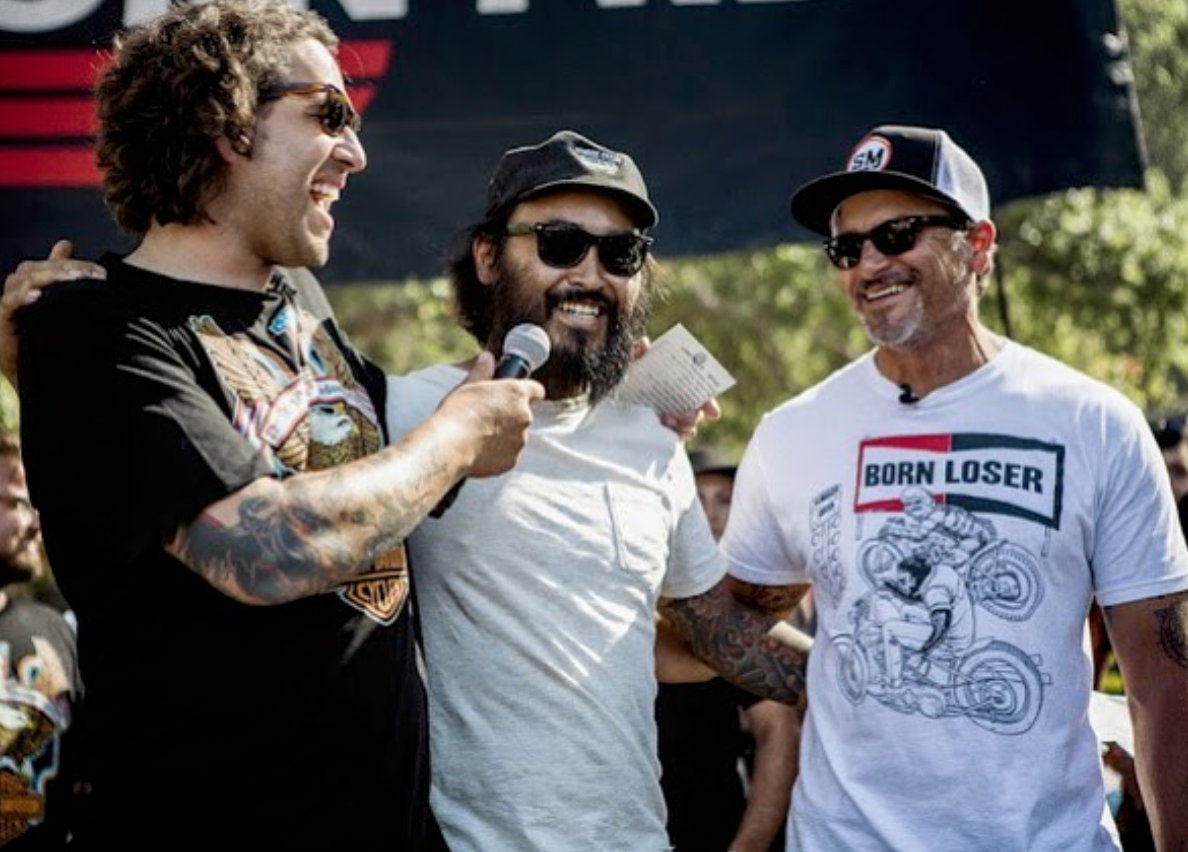 "If you have been involved in a motorcycle accident, don't let it steal your freedom! Call 1-800-4-BIKERS to learn how an experienced motorcycle accident lawyer can get your bike fixed, money for your medical bills, and compensation for your pain and suffering."