Roland Sands is a known wavemaker in the motorcycle world. He's been around a long time and since his glory days in the racing and building world, he has flourished in the event world – hosting whole race series, creating new types of racing, contributing to new styles of motorcycling, and being the one behind some of the best parties in the industry.
Roland and his team have been putting on a multi-race circuit event for the past couple of years. His races would be a tag-on part of other major events going on around the country like the One Moto, Mama Tried, and Born Free. Because events were getting canceled this year because of COVID-19, Roland's races were shut down as well. Although Roland and his team are extremely self-sufficient and have their own projects, events, merch-lines, parts-lines, and a fully working garage that does maintenance and full bike build, a lot of their events are based on sponsorship.
The Moto Ranch Invitational was a way to get Roland's sponsors back out there in the public eye. The idea was to invite a select group of influencers and photographers together in a private place to team up with all the brands who have demo bikes and new releases but then also have an event where people can come out and have fun while still being socially distant. Naturally, Roland went big. He rented out an entire winery in the Temecula Backcountry. Doffo Winery is a motorcycle-themed winery with a tasting room full of vintage bikes hanging on the walls. There are motorcycles scattered all over the property, even among the rows of grapevines, along the driveway, and right in their restaurant.
The Doffo Winery
Bikes up on the outside of the tasting room
Bikes in the grapevines
When I showed up on Thursday morning, there was a sign-in booth where they checked you in, had you fill out paperwork, and gave you a bunch of sponsored goodies. After that, it was straight to the bikes. All the sponsors had their booths scattered all over the winery grounds with their demo bikes lined up. I could ride anything I wanted, wherever I wanted for as long as I wanted. There were probably 100+ bikes to choose from, from Ducatis to BMWs, Indians to Royal Enfields, Triumphs, Yamahas, and more.
The Entryway to the Moto Ranch Invitational
Demo Bikes – Which one should I choose!?
I had always been curious about Royal Enfield…
I grabbed my friend Teela LaRoux and we picked up matching INT650s from Royal Enfield. We cruised up into the desert hills and then 50 miles up into the back of Idyllwild. The whole loop was super twisty with no major highways. We had a videographer hanging out the back of a hatchback the entire 100-mile ride and the whole day felt like a real-life commercial.
Our bikes in the desert canyons
Teela and I cruising through the vineyards
This bike was so fun!
Everyone who arrived at the Moto Ranch received a schedule of events and we headed back to the winery to return our bikes and go to the Super73 race that was about to start. There were quite a few people at the winery but the events, vendors, food spots, etc. were all so spread out there you could never really see everyone in the same place or be able to determine how many people were really there. I assumed this was Roland's plan to keep everyone socially distant and I was totally cool with that!
The Super73 race was gnarly. They had the course going up and down this crazy dirt hill, avoiding ledges, through sharp grapevines, and up big sandy hills. In just a few minutes of watching, I saw at least 3 people go down. It was a timed race so everyone just went one by one. If you haven't seen a Super 73 before I'll explain: They're the "original electric motorbike" but they look more like a BMX/Scooter/small dirt bike. It's hard to explain but they're electric, super cool looking and they rip.
Here's Rolands Custom Super 73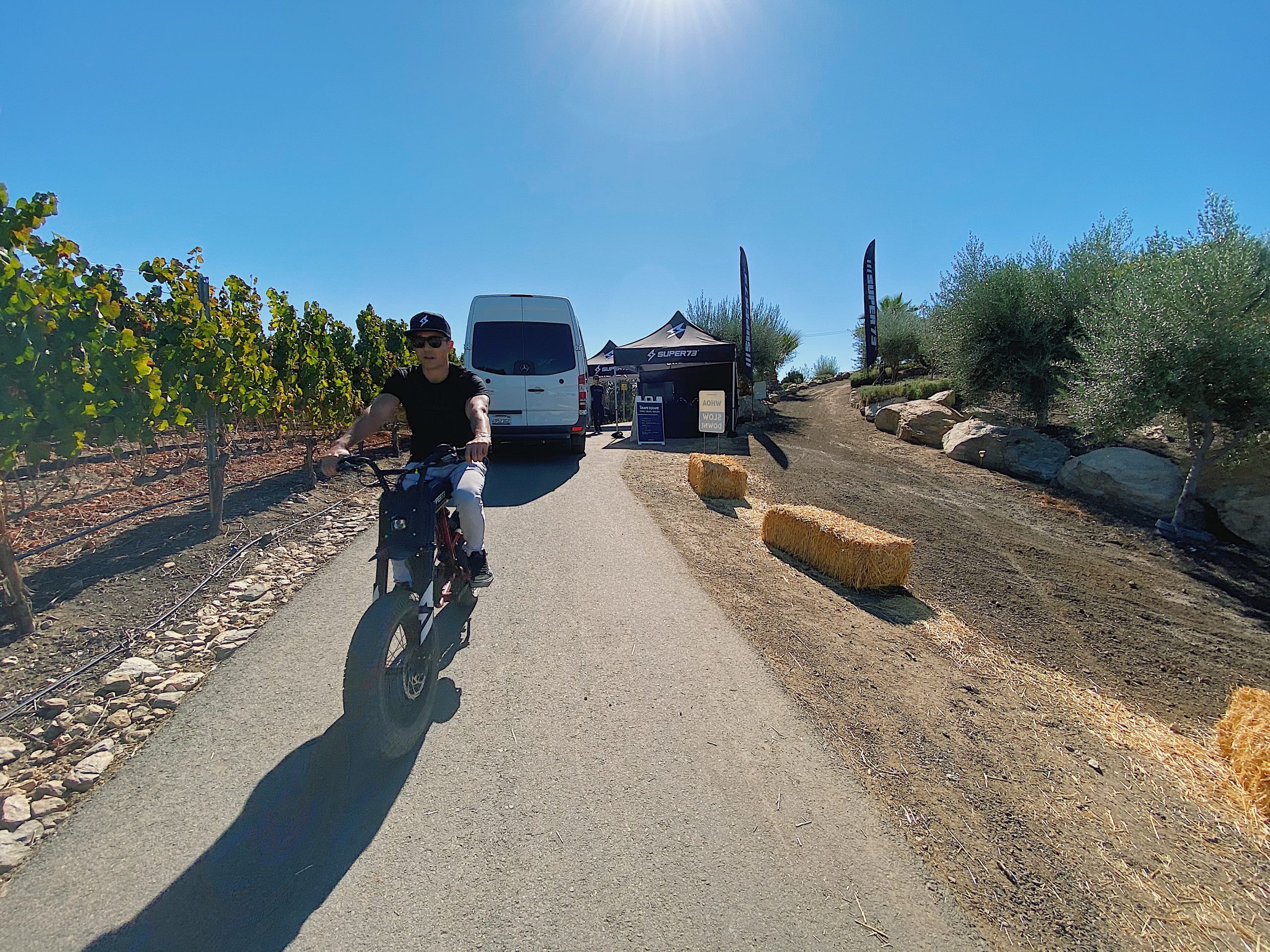 Part of the track – go left go fast!
The afternoon commenced with a dinner, cigar rolling stations, a little stunt show, and a band that played. I wasn't able to attend every event that was going on at the Moto Ranch because there was so much happening at once. I had friends who came to the event from all over the country so it was a lot of chit chat and networking.
One thing I was able to do before the sunset was to check out the bike show. It was up in a totally separate space of the winery away from the main event. There were about 2 dozen bikes and a whole ton of art that was all motorcycle themed.
The Bike Show at Doffo Winery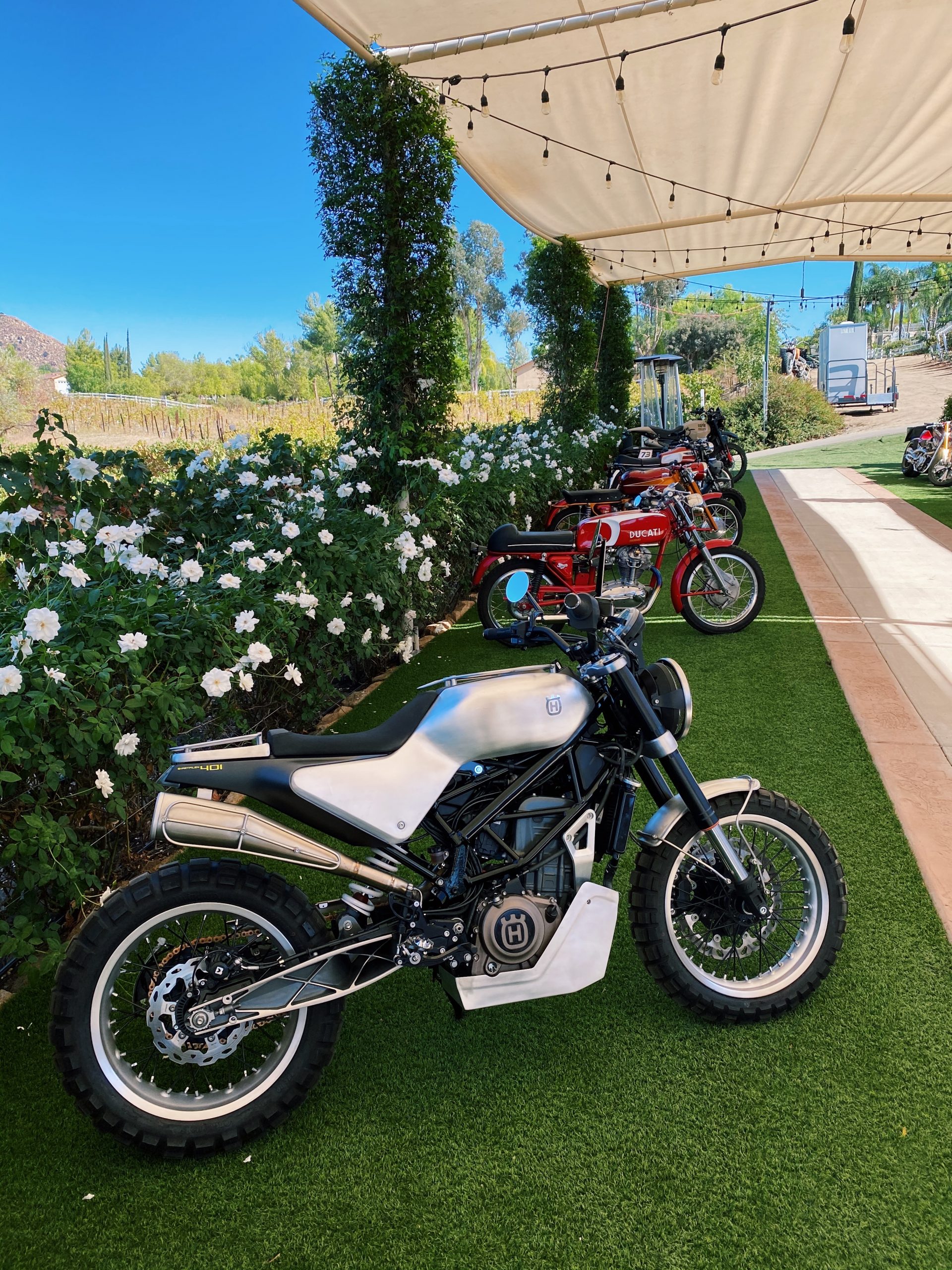 The whole idea for the Moto Ranch was really awesome and a really refreshing experience after these couple months of, well, nothing. Roland's idea to make an event be "private" and "invite-only" kept people safe and not able to bring 10 of their friends. There were only 200 people in total invited and everything was outdoors. The whole experience felt really comfortable and I really have to give Roland and his team props for taking the risk of doing something at this time. I should also mention that this weekend was Rolands right-hand-man, Nathon Verdugo's, last weekend on the job. Nathon has been Roland's backbone and event/brand manager for the past couple of years and he is now moving onto a new job. Their team is super strong and it was really awesome to see them pull this event together after a hard year and before Nathon moves on. There really is so much that goes on behind closed doors in this industry and people like Roland and Nathon are a huge reason why the culture grows and progresses.

Nathon and Roland. Photo by Mike Emery
Hopefully in 2021 events can go back to normal and we can all publicly attend Roland's Super Hooligan races and parties. Until then, stay safe, wear your masks, and ride your damn motorcycle!
Blogger: Becky Goebel
"If you have been involved in a motorcycle accident, don't let it steal your freedom! Call 1-800-4-BIKERS to learn how an experienced motorcycle accident lawyer can get your bike fixed, money for your medical bills, and compensation for your pain and suffering."