These Kentucky Roads are a must for bikers. Have you travelled down any?

Kentucky is known as the Bluegrass State. It's also home to the Kentucky Derby, corvettes, Fort Knox gold and Abraham Lincoln's Birthplace. We've got Bourbon so delicious that it's started wars and barbecue that's so good that it's ended them. Daniel Boone called Kentucky a "second paradise," and I like to call it home.
I was born and raised in the rural area of south-central Kentucky, just 5 miles from the border of Mammoth Cave National Park and the beginning of over 100 miles of unspoiled back roads begging for exploration and beckoning to motorcycle riders.
Like so many of the other roads in KY, the news about how great they are really haven't spread far past the Kentucky borders, until now. You've got the twisties in eastern Kentucky, scenic routes in northern Kentucky with sweeping curves along the Ohio River, and the rolling hills of Western Kentucky that are great for wide-open cruising.
Below is a list of my top 3 bluegrass seeing, bourbon slinging adventure filled rides along with the must do things to get the true Kentucky experience.
Mammoth Cave National Park Ride
2016 marks the 100-year anniversary of the National Park Service and we have three great ones located here in Kentucky so it only seemed fitting to include one of them on this journey. Mammoth Cave is the longest cave system in the world at over 400 discovered miles in length and over 300 feet deep. The cave sits underneath over 52,000 acres of woods, rivers, bluffs, valleys and a long and winding road to go through it all. It's also known as my backyard. I grew up five miles outside the park border and know these roads like the back of my hand and can assure you that it's still a well kept secret. You can find long stretches of unpopulated open road to explore. The only thing you need to watch out for is wildlife, better know around those parts as "critters". Fall is the best time of year to ride here since the trees are doing their magical color turning tricks and the kids are in school meaning that tourists are at a minimum.
HWY 70 leads right into Mammoth Cave National Park at the Historic entrance. You can take this throughout the park but I like to explore and there are a lot of options on this map to do so. This route starts out fairly easy but when you make it towards the entrance of the cave the number of curves increase to about 10 to 15 curves per mile. This route does turn into a very twisty and shaded back road overlooking cliffs with no shoulder. The best thing is that it gets out of the park border which means the speed limit is increased and you can open it up. However, depending on your skill level you may want to stay on the main road or take it very slow. It's only about 55 miles' round trip but depending on your stops it can take most of the day to do this ride. You'll go through 5 small towns all with a dinner to grab a cup of joe but if you're wanting a cold one you have to head to the town of Cave City for that. It's the only "wet" city on this trip. The town is small, and the options are limited but there is a legit Mexican restaurant called "El Mazatlan" (https://elmazatlan.com/menu/ ) that can serve up a great taco and the best Michelada north of the border. If you have too many you can crash in a teepee just two miles up the road at the Wigwam Village (https://wigwamvillage.com/ ).
Link to the map here :
https://drive.google.com/open?id=1MOCV_eLI18bhoiuPV6I-UY9kAu8&usp=sharing
Land Between the Lakes
 Western Kentucky is home to the largest inland peninsula in the United States yet it's one of the national parks best kept secrets. Over 170 thousand acres of untouched land, rich with wildlife, sits between Lake Barkley and Kentucky Lake just north of Nashville, TN and south of Paducah, KY.
The route is roughly 50 miles one way and takes about an hour and a half to 3 hours depending on how many stops and how fast you want to ride. From this route you can choose to go 40 more miles to Nashville and be at the beginning of the 444 mile Historic Natchez Trace, another great motorcycle road.
I'm starting this ride on KY-453 S at Grand Rivers, KY. From there you basically take it south the entire way until you hit Tennessee and it turns into TN-49 E.
Before you head out you have to fill up your stomach at Patti's 1880's Settlement (https://www.pattis1880s.com ) since it's the best food in three counties; there's no other food stops along the way. I suggest her famous Sawdust Pie but just share it because you may want to nap after instead of ride. Don't forget to gas up your bike or take gas with you if you venture off on side roads. There are very few to no gas stops until you get to Tennessee on this trip.
There's a couple of traffic lights on this route but there's also rolling hills, sweeping curves and lots of rural farmland and lakeside scenery. It feels like a back country road but with really good pavement and makes for optimal riding conditions. The best times to ride it are the usual suspects, Spring, Summer and Fall; it's just up to personal preference.
Link to the map here :
https://drive.google.com/open?id=1UGHvZCoIiKMe_CivAwlPchoVjKc&usp=sharing
Bourbon Trail
 There's 4 major things you must do when you come to KY; besides basketball and horse racing the other two involve drinking. Moonshine can be found pretty much anywhere but Bourbon is made in certain regions in beautiful historic distilleries set far back on untouched countryside. There are ten distilleries (https://kybourbontrail.com/map/ ) you could stop at on this map just keep in mind that each tour is over an hour long and includes a lot of tastings. These aren't like wine tastings, you get to try the new batch they are experimenting with and most of the time it's "cask strength" which means its one-step down from moonshine proof and not the best for riding after. The two you have to go visit are Woodford Reserve and Makers Mark. Makers because it's the most known and the story of how it got started is interesting. Woodford though is not only the oldest Kentucky distillery (200+ years) and a National Landmark, but it's also the most beautiful and the road to it is as well. On this map I included the Old Talbott Tavern (https://www.talbotts.com/ ), the oldest stone tavern in America. You can't pass through Bardstown and not stop to have a shot at their bar that is ridden with bullets from Jess James' gun and if you happen to have too much to drink then you can stumble upstairs to the Presidential suite and sleep in the same bed that Lincoln once slept in. I could go on for days about the history in these parts but instead I'll leave a little work up to you and suggest you do your research on the area before you go ride, so you can get the most of it. The route is 125 miles and should be broken into 2 days since the stops are worth staying for a while. The road is covered in farmland, old barns, winding tree-covered roads and a few straight aways with no lights where you can get on the gas a little bit if you choose to.
Link to the map here :
https://drive.google.com/open?id=1S4Y4c3xHSMDSLjU0KlkVRYY80_0&usp=sharing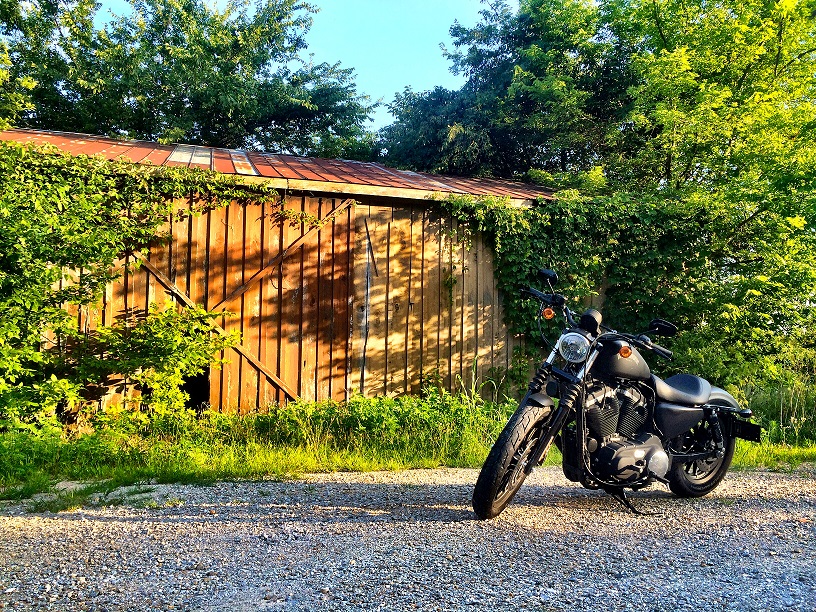 There are so many wonderful riding roads in Kentucky I could list here but a lot of those you can find online. These are the routes I do every time I'm home and in the 20 plus years of riding them I still find them just as exciting as the first trip I took. I may be biased being from the area and all but I think Kentucky has some of this country's best motorcycle riding. Riding is more than just being on a bike – we use it to also take us places, not just physical but mental as well. In Kentucky you can hit the reset button very easily since most of the land is the same as it was thousands of years ago. Getting away from the monotony of society is just a twist of the throttle and a Kentucky minute away.
"If you have been involved in a motorcycle accident, don't let it steal your freedom! Call 1-800-4-BIKERS to learn how an experienced motorcycle accident lawyer can get your bike fixed, money for your medical bills, and compensation for your pain and suffering."