If you've been riding a motorcycle or been involved in the motorcycle community for more than five minutes, you've heard of Sturgis. The rally wasn't always a rally. In fact, back in 1938, Sturgis was more of a racing weekend put together by the Jack Pine Gypsies motorcycle club. Over time the rally became more known as the american "mecca" for motorcyclists, with attendee numbers ranging from 400,000-1.2 million depending on the year. As part of the younger generation of riders, I never understood the hype of the rally…until I experienced it firsthand back in 2015 for the 75th annual. Now, it's a yearly tradition for me to make the trek to Sturgis, South Dakota. This year I spent three weeks on the road traveling to and from the rally. This is the story of my adventure.


Tuesday, August 1st: I left downtown San Francisco with my friend Kendra at about 11:00pm after hours and days of failed attempts of fixing our friend Halsey's FXR. With a 3rd day in a row of stalling the start to our journey, Halsey stayed behind to get her bike sorted, and we started our journey east. We rode a little over 200 miles to Reno, NV, where we crashed on a friends couch from about 4am to 8am before hitting the road again.


Wednesday, August 2nd: 700 miles from start to finish. To beat the 100 degree forecast, we started early out of Reno and headed east across the barren Nevada desert. With not too much to see across Interstate 80, and the need to make up for lost time from FXR Dilemmas in the Bay Area, we had our eyes set on Idaho Falls, ID for the evening. After hours of dull scenery we trekked north to Twin Falls, ID. The barren desert of Northern Nevada quickly turned into humid rolling farmland as we crossed into southern Idaho. Not to mention the sunset, which was one of the best I had seen on the road in weeks, perhaps months. Low and behold, Halsey was able to get her FXR dialed in and was able to hit the road with about 400 miles between us. We decided to continue on to Idaho Falls (IF) where there were more hotel options and less miles between us and the Grand Tetons—our primary sight seeing activity on our route to Sturgis. The last 200 miles weren't easy. The sun had set and I had been battling an eye infection for days which had impaired my vision, making night riding a bit of a hassle. I had to completely rely on Kendra to navigate the way, even at times when the highway construction left us on dirt roads for a mile or two. At about 1am we safely made it to our hotel in IF. Our 700 mile day was complete.
Thursday, August 3rd: Reunited at last! Halsey was able to catch up to us at about 2pm. We started our trek to Jackson, Wyoming and the Grand Tetons. Unfortunately, with a late start to our day, we didn't get to spend much time in the park, and with a Friday evening deadline to make Sturgis we had to press on. The 2.5 hours we did get to see of the Tetons were indescribable. Elk wandered the front range, light glistened through the mountains and onto the lakes… I think every fairy tale landscape might be modeled after this area. The scenery was unreal and our sunset ride east along highway 26 was one of the most memorable days I've had on a motorcycle. The sky turned into rainbows as the sun set in our mirrors, and the mountains ahead of us were shades of purples and blues. We had our eyes set on Riverton, WY for the evening. After a few hours of dodging deer and rabbits along the highway we made it to our cozy Motel 6 for the night. 400 miles from start to finish.


Friday, August 4th: What was supposed to be a quick and easy 320 mile day turned into a sight seeing adventure. We grabbed breakfast at the Cowboy Cafe and mapped out our day. We had two options: to take the straight ones on the map or the squiggly roads. Naturally, we chose the latter, with twisty roads almost always leading to better scenery and riding. We trekked through a canyon lined with railroad tracks and tee pee tents, past the worlds largest mineral hot spring, and on to Little Bighorn National Forest where we pulled over multiple times to take in the mountain scenery and open fields. Once we made it to Buffalo, we were on the home stretch for Sturgis. We made a last minute decision to stop at Devil's Tower which was definitely a good choice. If you've never seen the tower, it comes complete with an extremely adorable prairie dog population, making the entire trip completely worth it. hah! We made it to Sturgis right as the sun set. Main Street was already jam packed and it was clear that the rally was in full swing.


STURGIS: August 5th – 14th
The Black Hills are chock full of activities during the rally. Ten days is honestly not enough time to see and do everything that the rally and surrounding areas have to offer, but we made the most of it!


Racing, Racing, Racing! With the roots of Sturgis being embedded in the sport, it's definitely a must see while in the Black Hills. Every day the rally has races of some sort going on. I spent at least four days of my trip watching the races:
– The Spirit of Sturgis and Pappy Hoel Classic both host vintage motorcycle races at the


Historical Sturgis Half Mile—the birthplace of the Sturgis Rally.
– The Buffalo Chip hosted American Flat Track TT and Super Hooligan Races this year – Rapid City Half Mile is the place to go to watch the pro's


Motorcycle Shows Galore—Every day you can pick your poison on style and era. From Vintage Choppers, Paint Contests, FXRs and Dynas, Stunt Shows, Big Wheel Baggers…There's something for everyone.


If you need to get away from the crowds, the Black Hills have some of the best riding in the area. We made a few trips to the historic town of Deadwood for dinner, as well as a trip to mount Rushmore and on to Iron Mountain Road. There were so many activities in town this year I barely made it out to ride, but the Black Hills aren't going anywhere and neither are the roads. It's a perfect excuse to come back next year, right?


Every night of the rally, our friends that had rode from all over the country met up for evening shenanigans and our nightly ritual trip to the Sweeto Burrito truck. —Yes, we even all traveled to Sturgis for burritos. We were able to watch bands and performers such as the legendary David Allen Coe, Ozzy Osbourne, Blink 182, and Hairball. Some nights we made our way out to the Chip, where campground festivities were abundant. Some nights we stayed downtown and closed down the party at One Eyed Jacks.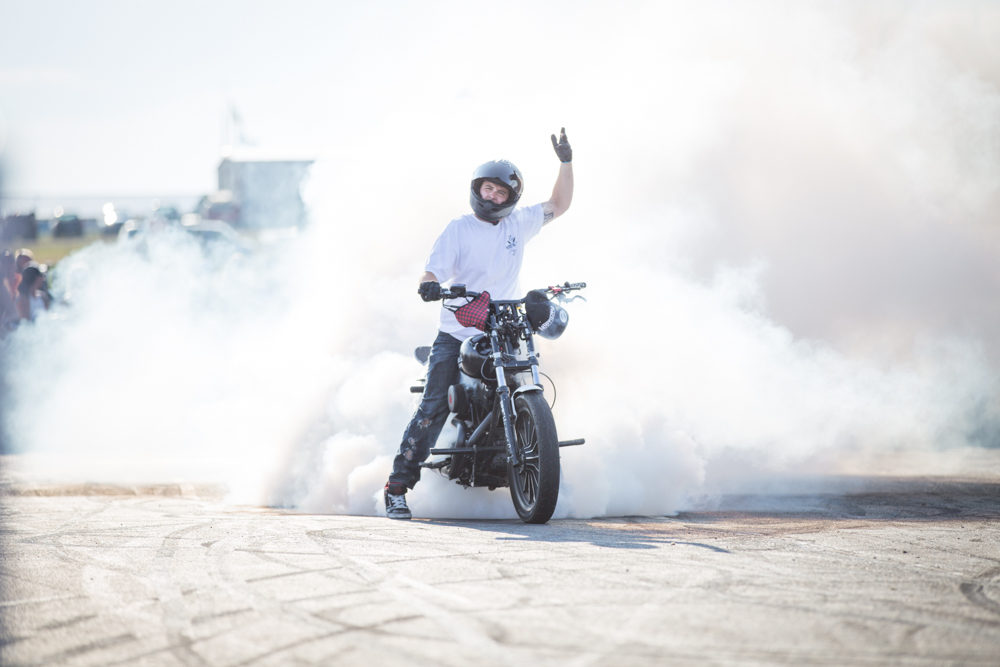 Sunday August 14th: After ten days of nonstop shenanigans, I was ready to start my journey home to Texas, but not without a scenic drive to the Rockies first. A group of friends and I ran into each other on our way out of town and decided to make the 400 mile trek to Denver together. What a day. We watched a motorcycle slide out in a curve on gravel and hit a car head on. The bike exploded like a piñata. Luckily everyone involved was okay. After a few hours of bike logistics and a hospital visit, we trekked on. A heavy storm in Wyoming forced us to pull over and wait it out, wildlife jumped in front of us on wet roads…we were ready to call it a day before we even hit the Colorado State Line. Around 10pm we finally made it to Denver.
Over the week I explored the Rockies and got a taste of what Colorado has to offer. If you've never been to Denver or explored even the front range of the rockies, it should be on your bucket list.


Friday August 18th: My trip has been extended a little ways. I was supposed to be home in Texas by the 19th, however, good roads and good friends pushed my trip back by a few days. I left Denver and headed to Taos, NM for the weekend. Highway 285 South from Denver takes a little longer, but the scenery is ten times better than taking the 25 South through Colorado Springs and Pueblo. I visited some close friends and helped around the ranch for the weekend, moving hay and horses to my friends new house.
Monday I head on to Texas and finish the final 1,000 miles of my trip. This adventure would not have been possible without Russ Brown Motorcycle Attorneys®. Thank you for the opportunity to hit the road and cover my adventure. Until next time! See y'all on the road.


My journey: https://www.google.com/maps/d/viewer?mid=1J1mRzEliTE60GqPPjBQZdRw08ns&ll=37.60722657623544%2C-108.8926313&z=6
"If you have been involved in a motorcycle accident, don't let it steal your freedom! Call 1-800-4-BIKERS to learn how an experienced motorcycle accident lawyer can get your bike fixed, money for your medical bills, and compensation for your pain and suffering."