AWESOME WOMEN RIDER ~ MS Rhonda H!
Occupation: technician assistant
Rides: 08 HD Crossbones, 06 Big Dog Mastiff
5' 7"
Rhonda. When did you start riding and what got you involved in motorcycles? 
I started riding 4 1/2 years ago. I have always loved motorcycles, the sound of them, the look of them, and the way they look rolling down the road. My fiancée started riding in 07 and like most women, I was on the back. Well that lasted about 3 months and I decided that I wanted to learn to ride and be in the driver seat. He bought me a 03 Sporty 1200 C to learn on.
How has riding motorcycles impacted your life? 
I have met some really amazing women riders. The comrade of the brotherhood and the sisterhood.  Has taught me that The Code should apply to your everyday life.
What do you like most about your Crossbones? What kind of modifications have you done?
Hmmm… What do I like most about my Crossbones? Well for starters it is just a bad-ass bike that you typically would not see a woman riding. She handles beautifully. Her saddle height is amazing.  She is just an all-around good motorcycle. And I love the flat black look with the springer front end.
Modifications… wow, too many to list. Performance Machine Stealth Cut wheels, rotors and pulleys (black military grade anodized). Kuryakyn Hypercharger air breather (wrinkle black). Upgraded pipes to Vance and Hines Big Radius (flat black) and power commander. Custom made (by Eric) axle nut covers that were turned down on a metal lathe then sent out to be powder coated black. Upgraded seat to a HD Brawler (this lowered me 2 – 3 inches in the saddle). Changed the primary, cam and tranny covers to the wrinkle black. I am sure there are more; those are the ones that come to mind right now.
What do you like about the Big Dog? What kind of modifications have you done?
And my Big Dog… love love love it. The speed and power it has is amazing. And like the Crossbones, just not your typical "chick" bike (well not here in GA…LOL). Oh yeah, the bike and I look amazing rolling down the road.
Modifications…. S & S dual runner for the air breather… Vance and Hines Big Radius Pipe (chrome)… spiked triple tree nut covers… tribal forward controls… push seat with alligator inlay… again, many more… just those are the ones that come to mind at the moment.
What the riding weather like in Griffin GA?
Normally we can ride year round here in GA. There are a few months in the winter where it is just too cold for me to ride, below 35. The dead of summer months are just miserable with temps near 100 and 90 % humidity. In my honest opinion, that is just too miserable to ride and enjoy yourself.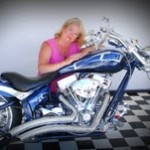 What has been your biggest challenge with riding?
Learning how to make tight turns and make U-turns. (hahaha) Starting out on an incline with controlling the throttle, clutch and brake all at the same time. And mostly, looking out for the cagers that seem to have a blind eye to motorcycles.
When you're not riding motorcycles what are you other interest?
I like spending time with my fiancée. Love my 2 dogs… 11 yr. old pit-bull (Miller) and 10 yr. old chocolate lab (Ginger). I like gardening (love flowers) and reading when I have the time.
What advice do you have for other women riders?
Get out there and ride. It does not matter what you ride, as long as you ride. I tell women all the time that if I can do it, then you can too. The best experience that you can get is to get out there on the road and just ride. Start slow and work your way up to it. I started in an old WalMart parking lot.  LOL

How is riding therapy for you?
Riding just takes all the stress out of me. There is no greater feeling than feeling the wind in your hair, the sunshine on your face and the power between your legs. Hahaha.
Riding just makes me happy. Hell, I should have started it years ago.
Ride Therapy! Ride safe. Ride Often ~ Ride ON!
Brenda Fox
Russ Brown Motorcycle Attorneys® will be 'Celebrating Women of Motorcycling' this summer at the Sturgis Buffalo Chip on Wed Aug 8th – for more info click here.
Russ Brown Motorcycle Attorneys®, fighting for injured bikers for over thirty years. If you have been injured in a biker accident call the accident attorneys at Russ Brown Motorcycle Attorneys® – 1-800-4-BIKERS.
"If you have been involved in a motorcycle accident, don't let it steal your freedom! Call 1-800-4-BIKERS to learn how an experienced motorcycle accident lawyer can get your bike fixed, money for your medical bills, and compensation for your pain and suffering."