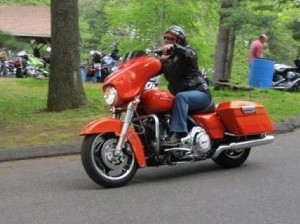 Russ Brown Motorcycle Attorneys®: Upgrading the Pavement with Mel Newhouse.
Name:
Melanie Newhouse
Where you live
: Massachusetts
Occupation:
 Outside Sales Rep for a millwork company
What bike you currently ride:
Mabel a 2012 Street Glide
When did you start riding and what got you involved in motorcycles?
I started riding when I was about 20… which makes it 29 years ago.  Saw a pack of bikes going by my mom's station wagon when I was about 10 and said "I will be doing that someday!" To which my mother replied "over my dead body"…well she is very much alive and supports my choice to ride although she still worries about me when I do.
How has riding motorcycles impacted your life?
It has given me the opportunity to meet people from all walks of life who share the same passion for riding that I do. It has also given me the opportunity to write for the Massachusetts Biker Information Guide and express the things that really concern me when it comes to motorcyclists rights and other issues that affect us.
What was or has been the most challenging or difficult thing to overcome in the mechanics of riding?
Not much, it is like I was born on a bike!
What do you like most about your model motorcycle?
As I get older I like my new bike for a few reasons…I can finally CARRY my things in my bags! I have had several back surgeries so comfort at this point is a must and this bike feels like I'm sitting on my couch!
What modifications have you made?
New Yaffe handlebars, custom color inner fairing, new speakers (a girl has to have her tunes!), new solo seat…pipes are next!
What advice do you have for other women riders?
Have the confidence to do what you want and enjoy life!
What aspect of riding would you like to improve on?
Anything I can. I am a very seasoned rider but we can all learn something new everyday
How tall are you?
5'9"
What is the seat height of your bike?
Not sure but it's perfect for my leg height and ever so comfortable on my tush!"
What is your weather like year round?
We have 4 seasons here in Massachusetts…and usually a lot of snow for about 3 months or so.
How is riding therapy for you?
It's quite frankly a religious experience each and every time I ride..I can ride alone or with a pack but there is nothing like the freedom I feel and being one with my bike!
Pets?
I have 2 dogs, pit bulls, best dogs in the world!
Ride ON!
Brenda Fox
Russ Brown Motorcycle Attorneys®; fighting for injured motorcyclists hurt in motorcycle accidents for over thirty years.
1-800-4-BIKERS
"If you have been involved in a motorcycle accident, don't let it steal your freedom! Call 1-800-4-BIKERS to learn how an experienced motorcycle accident lawyer can get your bike fixed, money for your medical bills, and compensation for your pain and suffering."