The Brawl motorcycle stunt competitions are national crowd-pleasers deserving all the hype! Giving V-Twin stunt riders a popular platform and opportunity to tour, compete and showcase their passion for freestyle stunt riding. We were able to catch up with recent California Brawl winner, Dyna Nate who gave us the inside scoop of what it takes to be an invited rider and to compete in the competition with the best of the best. Taking home 1st Place from 2022's Brawl #2 held at San Diego Harley Davidson (4645 Morena Blvd) San Diego, California. 
Q: Who is Dyna Nate??? Tell readers who you are, where you're from and what you're about!
 A: Dyna Nate here, also known as Nate Colvin. Born and raised In Oxnard California. I grew up riding dirt bikes as a kid and then got a Harley when I was 16. It was a 2001 FXD. I rode it around for a couple of years stock, then I got some parts when I was able to afford it and started going to the Oxnard stunt spot. I started just having fun with my friends then I noticed my skills progressing and so, I started taking it more seriously from that point. 
Q: How long have you been riding and what machines do you brawl with/on?
A: I've been riding since I was 3 but I started stunt riding about 6 ½ years ago. I am now 22 and my current bikes are a 2003 100th anniversary Dyna FXD and a 2003 100th anniversary Road Glide. 
Q: What do riding and your machines mean to you?
A: I feel free when I ride. It helps me to clear my head and just riding, in general, is fun to me.
Q: What does it take to build and maintain your stunt bikes? Talk about wear and tear, complications, building, mechanics, etc.
A: If you are determined to ride, it really doesn't take much. The main things are the suspension and an oil pan from @Harley__hookup. We put these bikes through so much wear and tear so it's important to check the main things before any ride. Your cam plates, motor, crank, chain, sprockets, clutch plates, primary drive train, transmission, and last but not least tires. 
Q: What qualifies a rider to be invited to compete in the Brawl? Tell us what it takes!
A: It's really about being known. Make a name for yourself based on your unique style or whatever sets you apart. It's taken me going to events, practice sessions, and just being heavily involved in the bike community for the opportunity to come up. I'd say just get out there and have fun and the right opportunities will come up. 
Q: How do you prepare to compete/what preparation does being a competitor entail?
A: For me, I go over my whole bike, front to back, top to bottom. Oil change, grease and lube pivot points, lube cables, adjust anything that needs to be adjusted, go ride it and do my final touches to it. Get all fueled up and get all my tires ready.  
Q: What is your mentality like while in the heat of the competition? Describe what the adrenaline feels like etc.
A: My mentality is really just built around having fun, I love challenging myself. I like to get the crowd involved. I think that is what allowed me to take home first place. Being unpredictable, edgy, and just having fun out there. I look forward to doing something new each competition and keeping the crowd and my competitors guessing.  
Q: Have you ever been injured or in a motorcycle accident? If so, please describe and tell readers what you learned from the situation.
A: I've never been in an accident on the street, but I have crashed a couple of times at the sunspot. That's about it, nothing too serious.  
Q: What are your goals moving forward as a professional stunt rider?
A: My goal moving forward is to ride full-time. That's my dream. 
Q: Any advice to give up and coming stunt riders? Safety, motivation, etc.
A: Stay consistent and keep practicing. It's all about patience.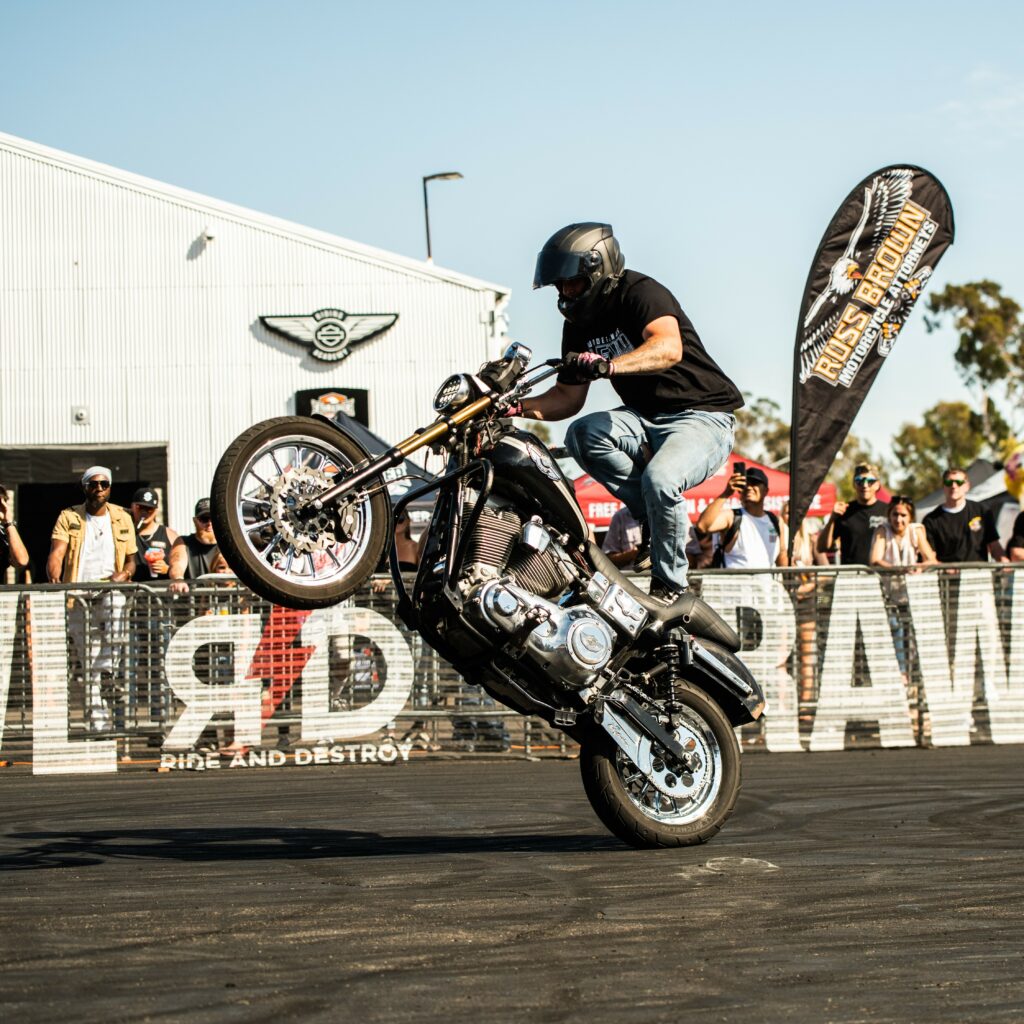 Acknowledgments:
Thank you to my sponsors, family, and friends!
@ride_and_destroy_com @bellhelmets @lexinmoto @feulingparts @stealthpipes @thevanishingones @dynaholics @throttlearm @mygarage_ventura @davemackieengineering @sandiegocustoms @russwernimontdesigns @speedkings_cycle @rebelreaperclothing @wrektsvpply @spytshyne @leperaseats @harley__hookup @barnettclutchescables @greenebrothersdesigns @cryoheat @gpsuspension @pitprocyclemx @wreck_less_mfg @breakerboyzkrue @thebrawl_official   
And a big thanks to my friends that came out to support me and thank you to my guy @kidsocal for letting me use your bike when I threw my chain at the brawl. 
Where can readers follow you?
On Instagram, Facebook, and TikTok.
Photo credits: 𝙍𝙄𝘿𝙀 𝘼𝙉𝘿 𝘿𝙀𝙎𝙏𝙍𝙊𝙔 ®️ & Ryley Lewis Photography  
Follow the blogger, Randie Raige on Instagram.
"If you have been involved in a motorcycle accident, don't let it steal your freedom! Call 1-800-4-BIKERS to learn how an experienced motorcycle accident lawyer can get your bike fixed, money for your medical bills, and compensation for your pain and suffering."