Advancements in technology are offering motorcyclists some fantastic options to make their rides safer and more enjoyable. Too frequently, riders are challenged with poorly organized rides. Bikers get separated from one another at traffic signals or from their partner and often in an unfamiliar area. A dynamic solution to both these problems is the WolfPack Mobile App and I speak from personal experience on how well it works.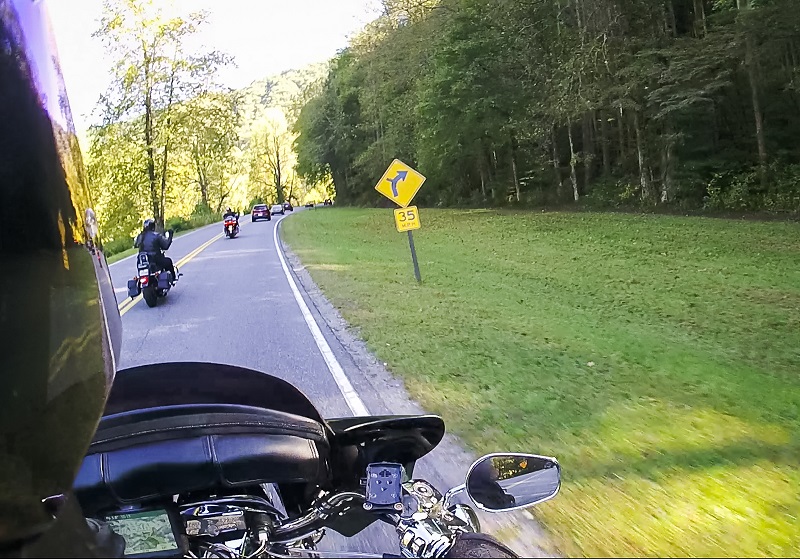 Recently, I was on a ride in an unfamiliar area and got separated from my riding partner but, unfortunately, I didn't have WolfPack at that time. My partner was leading the way and the GPS directions at the last second told him to take a specific exit; unfortunately, I was unable to react quickly and safely enough at highway speeds to follow his lead so I flew on past him as he was exiting. There was another exit a little more than a mile down the road so I took it and called him once I could stop and gave him the specific details on precisely where I was so that he could reconnect with me. In this exact situation, WolfPack would have allowed us to see where one another was and he could have started tracking his way to me even before I called. Suffice it to say, this lesson was well-learned.


What's especially great about WolfPack is that it was developed by a motorcyclist, Jonathan Chashper, for fellow riders. Some of the important features & reasons to download:
Navigation while on the road
Communicating quick messages with fellow riders
Know the position of fellow riders to ensure no one gets left behind – or separated on a ride
Link to Russ Brown Motorcycle Attorneys®' BAM (Breakdown Assistance for Motorcyclists) which provides access to free emergency roadside assistance from fellow riders.
With a very clean and intuitive navigation, WolfPack allows riders to easily join other established packs or start their own. Additionally, riders can access great runs that other riders have graciously shared by uploading them to the app.


To best organize an upcoming ride, the route can be programmed into WolfPack by the lead rider to "share" with their pack. When it comes time to riding, it allows each rider to enjoy their own pace while easily seeing where the others are on the same route. For destination rides, where scenic routes are a dynamic, or in areas of congested traffic, this can alleviate a great deal of stress.
One of the great assets to WolfPack is that it seamlessly works with all types of riders and riding styles. I have friends that ride everything from Triumph Rocket III's to classic bar hoppers to vintage Harley's, yet the element we all share is having a smartphone. This is what allows WolfPack to be the great equalizer between us all.
Chashper shared that he leveraged the assets he already had in place to develop WolfPack with his product acceleration company Product Savvy. He experienced a group ride that went haywire when two riders were separated from the pack and had to create a fix.


WolfPack caught the attention of the Russ Brown team at the recent International Motorcycle Show tour when they displayed near one another. "The Russ Brown team immediately saw the power that the WolfPack app could bring to their BAM program and we immediately put the process in motion to work together to benefit riders," said Chashper.


The Russ Brown team isn't the only one that spotted the value in WolfPack. Noted motorcycle industry expert Michael Owens, famed for his long-haul rides, frequently embraces technology and how to make rides even more enjoyable. "The Run Library on WolfPack is a great tool when you want to truly experience an area the way the locals do," said Owens. "The app is incredibly user friendly and I hope to see it soon be incorporated into organized rides that attract 40 riders or more. For solo riders that prefer the secondary roads and scenic byways, it is an excellent tool to plan the next leg of a ride."
As good as WolfPack is, Chashper and his team are not about to rest on their laurels. Two great new enhancements they've already added to the app include the ability to rent motorcycles within the United States by collaborating with EagleRider and a listing of top tier events and rallies with insert name of partner company here. The relationship with EagleRider is particularly exciting for motorcyclists that travel frequently for business and might find themselves with a few spare hours in a gorgeous location. Riders only need to open the WolfPack app and scroll down to the "Rent with EagleRider" option to secure a bike for a few hours – or days – worth of riding pleasure.
WolfPack App's free version for download includes group communication, positioning, management, and turn-by-turn navigation in addition to being able to schedule and plan routes for your pack.


The Premium edition of WolfPack is available through December 31, 2017 for just $1.99 per month – or $19.99 for an annual subscription – and offers additional features including the options to set up unlimited rides, establish up to eight waypoints, capture unique points of interest along rides, share photos, and integrate a chat system within your pack. Effective, 2018, the rates for WolfPack will increase but as long as you subscribe during 2017, your rates are locked in for life as long as your subscription stays active.
Get with the times and download WolfPack today at www.WolfPack.run.
"If you have been involved in a motorcycle accident, don't let it steal your freedom! Call 1-800-4-BIKERS to learn how an experienced motorcycle accident lawyer can get your bike fixed, money for your medical bills, and compensation for your pain and suffering."