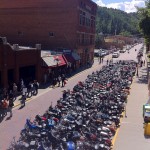 Russ Brown Motorcycle Attorneys®: As motorcyclists there's nothing we love more than feeling the rush of the wind as we ride along a deserted patch of road; however, watching fun-loving motorcycle movies comes in as a close second! Whether you are a beginner motorcyclist or a veteran biker, you are sure to love these movies that feature some of the best motorcycles in cinema. They're perfect for a rainy weekend day when you can't take your bike out for a spin. From black and white classics to campy motorcycle flicks, we've got the best motorcycle movies of all time—all on one list.
Best Motorcycle Movies of ALL TIME:
Harley Davidson and the Marlboro Man
Any Which Way You Can
Mad Max
The Wild One
On Any Sunday
The Great Escape
Easy Rider
The World's Fastest Indian
Sons of Anarchy (TV Series)
Hells Angels on Wheels
Viva Knevel
The Motorcycle Diaries
Wild Angels
Rebel Rousers
Born to Ride
Knightriders
Top Gun
Electra Glide in Blue
Streets of Fire
While some of these movies are certainly better than others, they all show motorcyclists doing what they do best—riding! Some of these movies, even the corny ones, have some amazing scenery and wonderful shots of some pretty incredible motorcycles. Be warned though—watching these movies will make you want to take your bike out for a long ride! You might even find yourself riding cross country this summer!
At Russ Brown Motorcycle Attorneys®, we understand your passion for motorcycling because we ARE motorcyclists too. That's why we offer more than just exceptional legal service; we also offer BAM, a free roadside and legal assistance program. With the nation's largest network of Bikers Helping Bikers® on your side, you can ride anywhere knowing you are protected. If you are injured in a motorcycle accident, you can also take assurance knowing you are backed by the experienced and veteran team of motorcycle accident attorneys at Russ Brown Motorcycle Attorneys®. To learn more about BAM or our firm, call us today at 1-800-4-BIKERS. Also, if you have a favorite motorcycle movie that didn't make our list, let us know!
"If you have been involved in a motorcycle accident, don't let it steal your freedom! Call 1-800-4-BIKERS to learn how an experienced motorcycle accident lawyer can get your bike fixed, money for your medical bills, and compensation for your pain and suffering."